A vegetarian French Lentil soup recipe made with homemade vegetarian stock and French Du Puy lentils. It is easy-to-make, heartwarming, healthy,and delicious.
I am still in Atlanta and it is really cold here.
See, for an island girl like me, even 40 degrees is cold. I just can't seem to warm up. You would think after two weeks of being here I would be used to it by now. But no, I am cold.
If I didn't know me, I would think that this is the first time I am going through a winter. All of a sudden, sniffling and sneezing have become a daily thing. I find myself in CVS looking for a cold sore medicine for what feels like the worst cold sore coming out in the corner of my mouth. (sorry for the visual)
I can't help but wonder how do people up north are dealing with the kind of cold that they have over there. My best friend, who lives in Chicago, is telling me that she feels like her eye balls are going to freeze if she does not cover them. Is that even possible?!?!
As I feel like I am falling apart, thanks to an 80-degree change that my body seems to reject to adjust, I decided to take the matters into my own hand and do something about it.
As a result, I made a large pot of French lentil soup. A hearty soup with all the vegetables I can find in the supermarket. I used French du Puy lentils as I think they hold their shape better than any other green lentils out there. I also used homemade vegetable stock, which I think makes a huge difference.
I drank 3 cups back to back and now, I feel a little warmer. I think I am going to make more soups this week. So stay tuned… In the mean time, please let me know what you are doing to keep yourself warm. Pretty please…

Print
French Lentil Soup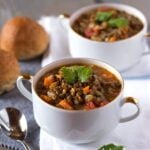 Author:

Foolproof Living

Prep Time:

10 minutes

Cook Time:

45 minutes

Total Time:

55 minutes

Yield:

4

Category:

Soup

Cuisine:

Turkish and French Cuisine
Ingredients
1 tablespoon olive oil
1 large onion, chopped
2 medium carrots, peeled and chopped
1 celery stalk, chopped
3 garlic cloves, minced
1 (14 1/2 oz.) can diced tomatoes
1 bay leaf
1 teaspoon thyme leaves, chopped
1 cup French lentils (Lentils Du Puy), rinsed and picked over
1 teaspoon salt
1/2 teaspoon black pepper
1/2 cup white wine
4 cups vegetable broth/stock, preferably homemade
2 cups water
1 1/2 teaspoon balsamic vinegar
3 tablespoons fresh Italian parsley, chopped
Instructions
Heat olive oil in a Dutch oven in medium heat. Add onions, carrots, and celery and cook until they are softened, 5-7 minutes.
Add garlic and cook for 1 more minute.
Stir in the tomatoes, bay leaf, and thyme. Cook until fragrant, 1-2 minutes.
Add French lentils, salt and pepper. Give it a big stir. Turn the heat down to medium-low and put the lid on. Cook until all the vegetables are softened and lentils have darkened, 9-10 minutes.
Uncover, turn up the heat to medium high. Add wine and bring it to a simmer. Add chicken stock and water and let it come to a boil. Once boiled turn down the heat to low and let it simmer for 35-40 minutes.
Right before serving, take out the bay leaf and stir in the balsamic vinegar.
Pour the soup in individual bowls and garnish it with chopped parsley.
Slightly adapted from America's Test Kitchen's Hearty Lentil Soup recipe and my mother's lentil soup recipe.