The first time I published this easy baked ziti recipe was back in May of 2014. Since then, it has been a reader favorite. Because I am also a big fan of it and make it often, I decided to update it and answer a few questions that came up since it was first published four years ago.
I love baked ziti, I really do. Similar to my Spaghetti Bolognese, it is one of those classic Italian-American recipes that simply never gets old. It's the perfect combination of pasta to meat sauce to cheese.
The beauty of this pasta bake recipe is truly in the fact that it can feed a crowd, offering a hearty and comforting meal for your dinner guests. But it's also great because if you don't have many people to feed, such as the case for my husband and I, leftovers can be stored in the freezer so that dinner can be on the table in a matter of minutes!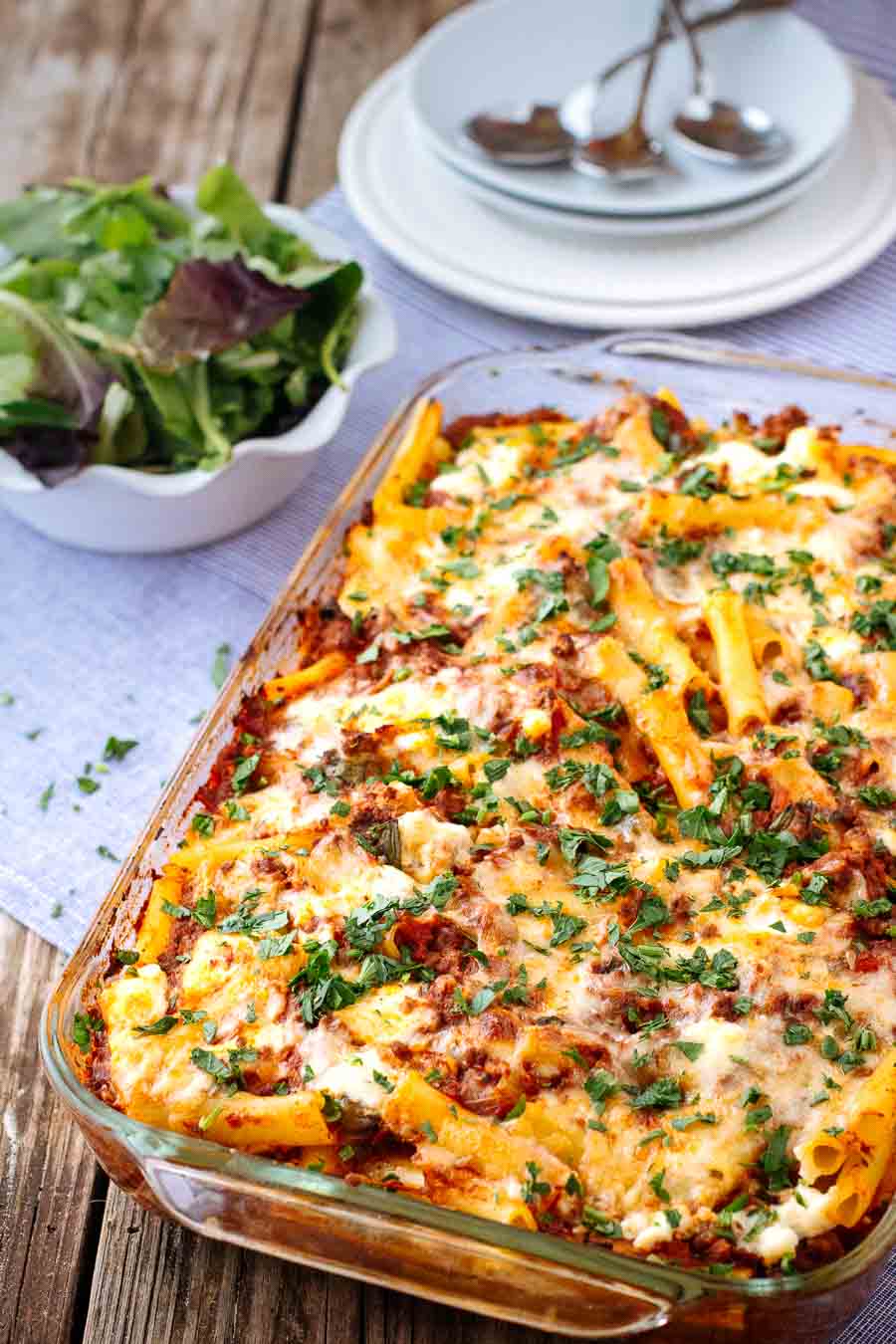 What is Ziti Pasta?
Ziti pasta, sometimes referred to as ziti noodles, is an extruded, tubular pasta a bit smaller in size than rigatoni and similar to penne, but with straight cut ends rather than a diagonal. Ziti can either have smooth sides or ridges, which is known as ziti rigate.
PRO TIP: The tubes of ziti for this ricotta pasta bake is necessary because it traps in sauce and little nuggets of cheese. If you want even more of the marriage between pasta and sauce, use ziti rigate. Those special bites where the cheese is stuck to the sauce that's stuck to the pasta – that's the good stuff!
What is baked ziti?
Baked ziti is one of those popular baked pasta dishes that layers ziti pasta with Neapolitan-style tomato sauce cooked with your choice of meat (more on this later!) and cheese. Hearty, comforting, and super cheesy, it's the ultimate comfort food!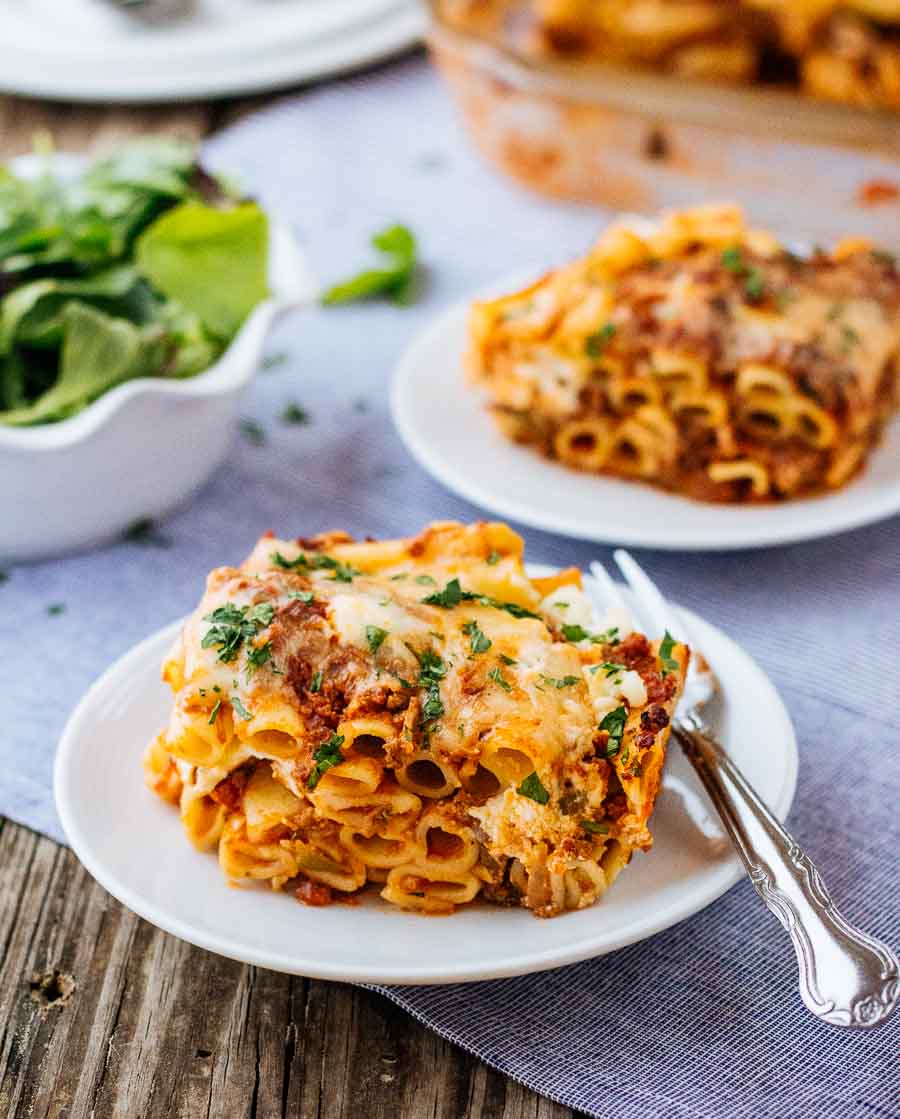 How to make this recipe?
This quick and baked ziti casserole recipe has 3 folds.
First, preheat the oven to 375 degrees. In a large skillet over medium heat, heat the olive oil, then add the ground beef and cook 8-10 minutes, stirring occasionally while breaking up the large pieces of beef with a wooden spoon. Add onions and cook 7-8 minutes, until translucent. Add the tomatoes, garlic, red wine vinegar, red pepper, cumin, salt, and pepper. Bring to a simmer and continue to cook for another 10-12 minutes, or until it thickens. Turn off the heat and add the fresh basil.
Second, while the meat sauce is cooking, bring a large pot of water to a boil. Add 1 Tablespoon of salt and ziti. Cook 7-8 minutes, or 1-2 minutes less than the package directions. Drain and set aside.
Lastly, spread a thin layer of tomato sauce on the bottom of an oven-proof 9×11 inch casserole dish. Add half of the ziti noodles, pour half of the meat and tomato sauce over the pasta, and then dollop with ½ cup ricotta (I use Ina Garten's Homemade Ricotta recipe). Spread the remaining ziti evenly over the cheese, then top with the remaining meat and tomato sauce and spread evenly. Dollop the rest of ricotta cheese and spread evenly over top. Sprinkle with shredded mozzarella. Bake for 30 minutes, or until the top is golden brown. Sprinkle with fresh parsley and dinner is ready!
Can I assemble this recipe a day in advance and keep it in the fridge?
Yes, you can. However, be sure to let it cool and cover it tightly with stretch film before placing it in the fridge. Alternatively, you can make the meat sauce a day in advance, quickly cook the pasta and assemble on the day you are ready to serve.
If you end up with leftovers, as long as you keep the pasta bake with ground beef in an airtight container in the fridge, they will still be good for the next 1-2 days.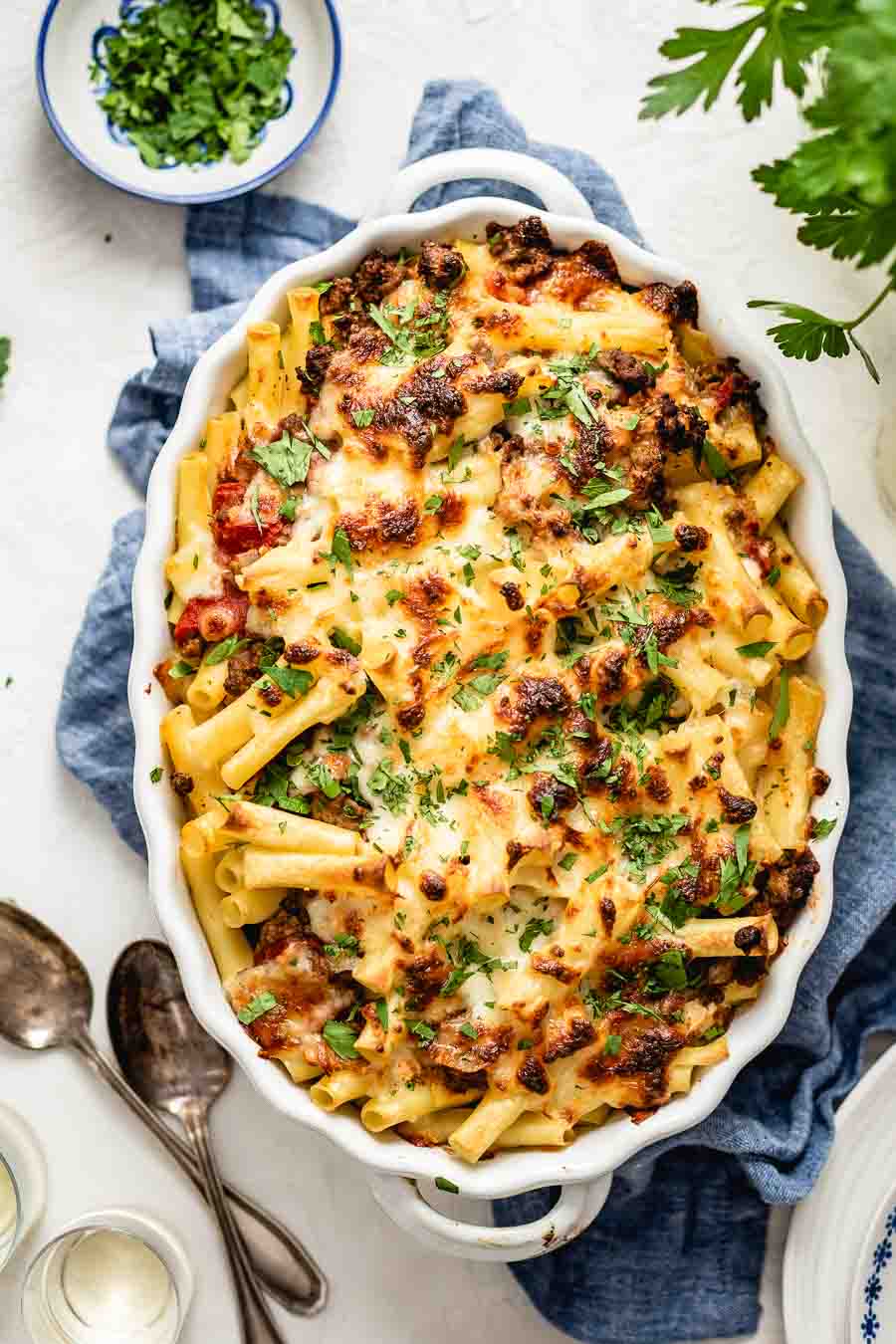 Can I freeze it?
Yes. Once you assemble the dish, simply bring the baked ziti with cheese to room temperature and cover the entire casserole dish tightly with stretch film and aluminum foil. Keep it in the freezer for up to 3 months. Let it thaw overnight in the fridge a day before you are ready to serve and bake as directed in the recipe. It might take just a few minutes longer, but once the cheese is golden brown, you are good to go.
Additionally, in the past, I have frozen the already baked ziti leftovers as described above. While I prefer the first method, this version works well, too.
Can I make it without ricotta cheese?
Yes, of course. If you do not like ricotta cheese, you can swap it with 1 1/2 cups of mozzarella cheese.
Variations
Although baked ziti is such a classic recipe, there are a number of variations to make it your own. A few of my favorites include:
Baked Ziti with Sausage Recipe: Replace the ground beef with 1 lb sweet or spicy Italian ground sausage that has been removed from the casings.
Baked Ziti with Chicken: Replace the ground beef with 1 lb ground chicken or 1 lb boneless, skinless chicken breasts that have been cut into ½ inch pieces.
Baked Ziti with Spinach: Add 2 cups fresh spinach to the meat and tomato sauce when you add the basil.
Meatless Baked Ziti: Omit the meat completely or make a vegetarian Eggplant Pasta Bake.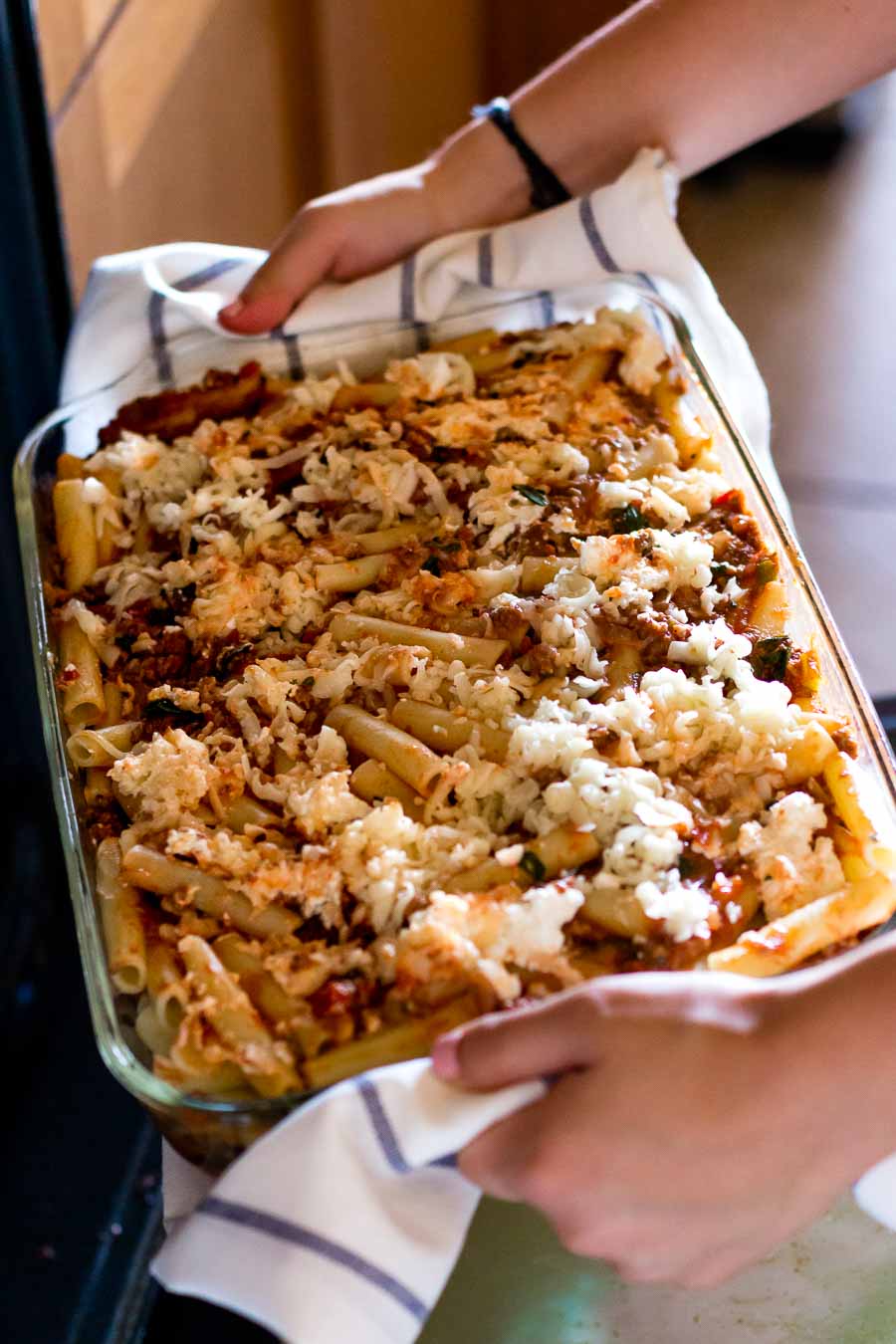 Expert Tips:
Season the pasta water liberally with salt. Although the baked ziti recipe specifies 1 Tablespoon of salt for the boiling water, you may need more depending on the size pot you use. A good rule of thumb – the pasta cooking water should taste as salty as the sea!
Cook the ziti pasta 1-2 minutes less than the package directions. The shorter cooking time ensures the pasta does not become mush, as it is going to continue cooking when you place the casserole in the oven.
Can't find ziti or ziti rigate? Use penne or penne rigate instead. Remember, rigate means ridges, which helps to trap even more of that delicious meat sauce with the pasta.
Want even more cheesy flavor? Add ½ cup finely grated Parmesan cheese to the middle and top layer when you add the ricotta.
Served with a simple green salad, this classic baked ziti with meat recipe makes a perfect meal that you can feed your family with ease.
You Might Also Like:
Other Pasta Recipes you might like:
Other easy ground meat recipes you might like:
Baked Ziti with Meat Sauce Recipe
This Baked Ziti with Meat Sauce is a crowd-pleaser pasta recipe made with layering ziti with ricotta and homemade tomato-meat sauce. This dish not only feeds a crowd, but also freezes beautifully.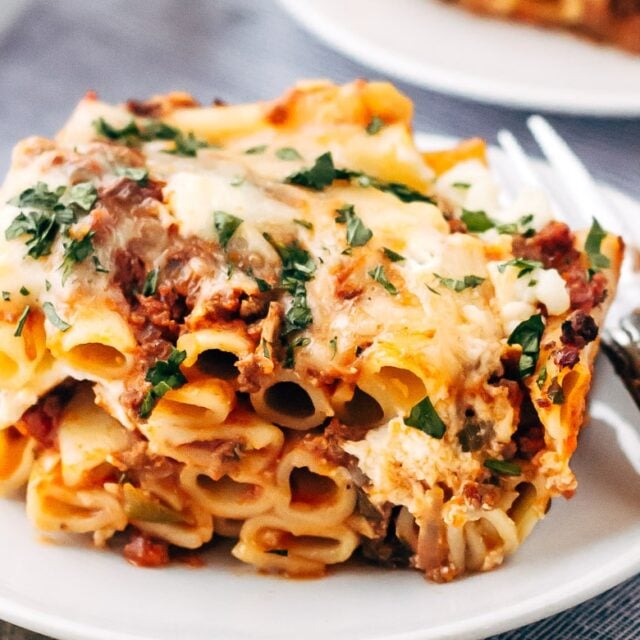 Print Recipe
Ingredients
For the meat sauce:
1-

tablespoon

olive oil

1

lb.

ground beef

1

medium onion

chopped

1 28

ounces

can crushed tomatoes

1

tablespoon

red wine vinegar

2

cloves

of garlic

chopped

1-

teaspoon

salt

1/2

teaspoon

black pepper

freshly ground

1/4

teaspoon

cumin

1/4

teaspoon

red pepper flakes

optional

1/4

cup

fresh basil

chopped
For the pasta:
1

pound

ziti pasta

1

tablespoon

salt
To Assemble The Baked Ziti:
1-

cup

ricotta cheese

preferably homemade

1-

cup

mozzarella cheese

grated

1/4

cup

fresh parsley

chopped
Instructions
Pre-heat the oven to 375 F Degrees.

To make the meat sauce: Heat a tablespoon of oil in a large skillet over medium heat. Place the ground beef and cook for 8-10 minutes, stirring often. You would have to break the large pieces of meat as it is cooking.

Add the onions and cook, stirring often, until they are translucent, 7-8 minutes. Add tomatoes, garlic, red wine vinegar, red pepper flakes, cumin, salt and pepper. Bring it to a simmer and continue to cook, stirring occasionally, until it thickens, 10-12 minutes. Turn off the heat and stir in the fresh basil.

Make the pasta: In the mean time, bring a large pot of water to a boil. Add 1 tablespoon of salt and ziti. Cook until it is al dente, 8-9 minutes. Drain the pasta and set aside.

To assemble: Spread a thin layer (approximately 3-4 tablespoons) of the meat sauce at the bottom of a large (oven-proof) casserole dish (I used a 9X11 Pyrex). Place half of the ziti onto the sauce and spread it all over the bottom of the dish. Pour half of the meat and tomato sauce over it. Place 1/2 cup of the ricotta cheese in dollops evenly on the meat sauce. Spread the rest of the ziti evenly as a second layer. Pour the rest of the meat sauce over the ziti and spread evenly using a spatula. Spread the rest of the ricotta cheese in dollops on top. Sprinkle the top with shredded mozzarella cheese.

Bake it in the oven for 30 minutes or until the cheese on top turns golden brown.

Sprinkle it with fresh parsley and serve.
Video
Nutrition
Calories:
657
kcal
|
Carbohydrates:
66
g
|
Protein:
33
g
|
Fat:
28
g
|
Saturated Fat:
12
g
|
Cholesterol:
89
mg
|
Sodium:
1768
mg
|
Potassium:
795
mg
|
Fiber:
5
g
|
Sugar:
7
g
|
Vitamin A:
1738
IU
|
Vitamin C:
24
mg
|
Calcium:
234
mg
|
Iron:
3
mg
This recipe was first published in May of 2014 but has been updated in November 2019 with a few new photos and a quick how-to video.
Like this recipe? Consider sharing: