As a food blogger, you learn that sometimes things don't go as planned, and it is important that you always have a back up plan. But then sometimes, the back up plan does not work either. That is when it turns out to be a great learning lesson.
I learned this in the very early stages of cooking for Foolproof Living. At first, in order to make sure that I am prepared for a disaster, I bought 2 of the same ingredients. That way, I thought, I would always have enough to make it again. But as you can imagine, it got very costly in no time, and there was never a guarantee that it would work when I made it the second time.
It was not long after I knew that I had to deal with disasters with what I have on hand, and find ways to fix it by using every resource that I could find.
I can't say that this method works all the time, but I can surely say that it always ends up being a BIG learning lesson.
After I read the article about Mast Brothers Chocolate on Bon Appetit magazine's February issue, I decided to give the Dark Chocolate waffle recipe a try. It looked so simple for such a good looking and chocolaty waffle. However, instead of serving it with butter and maple syrup (as suggested in the article), I decided to turn it into a cake, and use a luxurious mascarpone whipped cream in between the layers. I thought that fresh raspberries that I bought yesterday would, not only give it the sweet kick it needs, but also make it look pretty.
Dark chocolate waffle recipe was pretty straightforward and easy. However, things did not go as planned with the mascarpone whipped cream.
In the morning, long before I started cooking, I took my cold ingredients out of the fridge so that they can come to room temperature before I am ready to start. Since I knew that this recipe had two components (dark chocolate waffles and mascarpone whipped cream), I made sure my mis-en-place was ready before I start. My recipe was written down and I was ready to follow through. The plan was to make the waffles first, and as they were cooling, quickly whip the cream.
After making the waffles, just as I was getting ready to start whipping the cream, I realized that I forgot to take the heavy cream out of the fridge. I immediately took it out and waited for 10 minutes. For some reason, I thought that it is okay to not wait any longer for it to totally come to room temperature.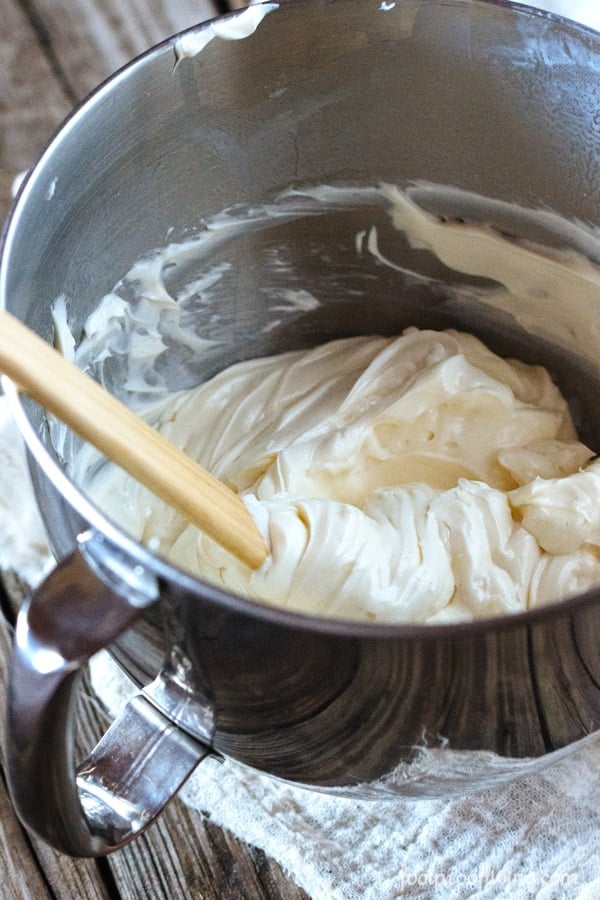 I put the mascarpone cheese, heavy cream, sugar, and vanilla extract in the bowl of my standing mixer and immediately started whipping it. At first, it looked okay, but then less than a minute later it curdled. Like, BIG time. Literally, it turned into lumps of mascarpone cheese and a weird looking milky liquid. I decided to whip it a little more and faster, which made it curdle even more.
Of course, I panicked. I told myself to calm down and decided to make it again. Thankfully, I had an extra mascarpone cheese in my fridge. I took it out and immediately (!!??!!) put it in the bowl with the cream, sugar, and vanilla extract. It curdled again. Only this time it was much quicker.

At this point, as you can imagine, I am almost in tears. Because (1) I did not have any more mascarpone and heavy cream (2) the closest supermarket is 20 minutes walking distance, and even if I go there to get more, there is no guarantee that it would work.
So I decided to Google it and see if I can find some information. Luckily for me, I found several people who had the same issue. There were lots of ideas to salvage the situation. I read them all and decided to try one that sounded right to me.
Aaaaand it WORKED! Needless to say, I was very happy that it worked. Not only I learned something new, but also, I ended up with a beautiful looking and delicious mascarpone whipped cream.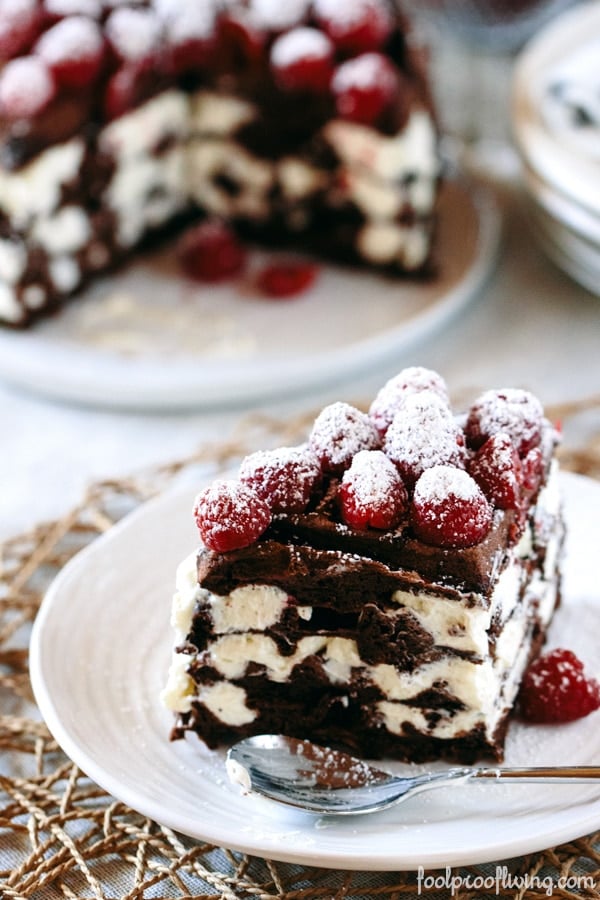 So here is what I learned:
Mascarpone cheese can be very prone to curdling, especially like in my case, if the temperature of the other ingredient, heavy cream, is different than the cheese itself. That is exactly why, when working with mascarpone cheese all ingredients should be in room temperature.
To prevent curdling, it is best to whip the cheese first, and then slowly add the heavy cream, sugar, and vanilla extract.
To salvage it:Using the double boiler method, gently heat the curdled mixture while constantly whipping it, until all lumps are gone and it is smooth. This happens pretty quickly. So do not over heat. Allow it to come to room temperature and whip it using a mixer.
To make the waffles I used this Waring Pro WMK300A Professional Stainless-Steel Belgian Waffle Maker
waffle maker (which I highly recommend if you are in the market for one) that has a round plate. If I did not have a round-plated waffle maker, I would place one waffle on a plate, top it off with a scoop of mascarpone whipped cream, and sprinkle it with raspberries, and confectioners' sugar.
Same principle but presented in a different way. Either way, pretty looking and ridiculously delicious waffles on your breakfast (or brunch) table.
If You Liked this Dark Chocolate Waffle Cake, You Might Also Like:
Dark Chocolate Waffle Cake with Mascarpone Whipped Cream
Chocolate waffles cake with mascarpone whipped cream. Simply put, homemade chocolate waffles layered with a luscious mascarpone frosting, turned into a cake and topped off with fresh raspberries for a not only delicious but also gorgeous breakfast/brunch dish. Plus, in this recipe post you will learn how to fix curdled mascarpone cream and what to do when that happens to salvage it.
Print Recipe
Ingredients
For the waffles:
2

cups

(10 ounces) all-purpose flour

1/2

cup

(1 1/2 )ounces unsweetened cocoa powder

1/4

cup

brown sugar

3 1/2 ounces – packed

2

teaspoons

baking powder

1-

teaspoon

baking soda

1-

teaspoon

kosher salt

3

large eggs – separated and at room temperature

2

cups

buttermilk – at room temperature

1/2

cup

olive oil

1-

teaspoon

vanilla extract

6

oz.

bittersweet chocolate – finely chopped

Non-stick vegetable oil spray
For the Mascarpone Whipped Cream:
8

ounces

Mascarpone cheese

at room temperature

1/4

cup

+1 tablespoon

divided confectioners' sugar

3/4

cup

heavy cream

at room temperature

1-

teaspoon

vanilla extract

1/2

cup

fresh raspberries or any other seasonal fruit you like
Instructions
Sift flour, cocoa powder, brown sugar, baking powder, baking soda and kosher salt in a large bowl.

In another large bowl, whisk together the egg yolks, buttermilk, olive oil, and vanilla extract.

Fold the dry ingredients into the wet ingredients in 3 batches. Do not overbeat. Just mix them until thoroughly combined.

Using a standing mixer beat egg whites until soft peaks form, 5-7 minutes.

Gently fold in the egg whites into the batter, until no white streaks remain.

Heat your waffle maker until it is very hot. Pour 1/2 cup of the batter onto your well-oiled (with vegetable spray) waffle maker. Cook until it is cooked through. (My waffle maker has a light that goes off when it is cooked. Follow your waffle maker's instructions.) Transfer them onto a baking sheet and let them cool.
To make the Mascarpone Whipped Cream:
Place mascarpone cheese in the bowl of a standing mixer fitted with a paddle attachment, and whip it for 1 minute.

Slowly add heavy cream, confectioners' sugar, and vanilla extract in the bowl and whip the mixture until it turns into light and fluffy.

Like I mentioned in the post, everything must be in room temperature to prevent curdling.
To assemble:
Place the first waffle onto a plate and spread 1/4 cup of the mascarpone whipped cream onto it.

Place the second one on top of the first one, and again, spread 1/4 cup mascarpone whipped cream.

Repeat this process two more times.

Top it off with raspberries.

Sprinkle it with 1 tablespoon (or more) of confectioners' sugar.

Serve immediately.
Nutrition
Calories:
674
kcal
|
Carbohydrates:
55
g
|
Protein:
13
g
|
Fat:
46
g
|
Saturated Fat:
23
g
|
Cholesterol:
127
mg
|
Sodium:
671
mg
|
Potassium:
391
mg
|
Fiber:
4
g
|
Sugar:
21
g
|
Vitamin A:
913
IU
|
Vitamin C:
2
mg
|
Calcium:
275
mg
|
Iron:
3
mg
This "Dark Chocolate Waffles" portion of this recipe was adapted from here.
Like this recipe? Consider sharing: