Celebrating Mother's Day with a beautiful breakfast in bed set up with easy-to make, gluten- free and maple sweetened buckwheat pancakes.
This post has been sponsored by American Greetings. All thoughts and opinions are my own.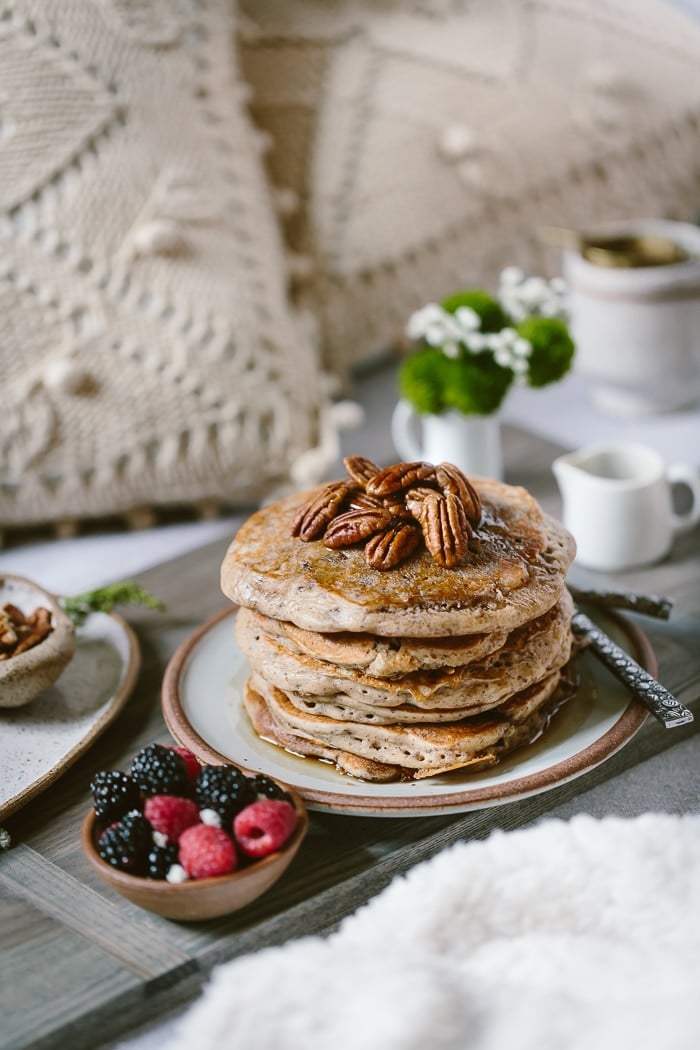 This will be the 6th year being without my mother on Mother's Day. I still miss her terribly, but the pain of loss is not as bad. I guess time did its thing and helped me get used to the idea of her passing. I do not know how, but I know that she is in a better place, no longer sick and hurting. The idea of her being pain-free is what helps me get through the sad moments. I continue to talk to her every day and hope with all my heart that she is listening to me. Who knows if she is, but the idea of her watching over me somehow makes me feel better. Plus, this year for Mother's Day I will not be alone. My father and his sister, Nazan, will be here. They both live in Turkey and I have not seen them (in person) for over 4 years. Needless to say, I cannot wait for their arrival.
My mother and aunt's friendship go way back. They grew up together in the same apartment complex and went to school together back when they were in middle school. Nazan was the one who introduced my mom to my dad. After my parents got married, their friendship continued and strengthened throughout the years. Since my mother's sudden passing, I feel as though she has taken the role of being my mother. As a breast cancer survivor herself, she has been through so much in life and we have been through it together. She is the person I call when I am in need and her love and support mean the world to me.
Therefore, her being here on Mother's Day is a big deal and I want to make her feel happy and appreciated. To celebrate this special day, I am planning to spoil her with this breakfast in bed set up alongside the most delicious maple-sweetened buckwheat pancakes. (more…)