If you are like me, a lover of pumpkin pie and a crumble cake, you are in for a treat. This Pumpkin Pie Crumble Recipe fulfills lovers of both pumpkin and crumble.
Why not try something different and give this recipe a try instead of a traditional pumpkin pie recipe?
The menu for the Thanksgiving dinner has been finalized. Everyone in our household is responsible from one dish. And I am the dessert person. My challenge is that half of our crowd loves chocolate-y desserts whereas the other half favors the more traditional deserts like pumpkin and pecan pies. So for the chocolate lovers, I know that I will be baking my Chocolate Bundt Cake recipe that never fails.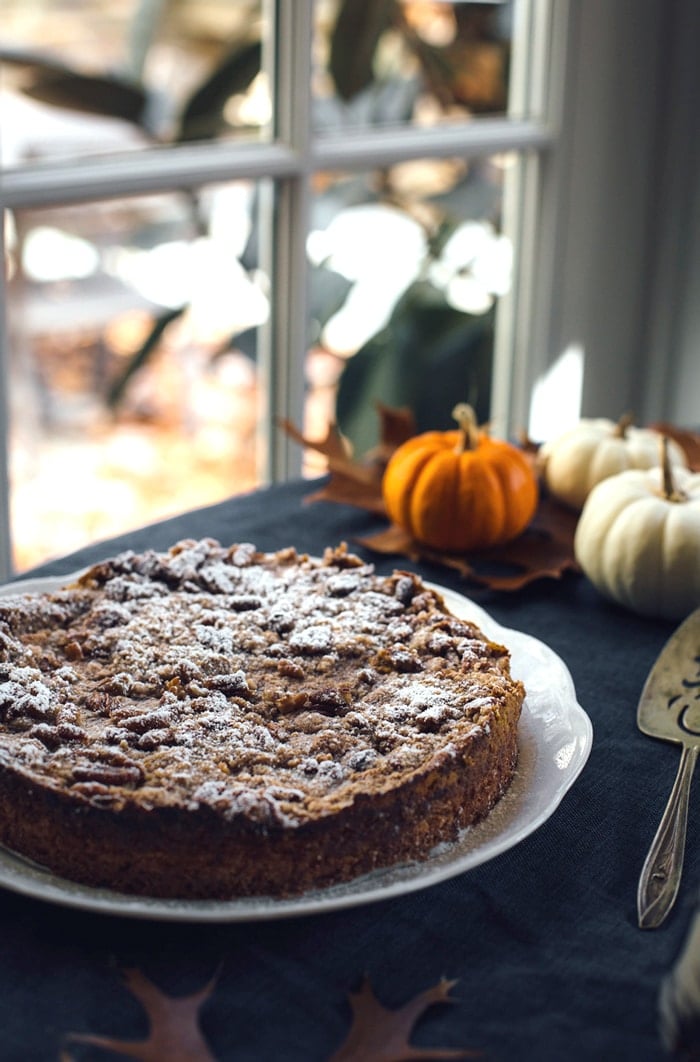 But for the more traditional members of our family, I wanted to try something different as there are so many options out there. And quite frankly, while I was brainstorming on what to bake I was mostly looking for a recipe that is made with persimmon or pear. But then I stumbled on this Pumpkin Pie Crumble recipe on Food 52's website. Mind you, after 4 pumpkin recipes that I shared this fall, I wasn't planning on another pumpkin dish, but this one looked so good to pass on. Luckily, I had all the ingredients in my pantry and I had the time to bake it on that very day.
I do not know if it was because no one was expecting to come home to a freshly baked pumpkin pie, or because it was truly delicious we were all blown away with this not-so-traditional pumpkin pie/crumble. As a result, I was asked to bake this as our "other" desert for this year's Thanksgiving table.
About This Pumpkin Pie Crumble Recipe
As the name suggests, this Pumpkin Pie Crumble is somewhere in between a pumpkin pie and a pumpkin crumble. I think that is because it has three layers of goodness; (1) shortbread-like crust, (2) light and fluffy pumpkin filling, and (3) pecan-butter-brown sugar streusel-like topping, resembling the characteristics of both a pie and a crumble. But the best part about it, in my opinion, is the fact that it gets better as it sits in the fridge. You can certainly make it a day ahead, which I am sure would be helpful as your kitchen will be busy on Thanksgiving day.
At first glance, you may think of the ingredient list long, but it is mostly because of the spices. If you were missing one or more of them you'd be fine as long as you have ground cinnamon and nutmeg, which I believe are crucial for this delicacy. Also, the process of making it might look like too many steps, but as long as your mise-en-place is in place it comes together in less than an hour and a half (including the baking time).
I personally liked my slice served cold, but my friend Dalya choose to eat hers warm. She put it in the microwave for 15 seconds just to slightly warm it up. Also if you prefer, you can serve it with a dollop of whipped cream or crème fraiche, which unfortunately we thought about after taking photos. But I know I will definitely whip some up for the big day.
---
Pumpkin Pie Crumble
A silky smooth, flavorful pumpkin custard filling and sweet and spicy gingersnap cookie crust combine in our best gingersnap pumpkin pie recipe. Gluten free option.
Print Recipe
Ingredients
For the crust:
3/4

cup

plus 2 tablespoons cake flour

(4 ounces)

1/2

cup

plus 2 tablespoons granulated sugar

(4.4 ounces)

1 1/2

teaspoons

baking powder

1/2

teaspoon

salt

1/2

cup

4 ounces unsalted butter, cold and cut into small cubes

1

large egg
For the topping:
1/4

cup

(1.25 ounces) all-purpose flour

1/4

cup

(1.75 ounces) granulated sugar

2

tablespoons

dark brown sugar

1/4

teaspoon

cinnamon

2

tablespoons

(1 ounce) unsalted butter, cold

1/2

cup

(2.12 ounces) pecans, roughly chopped
For the filling:
1

15ounces canned unsweetened pumpkin puree

2

tablespoons

brown sugar

1/4

teaspoon

ground cinnamon

1/4

teaspoon

ground all spice

1/8

teaspoon

ground cloves

1/8

teaspoon

ground ginger

1/8

teaspoon

ground nutmeg

1

large egg

1/3

cup

milk

1

tablespoon

powdered sugar

optional
Instructions
Preheat the oven to 350 degrees. Line a 9-inch spring form pan with parchment paper. Lightly butter the sides of the pan. Set aside.

To make the crust: Mix together the cake flour, sugar, baking powder, and salt into a mixing bowl. Using the back of a fork cut in the butter into the mixture until it is the size of peas. Add in the egg and mix until the dough comes together. Spread the dough evenly at the bottom of the parchment lined pan. I used the back of a spoon to spread it evenly. Bake for 20 minutes or until the top of the cake is golden brown. Set aside to cool. Do not turn the oven off.

To make the topping: Whisk together the flour, sugars, and cinnamon. Cut in the butter with a fork. Stir in the pecan pieces. Place the mixture in the fridge while you are making the filling.

To make the filling: Whisk together the pumpkin puree, brown sugar, and spices in a mixing bowl. Whisk in the egg and milk. Stir until thoroughly combined.

Pour the filling over the crust. Using the back of a spoon spread the filling evenly over the crust. Sprinkle it evenly with the topping.

Bake for 40 minutes or until the filling is set and the topping is lightly browned.

Let it cool for at least 1 hour. If preferred, lightly dust it with powdered sugar. Serve.
Nutrition
Calories:
362
kcal
|
Carbohydrates:
42
g
|
Protein:
4
g
|
Fat:
20
g
|
Saturated Fat:
10
g
|
Cholesterol:
80
mg
|
Sodium:
249
mg
|
Potassium:
66
mg
|
Fiber:
1
g
|
Sugar:
30
g
|
Vitamin A:
537
IU
|
Calcium:
76
mg
|
Iron:
1
mg
Did you make this recipe?
Tag @foolproofliving on Instagram and hashtag it #foolproofeats
Recipe is adapted (with minor changes) from Food 52's recipe.
---
Like this recipe? Consider sharing: