I call this cake The Ultimate Chocolate Bundt Cake, because I have never had a better chocolate bundt cake in my life. It requires no special equipment to make and as long as you have a bundt cake pan you are ready to go. If you are planning to make it for your holiday entertaining, feel free to garnish it with the sugared cranberries. If not, just sprinkle it with your favorite nuts. Either way, get ready to accept some compliments from your guests because you will see that this recipe is a keeper.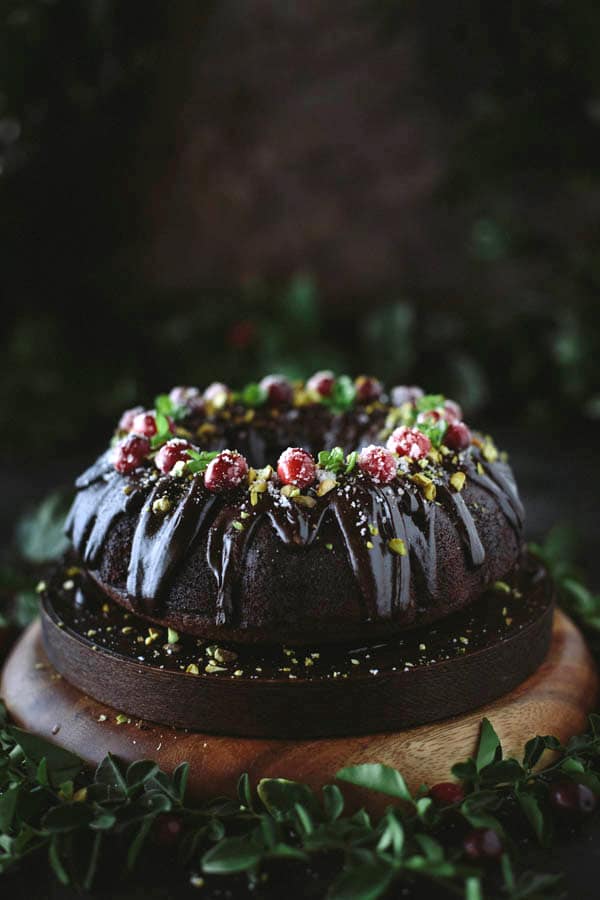 You know how there are some recipes you go back to again and again, simply because you haven't found a better one? Well, this chocolate cake recipe is one of those for me. It was one of the first recipes that I shared on Foolproof Living a year and a half ago.
Since then, I have made it so many times and received so many compliments each time I shared it with people, that I decided to update it with new photographs, notes, and more of a "Christmas look".
First thing you need to know – and you can take my word for it – this cake is actually very easy to make. As long as you have a bundt pan, you are good to go. You do not need to have a fancy mixer or any other baking equipment to make it. Basically, you mix wet ingredients with dry ingredients, pour it into a bundt pan, and bake it. It is that easy. I am telling you this because last week as I was photographing it, I posted a picture of it on Instagram with a note saying, "This is a simple chocolate cake dressed up for Christmas." Then, a couple of good friends joked about it, as they were skeptical of my definition of "simple". But seriously, it may look fancy but it is really easy to make.
Secondly, I know some people who are nervous about getting cakes out of a bundt pan in one piece. Even though I have been there myself, I learned in time that as long as you generously butter and flour the pan, and wait for the cake to cool down to room temperature (or to a level where you can comfortably hold the pan with your hands without burning yourself), you are good to go. Oh, and also – you need to have a good recipe. But no worries, this recipe is 100% foolproof.
The reason why I choose to call this cake "The Ultimate" is because I have never ate or baked any other chocolate bundt cake that is as moist and as chocolate-y as this, without being overly sweet. It literally is the best chocolate to sugar ratio for a bundt cake.
About this The Ultimate Chocolate Bundt Cake Recipe
In terms of the ingredients, they are just as simple as baking it. The only ingredient that you may not have on hand might be the Dutch processed cocoa. However, nowadays most supermarkets carry it. I have to say, for this recipe it is important that you do not substitute it with regular (unsweetened) cocoa. I have tried doing so and ended up with a cake that is less desirable. The amount of baking soda (a whopping 1½ teaspoons) being used in this recipe becomes noticeable with regular cocoa, resulting in a very tart and acidic taste.
I have no intentions of going into the details of the difference between regular cocoa powder and Dutch processed cocoa powder here. However, to understand why you need to use the latter version, all you need to know is that compared to regular cocoa powder, Dutch processed cocoa powder is stripped off all of its acids, and the somewhat extreme amount of baking soda used in this recipe compensates for the lack of acids.
Now I know what you are thinking, "Why don't we use regular cocoa powder and omit the baking powder?". Believe me, I tried it and it didn't work. So, do yourself a favor, and stick to the Dutch processed cocoa for this cake.
About the Chocolate Glaze
The chocolate glaze in this recipe is one that I use every time I need to glaze anything with chocolate. I think what makes it so delicious is because of the addition of honey added to the chocolate. I don't know why, but I love sweetening chocolate with honey instead of sugar. I guess I like it because it deepens its flavor. This sauce is somewhat thick, but if you want a thinner (more pourable) chocolate sauce, simply increase the amount of heavy cream you use in the recipe.
Last but not least, since it is the holidays, for the updated recipe I wanted to dress it up for the season. I found a recipe for sugared cranberries in the December issue of Food Network magazine. Sugared cranberries gave it the red color, and a couple of tablespoons of pistachios I chopped roughly gave it the green color. They made it look perfectly dressed for the season.
One last note: Even though this is quite embarrassing to admit, when I look back at the first version of this cake that I posted in May of 2013 here, I can't help but notice how far my photography has come since then. I almost wish I could take it down so that there wasn't proof of my lack of skill, but alas, it is all a part of the journey.
Print
The Ultimate Chocolate Bundt Cake
Author:
Prep Time:

20 minutes

Cook Time:

45 minutes

Total Time:

1 hour 5 minutes

Yield:

8 slices

Category:

Dessert

Cuisine:

American
Ingredients
For the cake:
1 cup (8 ounces) butter
1/3 cup (1 ounce) Dutch-processed cacao
1 teaspoon kosher salt
1 cup (250 ml) water
1/2 cup sour cream
1 teaspoon vanilla extract
2 cups (10 ounces) all purpose flour
1 3/4 cup (12.25 ounces) granulated sugar
1 1/2 teaspoons baking soda
2 large eggs – at room temperature
4 ounces bitter sweet chocolate (60% cocoa)- finely chopped
1 tablespoon honey
1/2 cup heavy cream
1 tablespoon granulated sugar
3 tablespoons pistachios, chopped coarsely
For the sugared cranberries (optional):
1/2 cup water
1/2 + 1/2 cup sugar, divided
1 1/2 cups fresh cranberries, washed
Instructions
Position a rack in the center of your oven and pre-heat it to 350°F. Butter and flour a 10-inch Bundt pan.
Combine butter, cacao powder, salt, and water in a saucepan, and heat it over medium heat. Cook, stirring frequently, until the butter is completely melted. Remove it from the heat, and let it cool for 15-20 minutes.
In a small bowl whisk sour cream and vanilla until combined. Set aside.
In a large mixing bowl, whisk together the flour, sugar and baking soda.
Pour in the cacao powder and butter mixture into the dry ingredients in two batches, and whisk until they are all blended.
Whisk in the eggs one by one making sure that they are fully incorporated into the mixture. Add in the sour cream and vanilla extract mixture. Whisk until smooth.
Pour the batter into Bundt pan, and bake it for 40 to 45 minutes, or until a toothpick inserted comes out clean.
Let the cake cool in the Bundt pan for half an hour before flipping it onto a cake platter.
To make the glaze: Place the chocolate and honey in a bowl. Put the heavy cream and sugar in a small saucepan and heat it over medium heat until sugar is fully dissolved. Pour the warm cream and sugar mixture onto the chocolate and honey mixture and stir it until smooth and silky.
Generously spoon the chocolate glaze over the cake.
To make the sugared cranberries: Place 1/2 cup sugar and water in a small saucepan and bring it to a boil. Pour the mixture over the cranberries. Allow it to cool for an hour and drain. Sprinkle 1/2 cup sugar on to a baking sheet. Roll the cranberries in sugar and let them dry for 4 hours.
To decorate the cake for this Christmas Edition: Decorate the top of the cake with sugared cranberries and sprinkle it with pistachios.
Notes
Note: You can use the rest of the sugared cranberries to decorate cupcakes or add them in drinks as decoration.
The recipe for the chocolate bundt cake is adapted from Bi-Rite Market's Eat Good Food
cookbook.
Recipe for the sugared cranberries is adapted from here.