You know how there are some recipes you go back to again and again, simply because you haven't found a better one? Well, this chocolate bundt cake recipe is one of those for me. It was one of the first recipes that I shared on Foolproof Living when I first started blogging.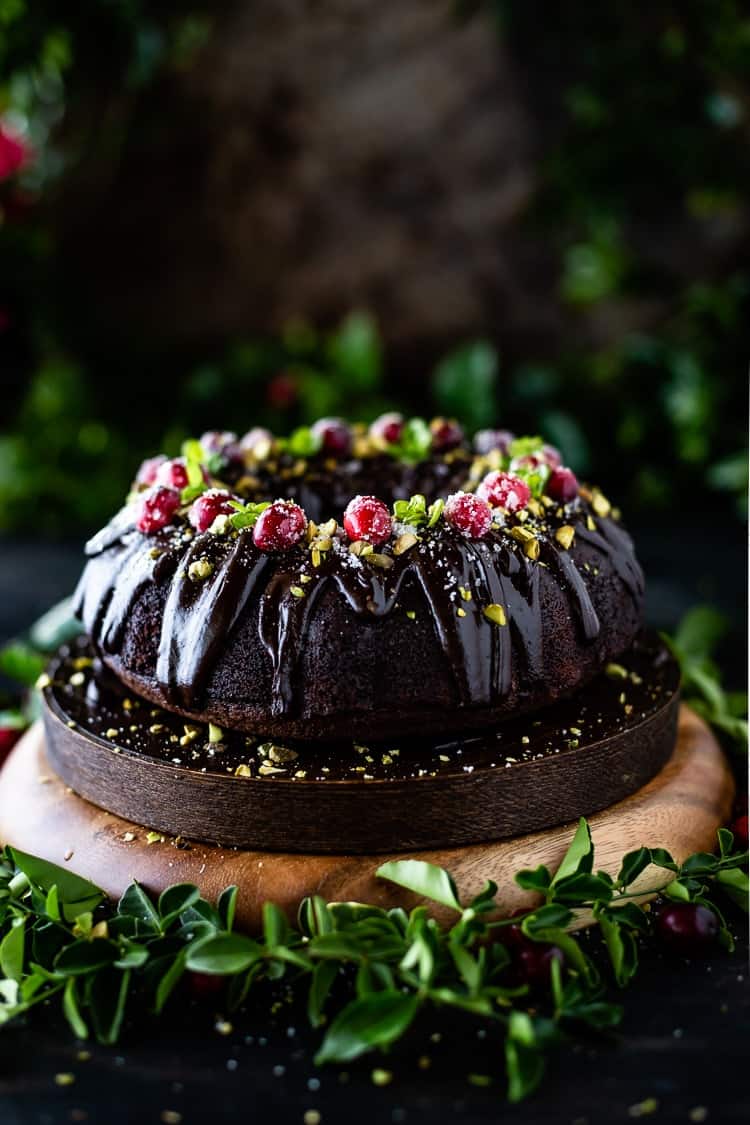 Since then, I have made it so many times and received so many compliments each time I shared it with people, that I decided to update it with new photographs, notes, and more of a "Christmas look".
First thing you need to know – and you can take my word for it – this cake is actually very easy to make. As long as you have a 10-cup bundt pan, you are good to go. You do not need to have a fancy mixer or any other baking equipment to make it.
Basically, you mix wet ingredients with dry ingredients, pour it into a bundt pan, and bake it. It is that easy. I am telling you this because last week as I was photographing it, I posted a picture of it on Instagram with a note saying, "This is a simple chocolate cake dressed up for Christmas." Then, a couple of good friends joked about it, as they were skeptical of my definition of "simple".But seriously, it may look fancy but it is really easy to make.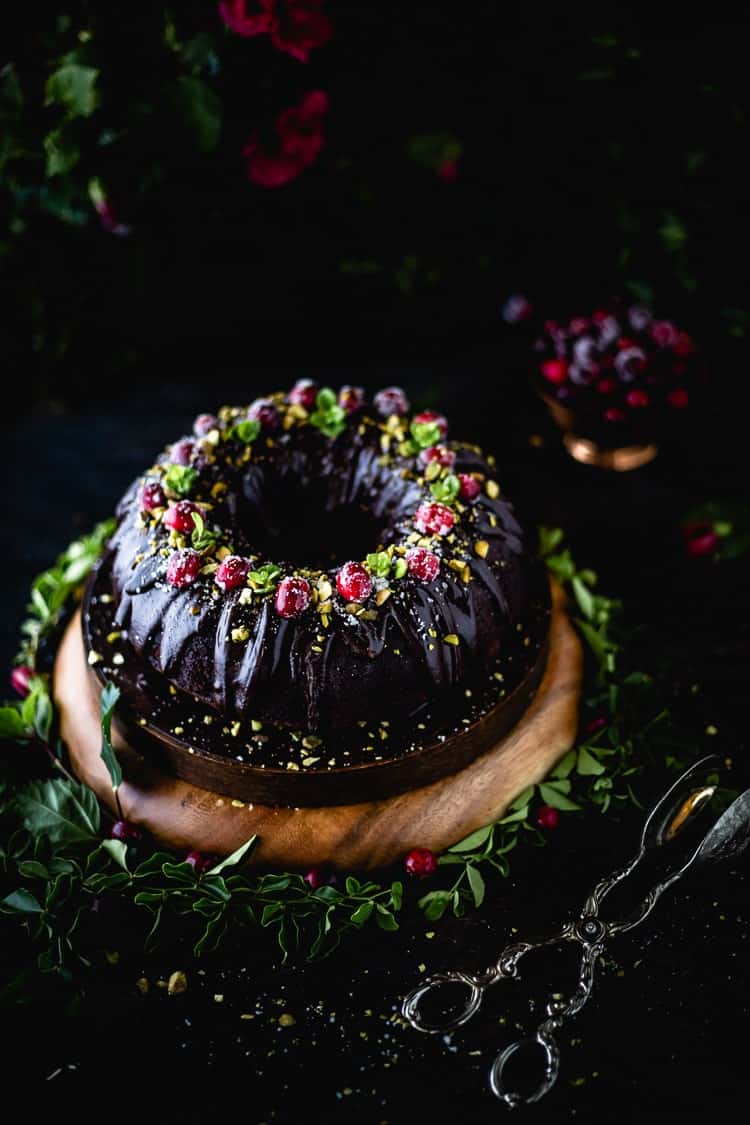 Secondly, I know some of you might be nervous about getting cakes out of a bundt pan in one piece. Believe me, I feel you. However, please know that as long as you generously butter and flour the pan, and wait for the cake to cool down to room temperature (or to a level where you can comfortably hold the pan with your hands without burning yourself), you are good to go.
Oh, and also – you need to have a good recipe. But no worries, this chocolate bundt cake recipe is 100% foolproof.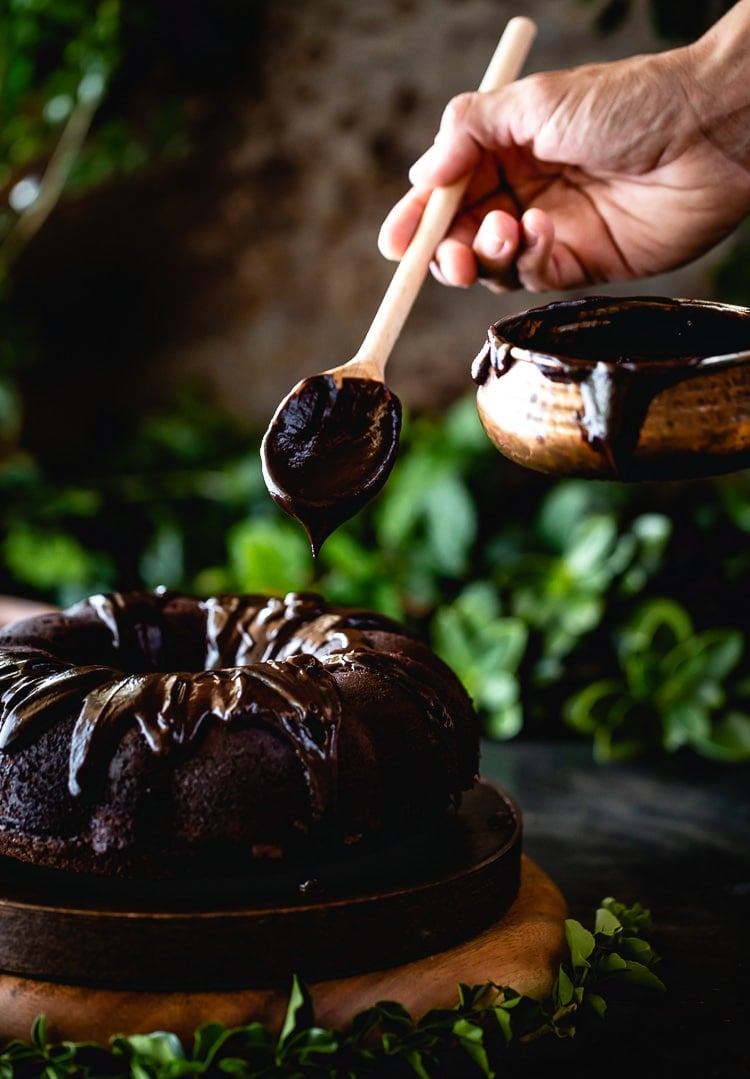 How to make a chocolate cake from scratch
The recipe for chocolate bundt cake has 3 folds.
First, you prep the batter: To do so, you start by melting some butter with cocoa powder and water. This is the "chocolate" part of the recipe. I recommend doing this at the very beginning as you'll need it to cool down while you are getting the other ingredients.
While it is cooling down, mix together sour cream and vanilla and set them aside. Sour cream is crucial for this chocolate bundt cake to be moist.
In a large bowl (this would be the bowl you will mix everything so pick one accordingly), whisk together the dry ingredients: flour, sugar, and baking soda.
Second, pour in the now-cooled cocoa-butter mixture into the dry ingredients and gently fold it in in two batches. Whisk in the eggs one at a time and mix until fully incorporated.
Third, oil and flour a 10-cup bundt cake pan generously. Pour in the batter into the bundt pan.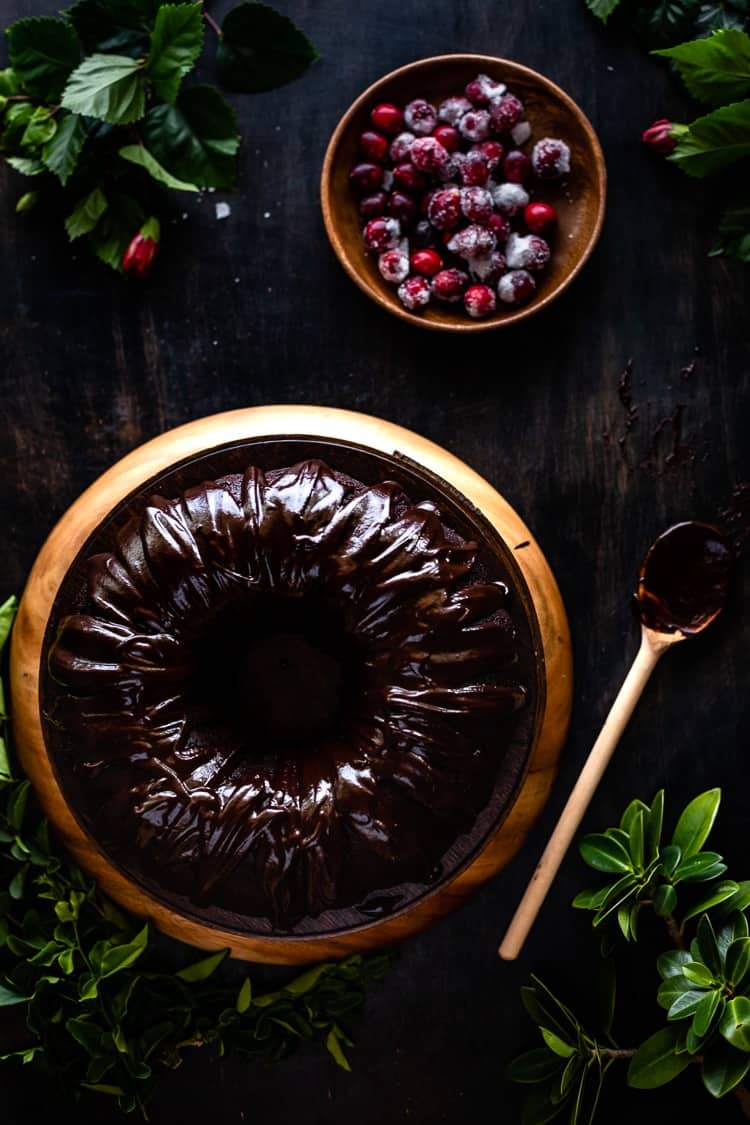 How long does it take to bake a chocolate cake
This easy chocolate bundt cake recipe takes between 40-45 minutes to bake at a preheated 350 degree oven. However, I recommend testing the doneness by doing the toothpick test to make sure that it is fully baked.
How long to let cake cool in the bundt pan
It is imperative that you let the cake cool for at least 30 minutes for it to come out of the bundt pan in one piece. In my experiments, I found that 30 minutes is usually enough, but if you have time and don't mind waiting, I recommend letting it fully cool to room temperature before inverting it onto a plate.
A Word on using dutch-processed cocoa powder
I wanted to take a moment here and mention the importance of using Dutch processed cocoa powder in this recipe. If you are a regular baker you probably know that it is NOT the same thing with regular cocoa powder. As a matter of fact, if you substitute Dutch-processed version with regular cocoa powder, this sour cream chocolate cake will have a very tart and acidic taste.
Luckily, nowadays most supermarkets sell Dutch-processed cocoa powder. If you can't find it, you can also order it online. This is the brand (affiliate link) I used in my chocolate bundt cake recipe here.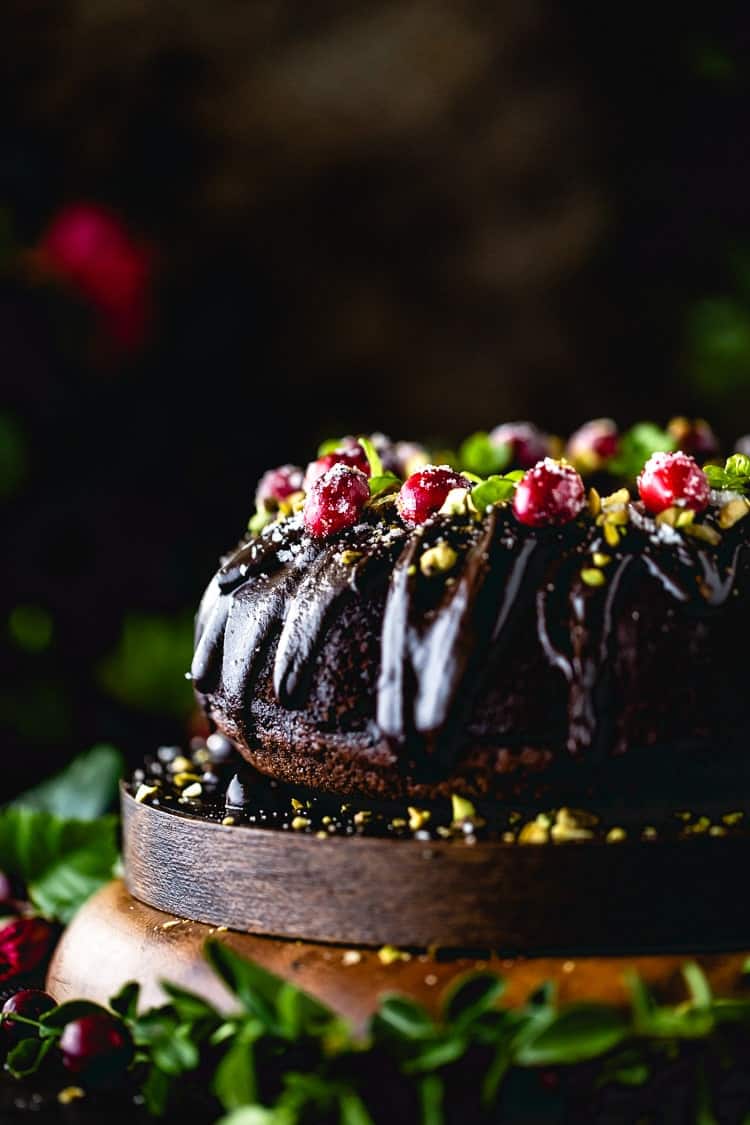 How to make chocolate glaze for bundt cake
The last step in this recipe is making the chocolate glaze and all the fun decorations on top.
The chocolate glaze I used in this recipe is the one that I use every time I need to glaze anything with chocolate. It is made by melting baking chocolate with honey by pouring hot (boiling) heavy cream and whisking until smooth.
You can certainly make it with granulated sugar only, but I highly recommend using honey as well as I think it adds another layer of flavor to the whole recipe.
This sauce is somewhat thick, but if you want a thinner (more pourable) chocolate glaze for this bundt cake, simply increase the amount of heavy cream you use in the recipe until it reaches the consistency you want.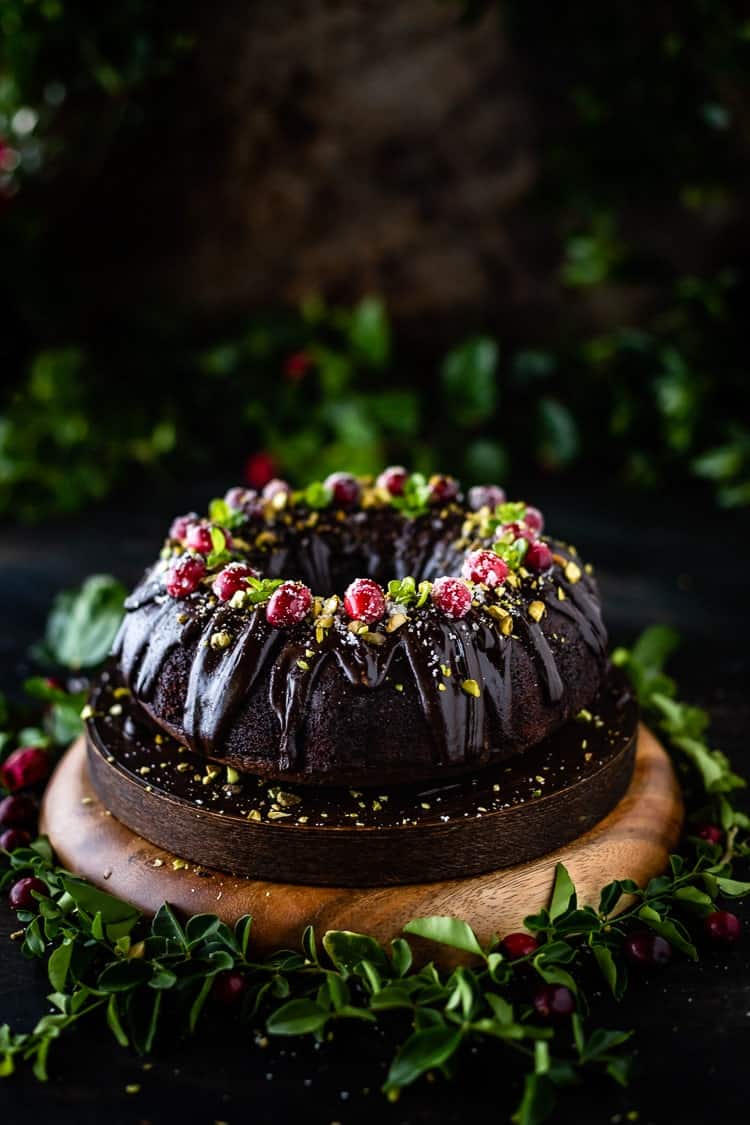 How to decorate a chocolate bundt cake
Last but not least, since it is December, for the this updated version, I wanted to dress it up appropriately for the season and turn it into Christmas bundt cake recipe that you can easily make in your own kitchen.
To decorate it, I made sugared cranberries that I found in Food Network Magazine. Then I placed them on my bundt cake after I smothered it with chocolate. To finish it off, I sprinkled it with pistachios and some baby basil leaves (though basil leaves for more for the photos).
While it ended up being perfectly dressed for the season, certainly one that you can add in your Christmas bundt cake recipes collection, you can easily decorate it with anything you have on hand.
Alternatively, you can use fresh berries, sliced oranges, or go all chocolate and top it off with mint chocolate. Seriously, use your imagination, sky is the limit.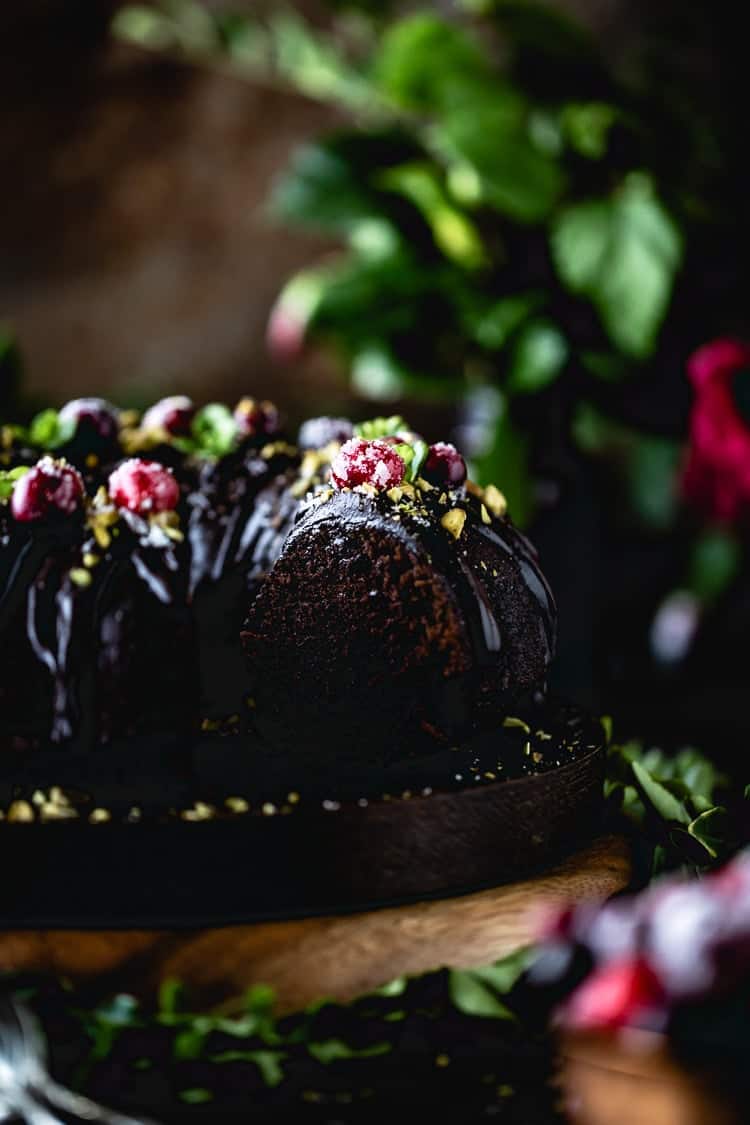 How long does bundt cake last
This cake will last for up to 2 days on the kitchen counter as long as it is kept in an airtight container. I use a cake stand with a glass lid to cover it, similar to this one (affiliate link).
Can I freeze this chocolate bundt cake
You can freeze this bundt cake after it is fully cooled down to room temperature. If you decide to do so, I recommend:
Placing the leftover slices in an airtight container and freezing them in it. With that being said, if you want you can freeze the whole bundt cake. If you decide to do so, be sure to wrap it tightly with stretch film to prevent freezer burn.
Making the glaze right before serving it. In other words, I do not recommend freezing it with the chocolate glaze.
Whether you make it for the holiday season like I did or for a fun birthday party gathering, this easy chocolate bundt cake recipe is guaranteed to impress.
If You Liked This Simple Chocolate Bundt Cake Recipe, You Might Also Like
The Ultimate Chocolate Bundt Cake Recipe
I call this The Ultimate Chocolate Bundt Cake because I think it is the one and only chocolate bundt cake recipe you need. It is super easy to make, incredibly moist and very chocolatey. If you are looking for the perfect bundt cake recipe, you've found it!
Print Recipe
Ingredients
For The Cake:
1

cup

unsalted butter

(8 ounces)

1/3

cup

Dutch-processed cocoa powder

(1 ounce )

1

teaspoon

kosher salt

1

cup

water

(250 ml)

1/2

cup

sour cream

1

teaspoon

vanilla extract

2

cups

all purpose flour

(10 ounces)

1 3/4

cups

granulated sugar

(12.25 ounces)

1

teaspoon

baking soda

2

large eggs

at room temperature
For The Chocolate Glaze
4

ounces

bitter sweet chocolate

60% cocoa- cut into small pieces

1

tablespoon

honey

1/2

cup

heavy cream

1

tablespoon

granulated sugar

3

tablespoons

pistachios

chopped coarsely
For The Sugared Cranberries (optional):
1/2

cup

water

1/2

+ 1/2 cup sugar

divided

1 1/2

cups

fresh cranberries

washed
Instructions
Position a rack in the center of your oven and pre-heat it to 350°F. Butter and flour a 10-inch Bundt pan.

To make the batter: Combine butter, cacao powder, salt, and water in a saucepan, and heat it over medium heat. Cook, stirring frequently, until the butter is completely melted. Remove it from the heat, and let it cool for 15-20 minutes.

In a small bowl whisk sour cream and vanilla until combined. Set aside.

In a large mixing bowl, whisk together the flour, sugar, and baking soda.

Pour in the now-cooled cacao powder and butter mixture into the dry ingredients in two batches, and whisk until they are all blended.

Whisk in the eggs one by one making sure that they are fully incorporated into the mixture. Add in the sour cream and vanilla extract mixture. Whisk until smooth.

Pour the batter into the prepared bundt pan. Bake it for 40 to 45 minutes, or until a toothpick inserted comes out clean.

Let the cake cool in the Bundt pan for half an hour before flipping it onto a cake platter.

To make the glaze: Place chocolate and honey in a bowl. Set aside.

Put the heavy cream and sugar in a small saucepan and heat it over medium heat until sugar is fully dissolved. Pour the warm cream and sugar mixture onto the chocolate and honey mixture and stir it until smooth and silky.

Generously spoon the chocolate glaze over the cake.

To make the sugared cranberries: Place 1/2 cup sugar and water in a small saucepan and bring it to a boil. Pour the mixture over the cranberries. Allow it to cool for an hour and drain. Sprinkle 1/2 cup sugar on to a baking sheet. Roll the cranberries in sugar and let them dry for 4 hours.

To decorate the cake for this Christmas Edition: Decorate the top of the cake with sugared cranberries and sprinkle it with pistachios (or other nuts).
Notes
Note: You can use the rest of the sugared cranberries to decorate cupcakes or add them in drinks as garnish.
Nutrition
Calories:
595
kcal
|
Carbohydrates:
75
g
|
Protein:
6
g
|
Fat:
32
g
|
Saturated Fat:
19
g
|
Cholesterol:
105
mg
|
Sodium:
374
mg
|
Potassium:
213
mg
|
Fiber:
3
g
|
Sugar:
50
g
|
Vitamin A:
885
IU
|
Vitamin C:
2
mg
|
Calcium:
49
mg
|
Iron:
3
mg
The recipe for the chocolate bundt cake is adapted from Bi-Rite Market's Eat Good Food cookbook.
Like this recipe? Consider sharing: