In need of inspiration for Thanksgiving recipes that are made with wholesome ingredients? If so, you have come to the right place! Here are a collection of recipes for a healthy Thanksgiving menu.
Heading to a friendsgiving potluck? Also, check our Friendsgiving Food Ideas collection for easy recipes to celebrate the holidays with close friends.
Delicious & Healthy Thanksgiving Recipes for Everyone
Like I do every year, below, I put together a round-up of over 35 appetizers, salads, soups, vegetable sides, and desserts that I make every year for Thanksgiving. This list includes one of the most popular healthier Thanksgiving dishes on the blog, Butternut Squash and Quinoa Salad.
Thank you from the bottom of my heart for being a part of this community and supporting my blog. Wishing you and your loved ones a happy Thanksgiving.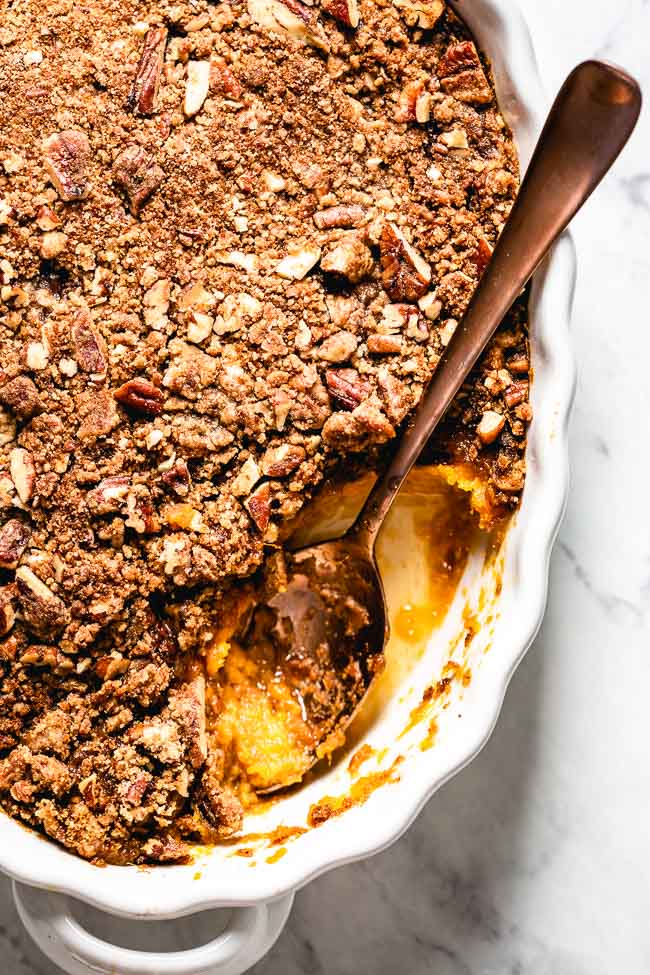 ---
Healthy Thanksgiving Appetizers
01
---
This is my go-to appetizer recipe not just during the holidays but all year round. I usually serve it with my olive bread or no knead bread and it is one of the first things to disappear. The best part is that it only takes 5 minutes to put together.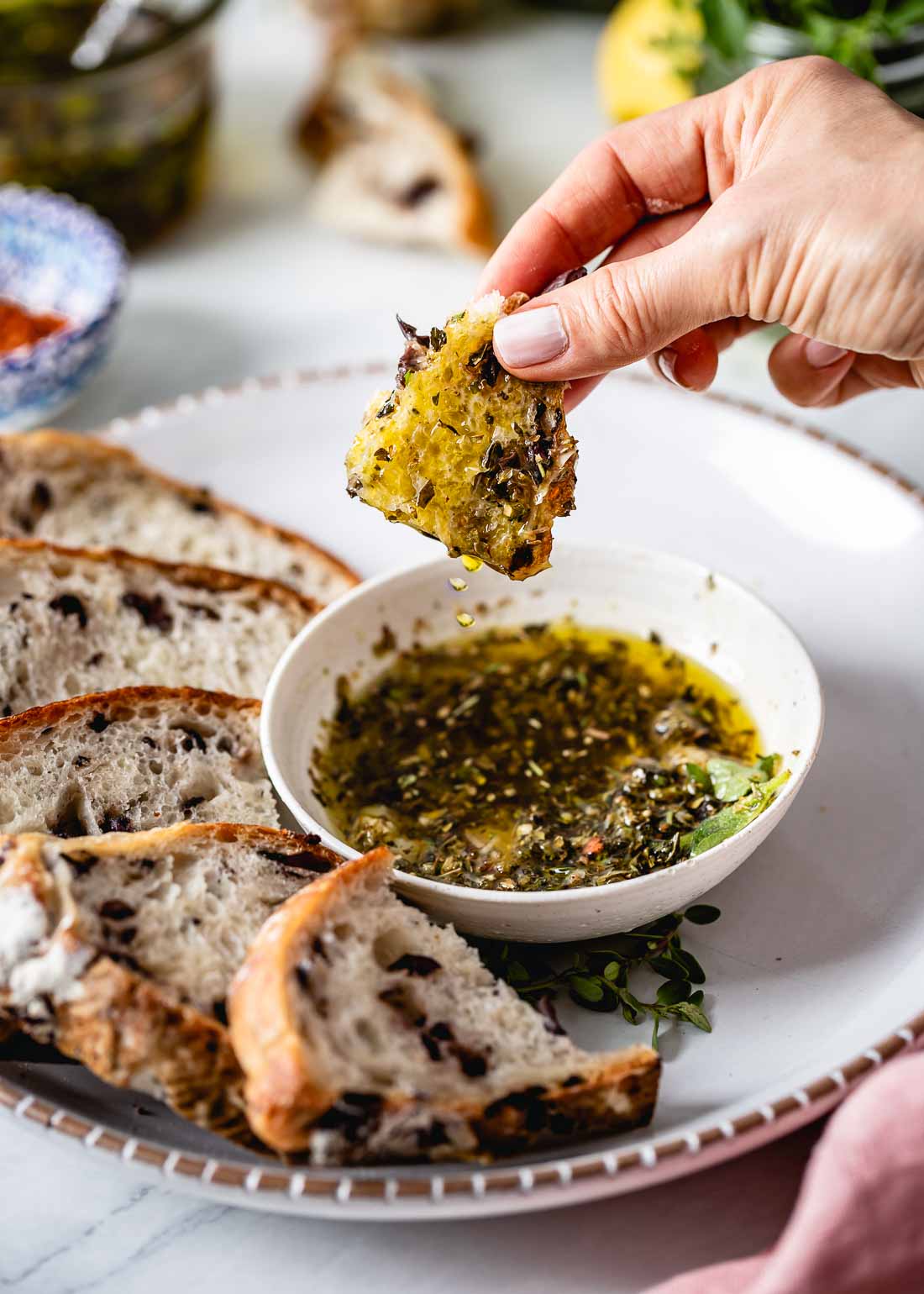 ---
02
---
If you love olives then this olive bread is a must try. Made in a dutch oven, it is one of the most popular recipes on this blog for good reason. It is easy to make but so crusty and delicious.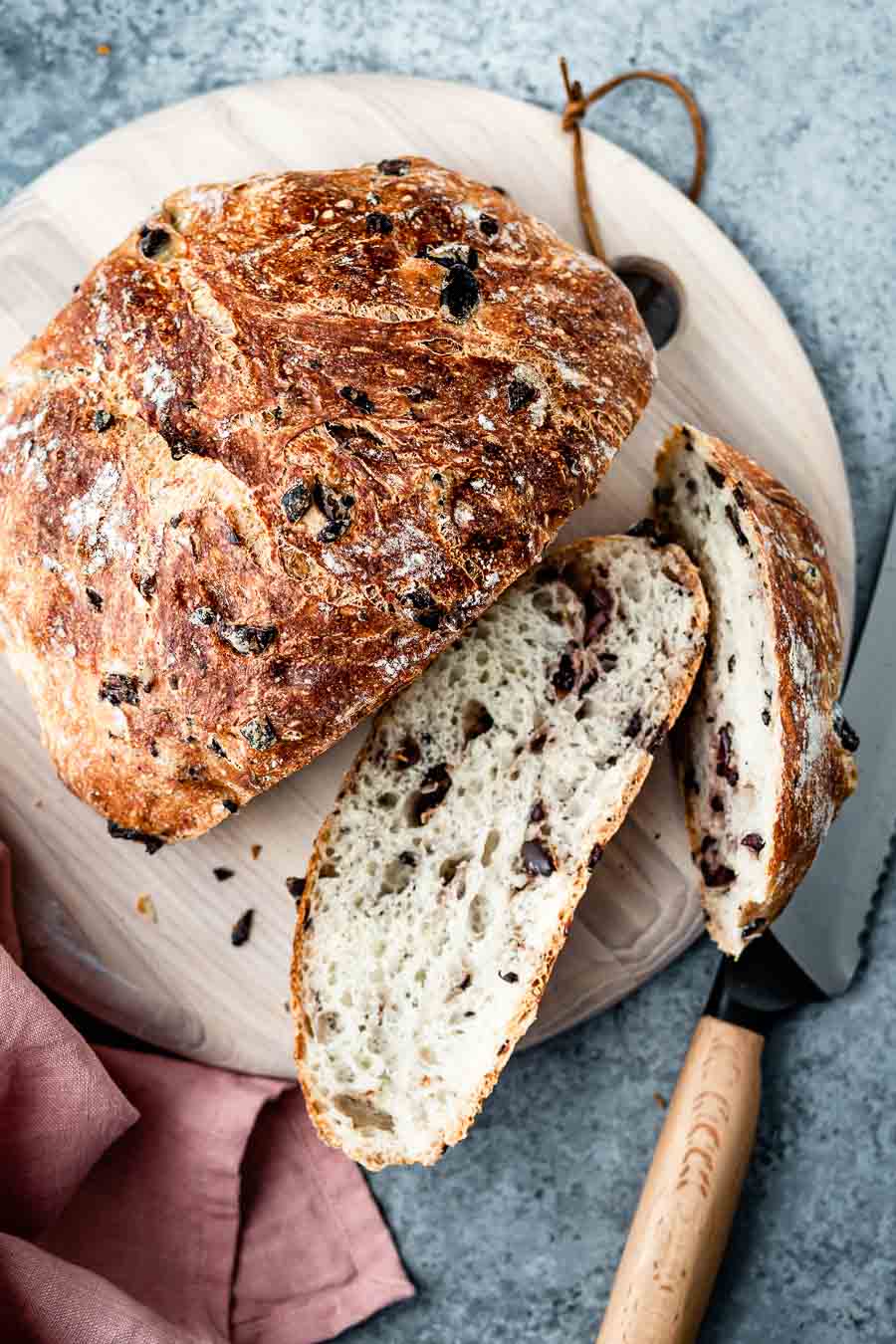 ---
03
---
Get all my tips and tricks for the best meats and cheeses for charcuterie board along with wine pairings. This post includes the formula that I follow to put together my cheese platters.
---
04
---
For years my go-to recipe for homemade biscuits was my Whole Wheat Buttermilk Biscuits. However, nowadays I am loving this sweet potato flavored biscuits recipe and make it often.
And you prefer a gluten-free and paleo biscuit instead, be sure to check out my Low-carb Almond Flour Biscuits instead.
---
05
---
There is nothing better than a warm cheese dip, especially if the cheese used in the recipe is goat cheese. This dip comes together so quickly and is just so SO delicious.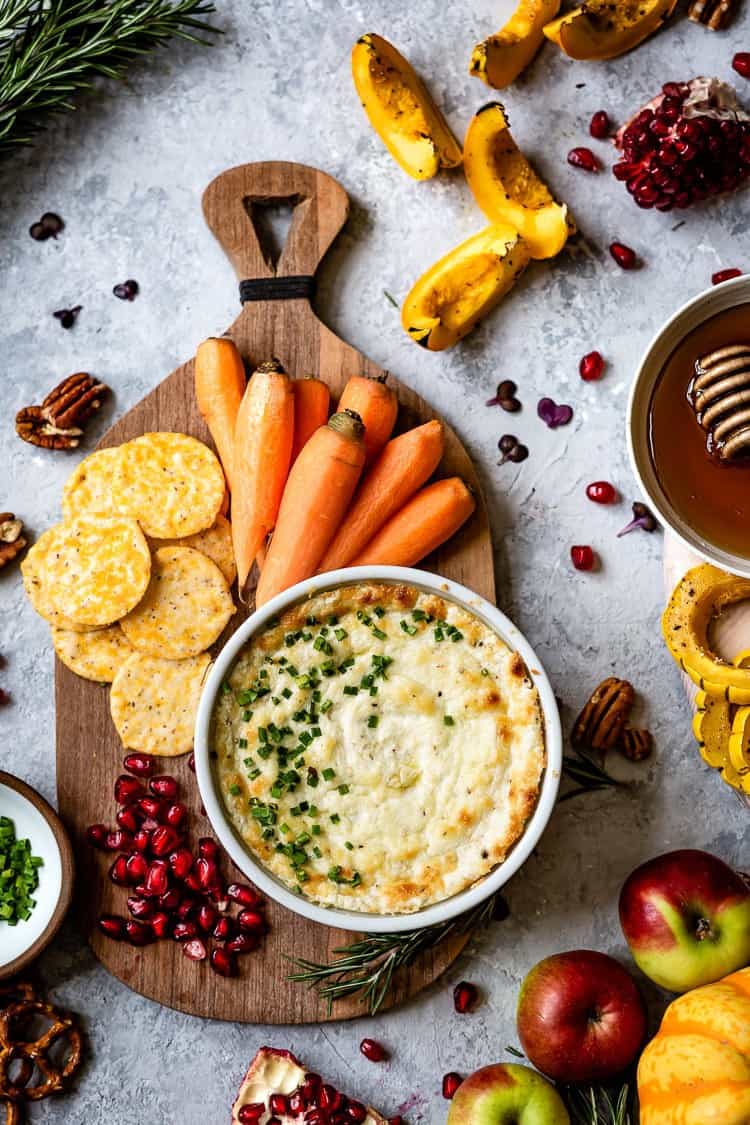 ---
Healthy Thanksgiving Salad Recipes
Make some room on your holiday table for some healthy yet flavor-packed salads. Below are my favorite colorful and festive salad recipes that I make over and over again.
01
---
A kale based autumn salad flavored with figs, apples, goat cheese, and drizzled with a homemade balsamic vinaigrette.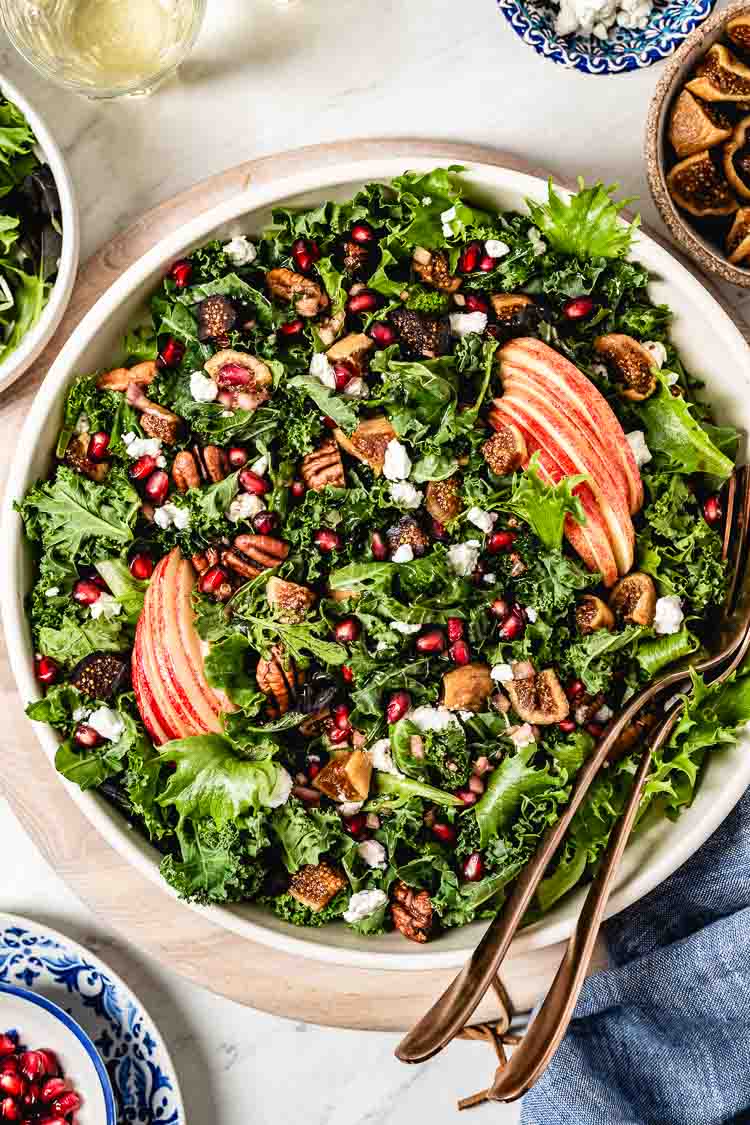 ---
02
---
Shredded brussels sprouts mixed in with maple roasted pecans, blue cheese, pomegranate arils, and massaged kale.
If you are in need of similar healthy Thanksgiving alternatives made with kale, be sure to also check out my Apple Kale Slaw recipe.
---
03
---
If you are not using apples in your salads you are missing so much out of life. Okay, maybe I am a little exaggerating. However, sliced apples mixed in with salad greens (in this case baby spinach), walnuts, raisins, and cheddar make a delicious salad. Drizzled with yogurt-based homemade salad dressing, this apple salad is ready in less than 20 minutes.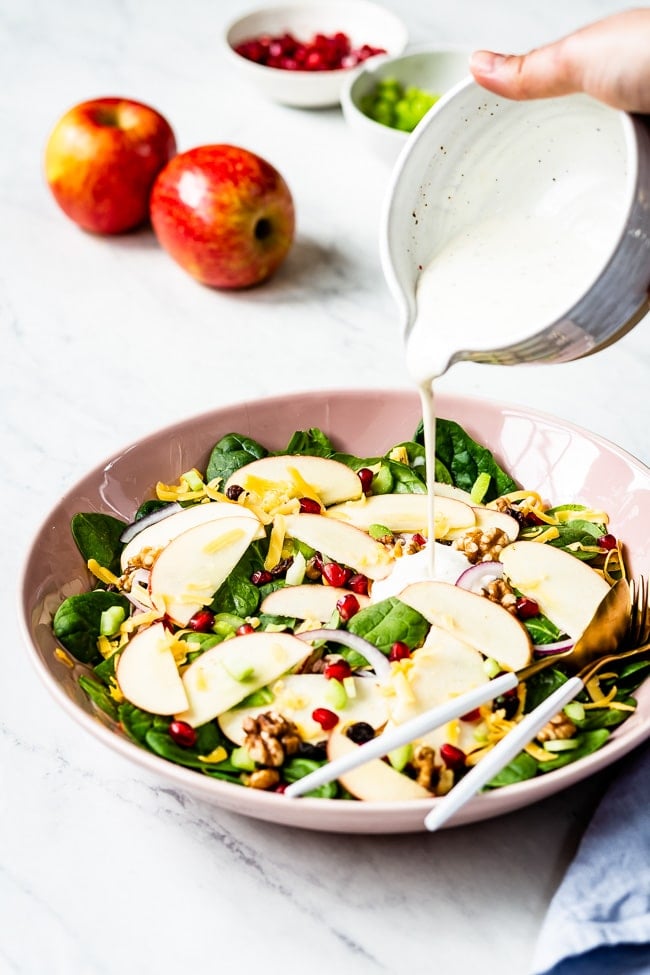 ---
04
---
This Barefoot Contessa recipe is a classic that shows up on our holiday table every year. Drizzled with tahini dressing, this roasted butternut squash salad is perfect if you have guests who are vegan.
---
05
---
Roasted acorn squash slices flavored with arugula, pepitas, and cranberries and topped off with goat cheese and pomegranate seeds. This recipe has everything you want in a Thanksgiving salad.
---
06
---
If you have never made a raw Brussels sprouts salad, you are in for a treat. My version here is vegetarian and flavored with apples, hazelnuts, and creamy goat cheese.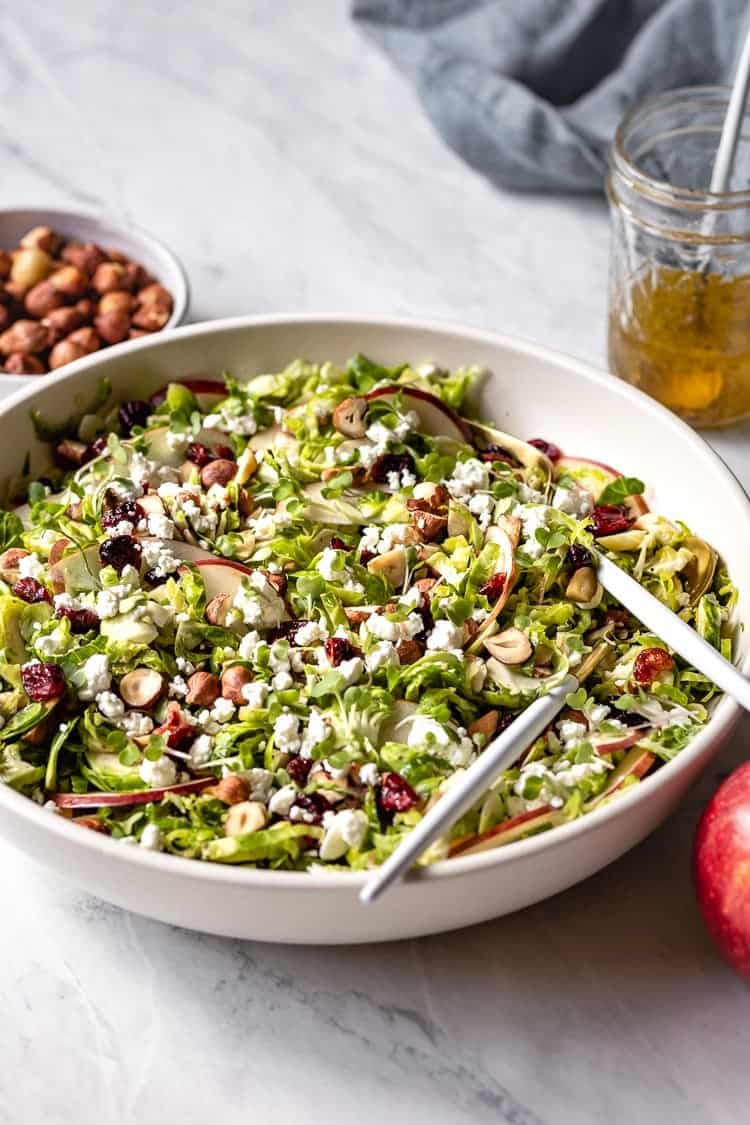 ---
07
---
This vegan Wild Rice Salad recipe is made by tossing cooked wild rice mixed with pecans, cranberries, and grapes in an orange vinaigrette. It's a perfect salad for any of your holiday entertaining and can be made ahead of time for a fast and easy side dish that is packed with fall and winter flavors.
---
08
---
If you have some extra roasted butternut squash this quinoa salad comes together very quickly. Flavored with cranberries and walnuts, it is a festive salad that will add a pop of color to your holiday table.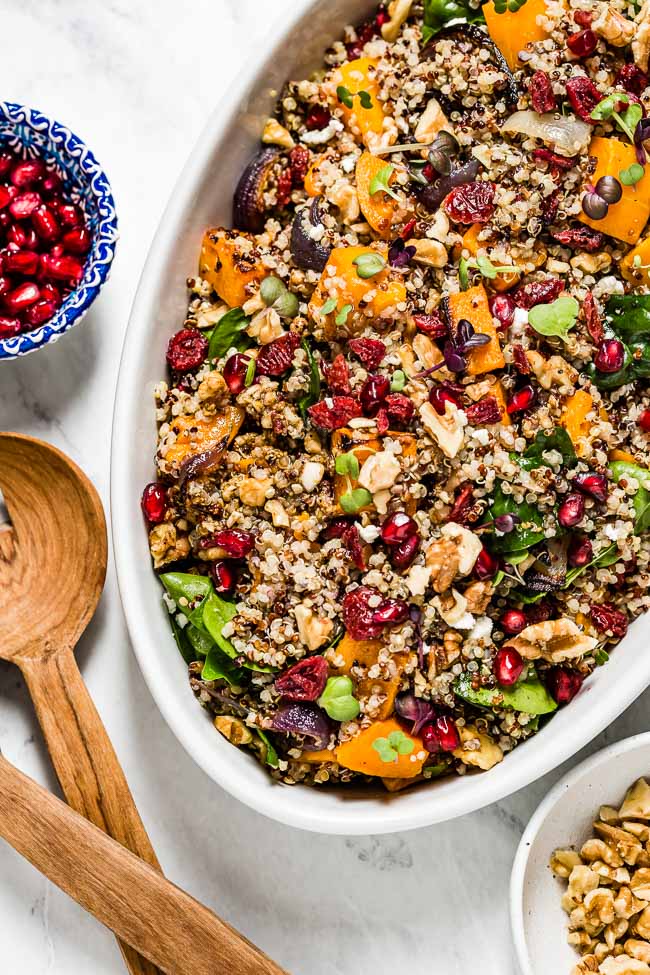 If you are a fan of similar healthy salads, be sure to check out my collection of easy quinoa salad recipes. They are all vegetarian and ready in 30-40 minutes.
---
Healthy Thanksgiving Dinner
While roasting a whole turkey is traditional, there are other options out there. Here are some of our favorite heart-healthy Thanksgiving recipes that you can make:
01
---
This Turkey Tenderloin Recipe combines simple ingredients like ground spices and olive oil for juicy, flavorful tenderloins that are guaranteed to impress. Serve this dish for a small Thanksgiving gathering with a few sides and call it a holiday meal.
Additionally, if you have some extra time, you can use my Turkey Tenderloin Marinade recipe to flavor turkey loins for an extra special (and ultra-flavorful) Thanksgiving meal.
And if you have any leftover turkey, the sliced tenderloin makes the best sandwiches with my low sugar cranberry sauce.
---
02
This Roasted Turkey Drumstick Recipe is a no-fuss way to enjoy turkey without the hassle of cooking the entire bird. Perfectly portioned, these turkey legs are seasoned with butter flavored with everyday spices and roasted in the oven.
If you prefer to make them even faster, try my Air Fried Turkey Legs recipe.
---
03
Prefer to skip turkey this year? Try this delicious roasted cornish hens recipe. Marinated overnight in a lime juice-based marinade, it is cooked in a dutch oven in oven.
Cornish hens are great if you are entertaining a small crowd, as each bird can be served to one person. And if you are in need of ideas, be sure to check out my post on side dishes to serve with cornish hens.
---
Healthy Thanksgiving Soup Recipes
Serve up something warm, creamy, and delicious before the turkey. Here are my favorite fall soup recipes perfect for your Thanksgiving meal.
01
---
Topped off with a dollop of creme fraiche, this vegetarian butternut squash soup is lusciously delicious. It is ready in less than an hour and can be made a day in advance.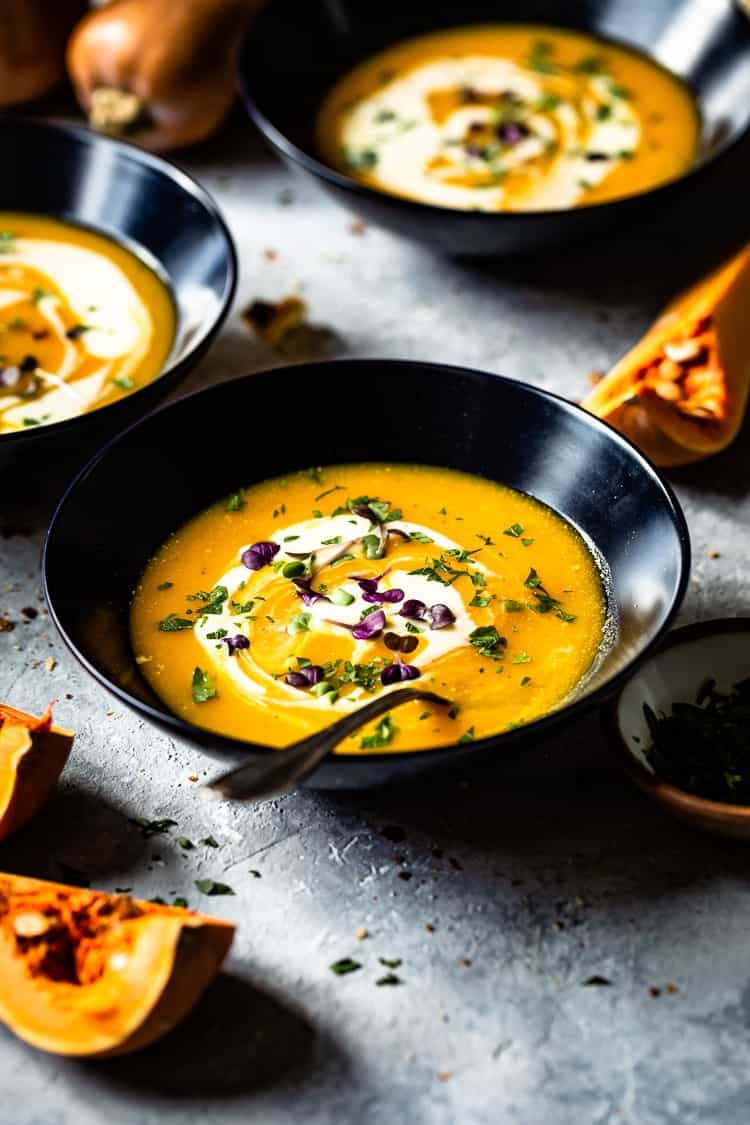 To me, this is the ultimate healthy Thanksgiving dish that is not only low fat and low calorie but also delicious.
---
02
---
If you want to try your hand at roasting kabocha squash, this is a great recipe. Enriched with miso and ginger, this is a great vegan and gluten-free soup recipe.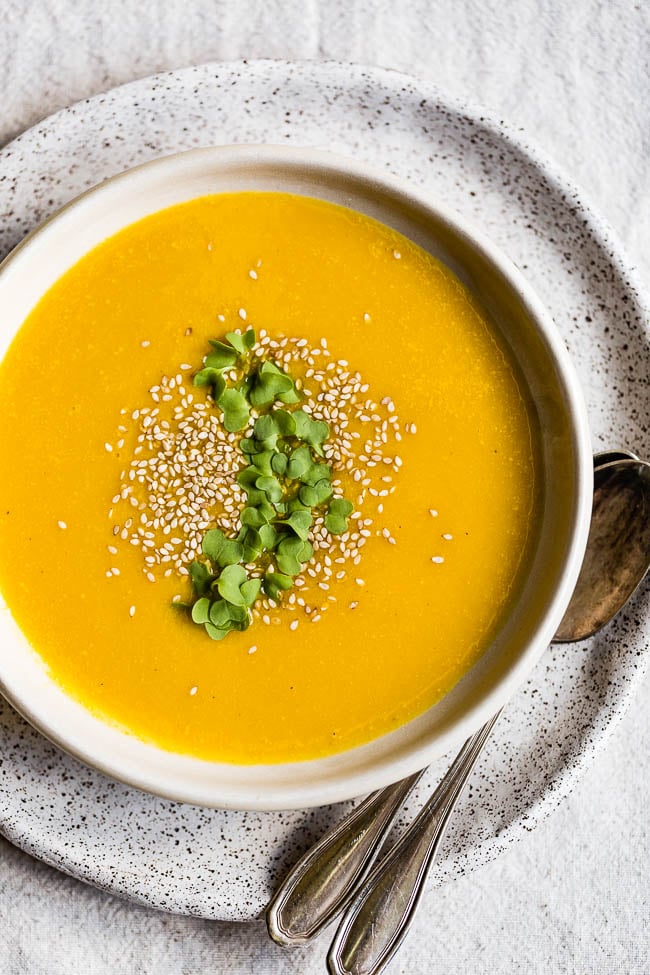 ---
03
---
If you are more of a pumpkin lover or have some leftover pumpkin, made this pumpkin ginger soup. It comes together rather quickly, in around 30 minutes, and it is a delicious soup that warms your insides.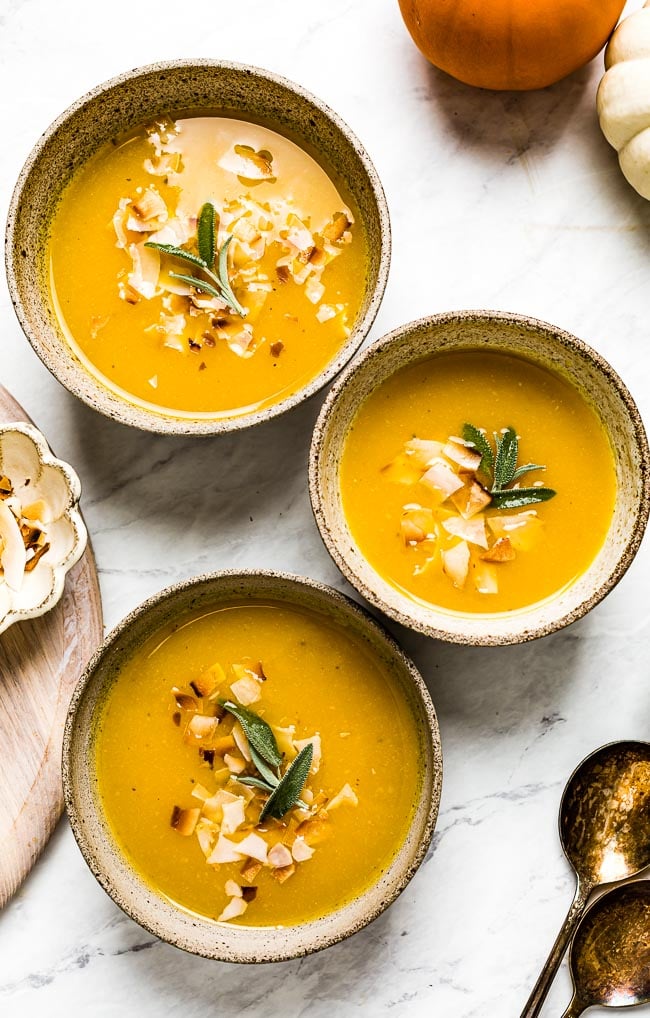 ---
04
---
Topped off with roasted shiitake mushrooms, this vegan and gluten-free cauliflower and celery soup is packed with superfoods.
---
05
---
Whether you make it with roasted carrots or by cooking everything on the stove top, this Carrot Ginger Soup is truly a bowl of goodness. It is truly a great starter for any holiday meal.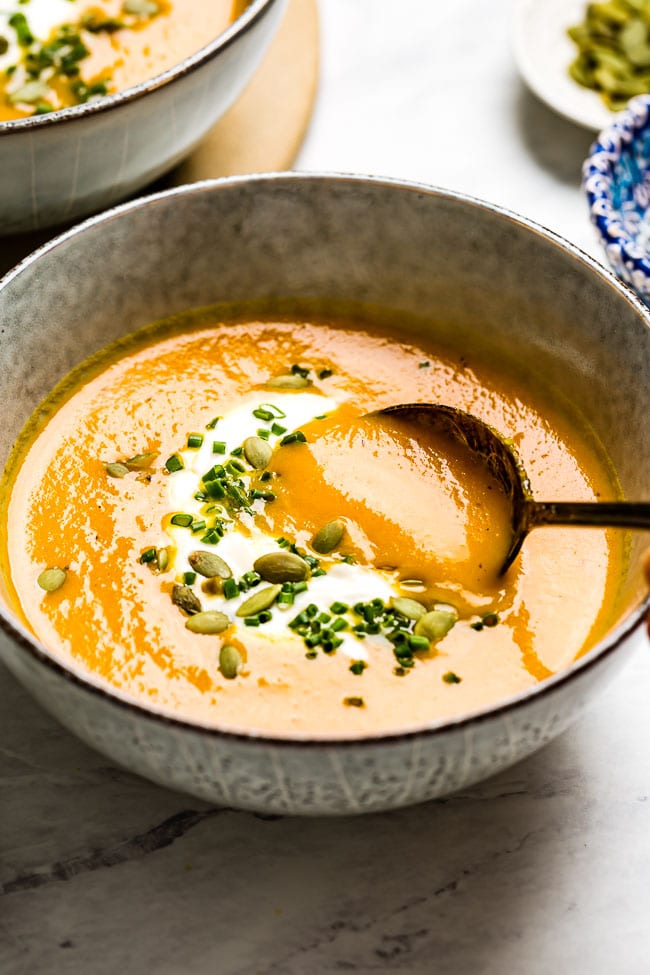 ---
Healthy Thanksgiving Side Dishes
From mashed sweet potatoes to cornbread stuffing, these side dishes are just as good as the main meal.
01
---
Savory, flavorful and veggie-packed vegetarian cornbread stuffing made with a day old Jiffy jalapeno cheddar cornbread and green beans. A healthy homemade stuffing for your Thanksgiving meal.
---
02
---
Roasted Acorn Squash filled with hearty and gluten-free quinoa stuffing flavored with cranberries and pecans. Add this Vegan Stuffed Acorn Squash recipe to your Thanksgiving dinner menu to serve your vegetarian or vegan guests.
---
03
---
Roasted delicata squash is one of my favorite fall snacks. I usually slice it up, roast it in the oven and eat it just like that. However, in the version below, I drizzled it with agrodolce sauce, which made it a great side dish.
---
04
---
This easy Mashed Sweet Potatoes Recipe is my favorite Thanksgiving side dish that I have been making over 10 years. It is made with only a few ingredients, cooked on the stove-top and ready in 30 minutes.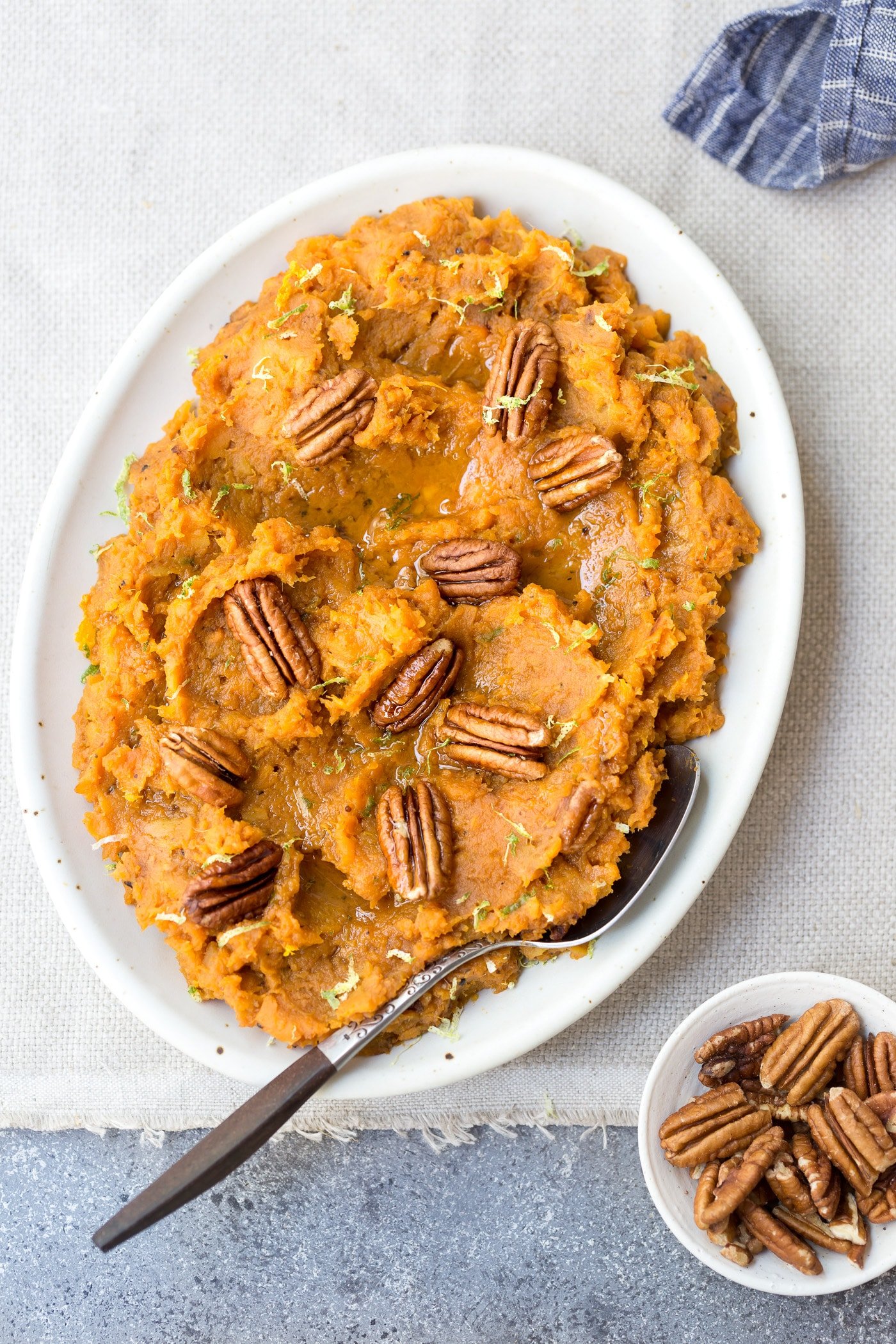 ---
05
---
This Double Layered Mashed Potato Casserole is made by layering mashed sweet potatoes with mashed russet potatoes and baking them in the oven. To add some crunch, a leek is sliced thinly into rings and fried in oil.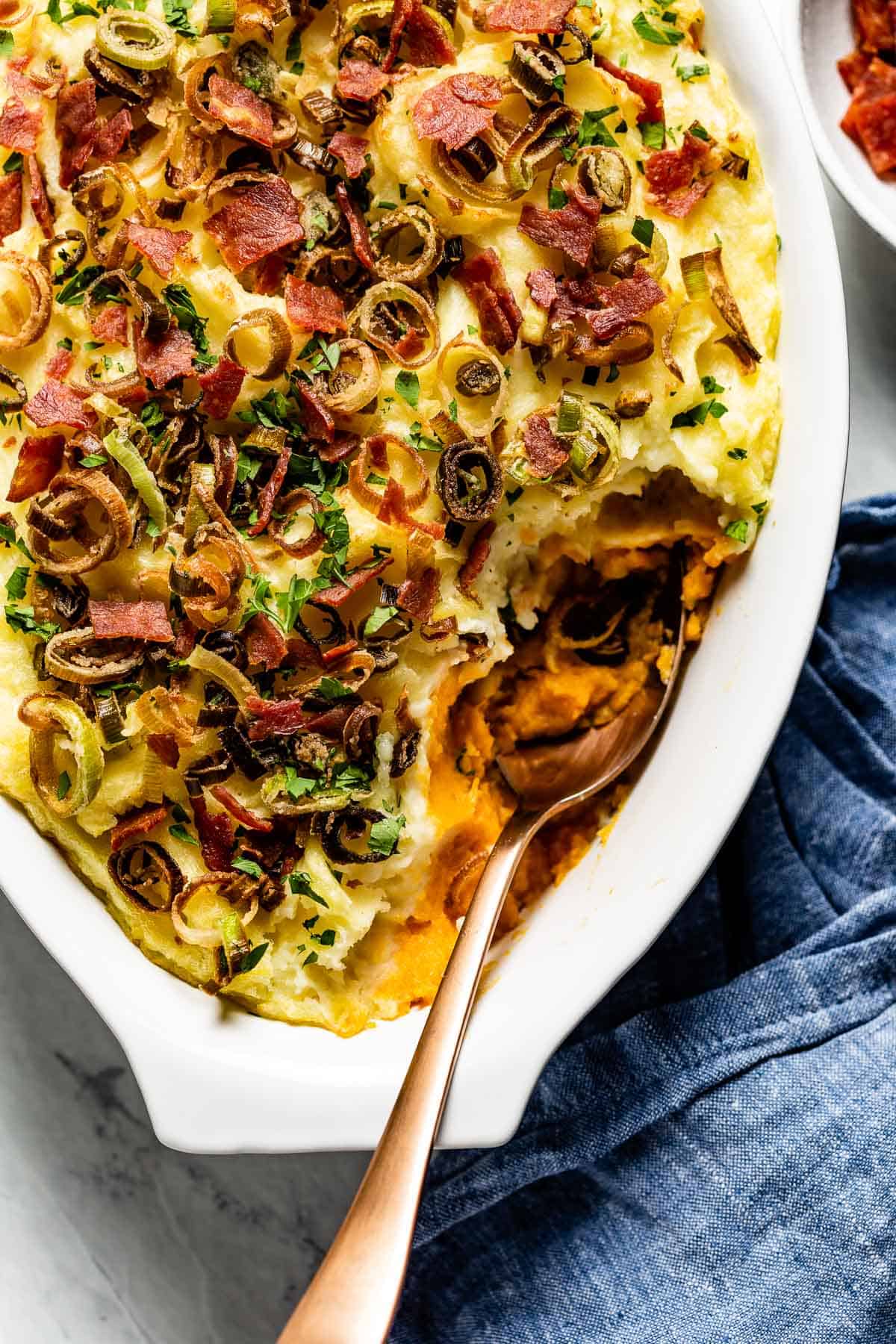 Topped off with baked turkey bacon pieces, this layered mashed potato recipe is perfect for those who can not decide between mashed sweet potatoes and mashed white potatoes.
---
06
---
Somewhere between a side dish and a dessert, this sweet potato souffle (some call it Sweet Potato Casserole) is one of the most popular recipe on this website. So much so that it broke my site on Thanksgiving day a few times in the past. Because it is just so SO good.
It is a creamy souffle-like dish made with mashed sweet potatoes and a crumbly topping made with butter, coconut sugar, and pecans.
---
07
---
A vegan and gluten-free side dish made with Roasted Brussels Sprouts and Sweet Potatoes and flavored with quinoa, pomegranate arils, and pumpkin seeds.
---
08
---
If you need a simple yet delicious vegetable side dish, this simple baked asparagus recipe is the way to go. It is lightly sprinkled with parmesan cheese, it is easy and quick to make and makes the best pairing with chicken or turkey.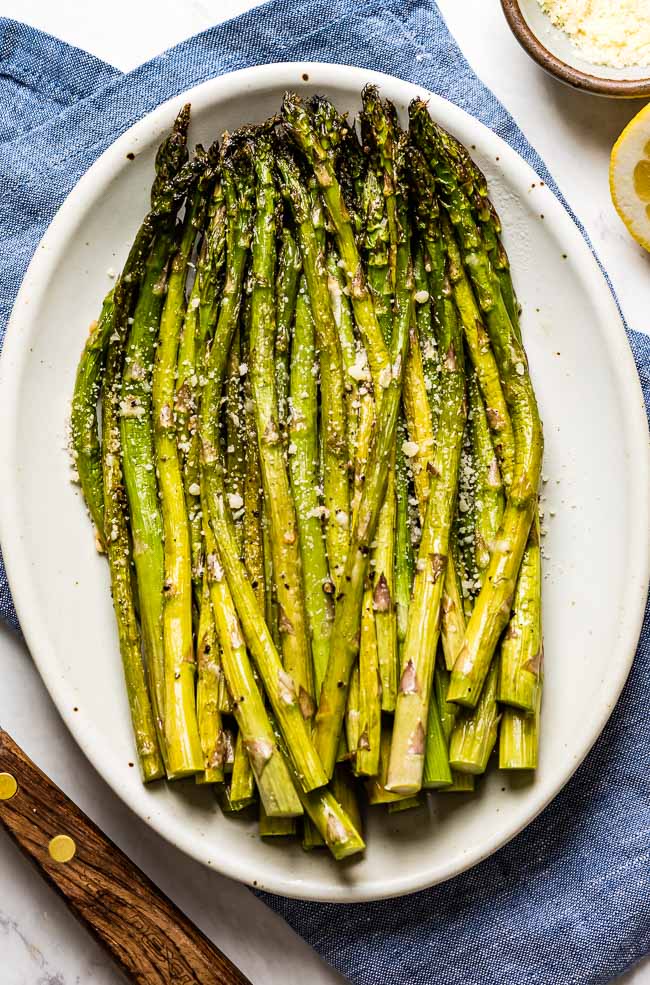 Don't have space in the oven? Try my Pan-Sauteed Asparagus or Air Fried Asparagus recipe for the same healthy Thanksgiving side dish recipe.
---
09
Are you a fan of mushrooms? If so, here is a savory mushroom stuffing recipe worthy of your Thanksgiving table. Made with wild mushrooms, fresh herbs, and brioche bread, this vegetarian Wild Mushroom Stuffing is worth a try.
---
10
I call this Garlic Butter Green Bean recipe the ultimate green bean Thanksgiving side dish. Ready in about 15 minutes, it can be made by boiling green beans or sauteing them on the stove. Topped off with almonds and finished with a squeeze of lemon juice in the end, it is a low-calorie alternative to green bean casserole as well.
Need a more basic green bean recipe? Try my Air Fryer Green Beans.
---
11
---
It is no secret that cranberry sauce is a classic for Thanksgiving to serve along with the turkey. But most recipes are packed with a ton of sugars. Did you know you can make it healthier by using maple syrup and freshly squeezed orange juice?
Add this low-sugar Thanksgiving recipe to your menu for a healthier cranberry sauce that is guaranteed to impress.
---
Healthier Thanksgiving Desserts (Mostly Naturally Sweetened)
Don't get me wrong, I love Thanksgiving pies. I know many of you have your own recipes that you make every year so I am not going to show you more pie recipes. Below are a few desserts that I make every year during the holiday season. I am sharing them with you just in case you want to try something different.
01
---
I usually make this pumpkin bread in the morning to serve with coffee and leave it out for my guests to munch on while we are making the Thanksgiving dinner. It is a minimally sweetened quick bread that keeps people full until the big meal.
---
02
---
This maple-sweetened and vegan cranberry almond tart recipe is proof that you can make delicious tarts using healthier ingredients without compromising the taste or flavor. It can be made a day ahead and will keep its freshness as long as it is covered tightly with stretch film and kept in the fridge.
---
03
---
Mildly ripened pears poached in cranberry and orange-flavored liquid and served over mascarpone cheese. If you would rather make a simple dessert, it doesn't get easier than this one.
---
04
---
It is no secret that I love using almond flour in my baking. As I am writing this I have over 10 recipes made with almond flour on my blog. This almond flour chocolate cake was the very first recipe I shared. It is one of the most made, shared and loved recipes on the blog.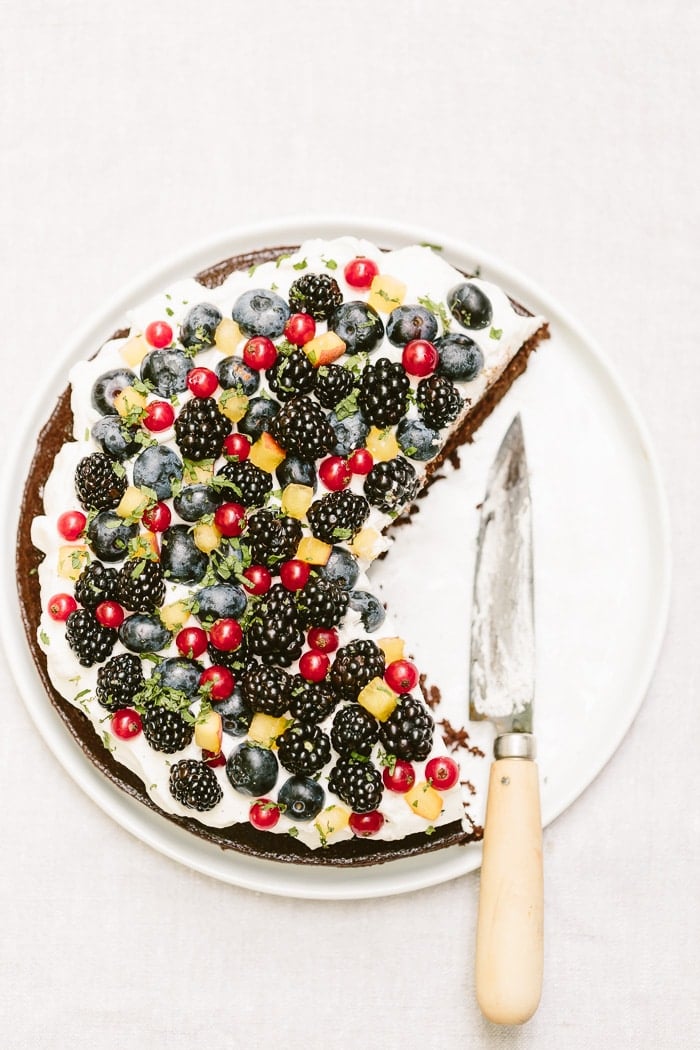 ---
05
Pumpkin Pie Crumble
---
This is a Food 52 recipe that I shared many years ago. Back in those days, I used to share recipes made with refined sugars. I no longer do that. However, this crumble is so SO good that I had to make an exception.
---
06
---
If you have leftover Challah or Brioche bread, this pumpkin bread pudding is a must-try. I serve it with a dollop of creme fraiche or a scoop of ice cream. It is truly a delicious pumpkin dessert that everyone loves.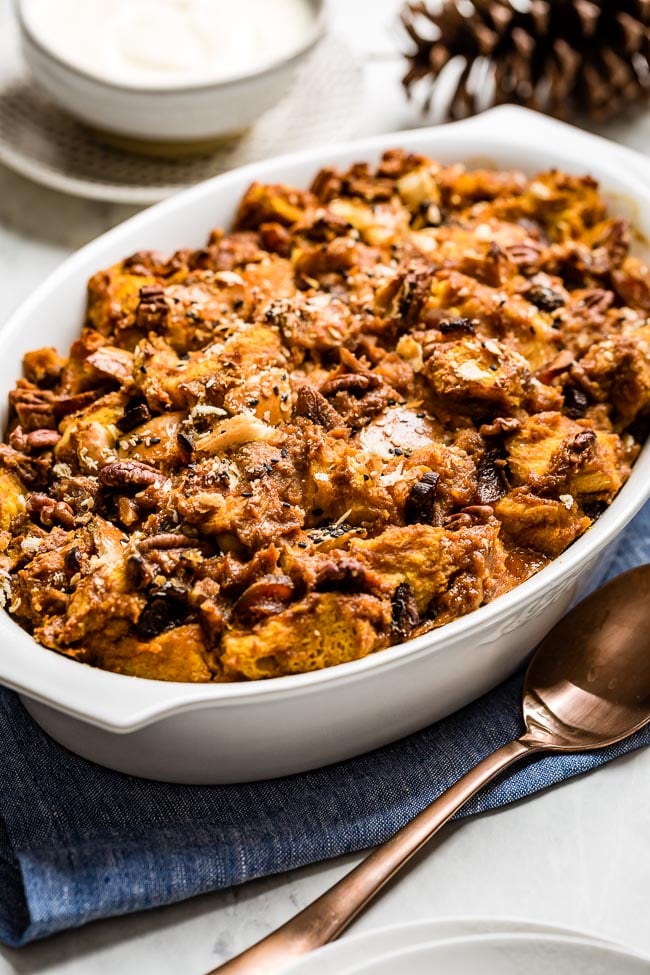 ---
07
---
I plan on making this for Thanksgiving morning to serve with coffee. I love that it is minimally sweetened with a little bit of maple syrup and sliced apples. It is also gluten-free and paleo friendly. And if you prefer to turn it into muffins, try my Almond Flour Apple Muffin recipe.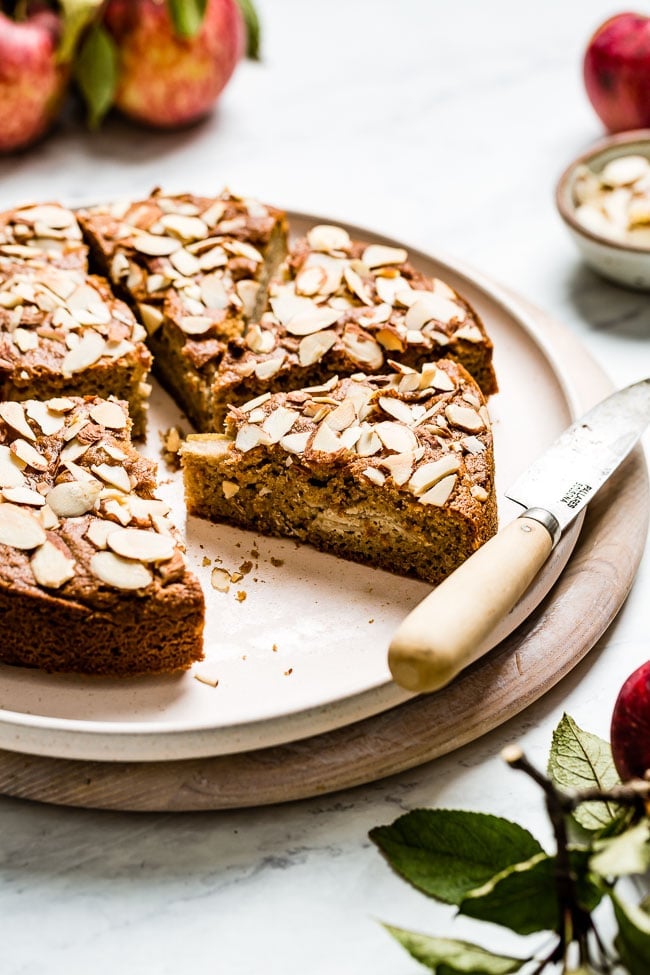 ---
FAQs
How do you stay healthy on Thanksgiving?
While it is hard to stay the course, it is possible to stay healthy on Thanksgiving. By simply skipping seconds, watching your alcohol intake, and taking your time while eating would help you taste a bit of everything and still stay within your boundaries.
What can I eat low-carb for Thanksgiving?
If you are following a low-carb diet, you can eat turkey. However, I recommend staying away from the stuffing and bread. Instead, go for side salads and roasted vegetables.
What other meats are good for Thanksgiving?
If you are looking for an alternative for turkey on Thanksgiving, try serving roasted chicken, roasted cornish hens, pot roast, or beef tenderloin for a Thanksgiving feast that will surely satisfy everyone.
I truly hope that you found some inspiration in this Healthy Thanksgiving recipes round-up post. Below, the recipe for Butternut Squash Quinoa Salad, is one of the most popular Thanksgiving recipes on the blog.
40 Healthy Thanksgiving Recipes – Butternut Squash Quinoa (A Reader Favorite)
Butternut Squash Quinoa Salad recipe – A reader favorite and one of the most popular Thanksgiving recipes on the blog. Made with roasted butternut squash, quinoa, dried cranberries, and walnuts this easy quinoa salad recipe comes together quickly.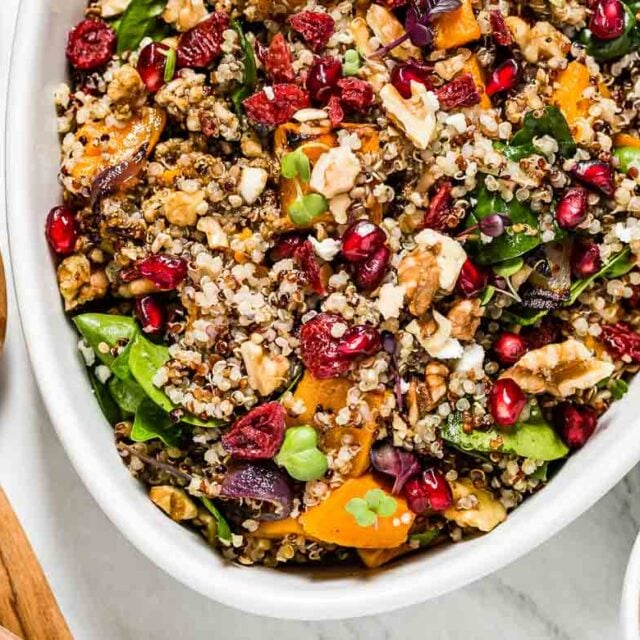 Print Recipe
Ingredients
For The Roasted Vegetables:
2

lbs.

Butternut squash peeled and cut into 1-inch cubes

1

large red onion peeled and cut into chunks

2

tablespoons

vegetable oil

1 ½

teaspoons

salt

½

teaspoon

ground black pepper
For The Balsamic Vinaigrette:
¼

cup

extra virgin olive oil

4

tablespoons

balsamic vinegar

1

tablespoon

dijon mustard

2

tablespoons

maple syrup

1

clove

of garlic minced

1

teaspoon

kosher salt

¼

teaspoon

black pepper
For The Salad:
2

cups

baby spinach rinsed and spin dried

3

cups

of cooked quinoa

1

cup

dried cranberries roughly chopped

Handful of pomegranate arils optional

1

cup

walnuts roughly chopped
Instructions
Preheat the oven to 425 F Degrees. Line a sheet pan with parchment paper.

Place the squash and red onion in the baking sheet. Drizzle it with oil and sprinkle it with salt and pepper. Give it a toss.

Roast in the oven for 25-30 minutes or until a knife inserted in a cube of butternut squash comes in and out easily. Set aside to cool.

To Make the vinaigrette: Whisk together oil, balsamic vinegar, dijon mustard, maple syrup, garlic, and salt and pepper.

To assemble: Place baby spinach, quinoa, and roasted vegetables in a large salad bowl. Drizzle it with the salad dressing. Give it a gentle toss.

Top it off with the cranberries, pomegranate arils (if using), and walnuts. Toss and serve.
Notes
To store leftovers: Store the leftover butternut quinoa salad in an airtight container in the fridge for up to 4 days. Leftovers are just as delicious, if not more so since the flavors have time to meld together. I like to enjoy it as a light, healthy lunch throughout the week.
Make Ahead: You can make this salad a day ahead. Simply bring it to room temperature and place it in an airtight container. I usually take it out of the fridge an hour before I am ready to plate it.
Nutrition
Calories:
529
kcal
|
Carbohydrates:
66
g
|
Protein:
9
g
|
Fat:
29
g
|
Saturated Fat:
7
g
|
Sodium:
1023
mg
|
Potassium:
895
mg
|
Fiber:
9
g
|
Sugar:
24
g
|
Vitamin A:
17010
IU
|
Vitamin C:
36
mg
|
Calcium:
134
mg
|
Iron:
4
mg
Like this recipe? Consider sharing: