If you're a fan of holiday potlucks, then you'll love this delicious collection of easy things to make for your next Friendsgiving celebration. All your friends—beginner chefs included!—can whip something up from this ultimate party menu. Not only are these recipes a cinch to serve, but they also have everything from Friendsgiving snack ideas to Friendsgiving dinner ideas. It doesn't matter if you want to make a succulent turkey for six or a veggie side for twelve. There's a crowd-ready recipe for everyone!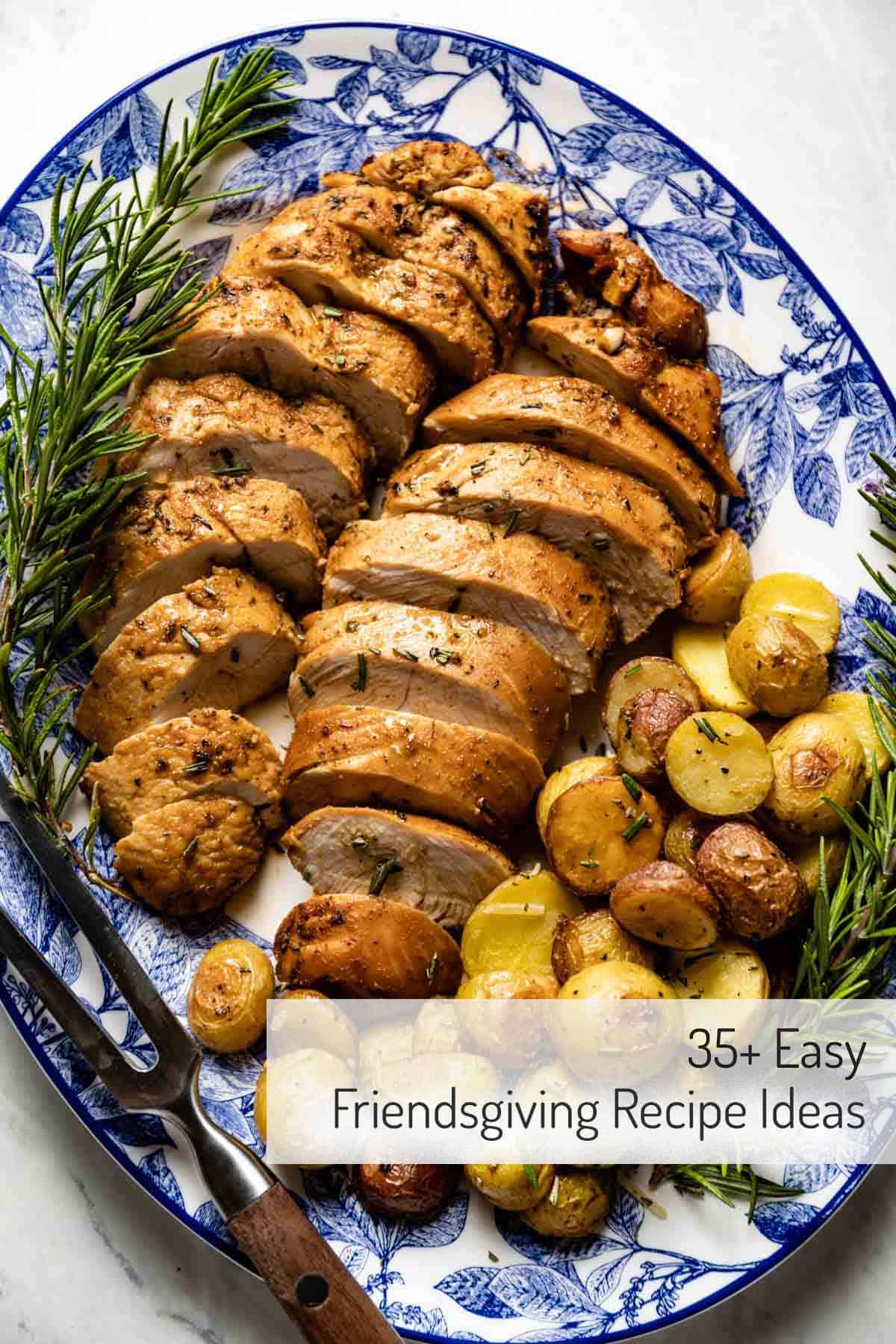 Snack Ideas
If you're in need of inspiration for Friendsgiving food ideas, appetizers are an excellent (and delicious!) place to start. Get the party started with this collection of stress-free dishes that come together quickly. Whether you make a cheesy dip or tart apple bites, these Friendsgiving snacks are guaranteed to whet your appetite.
Warm Goat Cheese Dip: No one can resist goat cheese's rich, earthy taste. Mixed with cream cheese, Parmesan, and chives, this effortless dip will be a guaranteed hit. Check out my favorite goat cheese recipes for even more tasty snack ideas.
Bread Dipping Oil: This five-minute recipe explodes with garden-fresh flavor. Fresh herbs, dried spices, garlic, fresh lemon juice, and olive oil come together for a crowd-pleasing appetizer perfect for a casual Friendsgiving menu.
Blackberry Baked Brie: You can't have a true potluck Friendsgiving without a baked brie. Equal parts creamy and tart, this photo-ready dish packs great flavor with spicy candied pecans, fruity compote, and pomegranate garnish.
Cheese Charcuterie Board: One quick trip to the grocery store is all that's necessary to put this easy Friendsgiving recipe together. Savory meats, nutty cheeses, and plump fruit make this exquisite dish as tasty as it is beautiful.
Apple Cheese Appetizer: If you're wondering what to bring to Friendsgiving that takes almost no time to make, look no further than this super easy recipe. Sweet apples, tangy blue cheese, and toasted walnuts give every bite an unbelievable taste.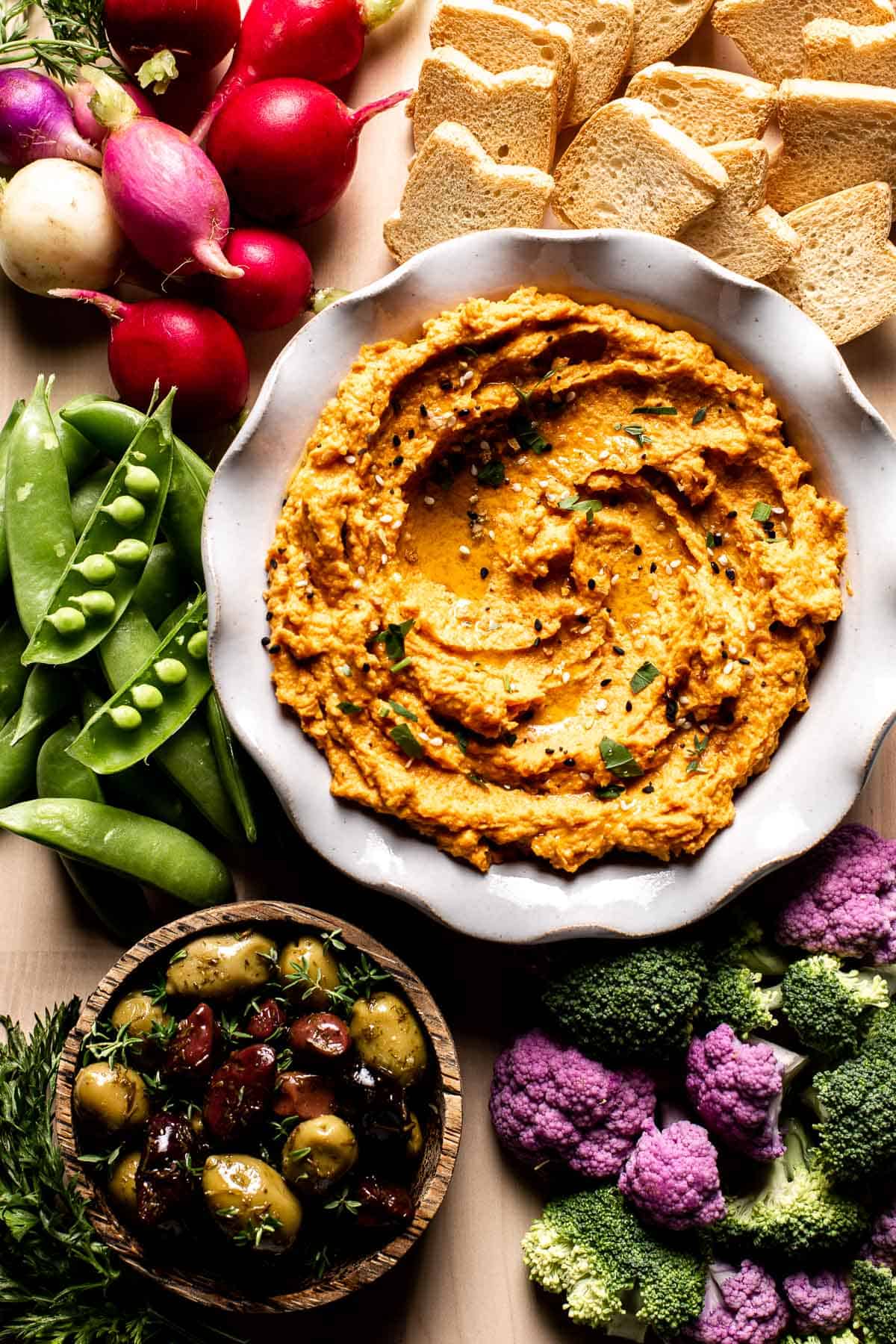 Dinner Ideas
When preparing your Friendsgiving dinner menu, the last thing you want to do is waste the day laboring over an entire roast turkey. Now you can take the stress out of dinner meal prep with these tender, savory, and filling entrées! From smaller turkey portions to succulent chicken dishes, this list is full of effortless ideas for what to make for Friendsgiving.
Roasted Turkey Tenderloin: Succulent, tender, and perfectly cooked, this oven-roasted turkey fillet will have everyone asking for seconds. To give your Friendsgiving meal extra savory flavor, you could also prepare it with my herby Turkey Loin Marinade.
Roasted Turkey Legs: No one can resist the crisp, juicy taste of an oven-cooked turkey leg. Not only does this recipe make perfectly roasted turkey every time, but you could also cook turkey legs in the air fryer for quicker preparation.
Crispy Baked Turkey Wings: To me, this baked wings recipe is possibly one of the best friendsgiving dishes as it delivers big results with minimal work. The secret to perfectly juicy turkey wings is cooking them low and slow. With only 10 minutes of hands-on time, you can serve this dish by itself or atop of cooked rice or mashed potatoes with a drizzle of turkey gravy that you can make using the leftover juices in the pan.
Roasted Cornish Game Hens: Looking for Friendsgiving food ideas that aren't turkey? You can prepare these perfectly portioned birds a day in advance and skip the hassle of roasting a whole turkey. It is such a visually pleasing (and perfectly portioned main course, and it is rather easy to make. You can also find dozens of tasty pairings in my collection of sides to serve with cornish hens.
Roast Chicken with Potatoes: If you're looking for turkey-alternative entrée ideas, roasted chicken is the way to go. Perfectly seasoned and paired with buttery Yukon Gold potatoes, this one-pan recipe comes together with just seven simple ingredients.
Goat Cheese-Stuffed Chicken: Say goodbye to boring Friendsgiving meal ideas with this flavor-packed main. Not only is this juicy chicken baked to perfection, but it also comes with a creamy brown-butter sauce that will have your guests licking their plates clean.
Ina Garten's Pot Roast: Planning a non-traditional Friendsgiving menu to fill everyone up? This full-bodied dish is as filling as it is appetizing, filled with savory beef, tender veggies, and a delectable red wine sauce. You could even cut your cooking time in half by making a Pressure Cooker Roast version!
Side Dishes
Out of all the things to bring to Friendsgiving, sides are a must. These Friendsgiving side dishes include everything from creamy potatoes to savory stuffing, crisp salad, roasted veggies, and beyond. Serve up any of these hassle-free classic side dishes, and your potluck spread will be party-ready in no time.
Easy Desserts
If you're like me, you know there's no better way to round off your menu for Friendsgiving than with a sweet treat. Whether you want a luscious fruit pie or a warm gingerbread cookie doesn't matter. Sweet tooths and sugar lovers won't be able to get enough of these easy recipes for Friendsgiving.
Almond Flour Gingerbread Cookies: If you love the warm, cinnamon-ginger taste of gingerbread, you'll adore these chewy, dairy-free, and paleo-friendly cookies. Don't worry if you don't have a food processor, either. Almond Flour Cookies make an excellent alternative to this festive recipe.
Chocolate Almond Bark: Homemade dessert doesn't get easier than this gluten-free treat. Nutty almonds, sweet maple syrup, and dried apricots come together for a dish that has "chocolate lovers" written all over it.
Healthier Pumpkin Pie: Who can resist a classic—especially one with a secret healthy twist? This pumpkin pie recipe is creamy, light, and naturally sweet, and it has a hint of spice that will have you licking your lips.
Apple Cake with Almond Flour: Perfectly moist and refined sugar-free, this scrumptious coffee cake is one of my most popular recipes with almond flour. It only takes 15 minutes to prepare. This Friendsgiving potluck idea only needs ten ingredients, including tart apples, warm cinnamon, and sweet vanilla.
Maple Pecan Pie: Prepared with a homemade pie crust, this old-fashioned pecan pie adds new meaning to "Thanksgiving pie." This delectable dish has a warm and nutty molasses filling, and it also comes with a bourbon whipped cream topping.
Dutch Apple Pie: If you're a fan of apple picking, you'll obsess over this fall favorite. This apple pie is gooey, flaky, and rich, and its crumbly streusel topping takes this classic to the next level.
Vegan Cranberry Tart: Need vegan dishes to bring to Friendsgiving? This fruity recipe comes with an almond-oat crust and an almond crumb topping that are to die for. Everyone will want a bite of this sweet and crumbly goodie.
Mini Pecan Pies: Why not try something new and make these lightly sweetened mini pecan pies for a dessert that is guaranteed to please? Made in a muffin tin, this dessert recipe uses almond flour, coconut sugar, and maple syrup. It is a great alternative to the classic Thanksgiving pie as it can be served in individual portions.
Greek Yogurt Cheesecake: If you are a fan of the tangy flavors of Greek yogurt, then this lightened-up cheesecake recipe is a must-try. Lightly sweetened with honey and raspberry sauce, this dessert is a showstopper that will disappear in no time.
FAQs
There's no reason to stress when you're planning meals for Friendsgiving. Whether you're wondering how to make your holiday celebration a hit or how to make a Friendsgiving meal for a few besties, this user-friendly list will answer all your questions.
What do you serve at a Friendsgiving party?
Though there are no rules for what to serve at Friendsgiving, people usually serve smaller portions of traditional Thanksgiving food. Some fan favorites are turkey, stuffing, mashed potatoes, and green bean casserole, though many also opt for more accessible versions, like roasted chicken or sauteed green beans.
What to bring to Friendsgiving if you can't cook?
If you're at a loss for what to cook for Friendsgiving, don't worry! Anyone who isn't comfortable cooking something for their holiday potluck can bring other offerings instead, like flowers, wine, or even a treat picked up from their local bakery.
How do I host a small Friendsgiving?
The key to hosting a small Friendsgiving is to keep it simple. Try serving turkey parts instead of a whole turkey for a hassle-free main dish, and keep your sides to a maximum of 2-3. You can also make dessert a cinch by whipping up (or even buying!) an easy pie.
How to make Friendsgiving fun?
When it comes to making your holiday get-together fun, the options are endless. Picking a theme, having everyone bring a dish, playing party games, and even serving festive drinks are just a few ways to liven up your Friendsgiving.
If you try any of these Friendsgiving Menu Ideas, please take a minute to rate the recipe and leave a comment. It is a great help to others who are thinking of making the recipe. And if you took some pictures, be sure to share them on Instagram using #foolproofeats so I can share them on my stories.
35+ Friendsgiving Food Ideas – Roasted Turkey Tenderloin and More!
Intimidated by cooking a whole turkey? Try This Turkey Tenderloin Recipe that combines simple ingredients like ground spices and olive oil for juicy, flavorful tenderloins that are guaranteed to impress. Add this easy recipe to your Friendsgiving Menu and accept compliments from all your friends.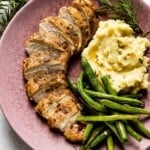 Print Recipe
Ingredients
2

turkey tenderloins*

– 4 oz or ~113 grams each
For the Tenderloin Rub:
¼

teaspoon

rubbed sage

or dried oregano

½

teaspoon

dried thyme

½

teaspoon

smoked paprika

or sweet paprika would also work

½

teaspoon

garlic powder

¼

teaspoon

onion powder

½

teaspoon

kosher salt

¼

teaspoon

black pepper

2

tablespoons

olive oil

divided
Instructions
Preheat the oven: Set your oven to 325 degrees F.

Make the rub: Mix together sage, thyme, paprika, garlic powder, onion powder, kosher salt, and black pepper in a small bowl. Set it aside.

Dry the tenderloins: Pat dry turkey tenderloins with paper towels on both sides.

Coat with oil: Drizzle them with a tablespoon of olive oil and coat them on both sides.

Add the rub: Sprinkle them with the prepared turkey tenderloin rub on both sides.

Heat the oil: Heat the remaining oil in a large stainless steel skillet (or a cast iron skillet) until shimmering hot.

Sear: Sear turkey tenderloins for 1 minute on each side until lightly browned.

Bake: Place the skillet in the oven and roast tenderloins until a meat thermometer inserted into the thickest part of the tenderloin registers 155 degrees for 15 minutes.

Rest: Take it out of the oven and cover it with aluminum foil and let it rest for 10 minutes. As it sits, it should come to 165 degrees (the safe temperature for turkey) without drying.

Serve: Slice and serve.
Notes
While this recipe serves 4-6 people, you can easily multiply the recipe and make it for more people.
Try our turkey tenderloin marinade: If you have the time to plan ahead, you can also marinade your turkey loins in our marinade.
The temperature of the raw meat

: I cooked my turkey tenders immediately after taking them out of the fridge. However, you could also let them reach room temperature before beginning the cooking process. Whichever method you choose, just be sure to dry the breast loin before cooking.

Size of the turkey tenderloin matters

: When baking turkey tenderloin, remember that the size of your fillet will impact its cooking time. Each of my turkey loins was around 4 ounces and took 15 minutes to reach the desired internal temperature, which is 165 degrees F. Depending on the size of your turkey tenderloins, it might take a bit shorter or longer. If you own a meat thermometer (

this

is the one I own and love), be sure to use it for accurate testing.

Two-part cooking method

: If you've ever cooked turkey tenderloins, you know that it can go from perfectly moist to not-so-appetizing dry in an instant. During our tests, we found that the secret to success starts with searing your meat in a stainless steel (or cast iron) skillet for one minute on each side before putting it in the oven. This extra step creates a gorgeous golden exterior while also locking in flavorful juices. However, make sure that your skillet is very hot before searing the loins, as the high temperature is key to properly seared turkey tenders.

Storage instructions

: Let your turkey cool completely. Then, transfer the meat to an airtight container and store it in the refrigerator for up to 3 days.

Reheating instructions

: You have two options here: Firstly, you can place your turkey on a microwave-safe plate and microwave it on high for 30-60 seconds or until it is heated thoroughly. Secondly, you can reheat it in a 350-degree F. oven. Spray a baking dish with cooking spray, add your tenderloin, and cover it with tin foil. Then, bake the turkey for 10-15 minutes or until its center is warm.

Freezing instructions

: To freeze, let your meat cool completely. Then, transfer the tenderloin to a Ziplock bag and remove as much air as possible. Your turkey will stay fresh in the freezer for up to 3 months. Thaw it in the fridge overnight, and follow the instructions above for reheating.
Nutrition
Calories:
156
kcal
|
Carbohydrates:
1
g
|
Protein:
20
g
|
Fat:
8
g
|
Saturated Fat:
1
g
|
Polyunsaturated Fat:
1
g
|
Monounsaturated Fat:
5
g
|
Cholesterol:
38
mg
|
Sodium:
348
mg
|
Potassium:
14
mg
|
Fiber:
0.2
g
|
Sugar:
0.04
g
|
Vitamin A:
129
IU
|
Vitamin C:
0.1
mg
|
Calcium:
5
mg
|
Iron:
0.3
mg
Like this recipe? Consider sharing: