Living in Vermont, we are surrounded by pure maple syrup that gets tapped from local maple trees. It is the sugaring season around here and I just can't get enough of the delicious maple syrup that we get to sample every day.
The sweet scent is so reminiscent of pancakes, I crave them quite often. So I wanted to find a healthy, gluten-free alternative to those sugar-laden griddle cakes we enjoy on the weekends with family and friends.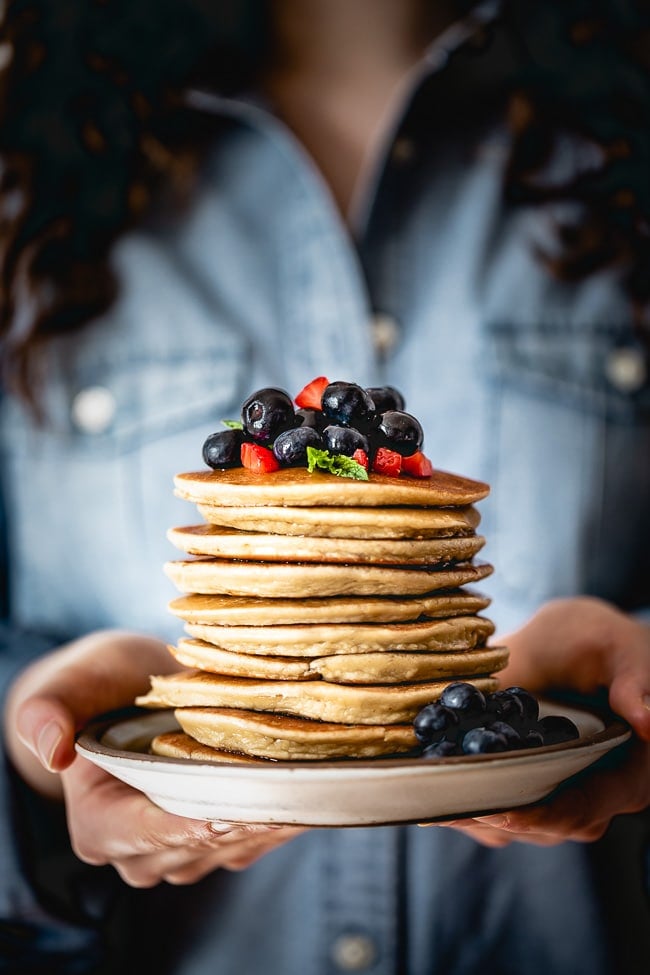 That was the main inspiration for this almond flour pancakes recipe. But the best part – the batter comes together in a blender! It's that simple! With just 7 ingredients, you can have breakfast on the table in no time. And they are a great option for all your friends following a keto-friendly (with one ingredient swap -more on that below), gluten-free, low carb, dairy-free, or paleo diet.
I know you may be nervous about flipping the perfect pancakes. But I can assure you – these almond flour banana pancakes are 100% foolproof!
Can you make pancakes with almond flour?
Yes! Almond flour is a great alternative to white flour, both for flavor and nutrition. Almond flour comes packed with a number of vitamins, minerals, protein, and fiber. Almonds are also high in unsaturated fat, which is the good kind. This higher fat content means we do not need to add as much fat to the batter.

But since almond flour is gluten-free, it needs more eggs to bind the batter. I tried making this recipe with no eggs and the pancakes simply fell apart. The eggs are necessary to hold the batter together, giving you protein-packed and fluffy almond flour pancakes every time.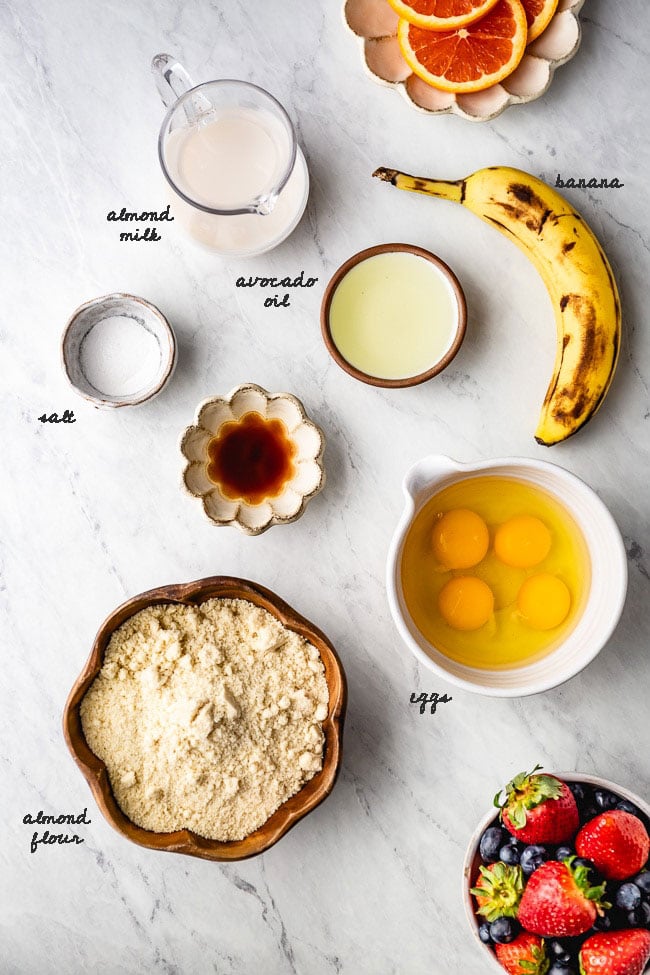 How to make pancakes with almond flour?
The process of making this Almond Pancake recipe has 3 parts:
First, measure out all your ingredients in a blender and blend until it reaches a smooth consistency.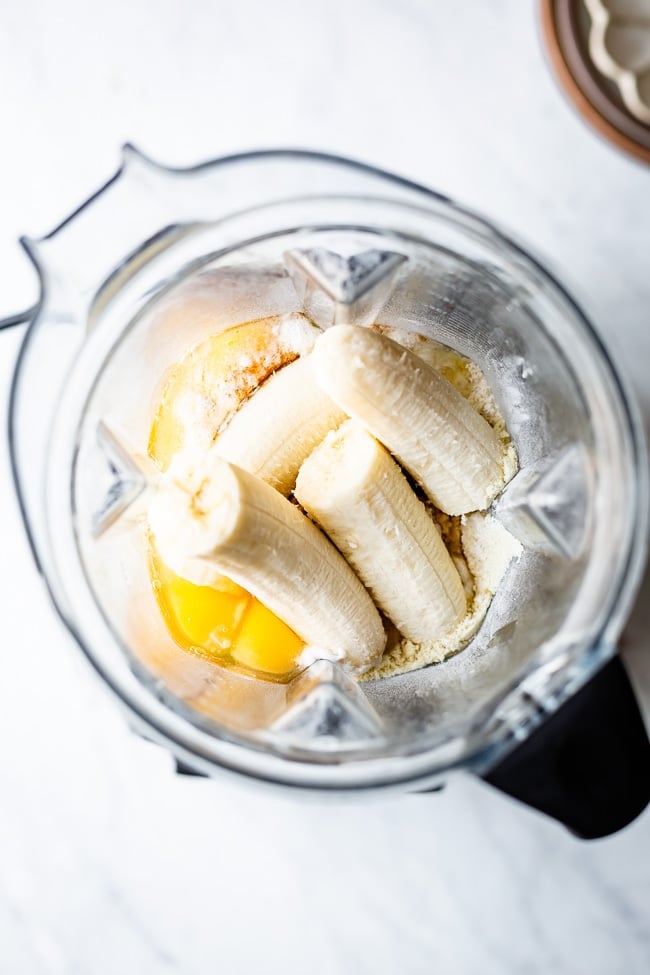 Second, set a large nonstick skillet over medium heat and heat 1 teaspoon coconut oil (avocado oil would also work) for about 1 minute. Depending on your skillet, you might not need to use as much oil so feel free to adjust the amount you use as you cook your pancakes.
Finally, pour ¼ cup of the batter into the skillet and spread it gently with a spatula. Cook for 1-2 minutes on one side until bubbles start to form on the surface, flip, and cook until golden brown, about another 2 minutes.

Now, as it is with regular pancakes (meaning ones made with all-purpose flour), the first few of these pancakes might not be perfect, but as your pan heats up to the right temperature, they should cook faster and look better.
Continue this process with the rest of the batter. Top with seasonal fruit and drizzle with pure maple syrup!
Step by Step Video for Almond Flour Pancake Recipe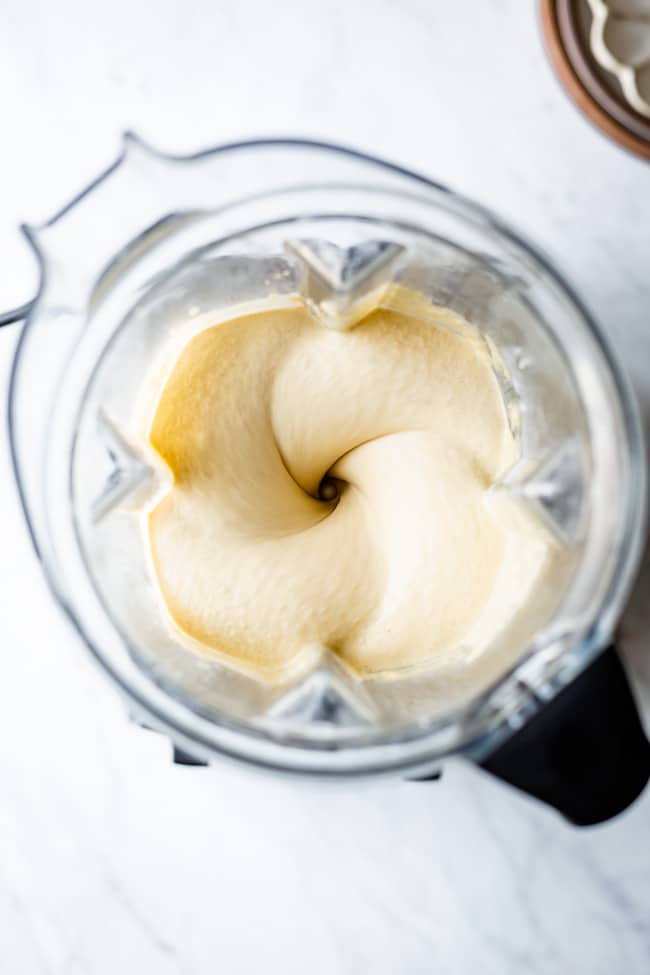 Can you use almond milk in pancakes? Pancake recipe with almond milk?
Yes, almond milk acts as a great dairy free milk alternative to the pancake batter, making this recipe Paleo and Keto friendly.

It adds another depth of almond flavor to these pancakes too, reinforcing that nutty goodness. I prefer unsweetened almond milk, but any almond milk you like would work for this recipe.
You can make almond milk at home or you can swap almond milk with coconut milk.
Can you substitute water for milk in pancakes?
Yes, water can replace the almond milk in this recipe 1:1. If you use water, to make up for the slight sweetness and flavor of almond milk, add an additional ½ teaspoon vanilla extract to the batter.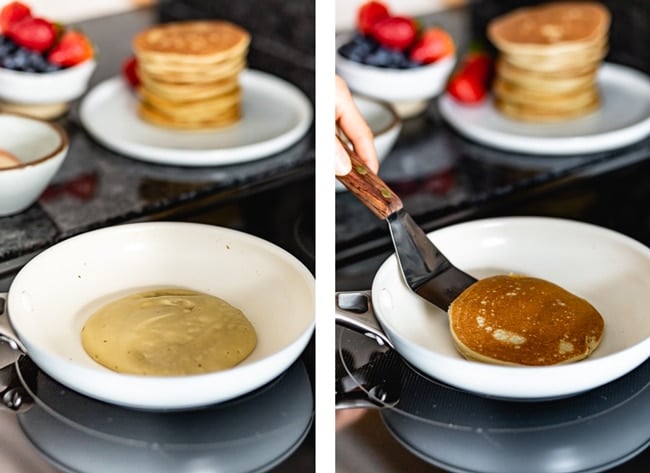 What brand of almond flour is best for these paleo pancakes with almond flour?
I have been testing this recipe for over 3 months now and have tried this with three different almond flour, two of which are popular brands that are (mostly) available throughout the US.
On my first try, I grounded my own almond flour made from blanched almonds using my Vitamix blender (affiliate link) using the method I outlined in my How To Make Almond Flour post. The recipe below worked perfectly and delivered perfect almond flour pancakes.
On my second testing, I used Trader Joes' packaged almond meal (affiliate link) and it was very similar to the first version except that the color was darker as the almond meal is made from almonds with the skin on.

On my third testing, I used Bob Red Mill's superfine almond flour (affiliate link). The batter made with superfine almond flour was thicker compared to the other two versions. Therefore, I had to add in 2 to 3 more tablespoons of almond milk to the batter to make it a little runnier.
With that being said, if you decide not to add in more liquid you would still have great pancakes, but your batter would be thicker delivering thicker pancakes.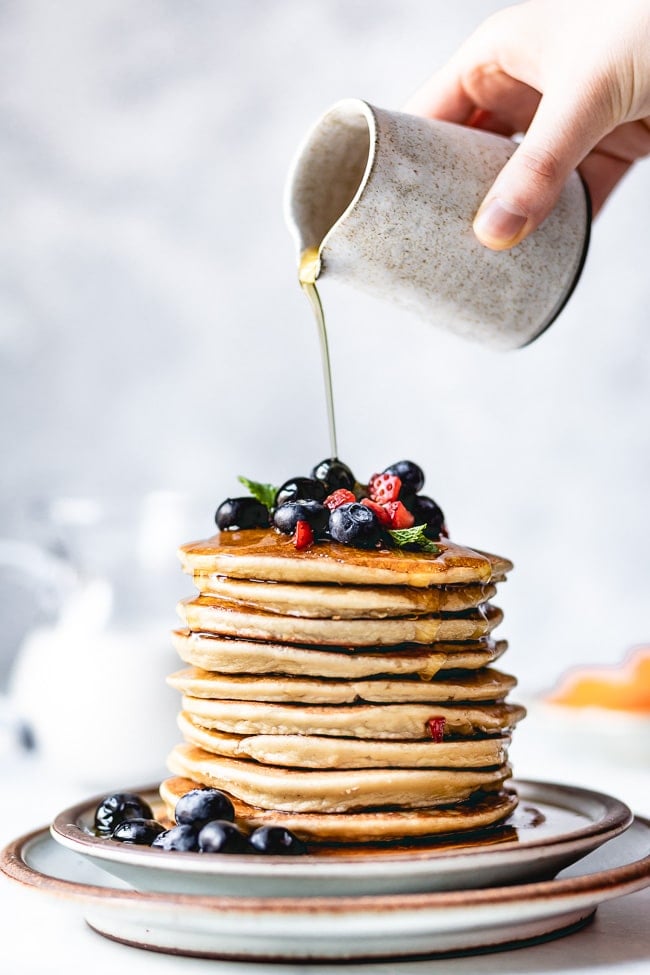 How to make keto pancakes?
I'll be honest, I do not follow a keto diet. However, I know that some of my readers are interested in almond flour recipes because they are following a keto diet. That is why I thought I would share how to turn this into a Keto Pancake Recipe.
But before let's answer the most important question:
Is Almond Flour Keto-Friendly / Low-Carb?
Yes, it is. I've even heard some people call it, "Keto Flour" due to it being a low carb flour.
A serving (1/4 cup or 28 grams) of almond flour has approximately 160 calories, 6 grams of carbs, and 3 grams of fiber.
To make Almond Flour Keto Pancakes, follow the recipe below but omit banana and swap it with 3 tablespoons of Keto approved maple syrup (affiliate link) or erythritol (affiliate link).
This recipe was published in April 2019 but has been updated with additional information in October 2019.