Crisp lettuce and flavorful toppings come together for refreshing summer salad recipes you can enjoy at any meal. Plus, you'll find fan-favorite summer salad dressing ideas, like my Lemon Vinaigrette and Lemon Balsamic Dressing, to brighten every bowl.
Summertime Salads for a Crowd
Say goodbye to party planning stress! These make-ahead salad recipes for a crowd will satisfy guests with minimal prep and maximum flavor. It's no wonder these fresh party favorites are some of my most popular salad recipes.
Texas Caviar: It only takes 30 minutes to prepare this Southern-inspired salad. Plus, it is made with canned beans so no cooking is required. Serving it for a crowd? No problem, double or triple it. Quick, easy, and delicious, I'd say this Cowboy Caviar is one of the best summer salads for a crowd. You can even serve this fresh corn salad as a dip for a mess-free spread.
Pesto Caprese Salad with Pasta: Everyone loves a classic Caprese salad. You can take this Italian signature to the next level by adding top-rate ingredients, like garlicky Pesto Vinaigrette, sweet cherry tomatoes, and freshly picked basil. If you need a good salad recipe to use fresh tomato, I'd say this is one of the best pasta salads out there.
Mexican Corn Pasta Salad: If you're on the hunt for flavor-packed salads for a summer party, this authentic Mexican street corn salad is just what you need. Made with summer corn, jalapenos, and cotija cheese, this easy pasta salad is going to be the first thing to disappear from your summer buffet.
Cucumber Tomato Mozzarella Salad: Drizzled with Lemon Balsamic Dressing and mixed with fresh mozzarella cheese, this recipe is one of my favorite summer brunch salads. This colorful side dish comes together in minutes and can be multiplied as many times as you want, which is why it is great if you are serving a crowd.
5 Bean Salad: This green bean salad strikes a perfect balance between soft, tender beans and the robust tang of mustard vinaigrette. You can even make this delicious dish ahead of time for a travel-ready potluck.
Homemade Potato Salad: When I think of "summer salads for a crowd," this classic potato salad from my mom's cookbook is another favorite. Everyone will adore this simple recipe's creamy mayo dressing, tangy dill pickles, and sharp red onion.
Cold Salads for Summer
Fresh ingredients, crisp veggies, and light dressings make these chilled salad recipes some of my favorites. These simple recipes will keep you cool on hot summer days, from the best summer picnic salads to quick midday meals.
Turkish Bean Salad (aka Piyaz): Bring authentic Mediterranean eats to your table with this simple white bean salad. It takes 10 minutes to prepare and uses stylish ingredients like juicy tomatoes, briny olives, and tangy sumac.
Corn and Black Bean Salad: Your tastebuds will thank you for this Mexican-inspired dish. Packed with red bell peppers, pickled jalapenos, and creamy black beans, this outdoor salad serves as a dip and a meal.
No Mayo Coleslaw: Healthy salads for summer are at your fingertips with this vegan recipe. This dish's vinegar-based dressing will turn crunchy cabbage into the perfect side dish, topping (for tacos!), or midday snack.
Yogurt Coleslaw: Made with my 5-minute Yogurt Salad Dressing, this recipe is one of my favorite mayo-free summer salad ideas. This colorful side is so delicious that you'll want to add it to your collection of the best healthy cold salads.
Tabbouleh: This Middle Eastern classic combines delicious bulgur with fresh herbs, like fresh mint, dill, and parsley, for a cold summer salad everyone loves. In just 30 minutes, you can have authentic Turkish cuisine ready to serve.
Greek Yogurt Cucumber Salad: From summer picnics to the dinner table, this healthy cucumber salad recipe is a great way to cool down and satisfy your tastebuds. A great alternative to mayo and sugar-laden cucumber salads, this easy recipe is made with my yogurt salad dressing and flavored with fresh dill.
Summer Luncheon Salads
Fresh vegetables, creamy cheese, and flavorful grains turn these salads for lunch into a delicious meal. Whether you're looking for a dish packed with leafy greens, tender quinoa, or crisp peppers, this healthy collection is perfect for you.
Quinoa Feta Salad: This Greek salad bursts with authentic Mediterranean flavors, like creamy feta, fresh lemon juice, and kalamata olives. You don't have to be a master chef to enjoy delicious salads like this.
Seared Tuna Salad: Out of all the quick salads, this Asian-inspired 20 min recipe takes the cake. Sesame-crusted tuna pairs perfectly with the antioxidant-rich black rice, but you can serve it with quinoa or just by itself with crackers on the side. Either way, this seafood salad is a must-try when you can get your hands on fresh tuna.
Summer Garden Salad: No one can say "no" to this light summer salad from Weelicious. Tasty ingredients, like roasted beets, sundried tomatoes, and Persian cucumber, make this salad as stunning as it is delicious.
Meal Worthy Dinner Salads
There's no reason why healthy summer salad recipes can't be filling, too. Turn your fresh veggies into a complete meal with this yummy collection of main dish summer salads.
Chicken Waldorf Salad: Everyone will want a bowl of this dish's tangy dressing, tender chicken, and tart apples. Topped with crisp veggies and chopped walnuts, this salad will be your new dinner special.
Southwest Avocado Chicken Salad: One of my most beautiful salads, this Southern-inspired dish comes with a Creamy Avocado Salad Dressing that tastes out-of-this-world good. A great way to use leftover chicken breasts, it even has fresh cilantro and cheddar cheese for top Southwestern flavors!
Shrimp and Corn Salad: When making warm weather salads with meat, try adding some surf to your turf. This yummy seafood salad uses grilled corn, cherry tomatoes, marinated grilled shrimp, and butter lettuce to please everyone at the dinner table.
Chicken Salad with Greek Yogurt: For a good salad that fills you up, chicken is just what you need. Top a sandwich with this creamy, make-ahead dish, or eat it straight from the bowl. Either way, you won't be able to get enough.
Thai Beef Salad: Among all these recipes, this grilled steak dish packs some of the meatiest flavors. Meat lovers and Asian foodies will fall head over heels for this dish's Thai marinade, pickled onions, and English cucumber.
Jen Aniston Salad: Also known as the "Friends" salad, the social media viral Jennifer Aniston Salad is a wonderful meal-worthy salad recipe that you can make with cooked quinoa or cooked bulgur wheat. Packed with chickpeas, cucumbers, red onion, and pistachios, it is a great vegetarian salad that doubles as a weeknight dinner.
Green Salad Recipes with Summer Produce
These healthy bowls are just what you need for summer salad recipes. Packed with vibrant greens and crisp veggies, each bite will bring your tastebuds to life with a garden-fresh flavor.
Spring Mix Salad: It's no secret why this summer mix salad is one of my favorite trending salads. Crisp, nutritious, and bursting with summer-fresh flavors, this green summer side salad pairs with almost any main course.
Butter Lettuce Salad: Refreshing salad ideas are a cinch to make when you have butter lettuce on hand. This easy meal contains tasty ingredients—like crisp radish, asparagus, and toasted almonds—to fill your salad bowl with all the goodness you need.
Kale and Quinoa Salad: This superfood-packed recipe proves that salads without pasta can be just as filling as those with pasta. Chickpeas, avocado, broccoli, and pomegranate are just a few ingredients in this summer-ready dish.
Avocado Kale Salad: Avocado lemon dressing makes a lip-licking pair with the leafy kale of this hearty summer salad. Top this dish with roasted pine nuts, and voila! A salad fit for a five-star restaurant.
Arugula White Bean Salad: Made with almond-parmesan pesto, this arugula salad is the nuttiest of my hearty summer salads. This delicious dish's warm beans and robust garlic will satisfy your mouth and stomach.
Summer Lettuce Salad: Looking for light summer salads that pack major flavor? This grilled romaine salad combines the smoky flavor of the grill with a bright ranch dressing sure to please.
Classic Salads To Cool You Off
It doesn't matter if you're feeding your neighbor or a food critic: These sophisticated salads will impress anyone who takes a bite. Elegant, innovative, and always tasty, these brunch-ready classics are the best summer salad recipes for a first-rate meal.
Original Caesar Salad: Out of all my romaine lettuce salads, this recipe is a must-have summer classic. No one can resist the creamy Caesar dressing, nutty Parmesan cheese, and garlic croutons of this restaurant-style side.
Mexican Corn Salad: Once you taste this summer corn salad's spicy tang, you won't be able to put your fork down. Crumbly cotija cheese and smoky chili powder are a match made in heaven that pairs perfectly with any grilled main dish.
Nicoise Salad with Salmon: Want to impress your guests with unusual summer salad recipes? This elegant seafood salad brings the taste of France to your table with salty capers, tangy Dijon mustard, and mild potatoes.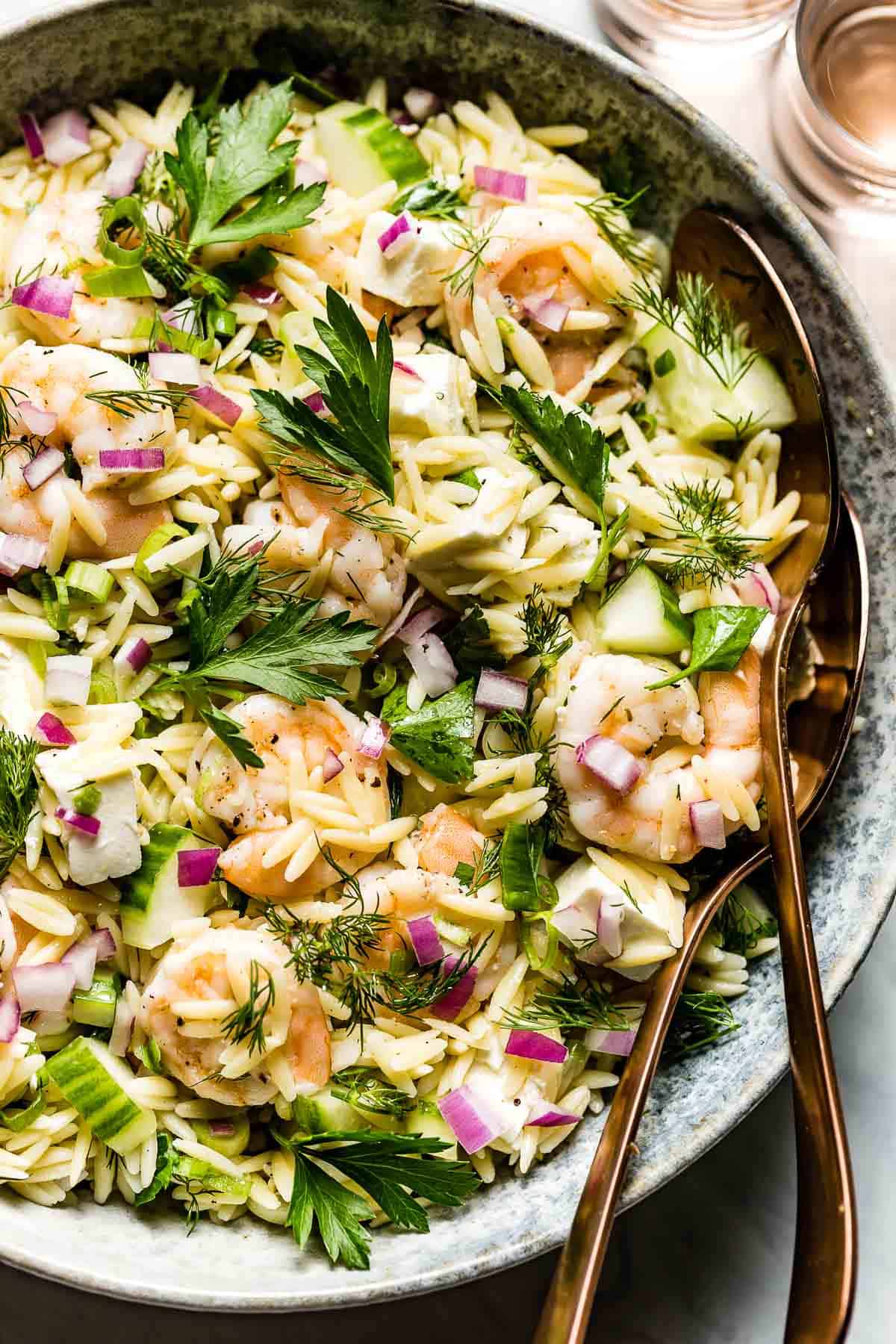 Shrimp Orzo Salad: This Mediterranean classic explodes with fresh, seaside flavor. Nothing pairs better than the succulent shrimp, bright lemon, and tender orzo of this herby dish. This Barefoot Contessa recipe is one of the most popular summer salad recipes on the blog.
Sweet Salads for Summer
Who says you can't satisfy a sweet tooth and eat healthily? These fruity sweet summer salad recipes brim with luscious fruits, creamy dressings, and crisp veggies. This sweet combination will have you licking your lips all season long.
Mango and Avocado Salad: If you love sweet-and-spicy dishes, this unique summer salad recipe will be your new favorite. Fruity mango, spicy jalapeno, and zippy Chili Lime Vinaigrette make a delectable flavor combination.
Peach Avocado Salad: Made with creamy avocado and juicy peaches, this delicious recipe is my go-to August salad. This peach salad is equal parts tart and luscious, making it one of the best salads to satisfy your cravings.
Blueberry Salad: Sweet blueberries, salty feta, and baby spinach make this refreshing salad one of the most colorful creations you'll whip up this summer. Getting seasonal produce at the farmer's market has never been so fun!
Watermelon and Avocado Salad: Watermelon salad is one of my recipe book's most refreshing summer salads. Not only does this simple recipe only take 20 minutes to make, but it also uses fresh lime juice to bring its summer flavors to life.
Strawberry Salad with Poppyseed: This refreshing salad pairs ripe berries and earthy goat cheese for a spread that tastes straight out of a charcuterie board. Topped with my Poppyseed Dressing, this summertime salad will have you asking for seconds.
Quick and Easy Summertime Salads
Need a super quick and easy salad for your next BBQ party? Below are a few of our easy salad recipes that are ready in less than 15 minutes and made with just a few basic ingredients.
Watermelon Cucumber Salad: This is possibly the easiest light and refreshing fruit salad you can make in less than 15 minutes. Sweet cubed watermelon mixed in with crunchy cucumbers and savory feta cheese and then drizzled with honey lime dressing, this salad is a summertime classic.
Burrata Caprese: The classic Italian Caprese made with burrata cheese instead of mozzarella. Ready in 10 minutes, it is the best way to use summer tomatoes and garden fresh basil.
La Scala Salad: Social media viral La Scala salad, also known as Kardashian Salad, sounds fancy, but it is actually easy to make. Made with a combination of iceberg lettuce and romaine, this simple salad is packed with chickpeas, Italian salami, and mozzarella cheese.
FAQs
It doesn't matter whether you want to make hearty dinners, light lunches, or refreshing salads for any time of the day. This FAQ section will provide you with the answers you are looking for preparing the tastiest healthy salad recipes during the warmer months.
What is a summer salad?
Summer salads are cold, light salads popular during the hotter months. Furthermore, they typically contain in-season ingredients, such as tomatoes, cucumber, bell peppers, sweet corn, and even berries.
What to put in a summer salad?
Fresh summer salads are generally made from a mix of in-season produce, though it's up to you which ingredients you choose. Most summer salads begin with a bed of lettuce, such as romaine, arugula, or butter lettuce. They then include a variety of summer vegetables, like cucumber, bell peppers, carrots, corn, and radishes. Some of my favorite summer salads also include in-season fruits, like strawberries, peaches, and tomatoes. Top your summer salad with add-ons—like feta cheese or chicken—and a light olive oil dressing (Lemon Vinaigrette is my favorite!), and you're ready to eat.
How to make a summer salad?
There are countless ways to make a summer salad, but the key is to use fresh, in-season ingredients. Choose a type of lettuce to serve as your salad base, then add in-season fruits and veggies as desired. Finally, drizzle your summer salad with a light dressing or vinaigrette, and top it off with any final add-ins.
You Might Also Like:
If you try any of these summer salad recipes, please take a minute to rate the recipe and leave a comment below. It is a great help to others who are thinking of making the recipe. And if you took some pictures, be sure to share them on Instagram using #foolproofeats so I can share them on my stories.
20 Best Summer Salad Recipes
I think the best summer salads are those that are made with seasonal ingredients such as sweet corn, juicy tomatoes, and fresh herbs. Top it with your favorite cheese and avocados for a delicious and visually impressive summer salad that is guaranteed to impress. Here is one of the most popular summer salad recipe, Tomato Cucumber Mozzarella Salad.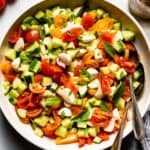 Print Recipe
Ingredients
For the dressing:
3

tablespoons

balsamic vinegar

2

tablespoons

lemon juice

freshly squeezed

1

clove

garlic

peeled and minced

1

teaspoon

kosher salt

or 1/2 teaspoon sea salt, more if needed at the end

¼

teaspoon

black pepper

1/4

cup

extra virgin olive oil
For the salad:
4-5

Persian cucumbers

sliced ¼-inch thick slices (skin on)

2

cups

colorful cherry tomatoes

cut into quarters

8

ounces

fresh mozzarella cheese

cut into small cubes

handful fresh basil leaves

or Italian parsley leaves (optional)
Instructions
To make the dressing: Place balsamic vinegar, fresh lemon juice, minced garlic, salt and pepper in a small bowl. Give it a whisk. While still whisking, slowly add in the extra-virgin olive oil and continue whisking until fully incorporated and smooth. Set it aside.

To assemble the salad: Place cucumber slices, tomatoes, and mozzarella cheese in a bowl. Drizzle the dressing over the salad. Give it a toss.

Garnish with fresh basil or Italian parsley.

Taste for seasoning and add in some more salt and crushed black pepper, if necessary. Serve.
Notes
Make Ahead: Prepare the salad and the tangy balsamic vinaigrette and store them in separate containers. Storing them separately will keep your veggies—especially the tomatoes—from getting soggy.
Storage: This Chopped Caprese Cucumber Salad will stay fresh in an airtight container for up to 2 days.
Nutrition
Calories:
337
kcal
|
Carbohydrates:
11
g
|
Protein:
14
g
|
Fat:
27
g
|
Saturated Fat:
9
g
|
Cholesterol:
45
mg
|
Sodium:
367
mg
|
Potassium:
419
mg
|
Fiber:
2
g
|
Sugar:
6
g
|
Vitamin A:
1427
IU
|
Vitamin C:
18
mg
|
Calcium:
313
mg
|
Iron:
1
mg
Like this recipe? Consider sharing: