Better than the cult favorite Zatarain's blackened seasoning recipe, this five-minute rub builds upon cajun spice for an incredible flavor—something I always keep handy in my spice cabinet. Not only does it add an irresistible kick to dozens of foods, but it's also the key ingredient of my Blackened Mahi Mahi recipe. Use this savory blackening rub for all of your proteins, veggies, grains, and more, and you'll never be at a loss for simple and flavorful weeknight meals again.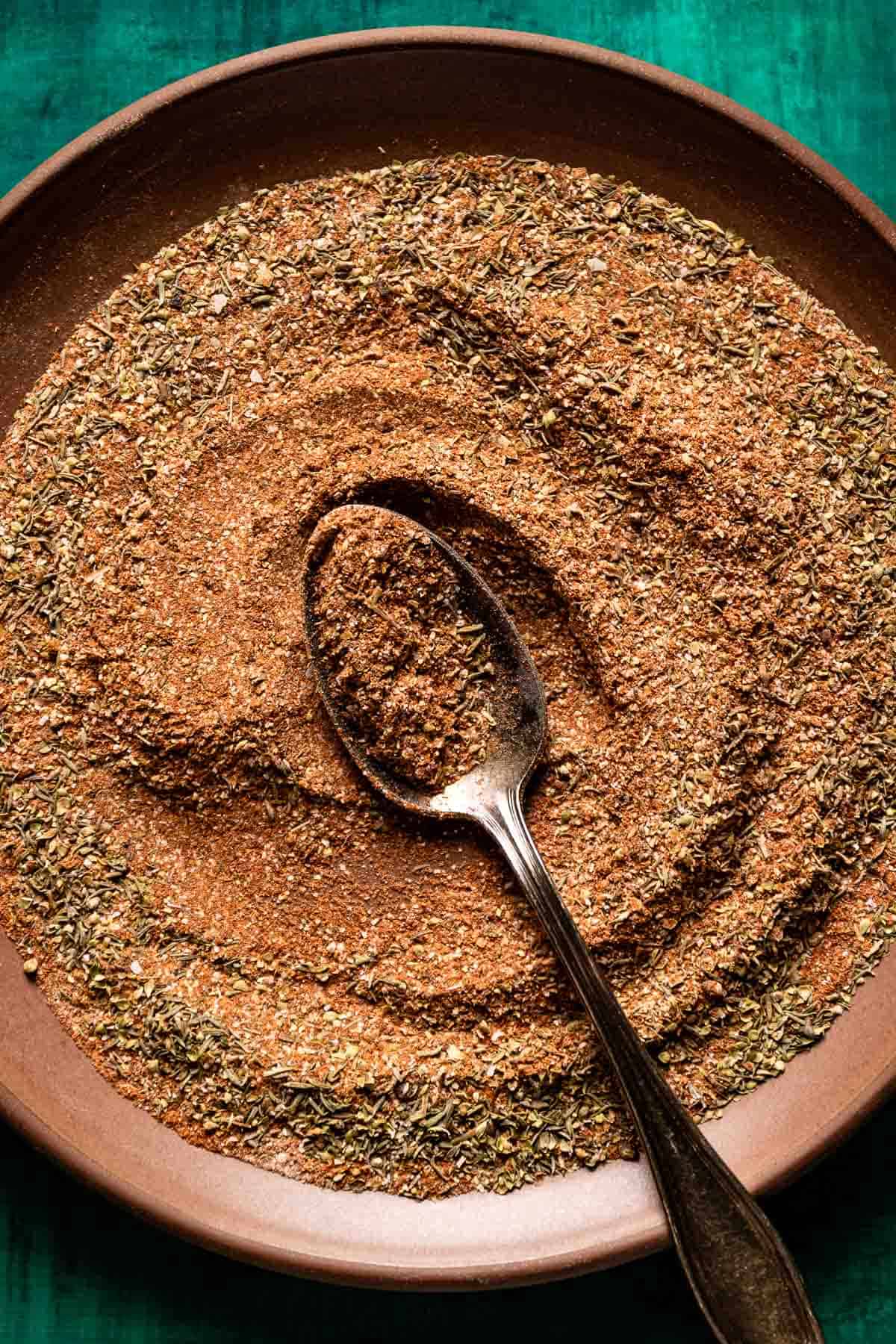 What Does Blackening Mean, and How to Blacken Foods?
"Blackening" is a process in which you pat dry your main ingredient (primarily meat and fish), brush it with melted butter or olive oil, then dredge it through a combination of spices—usually a traditional blackened seasoning blend. Then, cook the meat in a scorching cast-iron skillet until it forms a charred, spice-infused exterior.
Popularized by Paul Prudhomme, this technique of cooking and the seasoning mix is usually used when cooking seafood and chicken dishes, but you can also use a blackening rub on other meats—such as steak and pork—veggies, soups, grains, and even pasta.
What is Blackened Seasoning?
Blackened seasoning, also referred to as "Blackening Seasoning", is a traditional Louisiana spice blend that creates a crisp, blackened exterior when added to meat, poultry, or seafood and cooked in a hot cast iron skillet.
Popular in Cajun cooking, this iconic spice mixture often includes paprika, onion powder, garlic powder, cayenne pepper, thyme, oregano, black pepper, and salt.
What is in Blackened Seasoning?
You only need a handful of pantry-ready ingredients to make this iconic Louisianian spice mix: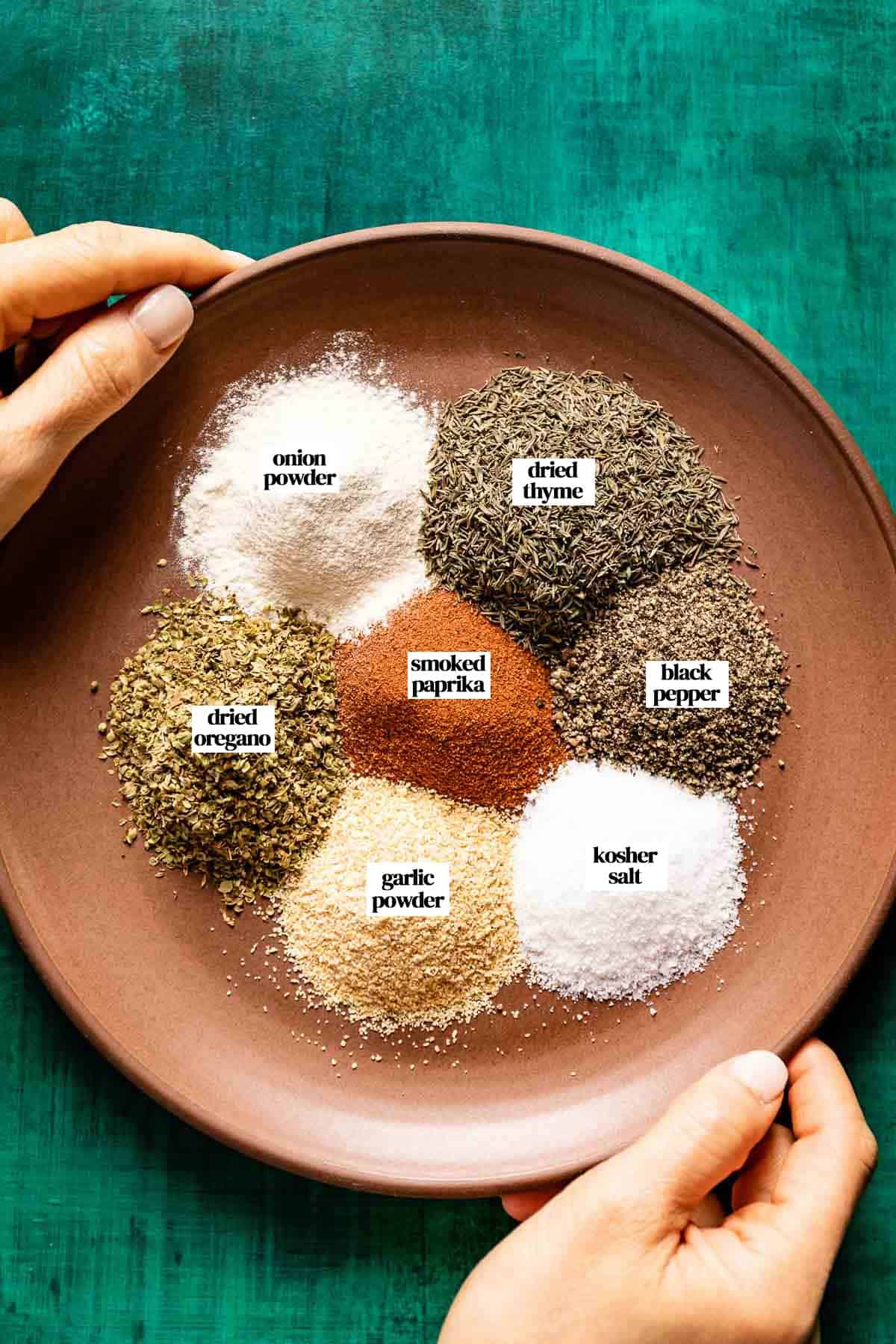 Paprika: Smoked paprika is ideal for giving this Cajun blackened seasoning its signature smoky flavor. However, regular paprika will also work.
Onion powder
Garlic powder
Dried oregano
Dried thyme
Ground black pepper
Kosher salt: Salt is the key ingredient to livening up the other spices' unique flavors. However, if you're watching your sodium intake or simply want to limit how much salt you use, you can easily make a salt-free blackened seasoning by omitting the salt.
Cayenne pepper: Though cayenne pepper is optional, it's a great addition if you want to give your rub a spicy kick. Feel free to heat level according to your taste buds.
Other optional additions: While these are the basic blackened spice mix ingredients, you can also add other spices for more complex flavor profiles. Some of my favorites include ground cumin, white pepper, and dried basil—though there are countless others to try.
How to Make It?
Making blackening seasoning is an easy way to infuse your kitchen with bold, aromatic flavors. With a total time of five minutes, making this recipe is as easy as it gets.
Mix the spices: Place all the blackened seasoning ingredients in a small bowl. Stir them together until they blend evenly.
Store: Transfer the mixture into an airtight container with a tight-fitting lid—such as a mason jar and store it in a cool, dry space. Your blackened seasoning will stay fresh for up to a year.
How to Use Blackened Seasoning?
You'll add countless mouthwatering dishes to your recipe book when you make your own blackened seasoning. Prepare to cook like a master Lousianian chef with these tasty menu ideas.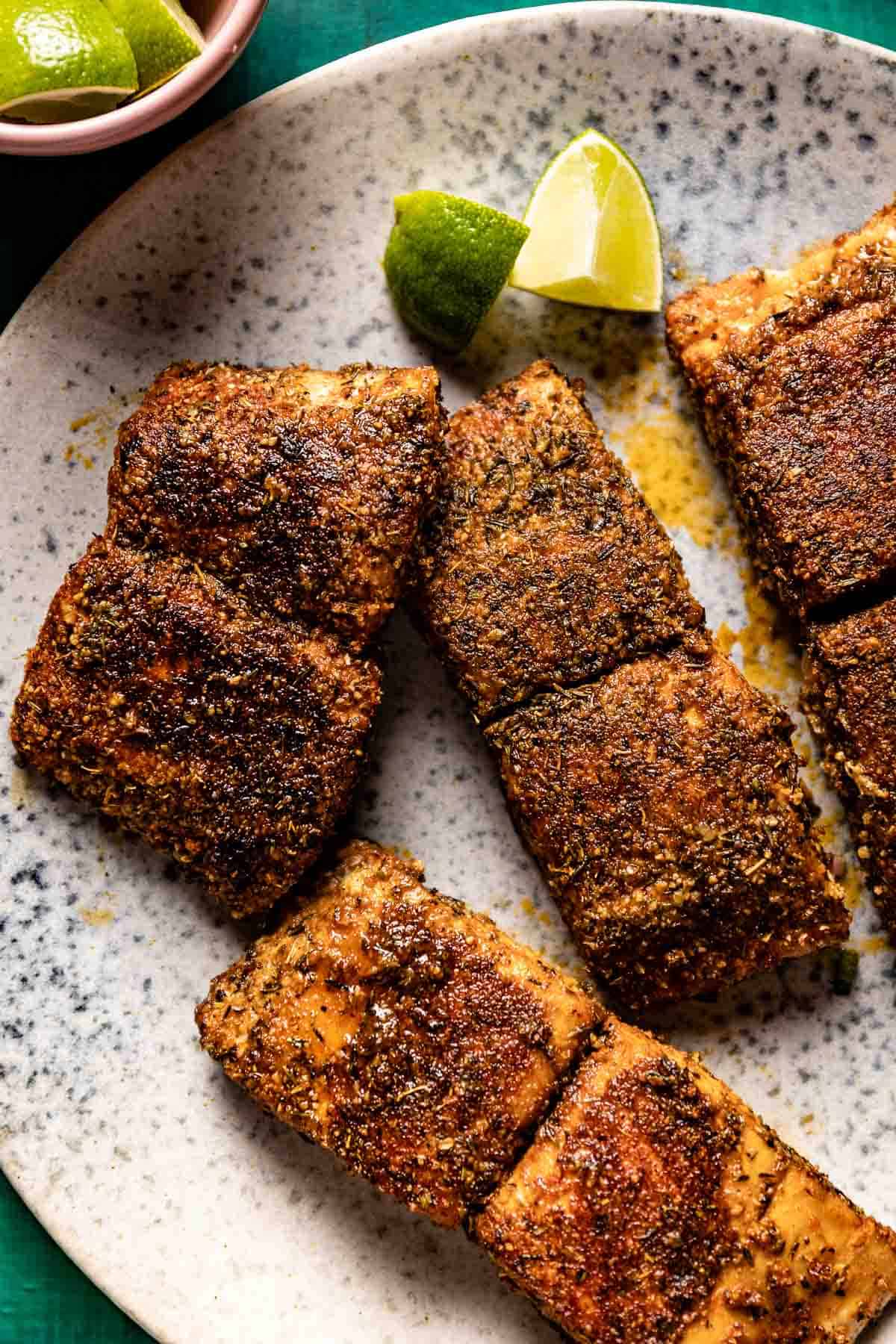 Meat: The traditional way to enjoy this blackening spice blend is by using it to create a flavorful crust on meats. I love dredging my favorite meats (i.e., shrimp and salmon) through this homemade seasoning, making the perfect blackening recipe for fish, chicken, seafood, and steak. I even use this seasoning as the flavor base of my Blackened Mahi Mahi recipe.
Vegetables: This blackening spice recipe is essential when adding a savory, piquant flavor to grilled or roasted vegetables. Sprinkle it on veggies like corn, zucchini, potatoes, and eggplant for a simple veggie dish.
Pasta, rice, and grains: One of the best ways to use this versatile seasoning is in your favorite grain recipes. Add this secret ingredient to creamy pasta sauces, or sprinkle it in a bowl of plain rice to give it a kick of New Orleans flavor.
Nuts and popcorn: Transform your everyday snacks into five-star fare by adding a dash of this robust seasoning. I love sprinkling this DIY blackened seasoning over a bowl of nuts or popcorn, giving each bite an out-of-this-world taste.
Soups and stews: Just like Italian seasoning, this easy blackened seasoning recipe is just what you need to take your soup-making to the next level. With just a few simple ingredients, every tablespoon will burst with delicious, bold flavors.
Expert Tips
There's no guesswork when making this easy blackening seasoning recipe. These pro tips will make your kitchen smell like a gourmet market any day of the week.
Fresh spices: The best blackened seasoning begins with fresh spices. Not only do quality spices have a more potent flavor, but they'll also keep your seasoning fresher for longer. Be sure to check the expiration date of all your ingredients before adding them to your mixture, and use new ingredients whenever possible.
Sealed storage: Tightly seal your blackened seasoning in an airtight container to keep it fresh during storage. I also recommend placing your sealed seasoning in a cool, dark place to keep the flavors from drying out.
Mix well: To give every teaspoon of this blackening spice mix a well-balanced taste, evenly blend the spices. Each spoonful should have an equal amount of every ingredient.
Make it your own: The best part about the ingredients in blackened seasoning is how easy they are to adjust. Feel free to experiment with each spice's proportions to satisfy your own preferences. For example, you could give your rub more heat by increasing the amount of cayenne pepper. Or, add more paprika for a smokier, deeper taste.
Adjust salt: If you'd prefer a low-sodium blackening seasoning, add less salt to your mixture or omit it altogether.
Safety: Proper air ventilation is a must when you cook with blackened seasoning. The high heat of the cooking process may cause your spices to smoke, resulting in coughing or irritation if inhaled directly. To avoid this from happening, I recommend turning on your kitchen's overhead fan and, if possible, opening nearby windows.
FAQs
Still have questions about this homemade blackened seasoning? Don't worry! This simple guide covers everything from cajun seasoning vs. blackened seasoning to how to adjust spice levels.
Is blackening seasoning spicy?
It can be! This spice rub's heat comes primarily from its cayenne pepper, so you can adjust how much you use to reach your desired spice level.
What does blackened seasoning taste like?
Blackened rub tastes very similar to cajun and creole seasonings, with a spicy, smoky, and savory flavor.
What's the difference between blackening seasoning, cajun seasoning, and creole spice?
Though similar, slight variations exist between blackened, cajun, and creole seasoning. Cajun seasoning tends to be spicier, with a higher proportion of cayenne pepper, and people often add it to traditional Cajun cuisine dishes, such as gumbo and jambalaya. Meanwhile, creole spice uses more herbs—like celery seed and dried basil—to make milder, more refined creole dishes.
What is a good blackened seasoning substitute?
If you need a substitute for blackened seasoning, don't worry! There are dozens of similar recipes to try. Cajun and creole seasonings use a similar base, producing comparable flavor profiles. Old Bay seasoning also has a similar taste but tends to be saltier. If you don't have any pre-made spice mixes, you could make a stripped-down version of this recipe with a chili, onion, and garlic powder blend. You could also use homemade taco seasoning—usually a chili powder and cumin mix—for an earthier, more citrusy version. If you don't mind a sweeter, tangier alternative, you could also use a Canadian classic made with brown sugar and dry mustard: Traeger Blackened Saskatchewan Rub.
If you try this Blackening Seasoning recipe or any other recipe on Foolproof Living, please take a minute to rate the recipe and leave a comment below. It is a great help to others who are thinking of making the recipe. And if you took some pictures, be sure to share them on Instagram using #foolproofeats so I can share them on my stories.
Blackened Seasoning Recipe
Learn how to make your own blackened seasoning and use it to blacken fish, chicken, steak, and vegetables. This unique seasoning mix is an inexpensive and easy way to add spicy, smokey, and earthy flavors to all your favorite dishes.
Print Recipe
Ingredients
2

teaspoons

smoked paprika

1 ½

teaspoon

onion powder

1 ½

teaspoon

garlic powder

1

teaspoon

dried oregano

1

teaspoon

dried thyme

1

teaspoon

ground black pepper

½

teaspoon

Kosher salt
Optional:
½

teaspoon

cayenne pepper
Instructions
Mix all the ingredients in a small bowl and stir to ensure that they are evenly blended.

Store in a jar with a tight-fitting lid (such as a mason or a small glass jar) for up to a year.
Notes
Yields:

This recipe makes ¼ cup of blackened seasoning. It can be multiplied as needed.

Make it your own:

Feel free to adjust the amount used according to your taste buds. This also applies to the amount of salt used. If you prefer to salt your food separately, we recommend omitting salt.

Safety

: Proper air ventilation is a must when you cook with blackened seasoning. The high heat of the cooking process may cause your seasoning mix to smoke, resulting in coughing or irritation if inhaled directly. To avoid discomfort, we recommend turning on your kitchen's overhead fan and, if possible, opening nearby windows.
Nutrition
Calories:
13
kcal
|
Carbohydrates:
3
g
|
Protein:
1
g
|
Fat:
0.2
g
|
Saturated Fat:
0.1
g
|
Polyunsaturated Fat:
0.1
g
|
Monounsaturated Fat:
0.03
g
|
Sodium:
293
mg
|
Potassium:
64
mg
|
Fiber:
1
g
|
Sugar:
0.2
g
|
Vitamin A:
617
IU
|
Vitamin C:
1
mg
|
Calcium:
22
mg
|
Iron:
1
mg
Like this recipe? Consider sharing: