The best part, you ask? This quick marinade recipe can be used for grilled, baked, and pan-seared mahi mahi (aka dolphin fish). If you are a fan of quick Seafood Dinners, this simple marinade is a great back-pocket recipe that I know you will go back to often.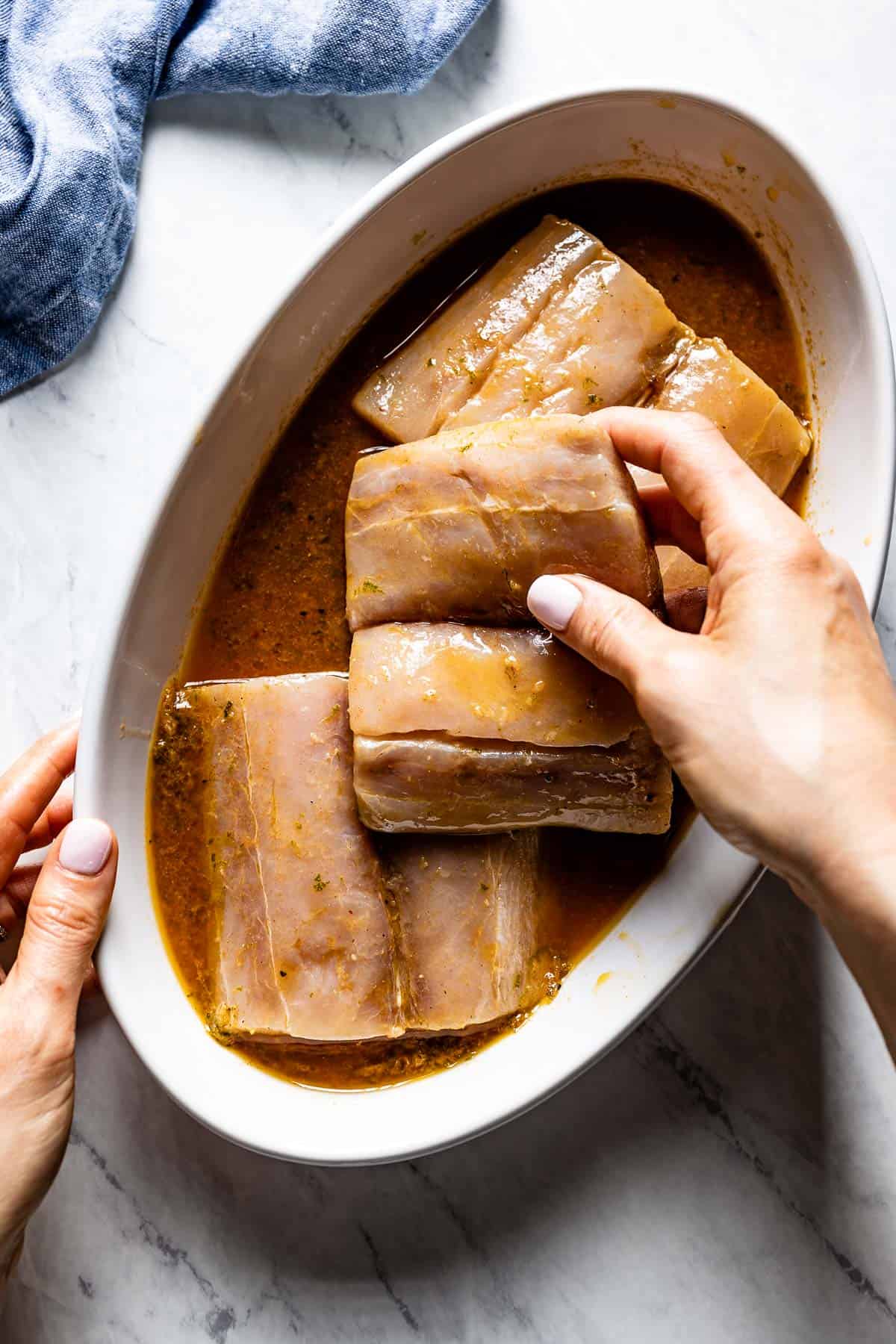 Marinade Ingredients
To make this easy mahi mahi marinade recipe, you'll need olive oil, minced garlic, lime zest, fresh lime juice, honey, paprika, kosher salt, black pepper, and of course, mahi mahi fillets.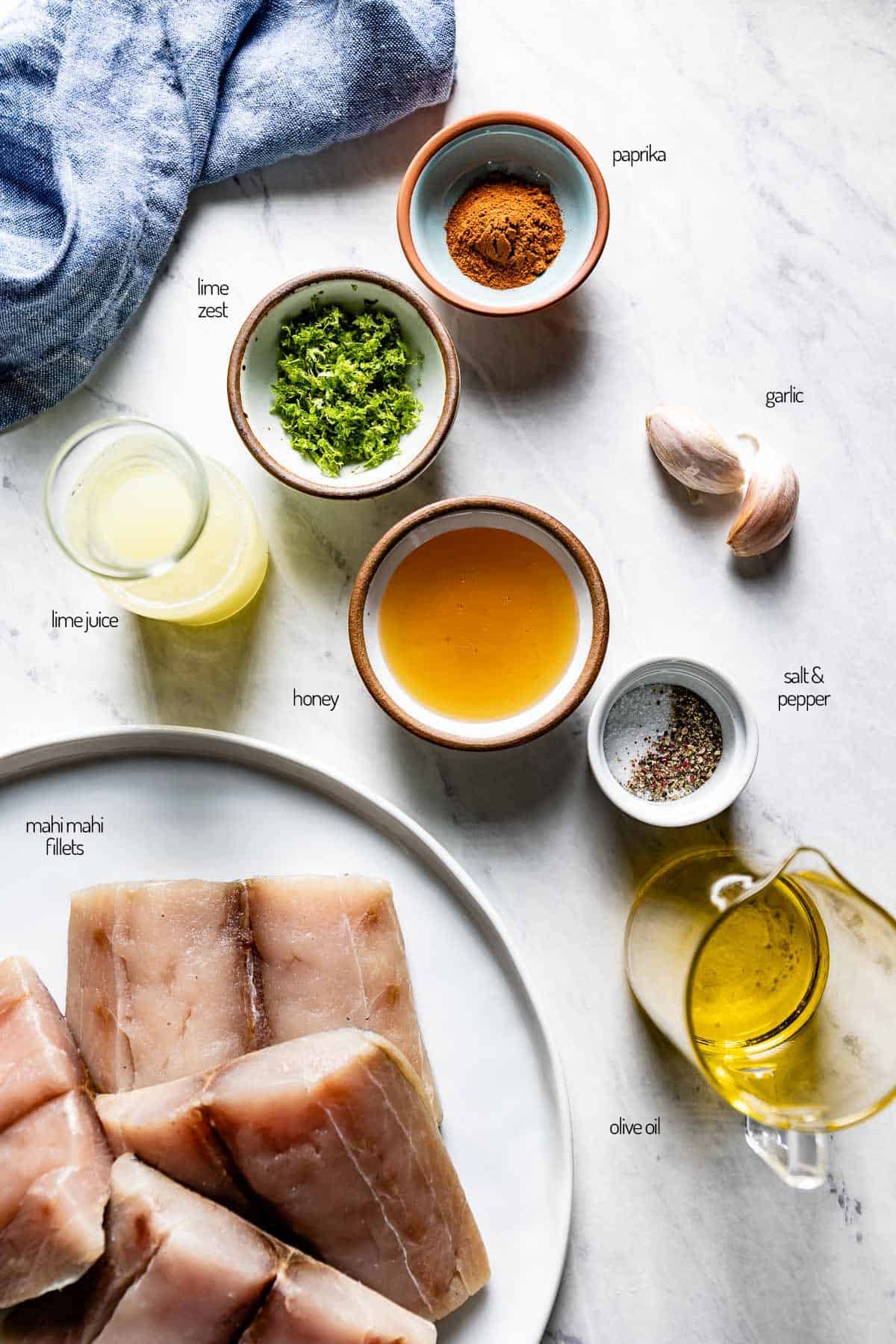 Other Seasoning Options
Lemon juice: If you're not a fan of marinating fish in lime juice, freshly squeezed lemon juice and lemon zest are easy substitutions. This simple substitute offers a lemon pepper flavor that perfectly balances the sweet mahi mahi taste (just like my Grilled Shrimp Kabobs!).
Cajun seasoning: Give your mild fish a smoky kick by using cajun seasoning for grilled mahi mahi. Onion powder, garlic powder, and black pepper will add delicious flavor to your mild white fish.
Asian flavors – Soy Ginger: For an umami-rich Asian-inspired marinade, use 2 tablespoons of soy sauce (in place of salt), sesame oil (instead of olive oil), and add a teaspoon of minced fresh ginger into the marinade.
Mexican-themed marinade: Want to make mahi mahi tacos? Simply use chili powder instead of paprika to give your marinade a little spice. Then, add some fresh cilantro to your mahi mahi grill marinade. Finally, put some peach salsa or mango salsa on top of the fillets, and voila! A delicious dinner.
Fresh herbs: Fresh ingredients are the key to making a good mahi mahi marinade. Add some fresh parsley or mint to your lime marinade, and you'll never wonder how to season mahi mahi again.
How to Marinate Mahi Mahi
Wondering what to marinate mahi mahi in? Whether you're baking, pan-frying or grilling mahi mahi, this easy recipe will take your dish to the next level.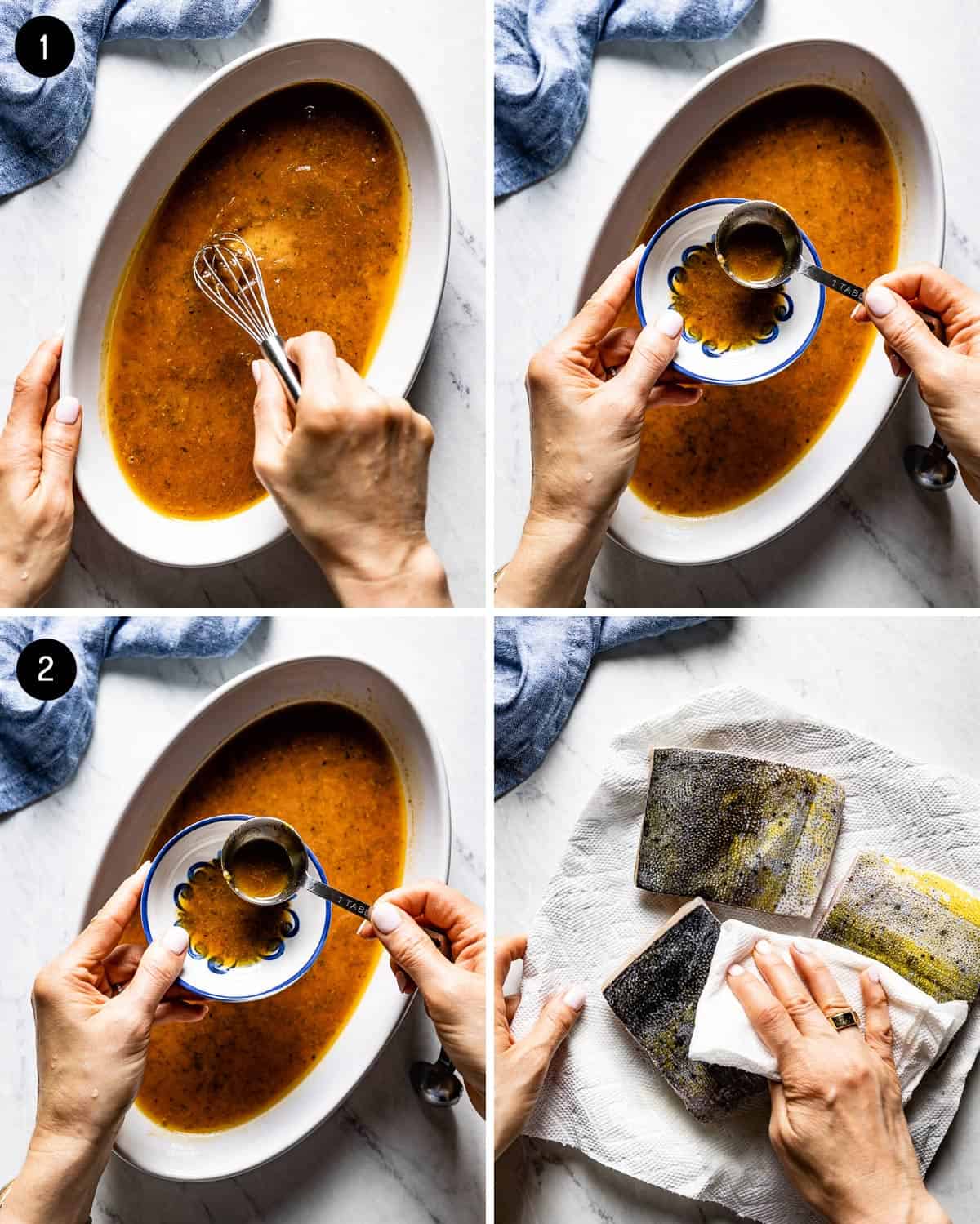 Mix marinade ingredients: In a bowl large enough to fit your fish fillets, whisk together the olive oil, garlic, lime zest, lime juice, honey, paprika, salt, and pepper. Reserve two tablespoons of the marinade and set it aside.
Dry the fillets: Use paper towels to dry both sides of the fillets thoroughly.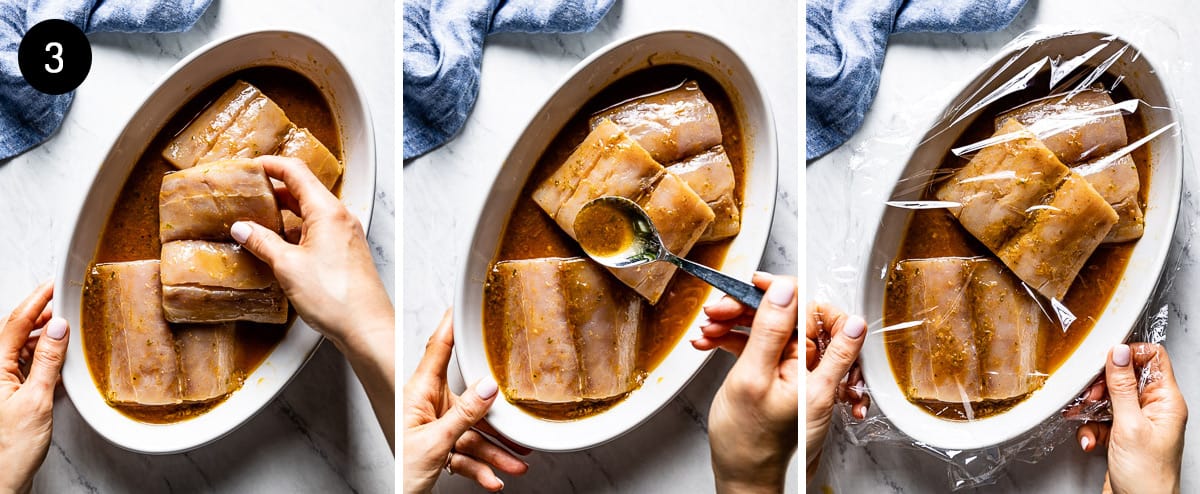 Marinate the mahi mahi: Place the dried fillets in the marinade bowl and toss to coat. Then, cover the bowl with plastic wrap and refrigerate for 20-30 minutes.
Cook the fillets: Once the fillets are ready to cook, remove them from the marinade and cook them using your preferred method. When you finish cooking the marinated mahi mahi, drizzle the fillets with the reserved marinade and serve.
Make-Ahead Instructions
It's a cinch to make this marinade recipe ahead of time.
Simply whisk together the ingredients and store the mixture in an airtight jar in the fridge. Then, marinate your dolphin fish fillets 30 minutes before you'd like to cook the fish.
Expert Tips
This healthy recipe for mahi mahi marinade is easy, quick and delicious. However, if you want to make the best marinade for mahi mahi fish, follow these expert tips:
Frozen mahi mahi: If you use frozen fish, be sure to thaw your fillets before you start marinating them. I recommend letting the fish fillets thaw in the fridge overnight.
Dry thoroughly: The best way to get the most flavor into your fish is by drying them first. Be sure to thoroughly dry each piece of fish with a paper towel before adding them to your prepared marinade.
Baste it: Sometimes, if the fillets are too large, they may not fit in one layer while marinating, even if it is in a large bowl. If this is the case, I suggest basting them a few times to ensure each piece has a generous layer of marinade.
FAQs
Whether you want to know how to cook mahi mahi on the grill or how long to marinate your tender fish, I have you covered! These FAQs have all you need to make a delicious fish recipe that is guaranteed to impress.
How long to marinate mahi mahi?
I recommend marinating your mahi mahi for 20-30 minutes. Any longer, and the lime juice's acid may begin to cook your fish.
Should you rinse mahi mahi before marinating?
Yes, you can rinse your fillets if you want to. Just be sure to rinse them in cold water to keep your fresh fish safe.
Can I use this mahi mahi marinade if I am baking, grilling, or pan-frying mahi mahi?
Yes! This marinade will work for dozens of great recipes. You can cook mahi mahi directly on the grill (or in a piece of foil), bake your fillets into fish tacos, cook them on cedar planks, and more.
Similar Recipes You Might Also Like:
If you try this Mahi Mahi Marinade recipe or any other recipe on Foolproof Living, please take a minute to rate the recipe and leave a comment below. It is a great help to others who are thinking of making the recipe. And if you took some pictures, be sure to share them on Instagram using #foolproofeats so I can share them on my stories.
Mahi Mahi Marinade Recipe
The one and only Mahi Mahi Marinade recipe you need to make the most flavorful baked, pan seared or grilled mahi mahi recipe. Made with a few simple ingredients, this quick recipe is just what you need to take an otherwise humble fish to the next level.
Print Recipe
Ingredients
¼

cup

olive oil

2

cloves

garlic

minced

1

teaspoon

lime zest

¼

cup

lime juice

2

tablespoons

honey

1

teaspoon

paprika

1

teaspoon

kosher salt

½

teaspoon

black pepper

4

6-8 oz mahi mahi fillets
Instructions
Place olive oil, garlic, lime zest, lime juice, honey, paprika, kosher salt, and pepper in a large bowl big enough to accommodate mahi mahi fillets. Give it a whisk until fully combined.

Reserve two tablespoons of the marinade and set it aside.

Thoroughly dry the fillets on both sides using paper towels.

Add the now-dried fillets to the bowl and toss to coat. Cover it with plastic wrap and refrigerate for 20-30 minutes.

When ready to cook (or grill), remove from the marinade and cook using your preferred method. Once cooked, drizzle it with the reserved marinade.
Notes
This recipe makes about 2/3 cups of marinade which should be good for marinating four 6-8 oz of mahi mahi fillets. If you are using more fish, you can easily multiply the recipe.
Make-ahead Instructions: Mix all the marinade ingredients in a mason jar, give it a shake, and store in the refrigerator. Thirty minutes before you are ready to cook or grill your Mahi Mahi, dry them thoroughly and place them in a large shallow plate. Pour marinade over making sure that the fish fillets are thoroughly coated with the marinade.
Nutrition
Calories:
158
kcal
|
Carbohydrates:
11
g
|
Protein:
0.2
g
|
Fat:
14
g
|
Saturated Fat:
2
g
|
Polyunsaturated Fat:
1
g
|
Monounsaturated Fat:
10
g
|
Sodium:
583
mg
|
Potassium:
36
mg
|
Fiber:
0.2
g
|
Sugar:
9
g
|
Vitamin A:
48
IU
|
Vitamin C:
7
mg
|
Calcium:
7
mg
|
Iron:
0.2
mg
Like this recipe? Consider sharing: