I knew nothing about Santa Fe prior to our visit back in September. I am so glad we made the trip, because this New Mexican small town has so much to offer for its visitors.
Here are notes and photos from our visit: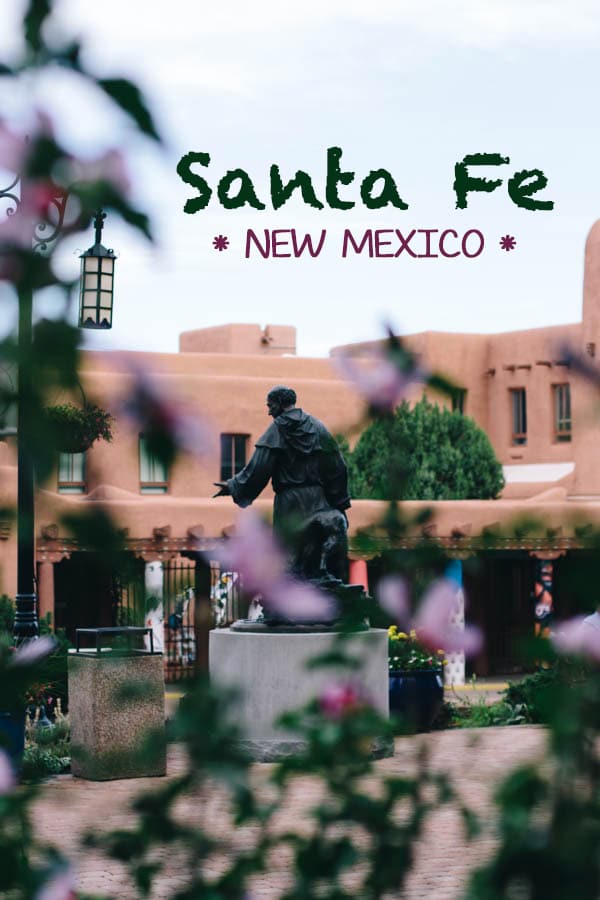 How to get to Santa Fe, NM
In order to get to Santa Fe, we flew to Dallas, and from there we flew to Albuquerque. From Albuquerque, we took a shuttle to Santa Fe.
When you go downstairs (towards the exit) in the Albuquerque International Sunport Airport, you'll see a bunch of shuttle company offices that can assist you with shuttle services to Santa Fe and other parts of the town. If you do not want to wait, I'd recommend making arrangements in advance by simply calling them with your payment information. We used this company.
The trip was in a small bus with 12 other people, and it took a little more than an hour. We were dropped off in front of our hotel.
Where to stay
We stayed in a beautiful inn called the Rosewood Inn of the Anasazi.
Inn of the Anasazi is conveniently located in the heart of downtown Santa Fe. With its charming beauty and rustic decor, it perfectly fits in the overall feeling of the town.
The hotel has a beautiful restaurant that is open for breakfast, lunch, and dinner. The menu offers local cuisine, and the food is beautifully presented matching to the personality of the atmosphere.
There is also a patio right outside the Inn that you can just enjoy a light fare with a beer while watching people passing by or reading a book.

On the lobby level, there is a very nice living room, an area where you can relax while reading coffee books about the local artists and the culture. Right outside the living room is the concierge desk. We thought both concierges were very knowledgable and helpful. Even though I did my research before going there, I was glad that we were able to get some insight from a local.
Our room was clean and comfortable. The feel of it was a continuation of what you see in the restaurant, living room, and the lobby area: rustic, elegant, and with a clean New Mexican flair.
Downtown Santa Fe and Georgia O'Keeffe Museum
As soon as you start walking around the downtown Santa Fe, you realize the rich culture and artsy scene engraved in the look of the streets, buildings, and even in people. Downtown Santa Fe is where most of the restaurants and local shops are located. The main street is called the San Francisco Street.
San Francisco Street as well as the other parallel streets are full of stores that sell pottery, paintings, and other art by local artists. We found them to be quite expensive for our budget, but we both agreed that they were beautiful.
In the middle of the downtown area, there is a place called Historic Plaza, where you can see local artists selling hand made jewelry and pottery on the floor. I would say, it is more like a nice park. We loved this area, mainly because we met a couple of locals, who were born and raised in Santa Fe.

Georgia O'Keeffe is one of the most famous New-Mexican artists of the 20th century. There is a museum in her name within 10-15 minutes walking distance from the Historical Plaza. We enjoyed the museum very much as we got a chance to learn about the life of a true talent, who lived in an era where it was hard to be an artist as a woman.
I would highly recommend visiting this museum to see her paintings, learn about her life (in short video format), and see some photographs of her life and house. There is even a section (seen in the picture above) where they made an exact replica of her desk in front of the Pedernal Mountain: the mountain, she believed – if she had painted it enough, God would give to her.
We did not have the time, but we were told that visitors can see her house in Abiquiu, located 50-miles away from Santa Fe. From what I understand, it is very popular and locals recommended that you make arrangements in advance.
Cooking Lessons
Santa Fe Cooking School

Knowing that red and green chile peppers are big in the New Mexican cuisine, I wanted to learn more about them. We were told that they best way to do that was to take a cooking lesson from the Santa Fe Cooking School. We reserved our space through their website (link no longer works) in prior to leaving the island.
At first, Dwight did not want to join me, because he considered himself as "not so much of a cooking class" type (whatever that means?!). But I am glad I was able to convince him, because we had a fun time learning from Chef Allen Smith and Chef Noe Cano.
It was a hands on class, where we learned to cook 3 different red chile sauces. As we followed Chef Allen's recipes, he answered our questions and showed us some hands-on techniques.
We also learned how to make corn tortillas from Chef Noe. I knew how to make corn tortillas, but Dwight was shocked to find out how easy it was. Later, when we went to San Miguel de Allende -Mexico, we even bought a wood tortilla press.
The class was about an hour and half of fun and learning that I would recommend anyone who wants to learn about the local cuisine. There is also a gift shop full of books, kitchen tools, and spices.
Santa Fe – Culinary Academy
We were walking on San Francisco Street when I saw a flier saying, " Santa Fe Culinary Academy presents "Cooking the Plant Families: Recipes and Stories from Vegetable Literacy" from the cookbook author Deborah Madison'.
If you do not know who she is, Deborah Madison is a famous vegetarian chef and cookbook author. She has many cookbooks, but two of my favorite ones are called "Vegetable Literacy
" and "Vegetarian Cooking for Everyone
". Both books are full of information and inspiration about vegetarian cooking.
As you can imagine, when I saw the flyer, I was very excited that she is in town at the same time we were there. I immediately signed up for it. However, this time I was alone as Dwight thought that one cooking class per vacation is more than enough for him.
Come to find out, Chef Deborah lives in Santa Fe with her painter husband, Patrick McFarlin.
The class was held in the dining room facility of the Santa Fe Culinary Academy on San Francisco Street. The large dining room had a kitchen with a large mirror on the ceiling. We watched her cook 6 different dishes from her cookbook "Vegetable Literacy". While cooking, she gave us detailed information on using fresh and local ingredients as well as some of the techniques she uses in her day-to-day cooking.
I thought the experience of eating Chef Deborah's food that is cooked and served by her was a once in a lifetime opportunity. The best part was that I got a chance to talk to her in person. In addition to being an amazing chef, she was a sweet and humble person. For me, this experience was one that I will always remember fondly.
Sante Fe Culinary Academy offers weekly classes and gatherings for foodies. If I was living there, I would probably be attending those classes pretty often.
Historical Churches of Santa Fe
There are 3 historical churches in Santa Fe: St. Francis Cathedral, Loretto Chapel, and San Miguel Mission (the oldest church in the U.S.). They are within walking distance from the Historical Plaza in the downtown area. We were able to see the St. Francis Cathedral and the Loretto Chapel as San Miguel Mission was being renovated.

Canyon Road

Canyon Road is where most of the contemporary, Southwestern, and Native American art exhibitions and galleries are located. It is within walking distance from the Plaza.
As you walk on Canyon Street, you feel as though you are walking in an open air museum with sculptures in front of beautiful art galleries and houses that display the distinctive architectural style of Santa Fe and New Mexico.


Railyard Art District – Farmer's Market

For me, Santa Fe's Railyard Art District was the second highlight (after Deborah Madison's cooking class) of our vacation. But it was not because it houses more galleries and beautiful buildings representing Santa Fe's historic adobe architecture. It was because of the farmer's market that was open only on Tuesdays and Saturdays.

As you can imagine, coming from a Caribbean island where fresh produce is hard to find and quite expensive, I was in paradise. I couldn't help but wish that I had a kitchen that I could cook. I literally wanted to buy everything.
In the market, in addition to fresh produce you can find handmade decorations for the house made with local ingredients like corn and chilies.

We spend a couple of hours in the farmers market, eating and chatting with the farmers. And, I did not want to leave…
Kasha-Katuwe Tent Rocks National Monument

In the last 2 days of our Santa Fe trip, we decided to rent a car to see some of the nearby places. Since we love hiking and photography, the concierge at the hotel suggested that we go to Tent Rocks National Monument.
It took us a little less than an hour to get there. Once we got inside the park, we drove 4 miles to get to the area where the hike starts. The person at the entrance gave us a walking map showing us the two routes we could hike.
Since we had time, we decided to do the longer one. I am glad we did, because as we walk through the slot canyons, we saw some amazing views. Not to mention, the mindblowingly beautiful panoramic view from the top…
The weather was perfect on that day, but if you go there on a summer day, I would recommend to do the hiking very early as it could be very hot. Also be aware that other than the starting the point, there were no bathrooms or any other facilities along the hike.
The Best Burger in Madrid, New Mexico
One of our goals for this vacation was to allow ourselves to eat the best burger we could possibly find. We asked around and spoke to a couple of people in town and almost everyone suggested that we should go to the Mine Shaft Tavern in Madrid, New Mexico. They won this year's Santa Fe Green Chile Cheeseburger Smackdown – Peoples Choice Award.
After our hike at the Tent Rocks, we both felt as though we deserved a good, juicy, chile cheeseburger. It took us less than an hour to get to this small and quiet town. The restaurant (as you can see in the picture) is more like a sports bar with an outdoor sitting area. We both ordered the award-winning burger with some cold local beer.

And if I maybe honest, it was U.N.B.E.L.I.E.V.A.B.L.E. What made it amazing was the ricotta filled, roasted, and then fried green chile that they put on top the cheese.
We both left nothing on our plates, and decided to put this burger in our "Best Burger We Have Ever Had" list. By the time we finished eating, we were both happily full and in need of a little exercise. So we decided to walk around the small town, and check out some of the antique shops and local stores on the main street.
Places We Ate and Recommend

Tia Sophias:
Tia Sophias is a traditional Mexican restaurant. It is a very popular breakfast spot. We both had the huevos rancheros with red and green chile. It was phenomenal.
Station Coffee at the Railyard District:
Great spot for artisanal coffee. It is very close to the farmer's market by the Railyard Art district.
Cafe Pasqual:
Cafe Pasqual is a very popular breakfast spot in downtown Santa Fe. But they serve dinner as well. We were told that there are usually very long lines in front of it, but I guess we got lucky on that day, because we were able to get right in.
I had the "HUEVOS BARBACOA CON CHILE D'ARBOL SALSA – marinated and slowed cooked shredded beef served on corn tortillas with eggs. It was delicious. I was told that this dish was featured in Food Network's popular show "Best Thing I've Ever Ate".
I highly recommend eating there.
Kakawa Chocolate House (broken link): A small chocolate house that serves drinking chocolate as well as truffles, caramels, etc.
If you do not know what to order from their menu, they allow you to sample some of the drinks before ordering. We loved this place.

La Bocca (link to La Bocca's website is no longer available – Update on July 2016):
La Bocca is a Spanish tapas restaurant. It is a small restaurant with a bar and live music. Great food and great service. You should make reservations in advance.
Coyote Cafe and Rooftop Cantina:
Great Mexican food. There are 2 restaurants in one location. We went to the Rooftop Cantina and really enjoyed sitting outside. We both had the fajitas and it was delicious.
Cowgirl:
Great Soutwestern food with a outside seating area and live music. I ordered the brisket and it was pretty good.
All in all, we had a fantastic time in Santa Fe. And I know that we barely scratched the surface of all the things one can see and do in and around it. Still, it was well worth the visit.
Disclaimer: I was not compensated in any shape or form by any of the places mentioned above to write this blog post. All photographs and comments are my own.
Like this recipe? Consider sharing: