Do you remember the Sex and the City episode where Miranda calls a Chinese take out place and orders the same thing everyday? The girl on the phone mocks her and laughs at her. Miranda gets offended and goes to the restaurant to complain.
Remember?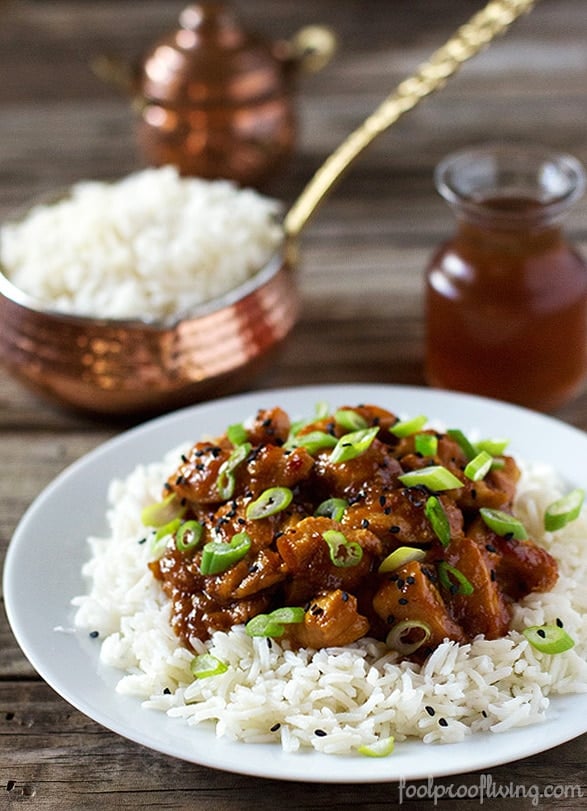 I do not know you, but very often I feel like I live in a Sex and the City episode.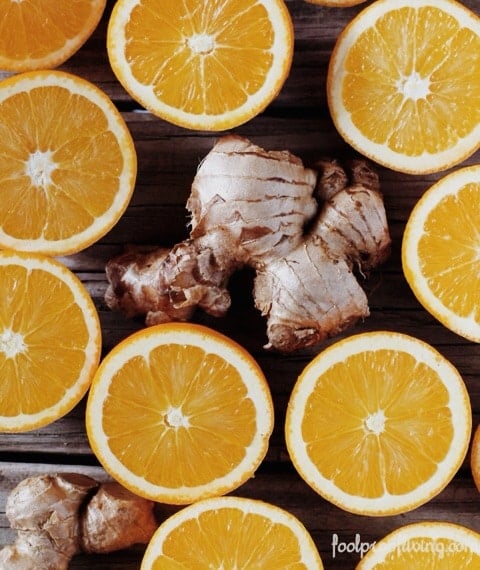 I was just like Miranda for a very long time when I was working at the hotel. After a long day (at least 12 hours) of work I did not want to come home and cook. I would call the Chinese take out place and order the same Mandarin Chicken every day. I could not get enough of that chicken covered with sweet and sour glaze.
Then, one day, somehow I switched to something else and forgot about it. I did not think about it until my husband, Dwight, said that he misses Chinese food sometimes.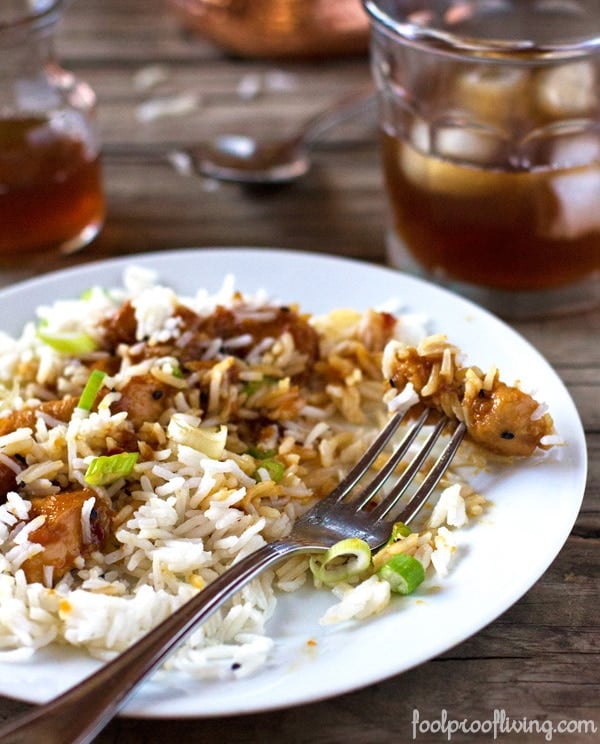 See, living on a very small island in the Caribbean may come with its perks like warm weather, beaches, and umbrella drinks but it does not come with a Chinese takeout place.
I decided to take the matters into my own hands and find a recipe to create that Mandarin Chicken recipe in my own kitchen.
Coincidently, at the same time Whole Food Market had a contest for "the best stove chicken" recipe. One of my favorite food bloggers, Lori of Foxes Love Lemons had entered to the contest with this Spicy Orange-Ginger Chicken recipe.
After I quickly read the recipe I decided to make it on that very same day. The end product was amazing. Just like the Mandarin Chicken that I used to order from the Chinese takeout place back in the days I used to live in a city.
Since then, I made this dish so many times not only for us, but also for friends. Everyone loves it.
That is why; I decided to put it on my blog.
The ingredients for this Spicy Orange-Ginger Chicken are easily available in supermarkets and I am pretty sure that you already have most of them in your pantry. It takes around 15 minutes to make the marinade but once the marinade is ready, all you need to do is let the chicken sit in it for an hour and cook it right before you are ready to serve.
I did not try this, but Lori says that if you are crunched on time, you can use carton orange juice and skip on the step of marinating the chicken.
I serve it on white rice because I love how the glaze flavors the pretty-much-flavorless rice. After I sprinkle it with scallions and black sesame seeds, it turns into a meal that is not only appealing for my stomach but also for my eyes.
I mean, really, how good does that look??!
Other Chicken Recipes You Might Also Like
Spicy Orange-Ginger Chicken Recipe
Ditch the take out and try this easy one-pan Orange Ginger Chicken recipe at home. This spicy Mandarin chicken recipe starts with marinating chicken in an orange-based Mandarin sauce and then cooking it in a skillet. Served on rice, it is an easy dinner that will make your family ask for more.
Print Recipe
Ingredients
1 1/4

cup

orange juice

freshly squeezed from 6-8 oranges

2

teaspoon

orange zest

1/4

cup

low-sodium soy sauce

3

tablespoons

ginger

freshly shredded

8

cloves

of garlic

minced

2

tablespoons

olive oil

divided

2

tablespoons

Sriracha sauce

1 1/2

tablespoon

rice vinegar

2

teaspoon

brown sugar

1/4

teaspoon

black pepper

4

medium

1 1/4 lbs chicken breasts, cut into 1/4 inch strips

1

tablespoon

corn starch

1

tablespoon

water

1/4

cup

scallions

green parts only, sliced

2

tablespoon

black sesame seeds
Instructions
In a glass bowl, whisk orange juice, orange zest, soy sauce, ginger, garlic, 1-tablespoon olive oil, Sriracha sauce, rice vinegar, brown sugar, and black pepper.

Place the chicken in a ziplock bag and pour 1/3 of the mixture in the bag. Seal the bag and place it in the fridge. Let it marinade for an hour.

Heat 1-tablespoon olive oil on a large non-stick skillet over high heat. Remove chicken from the bag and discard the marinade.

Add chicken, in 2 batches, and cook each batch for 6-7 minutes. Place the cooked chicken on a clean plate. Set aside.

Pour the rest of the marinade into the now-empty skillet and cook until boiling over medium high heat.

In the mean time, whisk together the cornstarch and water in a small bowl. It will be like a white paste. Whisk it into the marinade and let it boil for a minute.

Return chicken into the skillet and cook for 5 minutes or until chicken registers 160 F when a thermometer is inserted in some of the pieces of chicken.

Serve it immediately over rice. Sprinkle it with scallions and black sesame seeds.
Nutrition
Calories:
419
kcal
|
Carbohydrates:
18
g
|
Protein:
51
g
|
Fat:
15
g
|
Saturated Fat:
3
g
|
Cholesterol:
145
mg
|
Sodium:
970
mg
|
Potassium:
1111
mg
|
Fiber:
1
g
|
Sugar:
9
g
|
Vitamin A:
285
IU
|
Vitamin C:
51
mg
|
Calcium:
77
mg
|
Iron:
2
mg
Adapted from Foxes Love Lemon's Spicy Orange Ginger Recipe.
Who needs a Chinese takeout place on Virgin Gorda, when I can make it at home?
Like this recipe? Consider sharing: