These gluten-free and Naturally Sweetened Apple Almond Muffins are perfect for the chilly mornings of autumn to accompany your coffee. As their name suggest, they are sweetened with dates and applesauce. They are a healthier alternative to muffins made with granulated sugar.
I have not told you, but I have been on a mission for some time now. I do have a long ways to go, but I feel like I can start talking about it now. At the beginning of September, one day I was at Starbucks. It was right around the time they started serving pumpkin lattes. To welcome the season, I ordered a tall pumpkin latte along with a blueberry scone. After the first bite, it was one of those aha moments, where I realized how much sugar I was about to put in my body consuming these two things. They were too sweet. Even though it was early in the morning, there was no way that my body could handle that much sugar. I couldn't finish them, but it made me think, "what if I were to find a way to recreate similar pastries at home with using natural sweeteners?"
Imagine, all kinds of muffins, scones, cookies that you see in Starbucks, but instead of granulated sugar, they are made with dates, maple syrup, honey, and natural cane sugar. That is why; lately I have been sharing a lot of naturally sweetened recipes. There are many more to come, but I decided that it is best to start with the basics. A few weeks ago, I shared pumpkin muffins, and this week here I am with apple muffins.
About this Naturally Sweetened Apple Almond Muffins Recipe:
Sweeteners:
I love this recipe, because it uses fresh dates and applesauce to sweeten the muffins. Nowadays, both Medjool dates and unsweetened applesauce are available in supermarkets. But, if you have a slow cooker, you can use my slow cooker unsweetened applesauce recipe to make your own at home. I always keep some in my fridge to not only use in baking, but also for topping off my morning oatmeal.
Flours:
In terms of flours, I used almond flour and buckwheat flour, both of which are gluten-free. However, if you are not gluten sensitive, you can also use spelt flour in place of buckwheat flour. Since all these flours have such earthy and nutty flavors, when mixed in with cinnamon and apples, it ends up being a perfect muffin for the season.
In my opinion, the best part of this muffin is the applesauce you hide inside the muffin batter. I just love that you get to taste a bit of the sweet applesauce with every bite. I do not know how, but it magically stays intact inside each muffin without melting. And the end result is a moist and decadent apple muffin that is surely healthier than any pastry you would get in Starbucks.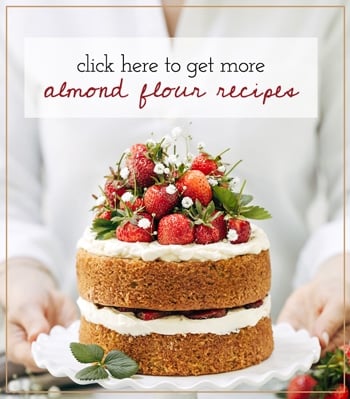 Print
Naturally Sweetened Apple Almond Muffins
These gluten-free and naturally sweetened apple almond muffins are perfect for the chilly mornings of autumn to accompany your coffee. As their name suggest, they are sweetened with dates and applesauce. They are a healthier alternative to muffins made with granulated sugar.
Author:
Prep Time:

20 minutes

Cook Time:

20 minutes

Total Time:

40 minutes

Yield:

12 muffins

Category:

Dessert

Method:

Baking

Cuisine:

American
Ingredients
1 cup rolled oats (GF certified – I used Trader Joe's brand)
1 cup almond flour/meal
2/3 cup buckwheat flour *1
2 tablespoons arrowroot powder (corn or potato starch would work as well)
1 ½ teaspoon baking powder
½ teaspoon baking soda
1 teaspoon ground cinnamon, more for sprinkling in the end
½ teaspoon sea salt
10 fresh Medjool dates, pitted and chopped
2/3 cup unsweetened fat-free plain yogurt, at room temperature
1/3 cup coconut oil, melted and cooled
3 large eggs, at room temperature
2/3 cup unsweetened applesauce, divided *2
3 medium size apples, peeled and cored – divided
Instructions
Pre-heat the oven to 400 degrees. Spray a 12-cup muffin time lightly with oil spray and fill each cup with muffin liners.
Place rolled oats in the bowl of a food processor and process until it is fine, 45-50 seconds. Add in the almond flour, buckwheat flour, arrowroot powder, baking powder, baking soda, cinnamon and salt. Pulse 6-7 times to make sure that they are completely mixed. Transfer the dry ingredients into a large mixing bowl. Wipe the bowl of the food processor with a paper towel. Do not wash.
Place the dates, yogurt, coconut oil, eggs, and 1/3 cup of the applesauce in the bowl of your food processor. Process until smooth, 40-50 seconds. You may have to stop the food processor and scrape the bottom of the bowl a few times to ensure that the dates are not sticking to each other.
Gently fold in the wet ingredients into the dry ingredients.
Grate 2 of the apples and fold them (with their juices) into the batter. Slice the third apple thinly and set aside.
Drop a heaping tablespoon of the muffin batter into each muffin tin. Divide the rest of the reserved applesauce amongst 12 muffin tins (each should be around 1-teaspoon applesauce). Cover each muffin tin with the rest of the batter.
Top each muffin batter with 3 thin slices of apple like you see in the images. Gently press them down.
Sprinkle each muffin with a little bit of cinnamon.
Bake for 20-22 minutes.
Let them cool for at least an hour before serving.
Notes
*1: I have also tried these muffins using spelt flour in place of buckwheat flour. They turned out a little moister, but they were still good. If you are not gluten sensitive and do not have buckwheat flour on hand, you can replace buckwheat flour with spelt flour.
*2: You can make your own unsweetened applesauce or purchase a store bought one. Either way make sure that it doesn't have any added sugar in it.
*Since these muffins are very moist, they need to be covered tightly with stretch film and consumed within the next two days. If you want, you can keep the leftovers in the fridge and lightly warm them up in the oven before serving.
This recipe is adapted from Green Kitchen Stories' Apple, Almond, and Buckwheat Muffin recipe.
---