Cornish Hen Recipe – A Creative & Impressive Chicken Dish
Are you ready to up your chicken game? If so, I have great news for you. My friend's, Eva of the beautiful blog Adventures in Cooking, new cookbook Adventures in Chicken
is out today. Eva's book, filled with 150 recipes made with chicken, will make you stop what you are doing and run to the store to pick up some chicken.
Whether you are new to cooking or a veteran in the kitchen, I guarantee you that this cookbook will offer you many dishes that will satiate your audience.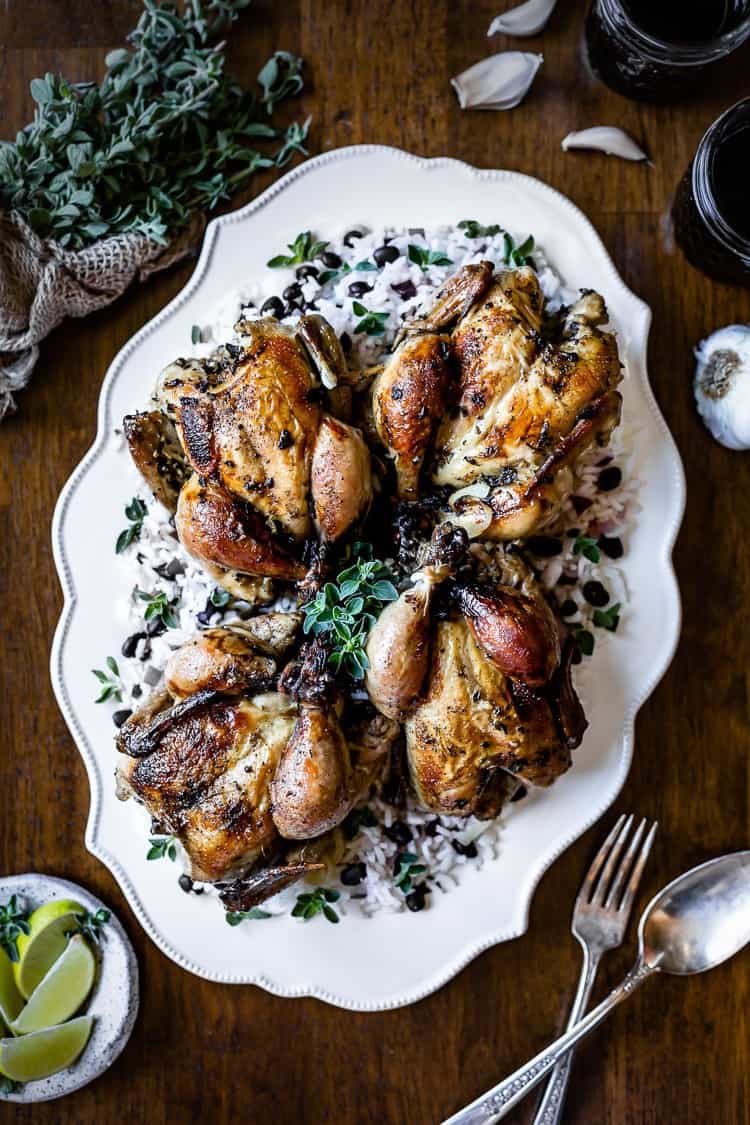 I have already tried a few of the recipes from the book and decided that this Roasted Cornish Hen recipe has to be on the blog. I guess my years of living in the Caribbean and my love for its cuisine made this the winner.
As suspected, the recipe worked perfectly on my first try. Cornish game hens marinated in a simple limejuice-based marinade roasted in the oven (for almost 2 hours) were truly delicious, moist, and tender. Plus, I thought that they made an elegant presentation when laid on each plate.
This was my first time cooking Cornish game hens so I had very little knowledge of the ins and out of cooking these special breed of chickens. After a few times of making this recipe for my family, not only I now think that roasting is the best way to cook cornish hens, but also got all my questions about them answered.
Thinking that you might have similar questions and new to cooking Cornish game hens like I am, I thought it would be great to share some of those questions and their answers below.
What is a Cornish Game Hen

?

Cornish Game Hens, also referred Indian Game, are a special breed of chicken from Cornwall, England (source). Mostly popular in Europe, French call it poussin. Here in America, in addition to Cornish hens, people call it Rock Hens.

A true cornish hen is a 3 to 4 week old chicken that weighs around 18-32 ounces. As a breed, they are known to have more fat than most chickens, which is why they are so meaty, tender, and flavorful when cooked.
How to Prepare Cornish Hens

?

Before I talk about how to marinade and then roast the Cornish hens, I wanted to talk about how to prepare them. Whether I am cooking regular chicken or cornish hens, I always truss my chicken as I found that doing so is an important step to get an even roasted end product. If you are not familiar with the term "trussing" allow me to explain:

Trussing is a technique that helps poultry keep its shape and prevents certain parts of the chicken from burning during the cooking or roasting process. Most people use kitchen twine to truss a chicken, but this video showing how to truss a Cornish hen uses nothing but the Cornish hen itself. I am sharing it here as it is such an easy technique that requires no additional equipment and super easy to apply.
How To Cook Cornish Hens

?

Roasted cornish hen recipe has 2 folds. First, you marinade the chicken. Here, following on Eva's footsteps, I made a Cuban inspired. You place the hens in a plastic bag and let them marinade in the fridge. Second, you roast the Cornish game hens.

I used fairly small, 1-pound Cornish game hens, as I wanted to serve 1 per person and be able to fit them in a 9X13 casserole dish.
Cornish Hen Marinade
While you can certainly use olive oil, garlic, and salt and pepper to coat the chicken for delicious Cornish game hens, I took it to the next level with Eva's Cuban Roasted Game Hens recipe.
Inspired from the Cuban cuisine, this easy to make Cornish game hen marinade has just a few ingredients: olive oil, garlic, fresh oregano leaves, freshly squeezed limejuice, ground cumin, and salt and pepper.
If you look at the recipe below you will see that this recipe uses quite a bit of limes (a whopping 8-10 limes, to be exact) for fresh limejuice. I know that having to squeeze your own limejuice might sound like an extra step, but it is also a very important one. Because, let's face it, the taste of freshly squeezed lime juice is superior to the bottled ones sold at supermarkets. So do yourself a favor and don't skip on this step.
Once the marinade is ready, you divide it into 2 large (1-gallon size) plastic bags with 2 cornish hens in each bag. Then seal each bag and let it marinade for 4 hours, or preferably, overnight.
How To Roast Cornish Hens
After they are marinated, you place the Cornish hens and their marinade on a bed of sliced onions mixed in with some water. You need that extra liquid as you want them to be moist after they are fully roasted after almost 2 hours.
In the original recipe, Eva uses 6 1/4 quart dutch oven to roast the hens, but since I don't own that large of a dutch oven I used an ovenproof 9X13 casserole dish, which worked perfectly. Regardless of what kind of a pot/casserole dish you roast them in, the important thing to know is that you wan them to be snuggly with have enough room to roast.
How Long Does It Take To Cook a Cornish Hen
It takes close to 2 hours to roast four 1-pound Cornish hens.
To roast Cornish hens you first start in a preheated 425-degree oven and bake them for 20 minutes. Then you bring down the temperature 375-degrees and continue to cook for another 1 hour 15 minutes to 1 hour 30 minutes or until the internal temperature of a hen registers 180 F degrees (80 C degrees).
Do You Cover Cornish Hens When Baking

?

You might ask whether or not you should cover the casserole (or the Dutch oven). The answer is no, because this recipe has enough liquid to keep the chicken moist during the long roasting process. Plus, towards the end most of the liquid evaporates and the top of the Cornish game hens get crispy and golden brown.
What To Serve with Cornish Game Hens

?

I served my hens over some Cuban black beans and rice mixed with fresh oregano leaves, but regular rice, bulgur pilaf, roasted potatoes, or any other one of my easy side dishes would be just as good.

Believe me, even if you serve these with a simple salad, they will disappear in no time. I promise, just the smell in your kitchen as they roast will be enough to make your family hungry.
A Few Tips for The Best Cornish Game Hen Recipe
Can I use frozen Cornish game hens for this recipe? Yes, you can, but be sure to thaw them fully in the fridge a day before using them.
What do with the leftovers? – If you end up with leftovers (with all the juices from the pan), you can keep them in an airtight container in the fridge for the next day. When ready to serve, you can warm your hens in a pre-heated 300-degree oven for 10 minutes or until they are warmed thoroughly. I recommend spooning some of the leftover juices over the hens to make sure that they are moist while they are heating.
What if my Cornish Hens are larger/heavier? – If you can't get your hands on 1-pound-ish hens, you still can make this recipe. The marinade is quite a lot to take care of larger birds up to 1 1/2 pounds to 1 3/4 pounds each. However, roasting time might be a bit longer. You will know that they are fully roasted when a thermometer registers 180 F degrees when inserted into one of the hens.
How To Plate Cornish Game Hens for an elegant presentation? – As you can see in the pictures, I place the roasted Cornish hens on a bed of black bean rice and garnished it with some fresh oregano leaves and sliced lime wedges. If you can't find fresh oregano leaves, you can swap them with fresh thyme leaves.
There you have it. An incredibly moist, perfectly roasted and individually portioned Slow Roasted Cornish game hen recipe that you can make for a weekend dinner or an impressive dinner when you want to wow your guests.
If You Liked this Cornish Game Hen Recipe, You Might Also Like:
Cuban Roasted Cornish Game Hen Recipe
An elegant and perfectly-portioned Roasted Cornish Hen recipe you can make whenever you want to impress. This Cornish chicken dish is made by marinating Cornish game hens in a lime-juice-garlic-fresh oregano based marinade overnight and roasting them in the oven for over an hour.
Print Recipe
Ingredients
For the Cornish Hen Marinade
2/3

cup

freshly squeezed lime juice

from 8-10 juice limes

2/3

cup

extra virgin olive oil

6

cloves

of garlic

peeled and minced

2

tablespoons

fresh oregano leaves

chopped – more as garnish

1

teaspoon

ground cumin

1

teaspoon

Kosher salt

4

Cornish game hens

about 1 pound each, rinsed and pat-dried thoroughly with paper towels
To Roast The Cornish Hens:
1

cup

water

½

small yellow onion

sliced thinly

1/2

teaspoon

black pepper

freshly ground
Instructions
To make the marinade: Whisk together the lime-juice, olive oil, garlic, oregano leaves, cumin and salt in a bowl.

Divide the marinade in between two 1-gallon resalable plastic bags. Place two hens in each bag and press to get as much air as possible out of it before sealing. Repeat the same process for the other two hens. Place them in the fridge and let it marinade at least 4 hours or preferably overnight.

To roast the Cornish hens: Pre-heat the oven to 425 degrees.

Place the hens and their marinade in a large (mine was 9X13) casserole dish*. Add water and arrange the slices of the onion around the birds. Sprinkle the hens with freshly ground black pepper.

Roast for 20 minutes. Reduce the heat to 375 F degrees and roast for 1 hour 15 minutes to 1 hour 30 minutes.

Let them rest for 20 minutes, garnish with fresh herbs, and serve.
Notes
Alternatively, you can also use a 6¾-quart oval Dutch oven, which is what Eva used in her book.
Nutrition
Calories:
908
kcal
|
Carbohydrates:
2
g
|
Protein:
77
g
|
Fat:
63
g
|
Saturated Fat:
18
g
|
Cholesterol:
455
mg
|
Sodium:
860
mg
|
Potassium:
1091
mg
|
Fiber:
1
g
|
Sugar:
1
g
|
Vitamin A:
486
IU
|
Vitamin C:
3
mg
|
Calcium:
57
mg
|
Iron:
4
mg
This recipe is adapted (with minor changes) from Eva Kosmas Flores's cookbook Adventures in Chicken
.
This recipe was originally published in October 2016, but updated with new photos and more helpful information in October 2020.
Like this recipe? Consider sharing: