One of the best things about living on a Caribbean Island is to be very close to other Caribbean islands. For us, a weekend getaway is a 45-minute boat ride (or flight) to one of those islands.
Not too bad. Huh?
This year, for our anniversary, we treated ourselves with a 3-day trip to St. John, one of the three U.S. Virgin Islands.
We stayed in a gorgeous resort called Caneel Bay – A Rosewood Resort, which is a part of the Virgin Islands National Park. It was such an amazing experience mainly because they did a very good job of blending in the resort within the park.
Here are some notes and pictures from our little getaway…

Caneel Bay is located on the northwest of St. John. If you are looking for a quite, romantic, luxury vacation in a relaxing environment, this resort offers just that. Set on 170 acres, the resort offers 7 white-sand beaches and a green layout with beautiful tropical trees, plants and flowers.
The sign that you see on the picture is a petroglyphe (rock engraving) that belongs to a tribe called Tainos, consisted of indigenous people of Bahamas, Greater Antilles and Lesser Antilles. As you hike through the trails you get to see this sign on the rocks.
It also is considered to be the sign of St. John.
As I mentioned earlier, the resort is 170 acres. A lot of land…
At check in, they give you a map to use while navigating around the property. As we walked around we were amazed by how beautiful and green it was.
This is the kind of place that you can do a lot, nothing or in between.
Things To Do In the Resort
1. Read your book or take a nap on this hammock.
Looking over this view:
2. Go to one of the 7 beaches to snorkel, swim, dive or just simply chill out. They are within walking distance from one another and some of them are for adults only. Also, in some of them, hotel staff offer food and beverage services.
The resort offers sunfish sailboats, kayaks and snorkeling gear as well as sailing lessons for guests.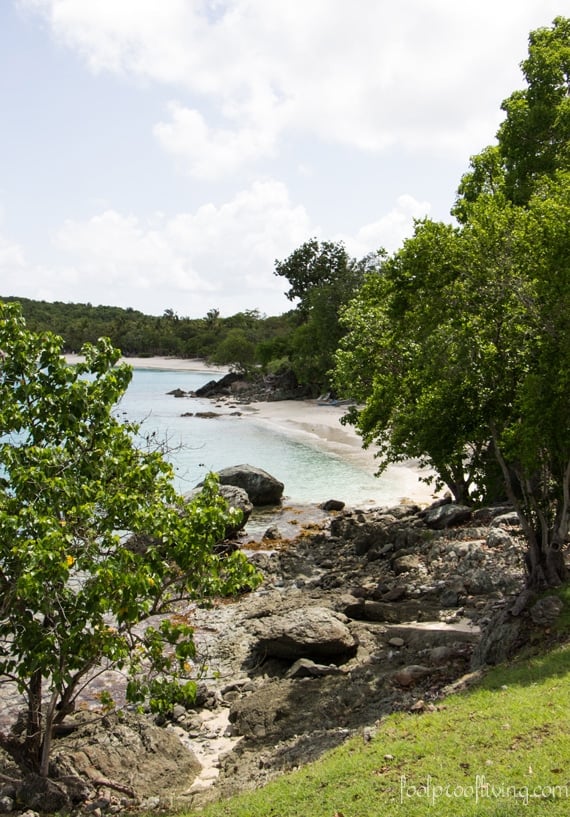 3. You can jog, run or hike around the resort.
4. Relax in your room's patio, looking over a breathtaking view.
All rooms of the resort offers a view of one of the beaches. The room in the first picture is looking over the view in the second picture.
Amazing, no?
5. Meet and mingle with other guests and hotel staff in the afternoon for tea time in the Turtle Bay Estate House.
6. Join other guests for the Sunset Cruise.
7. Play tennis.
8. Have a meal in one of the three restaurants of the resort. Have breakfast at Caneel Beach Terrace. They offer a gorgeous buffet with fresh fruits, omelet station and fresh bakery . For lunch, go to Caneel Beach Bar and Grill for great American food and phenomenal sushi. For dinner, visit Sugarmill, the high-end restaurant of the Resort.
9. Admire (and photograph) the beautiful plants and flowers in the resort.
9. Walk around the property to see donkeys, iguanas and deers. No feeding or petting though…
Walking around, we felt like we are in a Disney movie with all these animals around.

10. Get a massage in your own private cabana, overlooking a gorgeous beach, listening to the sound of waves…
11. Take a nap in or out (in the patio) of your clean and minimally decorated room, overlooking the ocean.
Things To Do Outside of The Resort
1. Rent a car and drive around. Stop by the look out stops to take pictures or just simply admire the beauty of what nature has to offer. St. John is home to some of the most beautiful beaches in the world.
2. Visit the historic Annaberg Sugar Mill Ruins for a self-guided tour.
3. Go to downtown and have dinner in one of the many restaurants. We went to a restaurant called La Tapa and we both loved the food, atmosphere and service.
4. Stop by the Mangoose Junction for souvenir or art shopping from locals.
For a 2 nights-3 days getaway, I think we did a lot. However, there are so many other things that I wish we had time to do. So for next time I would like to:
– Do more hiking: The island offers many trails. If you are into hiking, I would strongly recommend you to take your hiking shoes with you.We only did the Mary's Trail in the resort, which was really nice, but next time, I would like to hike some of the trails outside of the resort.
– Take painting classes: Rosewood Caneel Bay offers pastel and watercolor classes. I would love to do some painting looking over to those gorgeous beaches.
– Have milkshakes at Bordeaux Mountain House: This is a small cafe/gift shop at the highest point of the island with a gorgeous view of the north side of the island. Our friends, Gabby and Chad swear by the milkshakes in this place. Unfortunately, we went all the way there to find out that they do not open on Sundays.
Instead, we took pictures of ourselves outside the cafe.
Like this recipe? Consider sharing: