Are you looking for more quick corn recipes? Try my Air Fryer Corn on the Cob, lightly seasoned with fantastic, charred corn flavor; it will be ready and on the table in 15 minutes.
Why Should You Make This Recipe?
This elote recipe is the air fryer version of my fan favorite Mexican Street Corn, one of my most popular recipes. It is the perfect side dish or a quick snack to make when you are short on time. If that's not reason enough, I have listed a few more below:
A great alternative to grilling: Mexican street corn in the air fryer is perfect for you if you don't have a grill. You still get that excellent, charred corn taste without all the mess of grilling. And since you can fire up the air fryer no matter the weather, every day can be Cinco de Mayo.
Ready in 20 minutes: You will be stunned at how fast you can whip together this authentic Mexican corn on the cob in the air fryer. 20 minutes is all you need from start to finish.
Ingredients
Using the freshest corn on the cob and a few simple ingredients are all you need to make this melt-in-your-mouth air fryer street corn.
Let's start by gathering your fresh sweet corn (fully husked) and vegetable oil for cooking. For your elote sauce, you will need mayonnaise, sour cream, lime juice, and chili powder. And lastly, Mexican cotija cheese and fresh cilantro for your garnish.
Substitutions & Variations
If you are missing some ingredients or want to experiment a little, no worries; I've listed a few of the most common substitutions and variations below. Feel free to make this recipe your own.
Mexican Crema: If you are lucky enough to get your hands on some authentic Mexican crema, you are in for a treat. A cross between American sour cream and French crème fraiche, Mexican crema is thick and tangy, the perfect addition to Mexican fare, and a great alternative to air fryer corn on the cob with mayo and sour cream-based elote sauce. Simply omit mayo and sour cream and use ½ cup Mexican crema instead.
Cheese: Have everything you need but the cotija cheese, don't panic; you can substitute parmesan cheese and even feta cheese (though I would recommend using low sodium feta) and still end up with excellent results.
Elote Seasoning: If you have access to Trader Joe's, their elote seasoning is worth trying in this recipe.
Lemon juice: If you don't have any lime juice and are in a pinch, feel free to use some lemon juice in its place.
Spice it up: If you enjoy spicy flavors, you can increase the heat by adding more chili powder or cayenne pepper.
Frozen corn on the cob: You can use frozen corn to make Mexican fried corn on the cob when fresh is no longer available. You can find the instructions to use frozen corn in the recipe card below.
Not a fan of cilantro: You either love it or hate it. If you don't care for it, omit the cilantro.
How To Make Air Fryer Street Corn
If you find yourself with an abundance of fresh sweet corn and a craving for Mexican food, this air fryer Mexican street corn recipe is exactly what you need. Follow my step-by-step instructions below for quick and delicious elotes.
Be sure to preheat your air fryer to 380° F.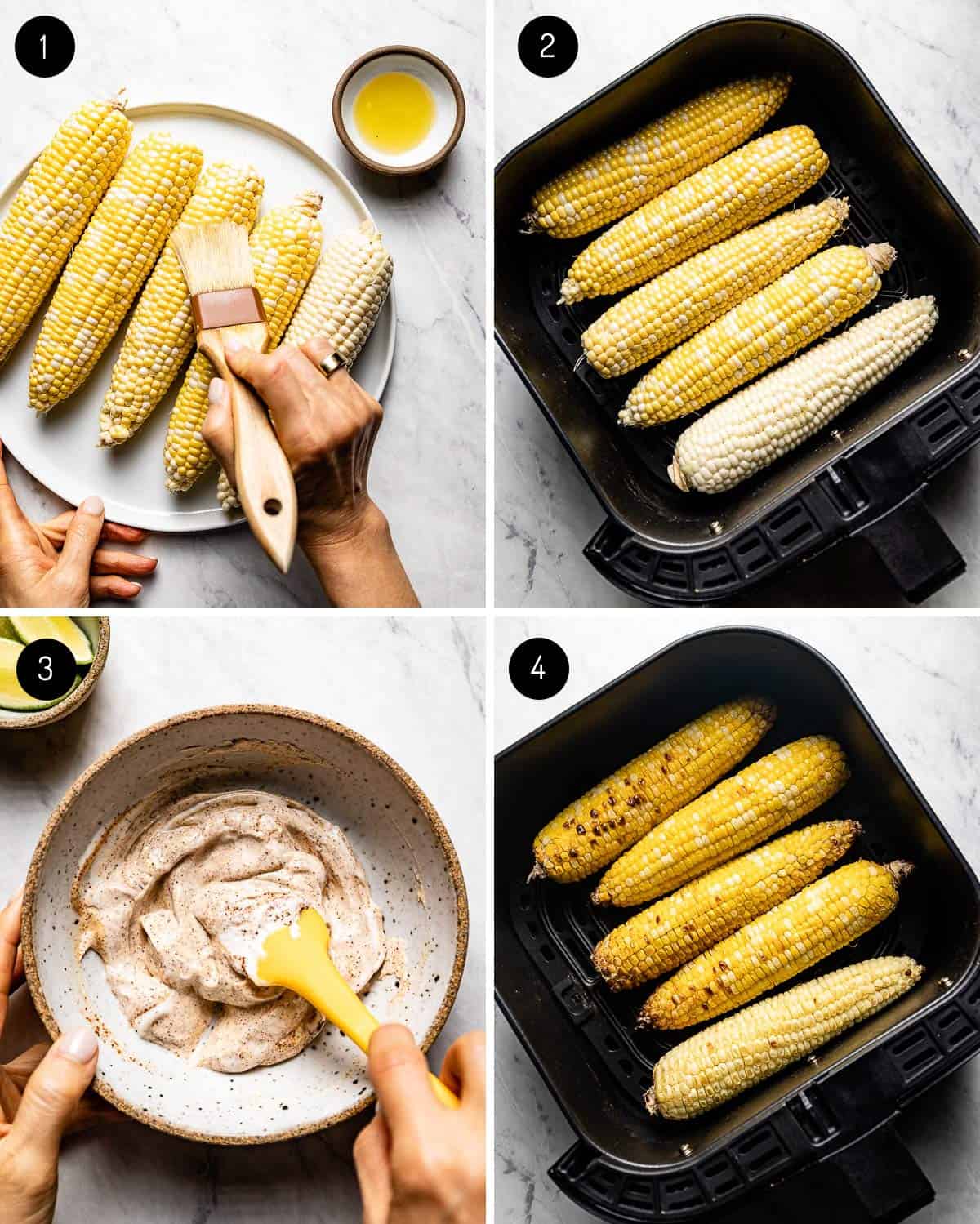 Prep corn: While you wait for your air fryer to preheat, brush each ear of corn with vegetable oil (or olive oil).
Air Fry corn: Once your fryer is ready, place ears of corn in a single layer in the air fryer basket and cook for 5-6 minutes.
Make your elote sauce: While your corn is cooking, assemble your sauce by gently mixing your mayonnaise, sour cream, lime juice, and chili powder in a small bowl.
Rotate corn: Check your corn and rotate the ears to ensure even cooking. Fry for another 7-8 minutes (a total of 12-15 min of air frying time).
Apply sauce and serve: Carefully remove hot ears of corn from the fryer basket and allow to cool. After a few moments, cover each air fried corn generously with Mexican street corn sauce. Sprinkle all sides with Mexican cotija cheese, extra chili powder (if you wish), freshly chopped cilantro, and garnish with lime wedges. Enjoy!
How To Serve
On the cob or off the cob? That is the question. Fortunately, this recipe is a hit either way; I have listed some options for you to try below, let me know your favorite form of serving it.
As a snack by itself: My favorite way of eating air fryer Mexican corn on the cob is right from the air fryer and smothered in tangy Mexican flavored sauce; the mixture of hot charred corn and the kick of creamy sauce is pure perfection.
Elote in a cup: This is an excellent alternative to eating it on the cob. For elote in a cup, you will slice the charred kernels from the corn cobs and gently mix them in a small bowl with the prepared street corn sauce. For an elegant touch, spoon the corn mixture into glass cups, top with cheese and seasonings, and garnish with lime wedges for a perfect dinner party appetizer.
How To Store
This Mexican street corn air fryer recipe is so scrumptious that it will be hard not to eat it all at once; if you find yourself with some leftovers, below are some instructions for storage.
Storage: You can store your delicious corn leftovers in an airtight container. If your street corn is already assembled, it will be good for up to one day in the refrigerator.
Freezing: I would not recommend freezing this dish.
Expert Tips
Is this your first time making air fryer elote? Here are some helpful tips that will guarantee perfect results on your first try:
Cut the ears of corn in half: If you own a small air fryer or want to fry a lot of corn at the same time, you can cut each corn on the cobb in half. This way, you can fit more corn in your air fryer basket.
Do not overcrowd your fryer basket: To get the best possible char on each ear of corn, you want to be sure to place corn in a single layer.
You can use frozen corn: If you don't have fresh corn on hand, you can make frozen corn elote. My method requires only 5 minutes of additional (hands off time) and requires no thawing. Instructions and cooking time are included in the recipe card below.
Use a flat platter for prep: Mixing your sauce ingredients on a flat platter or a large plate and then rolling your ears of corn through the mayonnaise mixture may help you get a more even sauce coverage. Finish each ear with a sprinkle of chili powder, cheese, and cilantro.
Extra Salt: Be sure to taste your Cotija cheese before adding salt to the elote sauce, as some Cotija cheese brands can be very salty.
Want to make it dairy free? Here is a recipe for Dairy-Free Mexican Street Corn Sauce you can use should you prefer it to have no dairy.
Other Air Fryer Recipes You Might Also Like:
If you try this Air Fryer Mexican Corn recipe or any other Mexican recipes on Foolproof Living, please take a minute to rate the recipe and leave a comment below. It is a great help to others who are thinking of making the recipe. And if you took some pictures, be sure to share them on Instagram using #foolproofeats so I can share them on my stories.
Air Fryer Elotes Recipe
These Air Fryer Elotes are perfectly seasoned, roasted to perfection, and topped with a creamy homemade elote sauce and plenty of cheese and cilantro. Serve this take on Mexican Street Corn as a quick appetizer or side dish for a weeknight dinner or your next fiesta. With only a few ingredients, you can throw these together in 20 minutes!
Print Recipe
Ingredients
For The Corn On The Cob
5

ears of corn on the cob

husks fully removed

1

teaspoon

vegetable oil

like avocado oil or melted butter
For The Street Corn Sauce
¼

cup

mayonnaise

¼

cup

sour cream

1

tablespoon

lime juice

plus wedges of lime for serving

½

teaspoon

chili powder

plus more to sprinkle over at the end

½

cup

crumbled cotija cheese*

3

tablespoons

fresh cilantro chopped
Instructions
Preheat the air fryer to 380 degrees F.

While it is heating, brush each ear of corn with vegetable oil.

Place in the air fryer basket in a single layer and air fry for 12-15 minutes, rotating them halfway through the air frying process. Let it cool for a few minutes before spreading it with the sauce.

Meanwhile, make the sauce by mixing together mayonnaise, sour cream, lime juice, and chili powder in a bowl.

When ready to serve, brush each corn on the cob with a generous amount of the mayo mixture. Sprinkle each corn with cotija cheese and chopped fresh cilantro on all sides. Serve with lime wedges on the side.
Notes
Additional Salt:

Be sure to taste the cotija cheese you are using before adding salt to the salt. Some cotija cheese is very salty. If it is not, then you can add in ½ teaspoon salt and adjust it accordingly after giving it a taste.

Cut the ears of corn in half: If you own a small air fryer or want to fry a lot of corn at the same time, you can cut each corn on the cobb in half. This way, you can fit more corn in your air fryer basket. However, be sure not to overcrowd the basket to get proper charring.
Times may vary:

It is a known fact that air fryer cooking times may vary. Take the cooking time here as a place to start and adjust accordingly. One easy way to gauge the process is to check halfway through the frying process. If it is getting too charred, then shorten the cooking time. Or visa versa.

Storage: Store leftover corn in an airtight container in the refrigerator for up to one day.
Freezing:

I would not recommend freezing this dish.
Nutrition
Calories:
213
kcal
|
Carbohydrates:
19
g
|
Protein:
5
g
|
Fat:
14
g
|
Saturated Fat:
4
g
|
Polyunsaturated Fat:
1
g
|
Monounsaturated Fat:
2
g
|
Trans Fat:
0.01
g
|
Cholesterol:
20
mg
|
Sodium:
255
mg
|
Potassium:
275
mg
|
Fiber:
2
g
|
Sugar:
6
g
|
Vitamin A:
380
IU
|
Vitamin C:
7
mg
|
Calcium:
89
mg
|
Iron:
1
mg
Like this recipe? Consider sharing: