Thank you Decoy for sponsoring this post. Find your own bottle here.
Hello from a sunny spring afternoon in Vermont! Warmer days are finally here. Sun is out and shining. I've already put away all my boots and sweaters and replaced them with flip flops and short shorts. With mud season almost over, I am ready for all the outdoor fun to begin.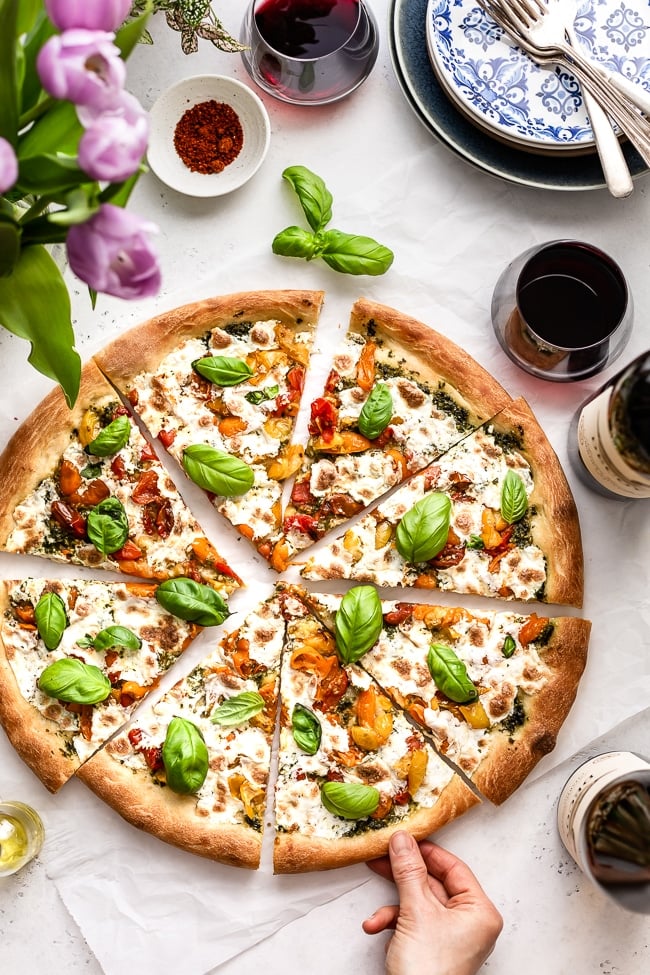 As a matter of fact, we opened the season last week with a picnic at a nearby park. The weather app on my phone said that it was supposed to rain, but later in the day the skies magically cleared up and so we decided to head out.
I had already planned on making this Caprese pizza so we thought why not open a bottle of wine, invite some friends, and call it a party!
Our friends Chris and Maureen joined us along with their golden retriever, Chauncey, for the first picnic of the year. Needless to say, it was a lot of fun with lots of laughter, delicious food, and great wine.
Speaking of food and wine, I made my go-to pizza recipe, pizza Caprese (more on that later), and served it along with our current favorite wine, Decoy.
If you are not familiar, Decoy wines are produced in Napa Valley with grapes grown in the perfect climate of beautiful California for over 30 years. They advertise themselves as "The Everyday Wine for The Well Informed." And rightfully so, as it not only tastes incredibly smooth but also pairs well with everyday food like, you guessed it, pizza!
We opened up a bottle of Cabernet Sauvignon and a bottle of Chardonnay to serve with our dinner, but they offer many other varieties of wines in their collection, ranging from California Rosé to Zinfandel to Pinot Noir.
As warmer days and summer parties are ahead of us, I cannot recommend including Decoy wines on your menu. I think a bottle of their wine is such an easy way to elevate any occasion.
Intrigued? You can view and purchase their collection of wines here.

Now onto the recipe for this Caprese Pizza…
What is Caprese Pizza
If you are a lover of Italian food, you probably heard of their famous Caprese Salad. It is basically a dish made up of fresh mozzarella, basil, and tomatoes and then sprinkled with salt and pepper. You finish it with a drizzle of olive oil, and serve with some crusty bread.
This Homemade Caprese Pizza recipe is a version of that. Simply put: it is tomato-basil-mozzarella pizza cooked to perfection.
Caprese Pizza Ingredients
In my opinion, the best part of this recipe is that it comes together in less than 30 minutes and that you only need a few ingredients to make it.
While you can certainly make your own pizza dough, I opted for a store-bought one, mostly to save on time. Living in Vermont, we are spoiled with delicious pizza dough coming from New York so I usually take advantage of that.
However, nowadays you can easily find homemade pizza dough in most supermarkets. I find it to be a time-saver, but you can certainly make your own as well.
If You Would Rather Make Your Own Pizza Dough These Are The Ones I Recommend:
The rest of the ingredients are fresh basil, tomatoes, mozzarella, garlic, and olive oil.
How to make Caprese Pizza
The process of making this mozzarella and basil pizza has 3 parts.
First, you roast the tomatoes. I used cherry tomatoes as they are in season now. However, you can slice up some Roma (or any other fresh varieties) tomatoes and use them as well.
This step is crucial as roasting tomatoes help with getting rid of some of their juices. As a result, it prevents our pizza from turning soggy after it is fully baked.

Though I have to mention, even after they are roasted you will end up with some juices on the baking sheet. I usually leave those behind (use them in salad dressings) and just use the tomatoes instead.

The second step is making the quick basil sauce. To do so, you place basil leaves, garlic, and salt and pepper in the bowl of a food processor. Pulse it a few times and then add in the olive oil.
The goal here is to turn it into a paste that is easy to spread so you may have to stop the machine and scrape the sides a few times to get that paste-like consistency.
The last step is the assembly of your Caprese salad pizza. While it is easy to do, there are a few things I would like to point out for the best tomato and mozzarella pizza.

Here are the steps:
Roll the pizza dough: I prefer my pizza to be thin so I rolled my 1-pound dough into 14.5 inches. However, if you'd rather have a thicker slice, you can opt-in for a smaller pizza, somewhere between 12-13-inches in diameter.
It is great if you have a pizza stone. If you don't, I recommend this inexpensive one from Target.
Spread the basil sauce on top: At first, you might feel like you do not have enough sauce, but all you want is for it to change the color of the dough and create a nice base for the tomatoes. Simply use a spoon or a spatula to spread it as evenly as you can.
Distribute the tomatoes and fresh mozzarella evenly on top: As I mentioned earlier, I recommend leaving the juices of the tomatoes back in the pan and only using the tomatoes.
Then top it off with small pieces (I tear them by hand) of mozzarella. If you can get your hands on them, you can also use small mozzarella balls (the ones that they sell in small tubs in water) as well.
Brush the sides of the dough with oil: This step is optional, but if you are a lover of pizza crust like I am I recommend brushing the sides of the dough lightly with olive oil.
Bake it in the oven: If you have ever made pizza before you probably know the importance of the having a hot oven. Because the most delicious pizza is one that cooks fast in a very hot oven. That is why it is imperative that you take the time to preheat your oven.
The highest temperature my oven goes is 450 F (232 C) degrees, but if yours go higher feel free to heat it all the way up to 475-500 F degrees. Though if you do so, please be aware that it will cook faster.
In my 450 F degree oven, this 14.5-inch Caprese pizza cooked in 12-13 minutes (or you can keep it in there until cheese is melted).
However, in a hotter (i.e. 500 F degree) oven, it might cook in about 9-10 minutes. Luckily, you can get your cues of doneness from the edges because they turn golden brown when it is time to take it out of the oven.
Once it is out of the oven, sprinkle it with a few leaves of fresh basil. That is it!

Now, all you need to do is to open a bottle of Decoy wine and treat yourself with a few slices of delicious homemade pizza.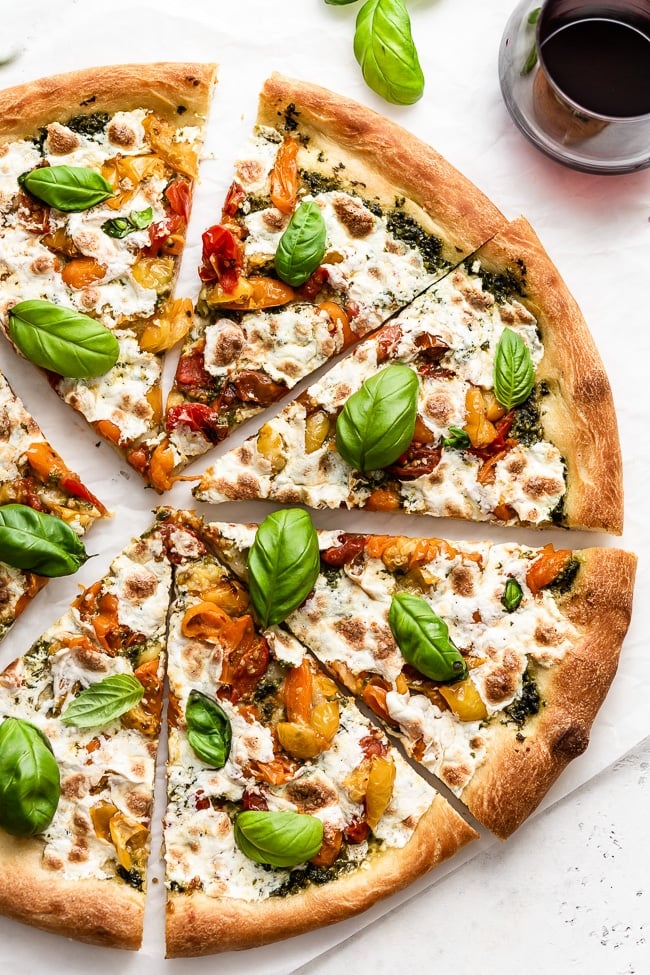 A Few Tips for The Best Homemade Caprese Pizza
Caprese Pizza with Balsamic Glaze: It is traditional to drizzle Caprese Salad with reduced balsamic (aka balsamic glaze). If you have some, feel free to finish it off with a drizzle of it.
Caprese Pizza Calories: The recipe below serves 8 slices. Each slice is 189 calories. You can get more information about the nutritional values of this recipe underneath the recipe card.
Similar Spring Inspired Recipes You Might Like
Caprese Pizza
This delicious Homemade Caprese Pizza is filled with mozzarella, tomato, and basil and baked in the oven for under 15 minutes. Easy and delicious weeknight dinner for everyone in the family.
Print Recipe
Ingredients
For The Tomatoes:
1 ½

cups

cherry tomatoes

halved

1

tablespoon

olive oil

½

teaspoon

kosher salt

¼

teaspoon

ground black pepper
For The Basil Mixture:
¾

cup

fresh basil leaves

loosely packed - more to use as a garnish at the end

3

cloves

of garlic

minced

¼

teaspoon

kosher salt

¼

teaspoon

ground black pepper

1

tablespoon

olive oil
For The Pizza:
1

lb.

store-bought pizza dough

thawed if frozen

8

oz.

227 grams fresh mozzarella, cut/torn into small pieces

1

teaspoon

olive oil

Salt and pepper

2

tablespoons

balsamic reduction

optional
Instructions
Place the oven rack at the very top setting and preheat the oven to 450 F (232C) degrees.

Place tomatoes on a sheet pan. Drizzle with olive oil and sprinkle with salt and pepper. Give them a toss. Roast until tomatoes start to burst, 9-10 minutes. Set aside. Do not turn the oven off.

Place a sheet pan or a pizza stone on the top shelf in your oven.

While the tomatoes are roasting make the basil mixture. To do so, place basil, garlic, salt, and pepper in the bowl of a food processor. Pulse a few times to break it into smaller pieces. While the machine is running, drizzle it with olive oil. You may have to scrape the sides with a spatula a few times to turn it into a paste.

Roll the pizza dough into a 14.5-inch circle. Spread it evenly with the basil mixture leaving an inch on the sides. The basil sauce will be a very thin layer. Scatter the roasted tomatoes and mozzarella pieces on top. Lightly brush the sides with olive oil.

Using a pizza peel or the back of a sheet pan, carefully slide the pizza onto the preheated sheet pan or pizza stone. Bake 12-14 minutes or until the cheese is totally melted and the sides turned golden brown.

Remove from the oven and sprinkle it with fresh basil. Let it rest for a few minutes, cut into 8 slices, drizzle with the balsamic reduction (if using), and enjoy.
Nutrition
Calories:
267
kcal
|
Carbohydrates:
29
g
|
Protein:
11
g
|
Fat:
12
g
|
Saturated Fat:
5
g
|
Cholesterol:
22
mg
|
Sodium:
809
mg
|
Potassium:
94
mg
|
Fiber:
1
g
|
Sugar:
5
g
|
Vitamin A:
447
IU
|
Vitamin C:
7
mg
|
Calcium:
152
mg
|
Iron:
2
mg
Did you make this recipe?
Tag @foolproofliving on Instagram and hashtag it #foolproofeats
Like this recipe? Consider sharing: