As someone with a food blog, when I cook, I usually keep a pen and paper around to take notes as I create and/or follow recipes. If I am baking something, I get my kitchen scale out and weigh all the ingredients to accurately measure them. During the process, I take notes on things that I learn along the way and things that I added to the recipe to make it more exciting.
So as you can imagine, when it comes to cooking, I run a pretty tight ship around here. And that is mostly because everything I cook or bake can potentially be shared later here on Foolproof Living and thus, must be foolproof.
However, I must admit, it is also just a part of my nature. I have a very analytical personality, even outside the kitchen. My brain likes to focus on and systematically organize the minute details in everything.

My friend Chrissann, on the other hand, is the total opposite – especially when it comes to cooking. As someone who learned to cook in her adult years, she likes to create things based on how she feels at that moment in time. The standard "rules" of cooking and baking are things she takes with a grain of salt.
The funny thing is, she is actually a great cook, seemingly born with a natural talent for it. Everything she makes is delicious, and most importantly, very creative.
The first time I had this pizza was when she invited us to a party at her house almost a year ago. Both Dwight and I loved it. Up until that day, I had never thought that a whole grain pizza crust could taste so good. We both thought that it had a very nice, earthy flavor without being bland.
Later, I learned that the secret was the addition of flax seeds, wheat germ, and a little maple syrup in the dough.
This weekend, we decided to get together so that I could learn how to make it myself. Up until that day, I had somehow never spent time in the kitchen actually cooking with her. To my shock, she didn't care much if the measurements weren't exact or if the random additions she was throwing in may or may not work. The whole time she was making the dough, she was using her intuition rather than a specific technique.
As you can imagine, I had to hold my tongue and keep my Type-A, analytical thoughts under check the whole time.
Oddly enough, it ended up being an eye opening experience for me to witness her haphazard cooking style firsthand, which is such a sharp contrast to my own. She still manages to create amazing dishes with the limited resources we have here on this little island, not playing by the "rules". For her, it seems to be more of an intuition than a system. I guess living in the Caribbean for over 9 years would maybe turn anyone into the creative cook that she has become.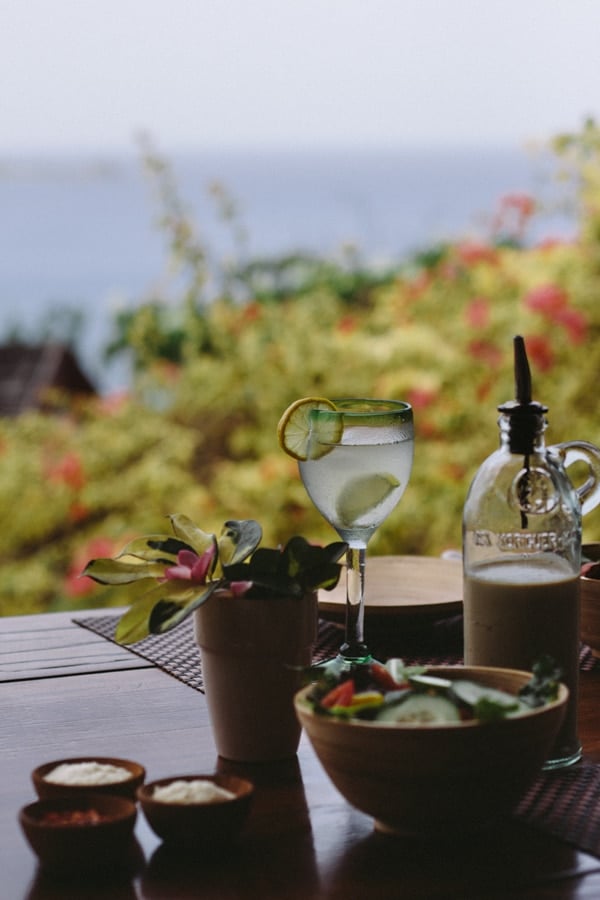 We made the dough on Saturday in preparation for our gathering on Sunday. In addition to saving time, I wanted to see in more detail how she does it and photograph it along the way without feeling rushed.
The next day, as her boyfriend and my husband were chatting over cocktails, we topped the pizzas with vegetarian toppings such as mushrooms, bell peppers, onions, goat cheese, tomatoes, pesto, etc.
We served it with a quick cocktail, a blend of my Mint and Rosemary Lemonade and gin. We tossed a simple summer salad to accompany our pizza and ate it on their terrace overlooking the ocean.
About this whole-wheat crust: I must admit- up until I tasted this particular crust I didn't believe in whole-wheat crusted pizza. I thought that if I am going to eat pizza, I might as well eat the real thing, a crust made with all-purpose flour. For some reason, I didn't think that you could make a delicious crust with whole-wheat flour without sacrificing the taste. However, Chrissann's version of whole wheat pizza crust created changed my mind.
This recipe has just the right combination of whole-wheat flour and all-purpose flour. The addition of wheat germ and flax seeds give it an earthy flavor without effecting the stretchy texture of the dough. The result is a crisp pizza crust with a chewy middle. Just the way I like it…
To make it, all you have to do is to mix water and maple syrup in a bowl, sprinkle the yeast, and set it aside. Process the flours, wheat germ, and flax seeds in the bowl of a food processor. While the machine is running, pour the water, yeast mixture, and olive oil over the tube. Process it for a minute or until it forms a smooth ball. Dump it on a floured kitchen counter, cover it with a towel, and let it sit for 20 minutes.
This dough makes two 13-inch pizza crusts. If you want, you can freeze one of the dough to use for later.
To finish it up, roll the dough into a 13-inch round disk and place it on a baking sheet sprinkled with corn meal. Using the tip of your fingers, fold and pinch 1-inch of the dough from the outer corner towards the middle to create a lip around the edges. Lightly brush it with olive oil and pre-bake in a 500-degree oven for 5 minutes.
At this point, you can let it come to room temperature, cover it with aluminum foil, and place it in the fridge to use for later. Or you can top it off with your favorite toppings, and bake it to enjoy on that day.
This whole process takes no more than 30-40 minutes, less time than ordering and waiting for a pizza to arrive to your house. Not to mention, it is damn delicious.
Need a gluten-free alternative? Here is a great Gluten-Free Pizza Crust recipe from my friend Traci of Vanilla and Bean.
Whole Wheat Pizza Crust
Whole Wheat Pizza Crust recipe for an easy and quick weeknight pizza you can make in no time. Made with a combination of all purpose flour and whole wheat, this foolproof pizza dough recipe comes together in less than 30 minutes. Top it off with whatever toppings you want for a delicious homemade pizza you can make any day of the week.
Print Recipe
Ingredients
1 1/2

cups

warm water

divided (warm to touch)

1

tablespoon

active dry yeast

1

teaspoon

maple syrup

1 1/2

cups

all-purpose flour

1 1/2

cups

whole wheat flour

plus more for the counter

2

tablespoons

flax meal

1

tablespoon

wheat germ

1

teaspoon

salt

2

teaspoons

+ 1 tablespoon olive oil

divided

2

tablespoon

corn meal
Instructions
Pre-heat the oven to 500 F Degrees.

Place the 1/2 cup of warm water and maple syrup into a measuring bowl. Sprinkle the yeast and give it a gentle stir. Let it sit for 5 minutes.

Place the all-purpose flour, whole-wheat flour, flax meal, wheat germ, and salt into the bowl of a food processor. Pulse 5-6 times to combine.

With the machine running, pour in the yeast mixture, followed by the remaining cup of water and 2 teaspoons olive oil.

Continue processing until dough forms a smooth ball, around 1 minute.

Transfer the dough on to a lightly floured surface. Gently knead to make a small ball. Cover lightly with stretch film and let is sit on the counter for 20 minutes to rise.

Divide the dough in half.

Sprinkle the baking sheet with corn meal.

Using a rolling pin, roll the dough into 13-inch rounds. Transfer it onto a baking sheet that was coated with corn meal.

Using the tip of your fingers, roll and pinch 1-inch of the dough from the outer corner towards the middle to create a lip around the edges.

Repeat the same process with the second dough.

Brush the top of each dough lightly with the remaining 1-tablespoon of olive oil.

Bake in the oven for 5 minutes.

Take it out. If you are ready to make the pizza, top it with your favorite toppings. If you want to use it for the next day, cover it with aluminum foil and place it in the fridge. As long as it is tightly covered, it will be good for the next 48 hours.
Notes
This recipe makes enough crust for two pizzas.
Nutrition
Calories:
784
kcal
|
Carbohydrates:
150
g
|
Protein:
25
g
|
Fat:
11
g
|
Saturated Fat:
2
g
|
Sodium:
1180
mg
|
Potassium:
560
mg
|
Fiber:
16
g
|
Sugar:
3
g
|
Calcium:
68
mg
|
Iron:
8
mg
Like this recipe? Consider sharing: