Growing up, on those big cooking days, my mom would collect all the dirty dishes, pots, and pans in the sink and wash them at the end. I hated it because, instead of enjoying the food we cooked right away, we would have to spend hours washing, drying, and putting them away.
I continued to follow in her footsteps for years until I learned how to "clean as you go." It was life-changing. Not only did I save so much time, but I also didn't have to spend hours cleaning after cooking.
If you are not familiar, it is basically cooking and cleaning simultaneously in an intentional way so that by the time you are done, you are not having to spend several more hours washing the dishes.
Because having a system in place will help you work more efficiently and, more importantly, make cooking enjoyable and fun. To me, it is an essential skill to maintain a healthy kitchen because let's face it; our kitchens are the hardest working room in the house and where the biggest messes are often made.
But how do you do that? Well, having been a food blogger for 9+ years and cooking every day, I learned a thing or two about keeping and maintaining a clean and organized kitchen. Here are my tips to help you get started as well:
1. Start With An Empty Dishwasher
I get it, it requires a bit of planning, but I promise you, starting with an empty dishwasher will save you a ton of time.
One of the main principles of cleaning as you go is to put things away as soon as you are done with them. This also applies to dirty dishes. I know some people are worried about wasting water and energy, but studies have shown that washing dishes in a dishwasher uses fewer resources than washing them by hand.
Of course, having a state-of-the-art dishwasher with the latest technology helps. I was recently gifted one of the newest dishwashers from Beko and I have to say, it's been a game changer.
If you are not familiar with Beko, based in Turkiye, it is one of the largest appliance manufacturers in the world. Lucky for us, they are now in the US.
Having been using my dishwasher for over 3 months now, I am especially impressed with how every single thing I put in my dishwasher comes out so clean. This is mainly due to what they call CornerIntense(R) technology.
Simply put, they installed spray arms at the bottom that move in a square motion to clean all four corners to make sure that everything in the dishwasher is fully cleaned. This includes even the hardest to-clean items like bottles thanks to water jets placed inside the tub.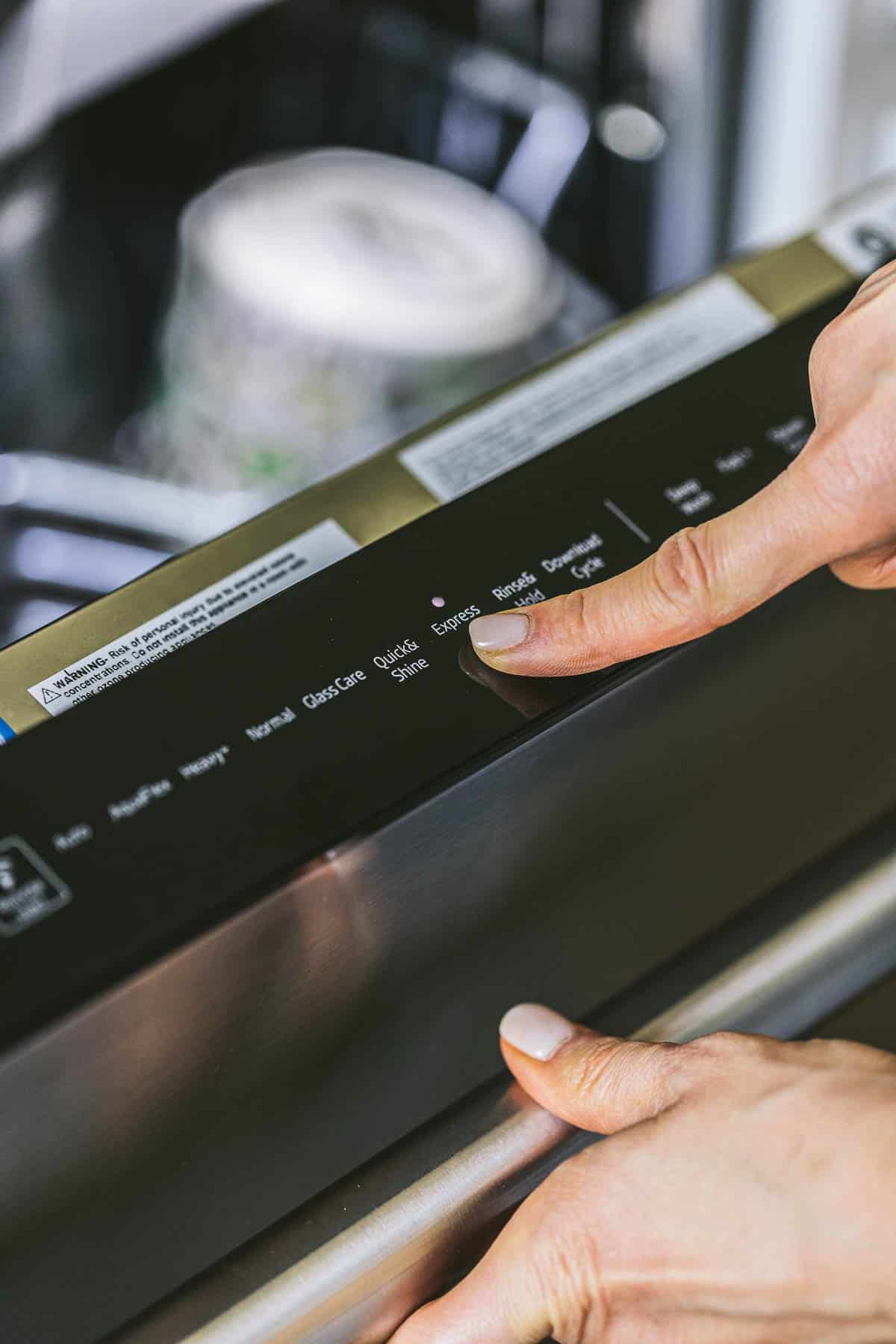 Plus, it offers several programming options from heavy to express cycles, even giving you the option to set it up so that it can wash your dishes while you sleep.
2. Create A Soaking Station
I can almost hear you say, "What about those things that I cannot put in the dishwasher?"
While I wish we could put everything in the dishwasher, we all know that there are things you just don't want to put in there. But you also don't want them to sit on the counter, take valuable counter space, and dry before you get to them.
My solution to this conundrum is to be proactive and create a soaking station. Simply fill your sink (or a large bucket) with hot water and a few pumps of dishwasher soap, and soak your dirty pots and pans in there while you are cooking.
This way, not only will they be out of the way but also be easier to clean thanks to hot water and dishwashing soap doing most of the work for you.
3. Set Up Your Work Station
I know kitchens come in many different shapes and sizes. Some have minimal counter space, while others have a large island. Regardless of the size of your kitchen, if you set it up right, you can make it work for you.
My solution to this is to assign a workstation for myself. This is where I set up my cutting board, a bowl for trash, and a composting bucket so that I can discard things easily without having to walk to the trash bin every time I have something to throw away.
Additionally, doing so will allow you to properly dispose of the waste in an environmentally friendly manner.
4. Have A Cleaning Rag Ready
Keeping a clean workstation is essential as you work on your mise en place. You can use a paper towel to wipe things off, but I prefer using good old soap and water.
Simply fill a small bucket with water and a small amount of detergent and keep a rag in there so that you can regularly and quickly wipe things off whenever you need.
5. Only Take Out What You Need
Baking a cake (such as my Almond Flour Cake), where you will need wet and dry ingredients?
Well, you have two options. You can take every ingredient out at the same time and leave no space on your counter or take them out in stages and put them back right after you are done with them.
Going back to our cake example, it is likely that the recipe will tell you to whisk the dry ingredients first and then move on to the wet ones. So, why not start with the first set of (dry) ingredients, whisk them up, and put the leftovers away before you move on to the wet ingredients?
This way, you would only keep the ingredients you immediately need and still have ample space to prep and bake. Needless to say, this is especially a good idea if your kitchen is small or you have limited counter space.
6. Label Your Jars/Containers
It all sounds good to put things away as a part of cleaning as you go, but the way to keep an organized pantry/fridge is to assign a section for every type of ingredient. An easy way to do this is to label your jars/containers and keep them together based on the type of ingredient.
That way, you know where to put them back as soon as you are done instead of having to find a space for every ingredient you used.
Keeping a tidy space while you work will give you a happier and healthier experience in the kitchen. If you enjoyed this article and want to learn more, be sure to check out Beko's Healthy Kitchen Initiative.
Like this recipe? Consider sharing: