This Company Pot Roast is an old Ina Garten recipe that I use often especially when I am entertaining a crowd. It does require a little bit of advance prepping, but I think it is SOOO worth it.
In my version, I served it over my mom's bulgur pilaf, but you can serve it with any other starch of vegetable you like.
I have a couple of "go-to" dishes that I like to make when we invite friends over for dinner. Those dishes have a couple of things in common. (1) They look and taste good (2) they can be made ahead of time, and (3) they are restaurant quality dishes with a homemade feel.
Though it changes time to time, I usually make crab cakes as appetizer and my mom's beef stew with bulgur as entrée served with a big green salad. For dessert, I go for, my favorite, French Calvados apple cake served with homemade vanilla ice cream.
Over the years I served this menu to my guests, I have never met anyone who was not WOW'ed by it.
This Company Pot Roast dish is my new favorite and it seems like it will replace my mom's beef stew. The best part of this recipe is that it is foolproof. Believe me, I have made several pot roasts in my life and I do not remember one that turned out as good as this one in my first try.
Staying true to its name, Company Pot Roast, it is perfect when you need to feed a crowd. It is made with chuck roast, a fairly inexpensive thick cut of beef. As in most pot roast dishes, it takes several hours to roast in the oven, but for this one, the end result is totally worth it.
It is important to tie the roast before searing to ensure that it keeps its shape during cooking. Tying prevents it from spreading out and also, loosing its flavorful juices. If you do not know how to tie a roast, no need to worry. I found this quick video to show you how to tie meat.
Once it is tied, all you have to do is to sear it, cook the vegetables, and roast them all together in the oven to roast for 3 hours. At the end of 3 hours, you have a wonderful cut of meat to serve over rice or bulgur pilaf. Depending on the size of the meat, it would easily feed a crowd of 4 to 6. I had to go for a smaller (3.5 pound) roast because my Dutch oven is one of the middle sized ones. If you have a larger one, feel free to go for a larger cut (up to 5 pounds).
In addition to a soft and flavorful cut of pot roast, this recipe yields a lot of vegetable sauce. After serving it with the meat, I used the rest of it to make a luxurious Sunday morning omelet. The left over pieces of the chuck roast mixed with wine flavored vegetables took my ordinary omelet to the next level. You could also use it as a pasta sauce or eat it just by itself. It is that good.
That evening, my husband had no idea that I was making this dish. As he walked into the house and inhaled the amazing smell of the meat roasting for the last 3 hours, he said that he doesn't know what I am making but he sure knows we are going to have a feast for dinner.
He was right- I cannot imagine a better dish to impress my family and friends.  Try it, I promise, it will not disappoint.
Print
Company Pot Roast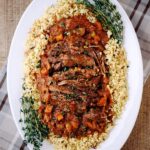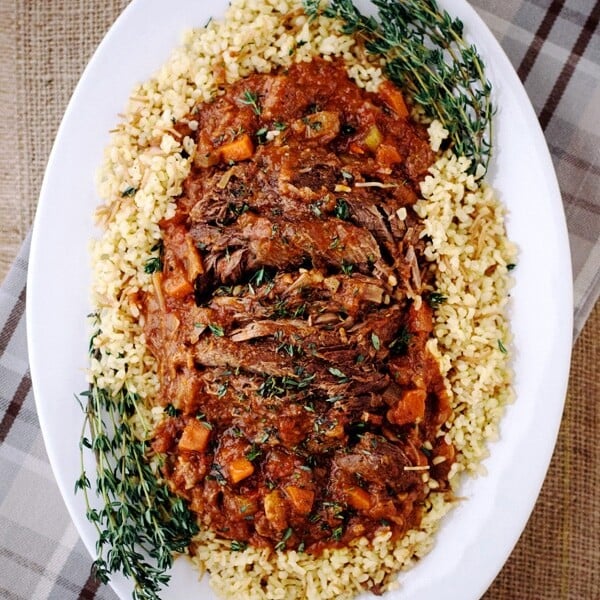 Author:
Prep Time:

30 minutes

Cook Time:

3 hours 30 minutes

Total Time:

4 hours

Yield:

4-6

Category:

Main Dishes

Method:

Roasting

Cuisine:

American
Ingredients
1 4-5 pound boneless beef chuck roast
Kosher salt and freshly ground black pepper
1/2 cup all-purpose flour
2 tablespoons olive oil
4 (2 cups) carrots – chopped into small cubes
2 medium (2 cups) onions, chopped
4 stalks (2 cups) celery, chopped
3 medium (2 cups) leeks, white and green parts chopped
5 garlic cloves, peeled and minced
2 cups red wine, I used Chianti
2 tablespoons of brandy (optional, if you have it at home)
1 (28-ounces) can crushed tomatoes
1-cup chicken stock, I used my homemade chicken stock
3 branches of thyme
Instructions
Pre-heat the oven to 325 F degrees.
Tie the meat (refer to the blog post on how to tie). Season it with 1 tablespoon of salt and 11/2 teaspoons of freshly ground black pepper. Dredge the whole meat in flour ensuring that all parts are covered with flour. Shake the excess flour.
Heat the olive oil over medium heat in a large Dutch oven. Cook the meat for 4-5 minutes on one side, and then cook the other side, again, 4-5 minutes. Place it on a large plate, cover with aluminum foil, and set aside. Do not wash the Dutch oven.
Place chopped carrots, onions, celery, leeks, garlic, 1 tablespoon of salt, and 2 teaspoons of black pepper in the Dutch oven. Cook until all vegetables soften, 12-15 minutes, stirring often. You do not want the vegetables to turn brown.
Stir in the wine, brandy (if using), tomatoes, and chicken stock. Tie the thyme with kitchen string and place it in the pan.
Transfer the meat into the Dutch oven, bring it to a boil, and let it come to a simmer, 12-15 minutes. Put the lid on and place it in the oven.
Roast for 2 hours and then turn the heat down to 250 F Degrees. Let it simmer at that low temperature for an hour.
Remove the pot roast onto a cutting board. Discard the thyme bundle. Using a large spoon, skim off the fat on top of the juices as much as possible.
Place 2 cups of the sauce into a food processor (or blender) and process until pureed. Transfer it back in the Dutch oven.
Place the Dutch oven on stovetop, and in low heat, bring it to a simmer.
Remove the strings from the roast and slice the meat.
When ready to serve, place 2 (or more) slices of meat on a dinner plate and spoon the vegetable sauce over it.
Nutrition
Serving Size:

1

Calories:

1026

Sugar:

12.7g

Sodium:

596.1mg

Fat:

63.1g

Carbohydrates:

36.2g

Fiber:

6g

Protein:

70.3g

Cholesterol:

232.5mg
This recipe is adapted with changes from Barefoot Contessa's Company Pot Roast recipe from her Back to Basics Cookbook
.