My husband loves chicken breasts so much that he asks me to make them every day. This is probably why I have so many easy chicken recipes on this blog.
Because of his love for chicken breasts, I've learned to make chicken breasts a regular in my daily cooking and built a repertoire of go-to recipes that uses them as the star ingredient. Today's recipe, this Easy Chicken Fricassee Recipe is one of those recipes that is incredibly flavorful with a delicious creamy sauce. Not to mention, it is a one-pan meal you can make in under an hour.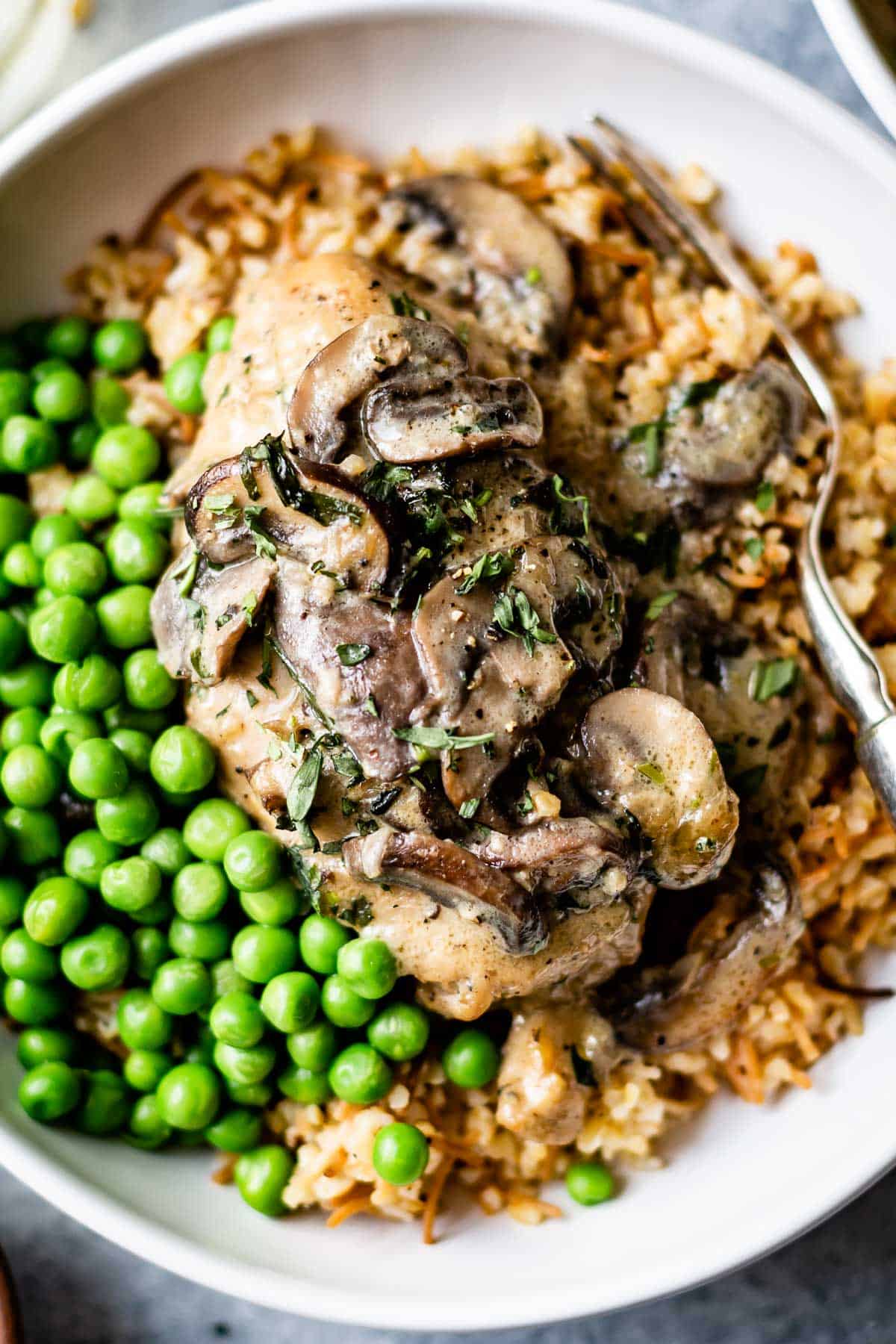 Recipe Ingredients:
This Chicken Fricassee recipe requires two sets of ingredients; Chicken and vegetables and the fricassee sauce.
For the chicken and vegetables, you will need: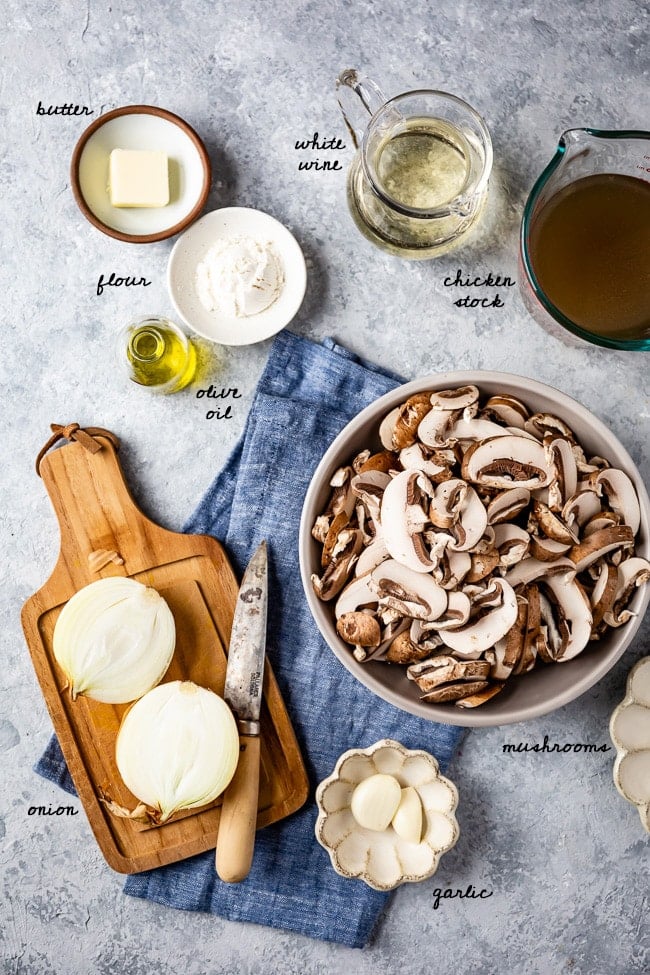 Boneless chicken breasts but boneless or bone-in chicken thighs would also work
Unsalted butter and olive oil
Onion & garlic
Baby Bella or portobello mushrooms
Liquid: White wine and chicken stock
Salt & black pepper
For the fricassee sauce, you will need: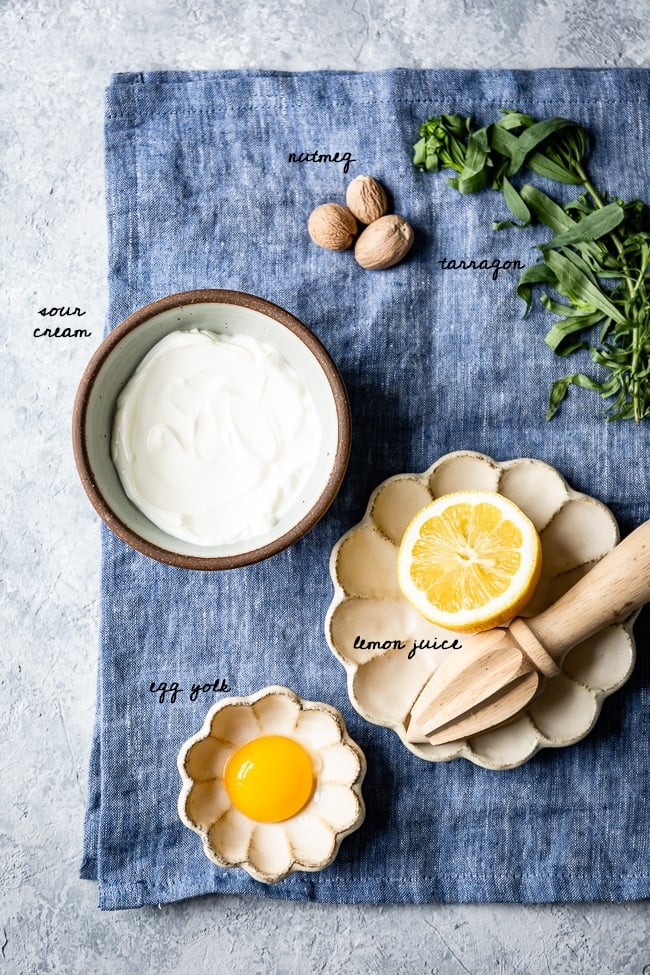 Sour cream
Egg yolk
Freshly ground nutmeg
Lemon juice
Tarragon (fresh or dried) or fresh thyme leaves
How to make Chicken Fricassee?
The process of making this Quick Chicken Fricassee has 4 parts.
First, before you brown the chicken, pat dry the meat with paper towels and season it well with kosher salt and black pepper.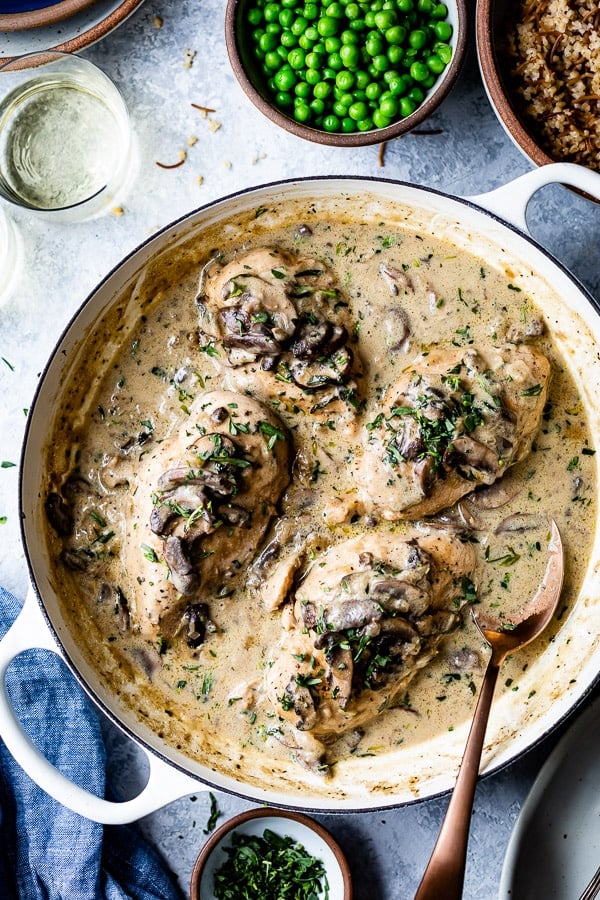 Second, heat oil and butter in a heavy large skillet. Sear the boneless skinless chicken breasts over medium heat until lightly browned, 3-4 minutes on each side.
At this stage, the chicken breasts will not be fully cooked. Once browned, remove them from the pan, cover with foil, and set them aside.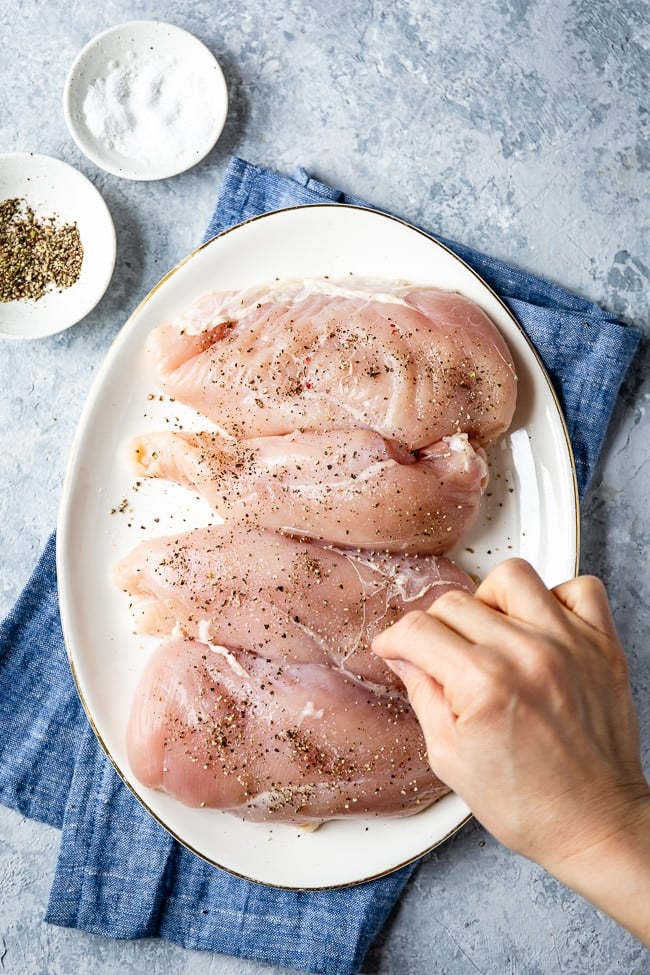 Third, cook the vegetables with a little bit of white wine (such as Sauvignon Blanch) in the same deep skillet, making sure to scrape the brown bits at the bottom of the pan with a wooden spoon as you cook. While you can use any vegetables, this quick chicken fricassee recipe uses mushrooms, onions, and garlic.
Once the vegetables are softened, add a tablespoon of all-purpose flour to thicken the sauce. Cook it for 30-45 seconds, stirring constantly.
Next, you add in chicken broth (I used my homemade chicken stock), return the chicken pieces back to the pot, put the lid on, bring it to a boil, turn it down to medium-low heat, and let it simmer for 10 minutes or until the chicken is cooked thoroughly. I always check the doneness of chicken breasts by using an instant meat thermometer. It is considered cooked when the internal temperature reaches 160 degrees when inserted with a digital thermometer.
If you need an instant thermometer, this is the one (affiliate link) I have been using for years. I think it is a rather inexpensive investment for a very important job.
How to make the creamy white sauce
The last part of the recipe is making the white wine cream sauce. In my opinion, this sauce is what makes this creamy chicken fricassee recipe out of this world.
To make the fricassee sauce, you whisk together sour cream with one egg yolk and temper it with some of the liquid from the simmering sauce. Here it is important that you continue to whisk as you add the hot liquid into the sour cream mixture to prevent.
Then you add the mixture back into the pot and let it simmer for 5-10 minutes or until the sauce is thickened to your liking. It should be a silky sauce with chunks of mushrooms.
Final Steps:
At this stage, this chicken mushroom fricassee is a good recipe. However, it gets a next-level recipe when you add fresh chopped tarragon, ground nutmeg, and lemon juice. In my opinion, adding these last ingredients (tarragon being the star of the show) takes this recipe from good to great.
One of my best friends is a chef. She always tells me that chicken and tarragon are made for each other. This Tarragon Chicken Fricassee is a recipe where you can see why.
The licorice-like taste of tarragon, paired with the earthy flavors of mushrooms and meaty chicken, produces an incredibly flavorful chicken dish.
That said, you can use a few sprigs of fresh thyme leaves if you can't get your hands on tarragon.
When ready to serve, simply place a chicken breast on a bed of rice (or bulgur) pilaf and spoon a generous amount of the sauce over the chicken. If preferred, sprinkle it with more chopped fresh tarragon.
What is Chicken Fricassee – Fricassee Definition
Fricassee is a French cooking method in which meat is braised and served with a white sauce made from its own juices. (source)
While you can use any type of meat, fish, and even vegetables to make fricassee, one of the most popular recipes is chicken fricassee due to the availability and affordability of chicken.
Traditional French Fricassee became very popular in the American tables after Julia Child authored it in her book, Mastering the Art of French Cooking. In this book, it is listed as one of the original comfort food recipes made with humble ingredients. If you were to read her version of this recipe, you'd see that hers is quite lengthy and requires a lot of time to make.
My version of the hearty dish that you see here is an adaptation from America's Test Kitchen's website. I have been making it for years and it has been one of the main dishes that I frequent often, especially if I am entertaining.
This version, compared to Julia Child's version, is rather quick and easy to make. The whole thing happens in a single pot, and once you have mise-en-place ready, it comes together in 30 minutes (a total of 50 minutes with prep time). To me, that is French cuisine at its best!
What Other Vegetables Can I Add To Fricassee?
While the authentic French fricassee is made with onion and mushrooms, you can use other vegetables like carrots and celery. If you decide to do so, saute them with the onion.
Additionally, you can also add a cup of blanched green peas at the last minute to give it a pop of color.
What to serve with this recipe?
Most recipes you find in books and online serve chicken fricassee with rice. While that is a great option, I served mine with bulgur pilaf. I am a huge fan of bulgur pilaf with meat dishes and cannot recommend it enough if you have never tried it.
Another great side dish to serve is my lemon quinoa or any of my Quinoa Salad Recipes. It comes together in just around 20-25 minutes and goes so well with this fricasseed chicken.
With that being said, this dish can also be served with various vegetable side dishes, steamed vegetables (like green peas, asparagus, or green beans), roasted asparagus, baked butternut squash, mashed potatoes, or a crisp green salad like my Butter Lettuce Salad.
And if all else fails, serve it with crusty bread like my No-Knead Bread or continue with the French theme and serve it with sliced Homemade Brioche Bread.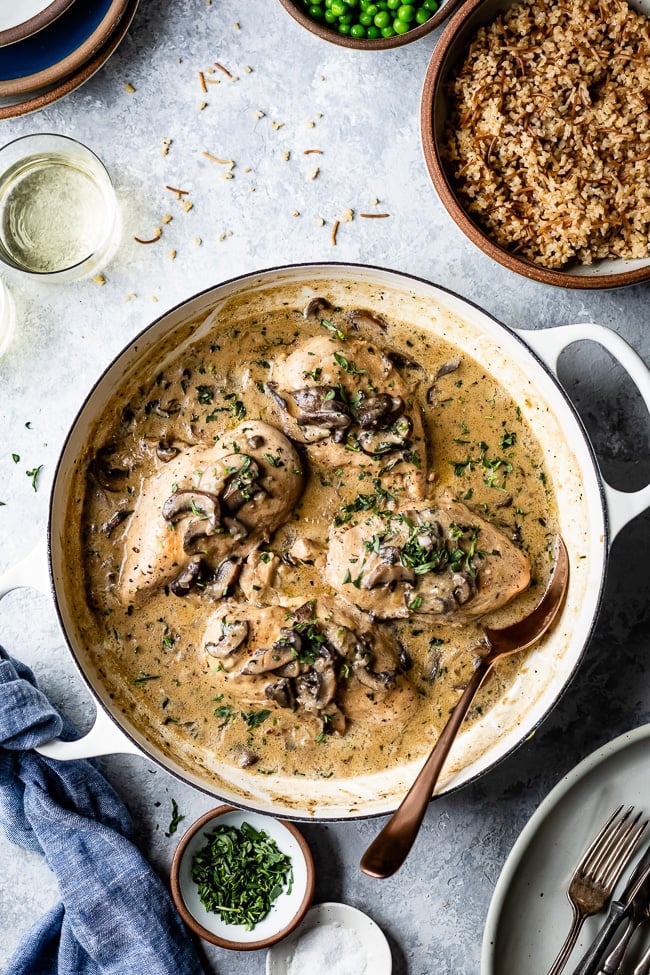 Helpful Tips:
Get your mise-en-place ready to save on time: This simple chicken fricassee recipe is one of those dishes that cooks rather quick once you have all your ingredients ready. Therefore, if you want to make it on a weeknight, I recommend getting all the ingredients ready a day in advance and keeping in the fridge.
What to do with the leftovers? As long as they are kept in an airtight container in the fridge, this chicken dish will keep fresh up to 2 days.
Can I freeze this dish? Yes, you can. Once it is fully cooled down to room temperature, place it in an airtight container, and keep in the freezer up to a month. Thaw overnight in the fridge 24 hours before you want to serve. Here, I recommend adding the lemon juice, nutmeg, and fresh tarragon right before serving for the freshest flavors.
What kind of pot do you recommend for this French chicken fricassee recipe? I used a large braiser with a lid. My favorite one is this Le Creuset 3 ½ quart round braiser (affiliate link). I cannot recommend it enough if you are someone (like me) who regularly cooks one-pot dishes with various types of meat and sauces. With that being said, a dutch oven or a similar heavy skillet with a lid with also work well for this recipe.
What if I don't like mushrooms? If you do not like mushrooms, you can make this this recipe with onions, carrots, and celery instead. The flavor profile would be slightly different, but it would still be good.
How about chicken thigh fricassee? Quite honestly, I have never tried making this recipe with dark meat chicken (such as chicken thighs), but I don't see it being an issue. If you decide to use chicken thighs, I would recommend following the recipe as it is written, but use 2 pounds of chicken thighs instead of breasts.
Heavy Cream vs. Sour Cream: Some people use heavy cream instead of sour cream to make this recipe. I personally like the tanginess that come from sour cream, but an equal amount of heavy cream can also be used. It would have a slightly different flavor profile but it would still work.
Other Weeknight Chicken Recipes You Might Like
If you try this classic French dish recipe or any other chicken recipes on Foolproof Living, please take a minute to rate the recipe and leave a comment below. It helps others who are thinking of making the recipe. And if you took some pictures, be sure to share them on Instagram using #foolproofeats so I can share them on my stories.
Chicken Fricassee Recipe
This
Chicken Fricassee recipe
is the original French comfort food. Chicken breasts cooked with earthy mushrooms in a velvety sauce and sprinkled with tarragon for perfection. Served with rice, roasted vegetables or bulgur pilaf (like I did), it is a perfect meal for any occasion.
Print Recipe
Ingredients
2

pounds

boneless chicken breasts

1

teaspoon

kosher salt

1/2

teaspoon

black pepper

1

tablespoon

butter

1

tablespoon

olive oil

1

onion

finely chopped – (about to 1 cup)

1

lbs.

Portobello mushrooms

cleaned, trimmed, and sliced

1/4

cup

dry white wine

such as Sauvignon blanc

1

tablespoon

all-purpose flour

2

cloves

garlic

minced

1 1/2

cup

chicken stock – I used my homemade chicken stock recipe.
For the sauce
1/3

cup

sour cream

1

egg yolk

1/2

teaspoon

freshly ground nutmeg

2

teaspoons

lemon juice

freshly squeezed

2

teaspoons

tarragon

minced (If you can't find tarragon, you can use parsley)
Instructions
Pat dry chicken breasts with paper towels and season them generously with 1 teaspoon salt and 1/2 teaspoon black pepper.

Heat butter and olive oil in a large skillet. Place chicken breasts and cook each side for 4 minutes, in medium high heat. At this point they will not be cooked thoroughly.

Place them on a plate, cover with aluminum foil and set aside.

Add the mushrooms, onions, and white wine to same skillet and cook for 8-10 minutes, stirring occasionally, until mushrooms are browned.

Add garlic and flour and give it a generous stir. Cook for 1 minute.

Add chicken broth; scrape the bottom to loosen the brown bits and cook until the broth is boiling.

Add the chicken and all the juices in the plate and cover it with a lid. Cook in medium heat, until the chicken registers 160 F. degrees when a thermometer is inserted in the middle. This will take 5 to 10 minutes.

In the meantime, whisk the egg yolk and sour cream in a small bowl.

Take the chicken breasts out and place it on a platter. Cover it with aluminum foil. Set aside.

Measure 1/2 cup of the mushroom sauce and stir it into the sour cream and egg mixture. Mix.

Stirring constantly, slowly pour the mixture into the skillet. Stir in the lemon juice, tarragon, and nutmeg. Let it simmer for 5 minutes.

Taste it for seasoning and add more, if necessary.

To serve, place a chicken breast on a plate and pour the sauce over it. Sprinkle it with more tarragon.
Notes
What to do with the leftovers? As long as they are kept in an airtight container in the fridge, this chicken fricassee will keep fresh for up to 2 days.
Can I freeze this dish? Yes, you can. Once it is fully cooled down to room temperature, place it in an airtight container, and keep it in the freezer for up to a month. Thaw overnight in the fridge 24 hours before you want to serve. Here, I recommend adding the lemon juice, nutmeg, and fresh tarragon right before serving for the freshest flavors.
Nutrition
Calories:
569
kcal
|
Carbohydrates:
14
g
|
Protein:
54
g
|
Fat:
31
g
|
Saturated Fat:
10
g
|
Cholesterol:
207
mg
|
Sodium:
887
mg
|
Potassium:
1114
mg
|
Fiber:
2
g
|
Sugar:
6
g
|
Vitamin A:
415
IU
|
Vitamin C:
4
mg
|
Calcium:
83
mg
|
Iron:
3
mg
Adapted from America's Test Kitchen's Quick Chicken Fricassée.
Like this recipe? Consider sharing: