Since I read the book Eat to Live
(affiliate link) a couple of years ago, I have been intentionally cooking with wholesome ingredients using healthier cooking techniques. For the most part, the switch to cooking everyday savory dishes has been an easy one.
However, I can't say the same thing about baking. I have been trying my hand in baking with alternative flours (spelt, brown rice, almond, buckwheat, etc.) and sugars (honey, dates, maple syrup, stevia, etc.) for over a year now and it has been a challenge, especially when it comes to creating my own recipes.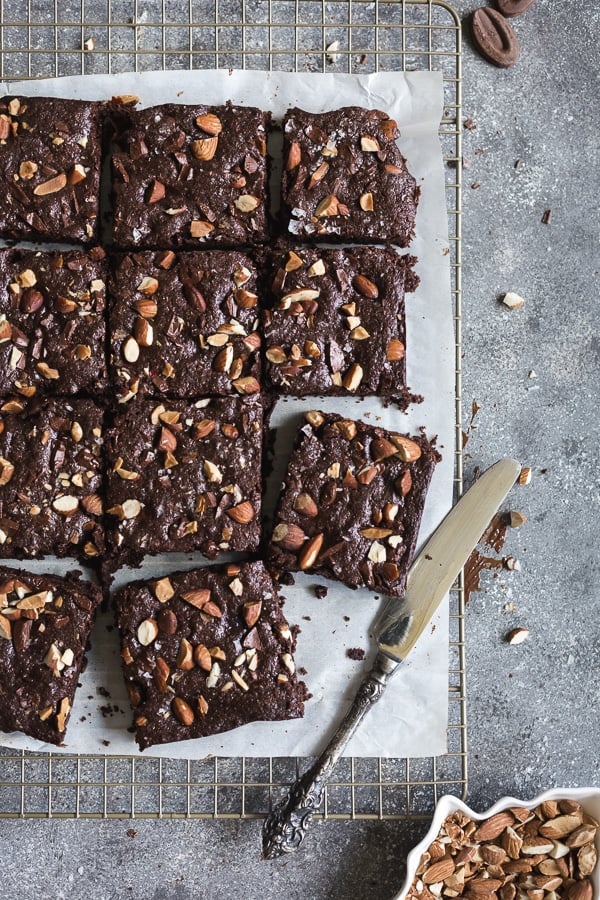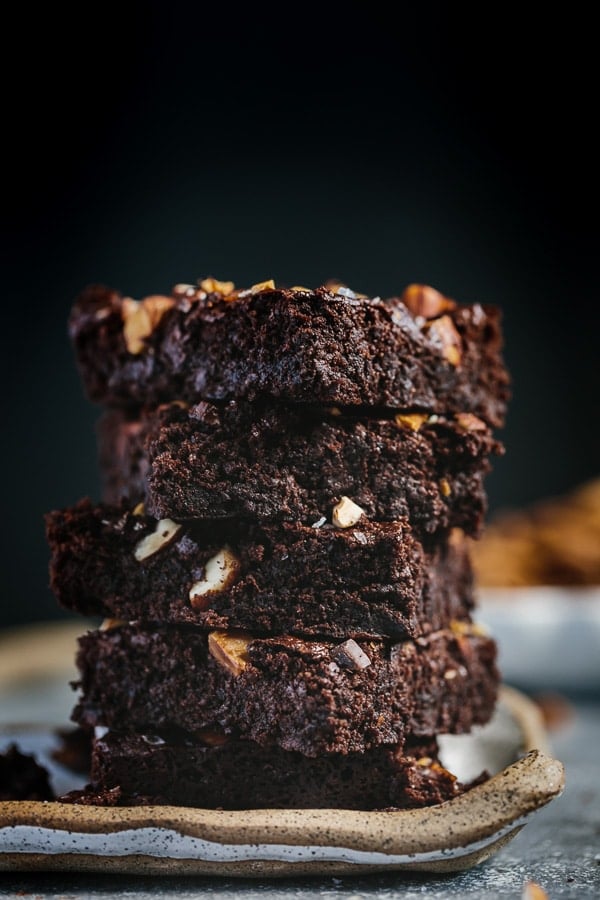 After many failed attempts, I finally decided that the only way to learn is by following other people's recipes to a 'T' and then adjusting them to my personal preference. These dark chocolate and almond butter brownies with sea salt are a great example.
One cookbook that has been a tremendous resource on this subject is Amy Chaplin's At Home in the Whole Food Kitchen
(affiliate link). As I wrote about it in Fresh Peach and Walnut Tart recipe's post, this book is a great source for those, who are like me, new to healthier baking. Also it hasn't come out yet, but I am looking forward to getting my hands on Alanna's (of Bojon Gourmet) new cookbook, Alternative Baker (affiliate link), for the same reason. She has a wealth of information on this subject and everything I made from her site turned out really good.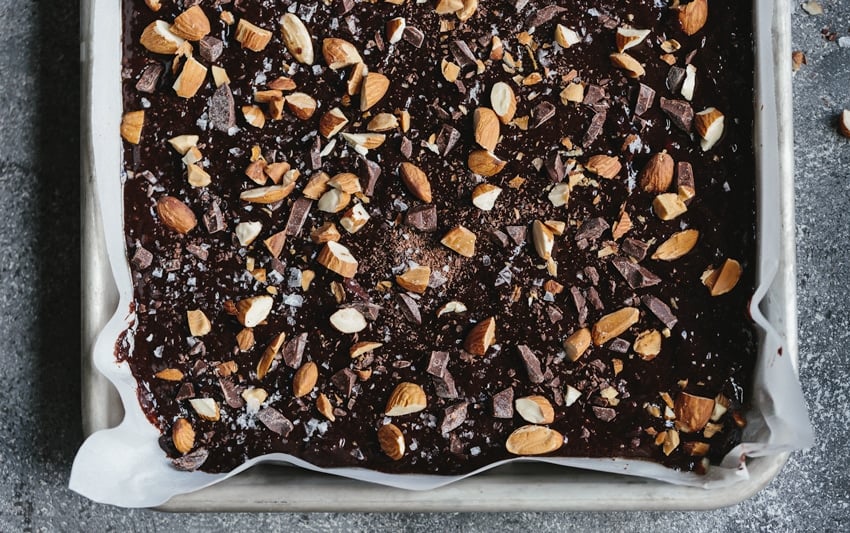 The last time I made these brownies was last year during Christmas time and had all the intentions of sharing it in here on the blog, but for some reason I totally forgot about it. So the other day when I found a package of Valrhona chocolate in my pantry and saw that it was about to expire, I decided to make them for you.
About this Vegan Spelt Flour Almond Butter Brownies Recipe:
I do not mean to go all Ina Garten on you by saying that you should use the best quality chocolate and cocoa powder you can get your hands on. However the truth is, if you want these to turn out really good the quality of chocolate you use matters. Here, I do not mean to say that you should get the most expensive one. Instead, I recommend using a chocolate brand that you think tastes the best. I love Valrhona and their cocoa powder for baking. Our local Whole Foods sells them in smaller portions making it more affordable than buying a pound of chocolate of the same brand. For almost all my baking, including this recipe, I use their 70% baking chocolate.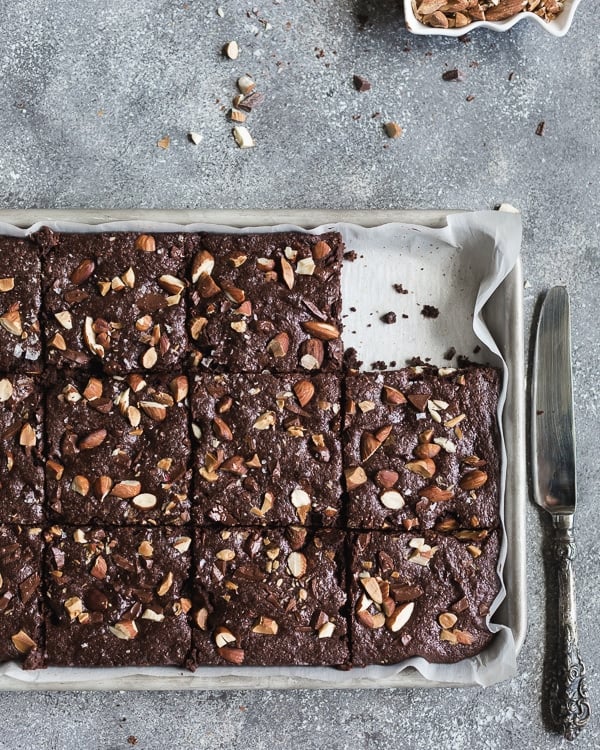 In the recipe below, I have made a few changes to Amy's original recipe. First, I switched olive oil with coconut oil, because I really like the combination of coconut oil-dark chocolate-almond butter. Second, instead of using maple sugar I used coconut sugar (Trader's Joes' coconut sugar is my favorite) as I didn't have maple sugar on hand. I am letting you know these changes just in case if you prefer to use olive oil and maple sugar instead of coconut oil and coconut sugar. Both set of ingredients work well while tasting mildly different.
The hands on time for the recipe is no longer than 20 minutes and it bakes in 30 minutes or so. I know that it will be hard to wait, but do your best to let it cool down before slicing. Amy suggests placing it in the fridge after it comes down to room temperature. Embarrassingly, I couldn't wait that long but it still turned out amazing. The combination of almond butter, chocolate and sea salt is truly out of this world.
---
Dark Chocolate and Almond Butter Brownies with Sea Salt
Vegan Almond Butter Brownies made with spelt flour, dark chocolate and sweetened with dates, maple syrup, and coconut sugar.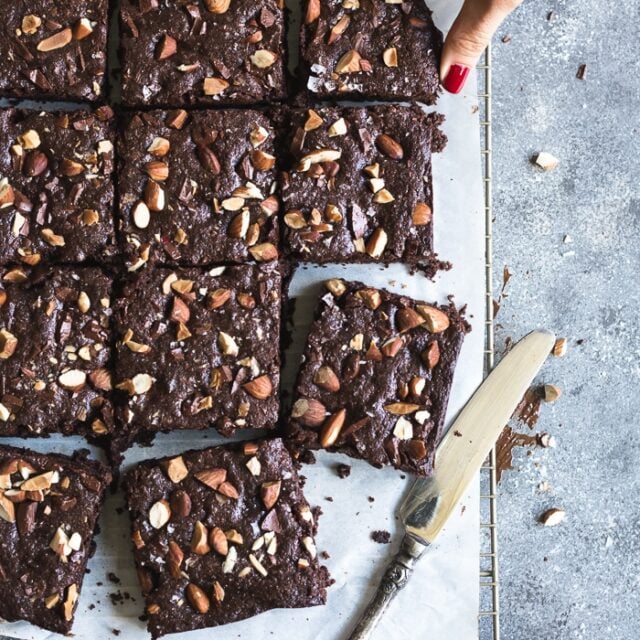 Print Recipe
Ingredients
½

cup

Medjool dates

pitted

1 ½

cups

whole spelt flour

¾

cup

unsweetened cocoa powder

1 ½

teaspoons

baking powder

I used aluminum free baking powder

1/3

cup

almond butter

at room temperature

¾

cup

coconut oil

melted and cooled – at room temperature

¾

cup

maple syrup

1/2

cup

coconut sugar OR organic Cane sugar

1/3

cup

almond milk

1/2

teaspoon

sea salt

1

tablespoon

vanilla extract

3 ½

ounces

(100 grams) 70% dark chocolate, chopped and divided

½

cup

toasted almonds

chopped

¼

teaspoon

fleur de sel or Maldon Salt
Instructions
Place the dates into a bowl and cover them with boiling water. Let them soak for 20 minutes. Drain and set aside.

Pre-heat the oven to 350 degrees. Line a 9X13 sheet pan with parchment paper and spray it with non-stick spray.

Sift the spelt flour, cocoa powder, and baking powder into a large bowl.

Place the dates, almond butter, coconut oil, maple syrup, coconut sugar, almond milk, salt, and vanilla extract in the bowl of a food processor. Process until thoroughly combined.

Pour the wet mixture over the sifted dry ingredients. Gently stir until combined. Reserve 2 tablespoons of the chopped chocolate and fold the rest into the batter.

Pour the batter into the sheet pan. Using the back of a spatula distribute it evenly throughout the pan.

Sprinkle it with the reserved chocolate pieces, almonds, and fleur de sel.

Bake for 30 minutes or until a toothpick inserted in the middle comes out clean.

Let it cool for 45 minutes, slice, and serve.
Notes
As long as it is kept in an airtight container in room temperature, these brownies keep their freshness up to 3 days.
Nutrition
Calories:
374
kcal
|
Carbohydrates:
44
g
|
Protein:
6
g
|
Fat:
22
g
|
Saturated Fat:
13
g
|
Sodium:
231
mg
|
Potassium:
264
mg
|
Fiber:
6
g
|
Sugar:
23
g
|
Vitamin A:
9
IU
|
Calcium:
110
mg
|
Iron:
2
mg
Recipe adapted (with changes) from Amy Chaplin's cookbook At Home in the Whole Food Kitchen
.
---
Like this recipe? Consider sharing: