Why is this the Best Technique?
This turkey bacon oven recipe is a godsend for home chefs searching for simple meal solutions. Who wouldn't want to learn how to bake turkey bacon in the oven like a pro?
Get crispy, evenly cooked turkey bacon in less than 15 minutes with this super simple, mess-free recipe.
Say goodbye to bacon grease splatters and waiting by the stove with this effortless method. Hands-off and easy to clean, this oven-baked turkey bacon recipe is a cinch to prepare compared to stove-top bacon.
Ingredients – The Best Turkey for Baking in the Oven
When making oven-baked turkey bacon, you'll need one package (12 oz.) of—you guessed it!—turkey bacon. I prefer uncured bacon because it uses natural ingredients instead of harsh chemical compounds as preservatives. When cooking uncured turkey bacon, my go-to brands are Trader Joe's, Applegate Naturals, and Wellshire (made with turkey thighs).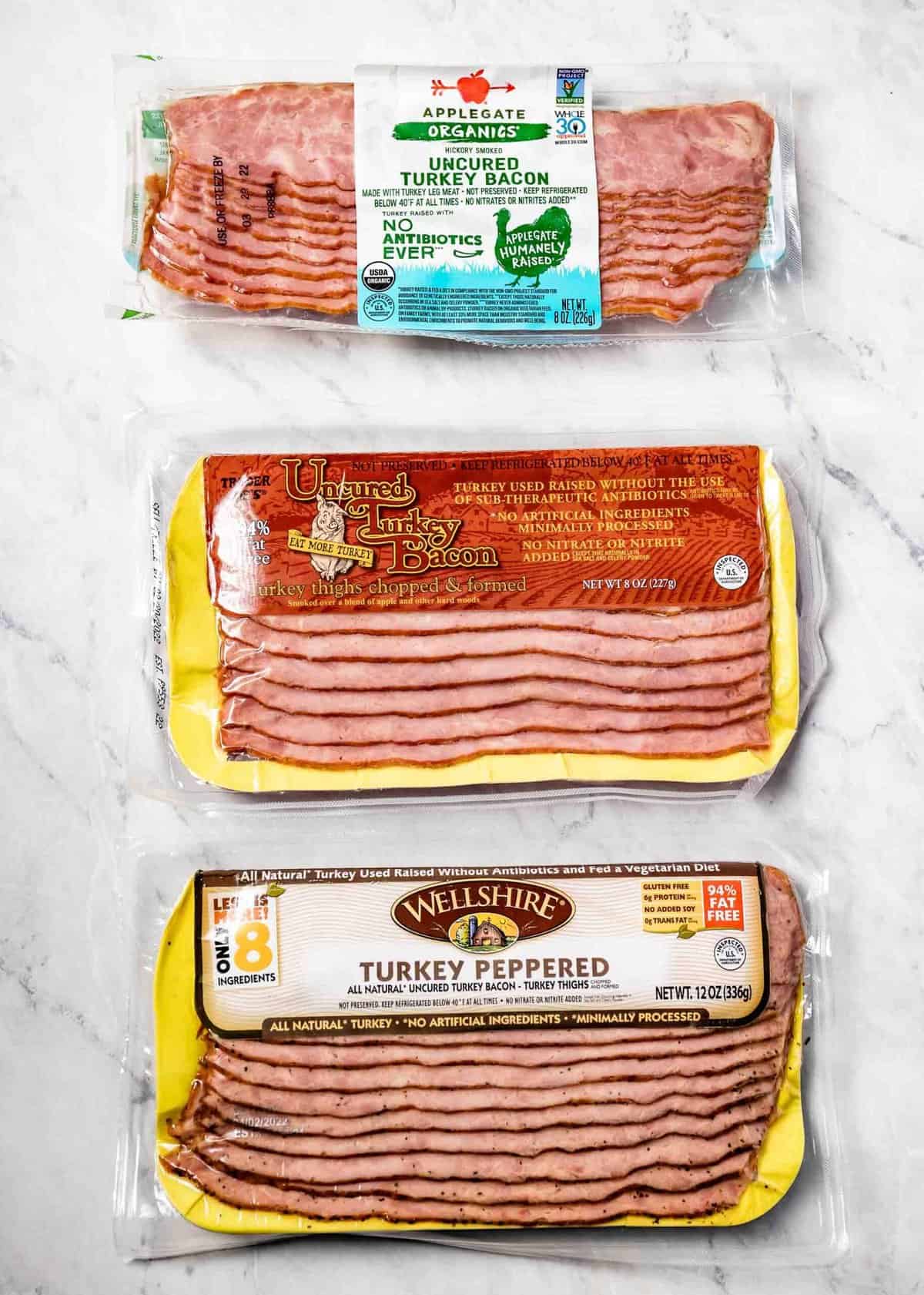 Though I use uncured meat, this baked turkey bacon recipe will also work with cured and smoked turkey bacon. Different brands of turkey bacon, like Turkey Rashers, Oscar Meyer Turkey Bacon, and Butterball Turkey Bacon, can also be used.
How To Make it?
We can all agree that the best way to cook turkey bacon is easy and delicious. Out of all the ways to cook turkey bacon, my method will get you mess-free, crispy strips every time.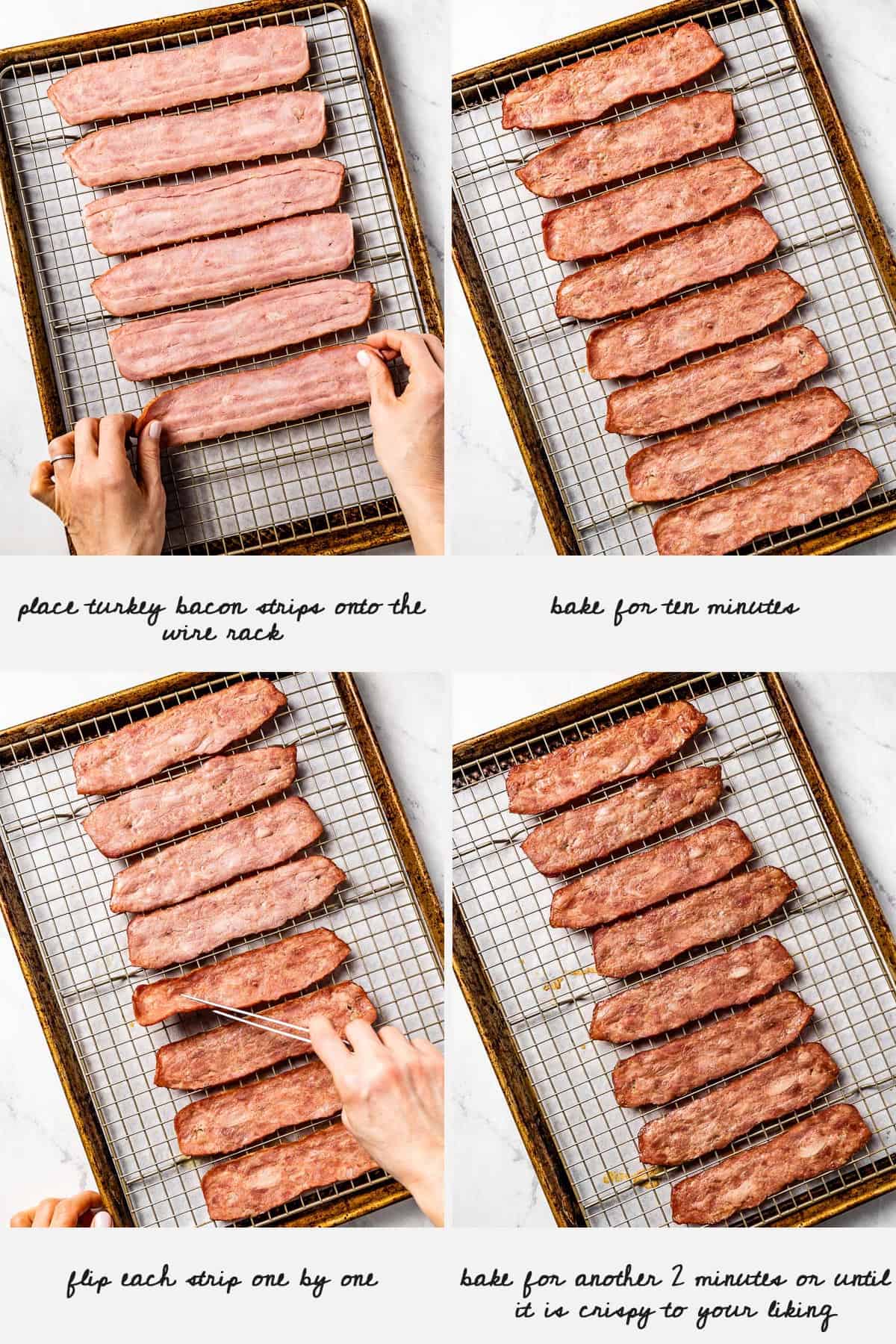 Preheat the oven: Preheat the oven to 400 degrees Fahrenheit.
Prepare the baking sheet: Line a baking sheet with parchment paper (or aluminum foil) and place a wire rack on top of the prepared baking sheet.
Position the turkey bacon: Line the raw turkey bacon on the wire rack in a single layer. Make sure no strips overlap one another.
Bake: Place strips of turkey bacon in the preheated oven for 10 minutes. After 10 minutes, flip the bacon strips over one by one, and bake them for another 5 minutes.
What if I Don't Own a Wire Rack?
If you don't have a baking rack, bake your turkey bacon on a sheet pan lined with parchment paper. Then, cook the strips according to the above-listed turkey bacon oven directions: 10 minutes of baking followed by a quick flip and an additional 5 minutes in the oven.
To bake turkey bacon crispy without a wire rack, flip the strips one more time after their first 15 minutes in the oven and bake them for 2 additional minutes.
How to Make Turkey Bacon Crispy in the Oven?
Every chef dreams of making the perfect bacon in the oven. With these simple tips, now you can! Never settle for chewy turkey bacon strips with these ingenious tips.
Dry the turkey bacon strips: When you first remove the turkey bacon from its packaging it might be a little wet. Pat dry it on both sides using a sheet of paper towel to remove extra moisture before putting it in the oven.
Use a wire rack: Cooking your turkey bacon on a wire rack allows your oven's hot air to circulate both sides of the strips throughout the baking process. Not only does this circulation help cook your turkey bacon evenly, but it also helps remove any liquid released during the baking process.
Flip your turkey bacon: Remember to flip your turkey bacon slices at least once during the cooking process. This movement will help evaporate any extra juices released by the strips.
Watch for visual cues: Not every oven is the same, so it's essential to keep an eye on your turkey bacon to achieve the right ​​level of crispiness. Bubbles and dripping liquid are a good sign because they indicate that the turkey bacon is getting rid of excess liquid and crisping up.
Broil your turkey bacon: If you choose to broil turkey bacon at the end of the baking process, cook it for no longer than 1 minute and be sure to keep an eye on it. Though broiling is an easy way to make your bacon extra-crisp, too much may lead to burning.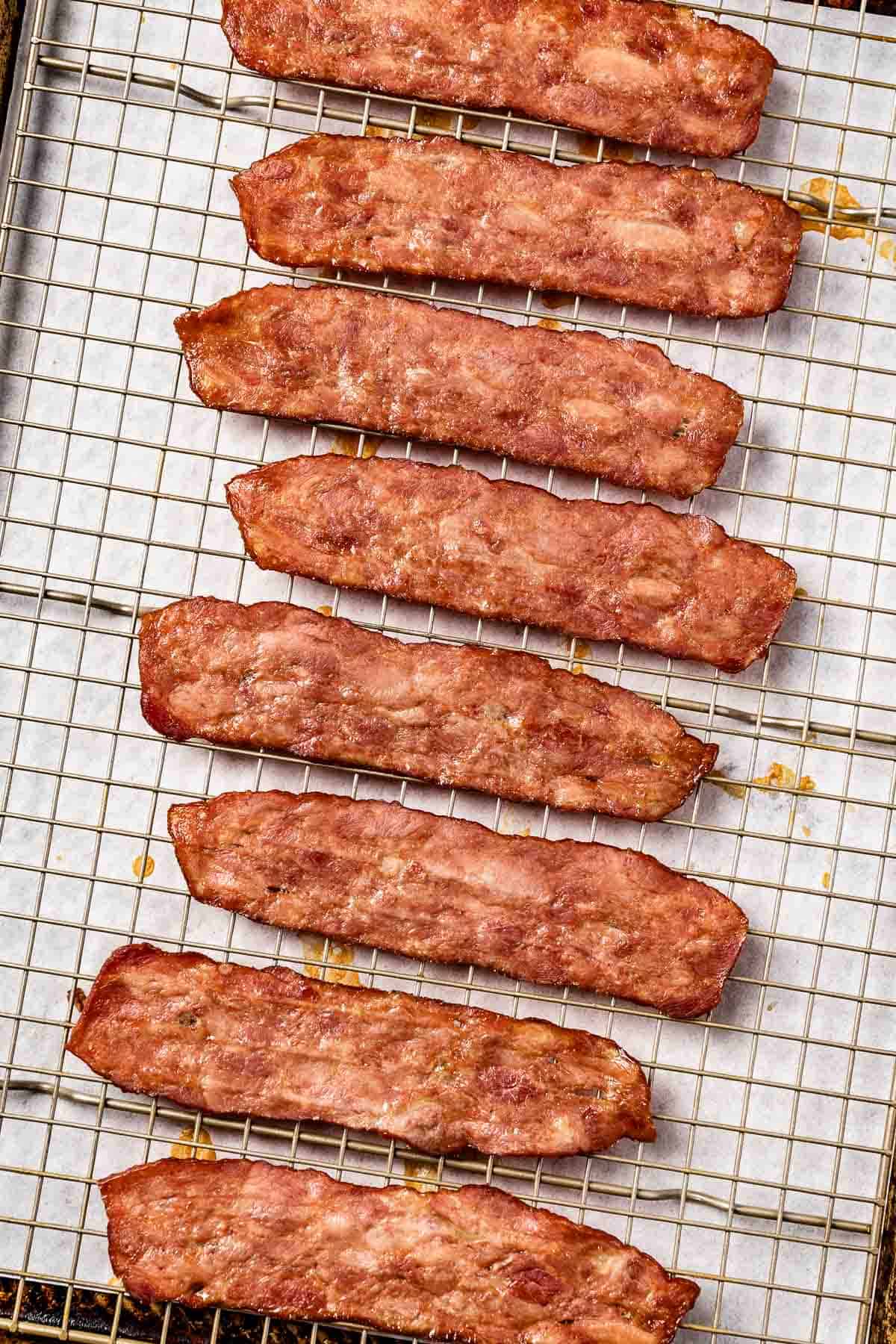 How to Store
Warm, crispy, and irresistible, the perfect turkey bacon is best on the day it's baked. However, leftover bacon will stay fresh in an airtight container for up to 3 days. Just let it reach room temperature before storing.
Expert Tips
Cooking turkey bacon in the oven doesn't need to be a hassle. With these simple methods, you'll be baking turkey bacon like a pro, whether you're a beginner chef or just a bacon-lover.
Don't overlap: Make sure your turkey bacon strips don't overlap when you line them on your wire rack. Layered turkey bacon won't get crispy. Therefore, if you want to make more than one package's worth of strips, I recommend cooking them in batches.
Add extra flavor: A great way to add bold, spiced flavor is to sprinkle your cooked bacon strips with freshly ground black pepper. (If you're a pepper freak, this tip is for you!)
Cook in a toaster oven: If you want to make turkey bacon in a toaster oven, make sure you don't overcrowd your strips. Baking your turkey bacon in batches will help clear space for proper cooking.
Line your baking sheet: Line your sheet pan with aluminum foil or parchment paper before cooking your turkey bacon for super easy cleanup. Even if you use a wire rack, I recommend lining the sheet pan underneath.
Recipes You Can Use Oven-Baked Turkey Bacon
Turkey bacon recipes are versatile, flavorful, and positively mouthwatering. Top your favorite meals with turkey bacon or eat it by itself. However you serve them, these great recipes are sure to please!
As a topping for soups: Nothing adds more scrumptious, savory depth to a bowl of soup than crisp turkey bacon. Just chop up your oven baked turkey bacon into bite-sized crumbles and add them to your bowl.
As a topping for salads: Want to add a delectable crunch to your five-star salad? Turkey bacon is the way to go! Add delicious turkey bacon crumbles to any salad recipe—like my Broccoli and Cauliflower Salad—and you'll want to lick your bowl clean.
With eggs for breakfast: No breakfast is complete without a few slices of turkey bacon. Start your day off right with this rich, protein-packed addition.
FAQs
Whether you want to know whether you can cook turkey bacon in the oven or how to cook turkey bacon healthy, this collection of most-asked questions is just for you!
Is turkey bacon healthy?
Though it's delicious, turkey bacon is processed meat that often contains chemical preservatives and lots of sodium. Similar to traditional bacon turkey bacon isn't the most nutritious food option. Still, it has a lower fat content and fewer calories than regular pork bacon, making it a healthier option.
How long to cook turkey bacon in the oven?
Depending on the temperature, your turkey bacon cook time will vary. Generally, turkey bacon will need 15-17 minutes in the oven at 400 degrees Fahrenheit and about 20 minutes at 350 degrees Fahrenheit.
What temperature to cook turkey bacon in the oven?
I suggest cooking your turkey bacon at 400 degrees F to ensure maximum crispiness. However, you can also cook it at 350 degrees Fahrenheit if you prefer a lower temperature.
How long to bake turkey bacon at 400?
Prefer to cook your turkey bacon at high heat? Your turkey bacon will need to cook for 15-17 minutes in a 400-degree oven. You'll also need to flip your strips after the first 10 minutes of baking.
How long to bake turkey at 350?
Want to bake your turkey bacon at a lower temperature? No problem! You'll need to cook your bacon for about 20 minutes at 350 degrees Fahrenheit. Remember to flip your strips after the first 15 minutes.
How to know when turkey bacon is done?
To know if turkey bacon is cooked, check its color. Though cooking times may vary, cooked turkey bacon should be a crispy, rich brown. When you remove your turkey bacon from the oven, you should not see any pink or translucent meat.
If you try this Baked Turkey Bacon recipe or any other recipe on Foolproof Living, please take a minute to rate the recipe and leave a comment below. It helps others who are thinking of making the recipe. And if you took some pictures, be sure to share them on Instagram using #foolproofeats so I can share them on my stories.
How To Cook Turkey Bacon In The Oven Recipe
Learn how to bake turkey bacon in the oven with these easy steps. To me, this is the best way of cooking turkey bacon and it produces the crispiest turkey bacon in the end.
Print Recipe
Ingredients
1

package Uncured Turkey Bacon

(8 ounces)
Instructions
Preheat oven to 400 degrees Fahrenheit.

Line turkey bacon slices on the wire rack making sure not to overlap.

Bake in the preheated oven for 10 minutes. Remove from oven, flip them and bake for another 5 minutes.
Notes
What if I don't have a wire rack?

If you do not have a wire rack, cook them on a sheet pan lined with parchment paper following the same procedure: Bake for 10 minutes and then flip and bake for another 5 minutes. At the end of the second 5 minutes, flip the bacon one more time and bake for 2 more minutes. Flipping them twice delivers the crispiest turkey bacon.

The calorie information listed is for one strip of turkey bacon.
It is best to serve baked turkey bacon on the day that it is cooked. However, it can be stored in an airtight container in the fridge for up to 3 days.
Nutrition
Calories:
53
kcal
|
Carbohydrates:
1
g
|
Protein:
4
g
|
Fat:
4
g
|
Saturated Fat:
1
g
|
Polyunsaturated Fat:
1
g
|
Monounsaturated Fat:
2
g
|
Cholesterol:
14
mg
|
Sodium:
320
mg
|
Potassium:
55
mg
|
Calcium:
1
mg
|
Iron:
1
mg
Like this recipe? Consider sharing: