There is something to be said about being very good at what you do.
As a fairly new blogger, I must admit – I missed that feeling. All my pre-blogging life I worked as a hotelier and was told that I was good at it.
In the direction I was going, I thought that I would end up being the General Manager of a luxury hotel and spend the rest of my life working long hours in the hospitality industry. I hoped that all those years of working in a hotel eventually would pay off and award me with a successful career in the eyes of myself and others.
However, as it usually happens, life threw me a couple curve balls, which changed the direction of my life dramatically.

First, we moved to an island where finding a job and continuing my career was not as easy as I had hoped. Second, I lost my mother suddenly to a heart attack.
Needless to say, under the current conditions of this new life, I was lost for awhile.
During this time, I spent countless hours doing the things that I had no time to do while I was working at a hotel. Simple things like reading a book on the beach, watching a TV show, or hanging out with my friends. With all the free time I had on my hands, I spent my days doing those things to occupy myself. Though it was fun in the beginning, after the first couple of months, it turned out that I was struggling with the feeling of being lost. Because, I later realized, I was addicted to the fast paced environment of the corporate life and was craving it.
It didn't take me too long to come to the conclusion that, contrary to what most people may think, even the beautiful beaches of Virgin Gorda could get boring after a while.
I was in need of something to fill this empty space. Something that would bring meaning to my life…
Then the idea of blogging came about. At first I was hesitant, thinking that no one would want to read what I have to say. But I gave it a shot and stuck to it. I am glad I did.
This month marks the first year of Foolproof Living. With close to 130 recipes, lots of new friends that I have met through blogging, and a new appreciation for writing and photography, I feel like I have accomplished something. Something that is meaningful to me.
However, just as it is in every career, I know that there is so much to learn and there is a long road ahead of me.
Over the course of this year, I realized that I enjoyed photographing food as much as I enjoyed cooking it. It gave me such a feeling of accomplishment to hear from my friends, family, and readers that they love the photographs as much as they love the recipes.
To get better at it and educate myself, I read everything I could get my hands on, followed some of the most amazing food bloggers out there, and practiced as much as I could. However, after a year of practicing on my own, I felt like I needed a little direction and feedback from someone in the industry.
Therefore, my friend Christina's visit to Virgin Gorda couldn't have come at a better time for me.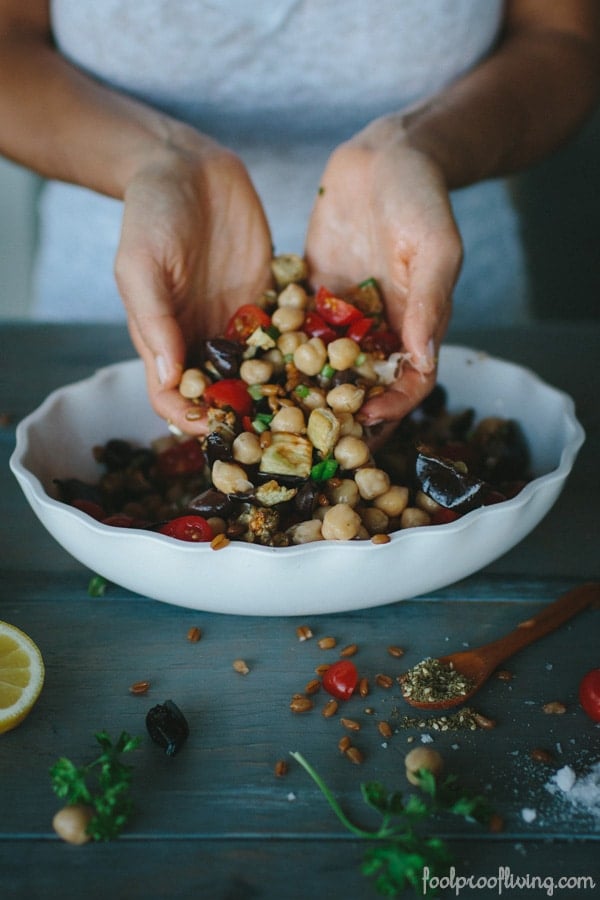 Christina is a professional traveling portrait and wedding photographer. In my opinion, she is one of those people who is very good at what she does.
We spent the whole of last week talking about lighting, composition, and telling a story through photography. Our time together gave me a different perspective that I hadn't had before.
For instance, up until this week, I was scared of having negative space in my photography. I felt as though I had to fill every corner of the shot with something. Every photograph I took was carefully staged. In a way, it was not real.
Another example is that I was hesitant of including shadows, concerned that they would make my images look crowded or imperfect. I always used a reflector to light the food perfectly, ensuring that there were no shadows covering the food. Again, not real…
Throughout the week, I learned that telling a story of how that dish came about is as important as photographing the end product staged in a perfect setting.
Christina and I made this Mediterranean Chickpea, Farro and Za'atar Salad together. Or, I should say, I made it and she photographed it as I was making it.
Through photography, we told the story of making our dinner, a salad made with healthy everyday ingredients typical of Mediterranean cuisine. She helped me understand how important it is that my readers know what goes into making a dish. Instead of staging the food on the table with a reflector in one hand and a diffuser in the other, she shot my hands as I was chopping and mixing the ingredients and holding the finished product in my hands.
As we photographed this delicious yet super simple salad, I felt liberated to know that what makes food photography so good is the story being told by showing the shadows, imperfections of the ingredients, and hands preparing the food.
After a week spent with a professional, I feel as though I have a better appreciation of photography and story telling through it. I am aware that it will take time for me to get to where I want to be, but I feel like I have an idea of the direction I have to follow to get there.
Mediterranean Chickpea, Farro, and Za'atar Salad
Chickpea Za'atar Salad with farro for a light and filling salad recipe you can make in no time. If you are into Mediterranean flavors and are in need of a healthy and wholesome salad recipe, you've come to the right place. This vegetarian farro chickpea salad is flavored with za'atar, feta cheese, and roasted veggies for a complete delicious meal for any day of the week.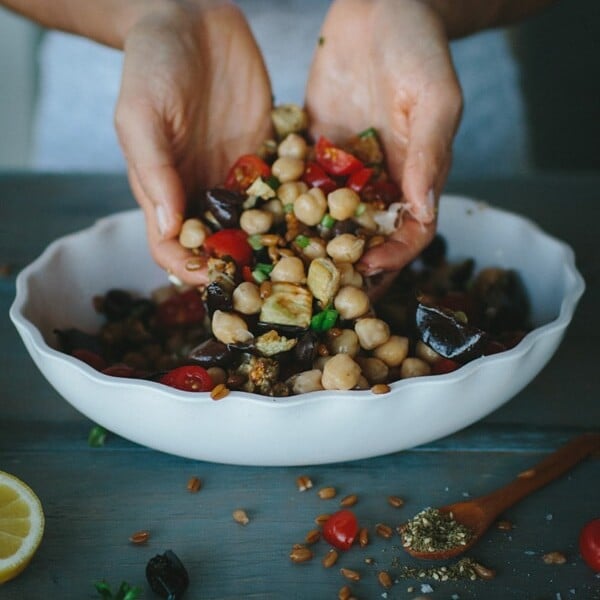 Print Recipe
Ingredients
2 1/2

cups

water

1

cup

farro

rinsed and drained

1

medium sized eggplant

peeled and cut into small cubes

3

tablespoons

olive oil

divided

2-3

tablespoons

lemon juice

freshly squeezed

1

14 oz. can chickpeas, drained and washed

2

scallions

chopped both green and white parts

1

cup

Kalamata olives

pitted and chopped

4-6

ripe tomatoes

chopped

1/4

cup

Italian Parsley

chopped

3

tablespoons

za'atar spice blend

coarse sea salt and black pepper

1/2

cup

feta cheese

crumbled
Instructions
Preheat the oven 350 Degrees. Place eggplants on a baking sheet, drizzle with 1 tablespoon olive oil, sprinkle it with salt and pepper. Toss to mix. Roast for 35-40 minutes. Set aside to cool.

In the mean time, place water and 1 teaspoon salt into a medium size saucepan and bring to a boil. Stir in the farro. Turn the heat to low, and cook for 30-35 minutes or until it is chewy. Drain and set aside.

In a small mixing bowl make a quick vinaigrette by whisking 2-3 tablespoons of olive oil, lemon juice,1 teaspoon salt, and 1/4 teaspoon freshly ground black pepper.

In a large mixing bowl, place chickpeas, scallions, tomatoes, eggplant, farro, and fresh parsley. Drizzle the vinaigrette over.

Using your clean hands toss to combine. Top it off with feta cheese and sprinkle it with za'atar. Taste for seasoning and add if necessary.

Serve.
Nutrition
Calories:
410
kcal
|
Carbohydrates:
51
g
|
Protein:
10
g
|
Fat:
21
g
|
Saturated Fat:
5
g
|
Cholesterol:
17
mg
|
Sodium:
754
mg
|
Potassium:
490
mg
|
Fiber:
14
g
|
Sugar:
6
g
|
Vitamin A:
728
IU
|
Vitamin C:
13
mg
|
Calcium:
205
mg
|
Iron:
6
mg
Like this recipe? Consider sharing: