A round-up of 17 bright and healthy Spring Salad Recipes that go way beyond lettuce or spring mix. Scroll down to see some of my favorite spring forward salad recipes to get you inspired about all the new seasonal produce in stores and farmer's markets.
This post was originally published in March 2019, but it is updated with new recipes in April 2020.
It snowed yesterday and the day before. Both times I felt like crying. But this morning, I woke up to the sound of birds chirping outside. Yes, there is still snow on the ground and it is currently 19 F degrees (-7 Celcius). However, I know that birds being here means that spring is finally coming.
I cannot be happier.
In honor of spring finally making its way here to Vermont, today I am sharing some of my favorite Spring Salad Recipes. If you are like me, excited about all the fresh early spring produce hitting the shelves, get ready to read through some unique salads that will get your inspiration juices flowing.

Some of the recipes you will see below are from my archives while others are from a few of my favorite blogs. I hope that they will inspire you to get in the kitchen and play with all the new produce coming our way with the new season.
01
---
I think this Cucumber Tomato Mozzarella Salad is the quintessential warm-weather salad. Drizzled with homemade balsamic vinegar dressing, it is easy and quick to make and so flavorful. If you are in need of a simple tomato salad recipe, you will love this recipe.
---
02
---
I don't know about you, but I am a lover of easy salads for lunch and this Chickpea Tuna Salad is one of my go-to recipes as soon as local farmers start selling their freshly picked salad greens.

Mixed in with canned tuna, chickpeas, cucumbers, and radishes, it is a filling, healthy, and protein packed salad you can make in no time.
---
03
---
Talk about a meal-worthy salad that has all the right components to fill you in a healthy and guilt-free way.
This vegan Roasted Cauliflower Salad is packed with lentils, fresh dates, red onions, crunchy roasted almonds, and flavored with tahini dressing. It may sound (and look) like so much is going on in one salad, but believe me, each sweet and savory component of this recipe is there to complement one another.
Whenever I serve this salad to friends and family, I always hear the same comment that is something in the lines of, "This is one of the most unique salads I have ever had?"
---
04
---
Traditionally made with fine bulgur, tabbouleh is a Middle Eastern staple that is made with mixing various fresh herbs with onions and tomatoes.
My version here is made with quinoa, which can easily be found in all supermarkets. Mixed in with fresh herbs and scallions this is one of my favorite fresh salad recipes that I make on Sunday and eat throughout the week.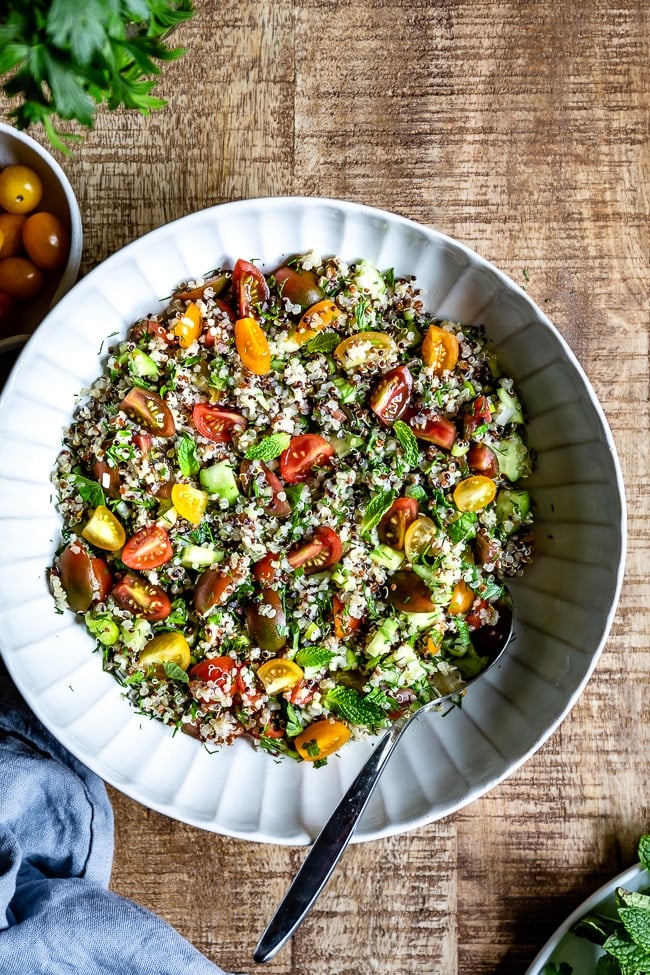 ---
05
---
If you are an avocado lover, I think this avocado packed quinoa salad is truly the best springtime salad. It comes together in just about 20 minutes. It is easy to make, filling, and perfect as a side dish or a meal worthy lunch.
Can't get enough of quinoa salads? If so, be sure to check out my Mediterranean Quinoa Salad recipe as well.
---
06
---
I don't know about you, but Southwestern flavors remind me of warm weather. And this Southwestern-Inspired chicken salad is one of my go-to entree salad recipes that I serve as soon as it starts to warm up outside.
With all our favorite Southwestern flavors put in a bowl, topped off with roasted chicken, drizzled with creamy avocado salad dressing and turned into a healthy dinner, this healthy springtime salad recipe is guaranteed to please everyone in your family.
And if you are a fan of Southwest-inspired salads and want more, be sure to try my Southwestern Quinoa Salad recipe.
---
07
---
The recipe for this Spring Greens Salad with Fennel, Radish and Miso-Buttermilk Dressing comes from my friend Alana of Bojon Gourmet. She is my go-to source for creative gourmet salad ideas.
In addition to being one of my favorite food photographers, she shares some of the most interesting (and yummy looking) recipes on her website. I am a big fan of miso-based salad dressing and can only imagine the richness of her miso – buttermilk dressing drizzled on fresh spring vegetables.
---
08
---
I think we can all agree that nothing screams spring more than fresh and candy-like strawberries. They bring you a sense of hope (after a long and brutal winter) when they become available at the beginning of March.
I love a good strawberry spinach salad drizzled with poppy seed dressing. But let's face it, the ones you order in restaurants are high in calories. My version here is packed with fresh salad greens (aka spinach and arugula) and drizzled with homemade and lightened-up poppy seed dressing.
Put this in your healthy spring salads to-do list and give it a try next time you get strawberries. I promise it won't disappoint.
---
09
---
I always use radish as an accent and color in my salads. And to be honest, other than that, I never know where else to use them.
If you are like me, you should check out this Radish Salad from my friends Yusuf and Zerrin of Give Recipe. Made with only a few ingredients, it is a great way to use up all the radish that is currently in abundance in farmer's markets.
---
10
---
This Orzo and Roasted Shrimp is my go-to picnic salad. An old Ina Garten recipe, I have never met anyone who does not like it. If you want to up your pasta salad game and impress your guests, this is one of the most amazing salads I know.
---
11
---
Have you ever tried forbidden rice? It is also called black rice. I wrote a long post about everything you need to know about it here in this Forbidden Rice recipe blog post.

If you have never tried black rice, I think this Forbidden Rice Salad is a great recipe to start. Or you can try my version of Black Rice Salad with Asian flavors.
I have been following her website for years and have always found it to be a great source of inspiration. This bright spring salad is no different. I'd say sweet and savory flavors combined with crunchy cashews and homemade coconut curried dressing sounds as beautiful as it looks. What do you think?
---
12
---
When it comes to salad recipes for spring there is a fine line between winter produce and spring produce.

This citrus beet salad (that I photographed and shared on Hither and Thither) is a great combo of winter citrus fruit mixed in with spring beets on a bed of whipped yogurt and topped off with hazelnuts and tarragon.
I know it sounds like a crazy combination, but it is one of the most creative and different salad recipes I make and get compliments all the time.
---
13
---
Growing up in Turkey, halloumi was a favorite cheese in our household. Come summertime, my dad would grill it and we would put it on everything.
This Halloumi Salad with Beets and Blackberries from my friend Liren of Kitchen Confidante® takes me to my childhood.
---
14
---
Love a good spring potato salad? Me too.
In the last few months, this Deviled Egg Potato Salad has been my go-to potluck and party dish. I know that Easter is around the corner, but with all the spring and summer parties coming up I thought my mayo-free and healthier take on potato salad recipe might come handy to you as well.
---
15
---
My friend Alexandra of Occasionally Eggs makes some of the most mouthwatering salad recipes for spring.
And this warm new potato salad recipe flavored with asparagus, lentils and greens and drizzled with a lemony mustard dressing makes is no different. It is a gorgeous spring potato salad recipe that happens to be vegan as well.
---
16
---
I don't if it would be right to write a roundup of spring salad recipe ideas and not include a bean salad.
This Black Bean and Corn Salad is one of my favorite springtime salads when I am serving a crowd. Served with tortilla chips on the side, it is one the first dishes that disappears soon after it is served.
---
17
---
My lightened up version of Creamy Cucumber Salad is one of the easiest spring salad recipes you can make. Made with just a few ingredients, it is an easy to make recipe that is ready in less than 20 minutes.
---
18
---
Love beans? If so, you owe it to yourself to try this Texas Caviar. Made with a combination of black beans and black-eyed peas, this delicious salad recipe is one of the easiest spring salads to serve to a crowd.
---
19
---
As soon as the weather starts warming up I feel the switch from chilis and soups to salads. This Mediterranean-inspired chicken salad is one of those spring dinner salad recipes that can be served as a meal all by itself. It is incredibly flavorful and filling. Not to mention, it is perfect for meal planning.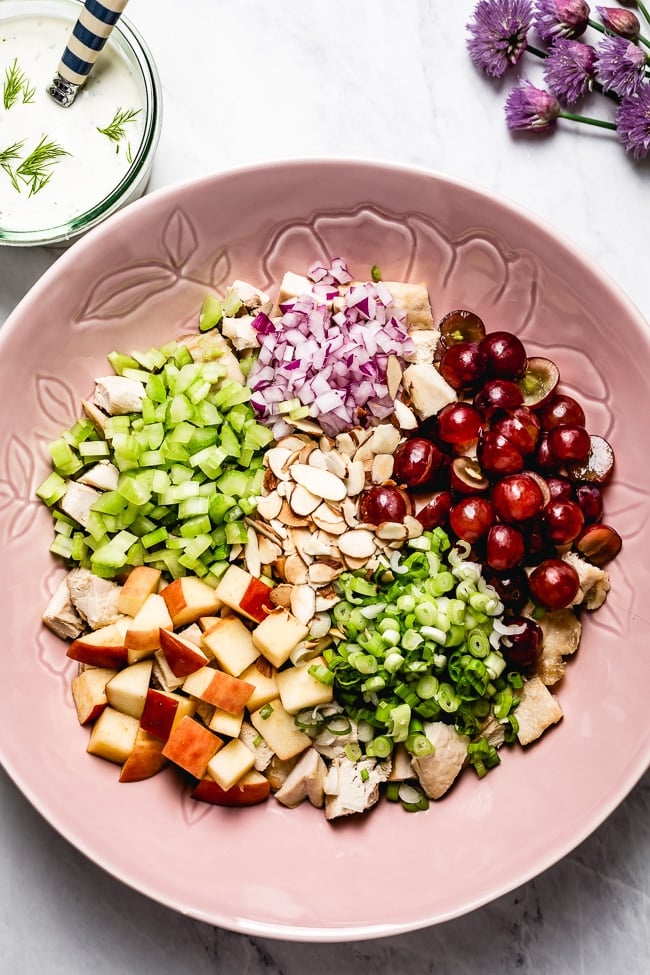 ---
3 TIPS FOR THE BEST SPRING SALAD RECIPES
Before I let you go, I wanted to give you a few of my tips on making the best spring-inspired salad recipes to get to help you as you make your own salads with all the fresh early spring produce that is currently in abundance.
Visit Your Local Farmers Market For The Best Produce: We are lucky to live in a day and age that we have access to most of this produce year-round. However, I love visiting my local farmer's market to find true seasonal produce. This not only helps me support the local farmers but also allows us to have access to the freshest (and most delicious) produce out there.
Make Your Own Salad Dressing: I have a hard time understanding people who buy salad dressing from a supermarket. I am sure it is convenient, but I promise making your own salad dressing is just as convenient. I also think that it is key to making deliciously good spring salads. And you know everything that goes into it. Here are a few of my favorite salad dressings to get you started – Creamy Avocado Salad Dressing, Chili Lime Vinaigrette , Lemon Vinaigrette, and Lemon Dijon Vinaigrette
Feel Free to Mix and Match Salad Greens and Herbs That Are in Season: I am a big fan of experimenting with mixing and matching various salad greens with fresh herbs, fruits, and vegetables. I use one of my favorite books, aka my secret weapon when it comes to recipe creation, Vegetarian Flavor Bible (affiliate link) to find the best combinations and create delicious salads.
Like this recipe? Consider sharing: