Made with a combination of assorted mushrooms, this vegan mushroom ragout with farro is a healthy, nutritious and heartwarming bowl of comfort food, especially if you are a lover of mushrooms. It comes together in less than an hour and stores well if you want to make ahead to put it on the table on a Tuesday night.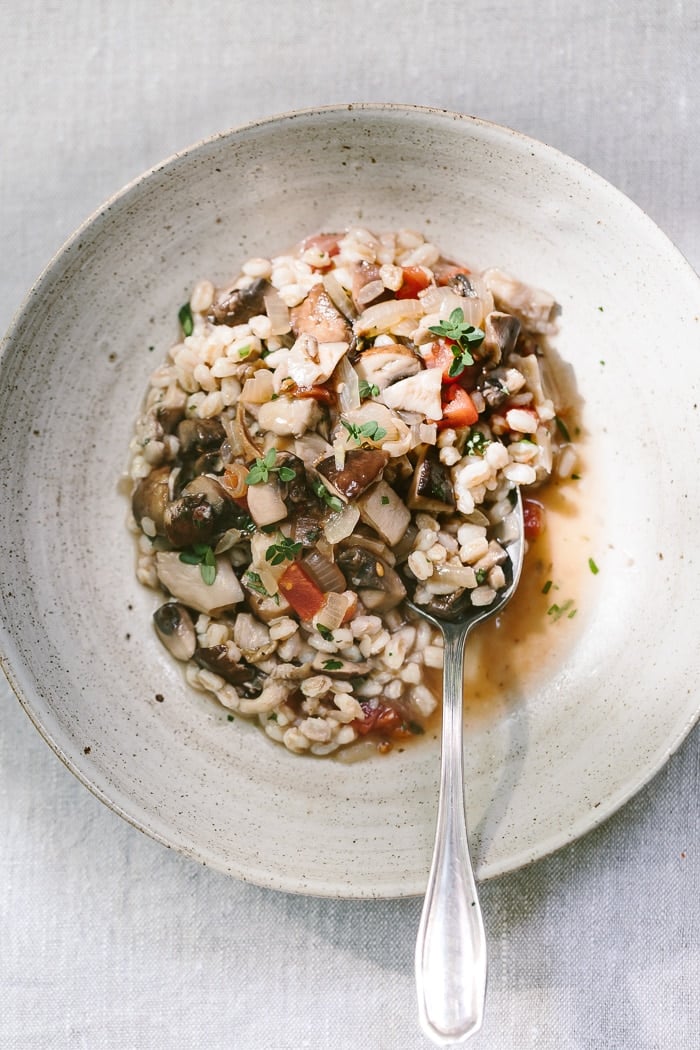 How is it September now? Time flies, isnt' it? It is hard to believe that summer is almost over. As I type this, it is raining like cats and dogs outside and autumn is surely in the air here in South Vermont. Looking outside my window, it looks dark and chilly. In a strange way, I am loving this weather and how productive it makes me feel. Thanks to the shawl on my shoulders and the hot cup of tea next to my computer, I am enjoying every minute of the season change. I don't know about you but when the weather is like this, I find myself craving a bowl of warm comfort food. Something warm, nutritious, healthy, and homemade. So here I am today with this vegan mushroom ragout, which I think is the dictionary definition of comfort food.
About This Mushroom Ragout with Farro Recipe:
Farro vs. Pasta:
The recipe for this dish comes from America's Test Kitchen's new Make-Ahead Cookbook, which we will talk about more in a minute. I choose this recipe from the book, because (1) I love mushrooms and (2) I thought serving mushroom ragout with farro was such a good idea. In the past, when I made mushroom ragout I would usually go for pasta as a pairing. However, after trying this version I found that the combination of farro was far more superior. I would also think quinoa would be nice as well, but folks at America's Test Kitchen tried making it with quinoa, but it did not stand next to the big bites of mushrooms.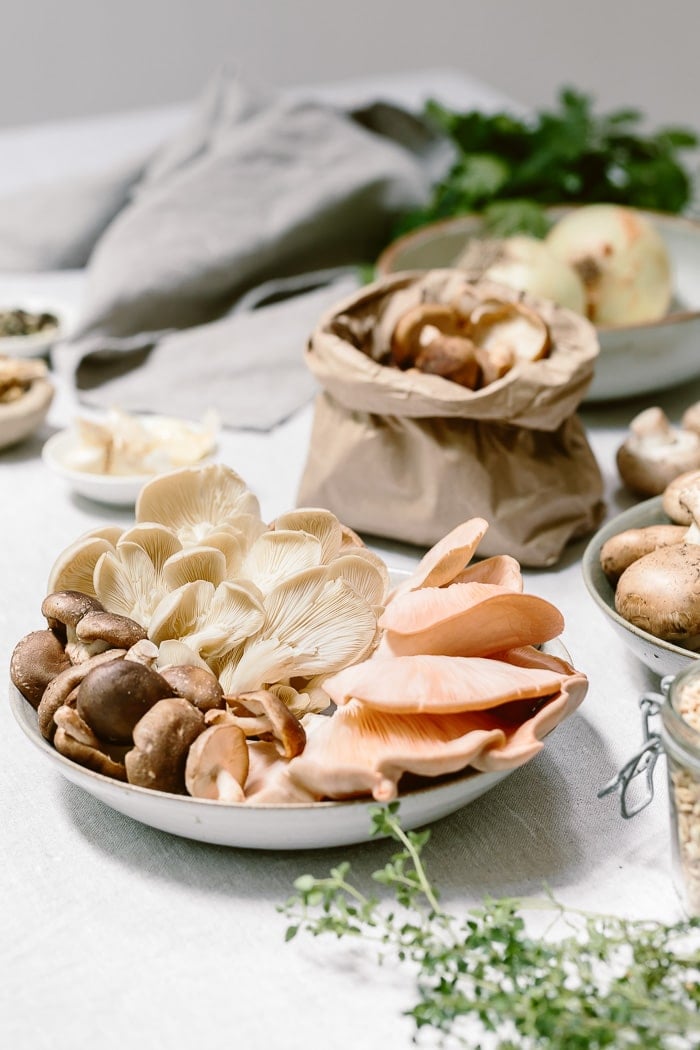 Assorted and Portabello Mushrooms:
If you are a lover of mushrooms, you are in for a treat. This recipe uses a combination of portobello and assorted (some people also call wild mushrooms) mushrooms. I usually buy my mushrooms from a local purveyor at our local farmer's market. For this recipe, in addition to portobella mushrooms, I used some pink oyster and shiitake mushrooms. They worked out perfectly, but it would still work with whatever mushroom you can get your hands on. I bet cremini and chantarelle mushrooms would also go well in this recipe.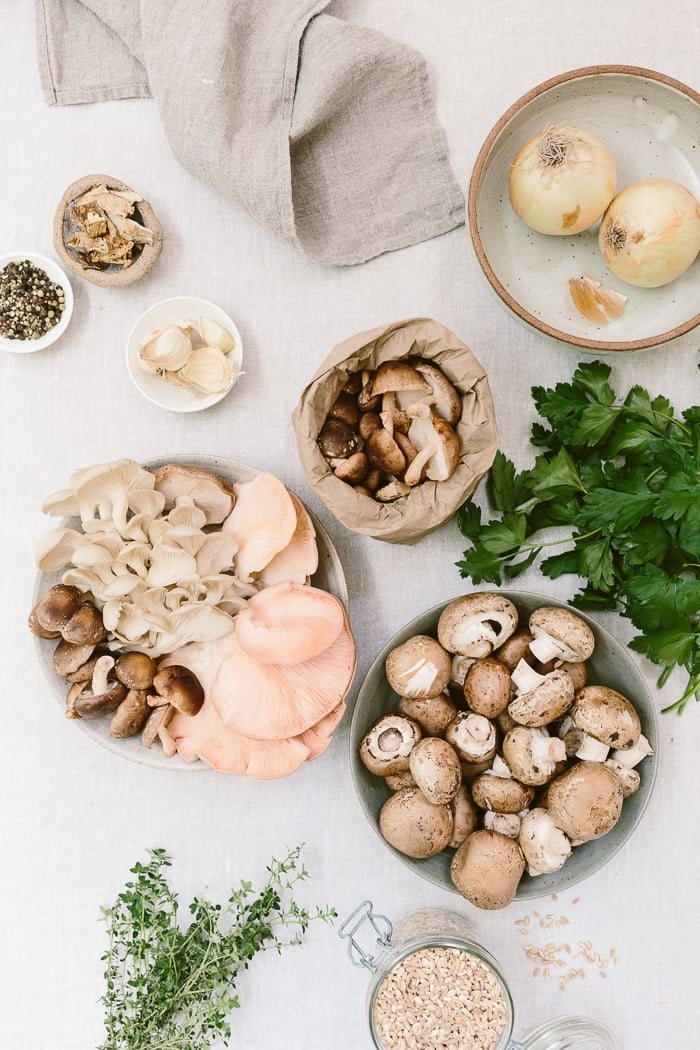 Quick America's Test Kitchen Tip on Cleaning Mushrooms:
I always thought that you are not supposed to wash mushrooms under running water. Instead, I thought that it was better to use a soft brush or paper towel to wipe the dirt off. Every time I clean mushrooms that way I would second guess myself feeling that I might not have cleaned it enough.
Thanks to the folks at the America's Test Kitchen I no longer need to worry about it as they found that mushrooms gain a very minimal amount of water (¼ ounces of water for 6 ounces of mushrooms) if they are washed right before they are cut. With that being said, if you are planning to eat your mushrooms raw, they suggest against washing as it would cause discoloration. So if you are planning to cook your mushrooms, from now on feel free to wash them under cold running water and spin them in a salad spinner right before cutting them.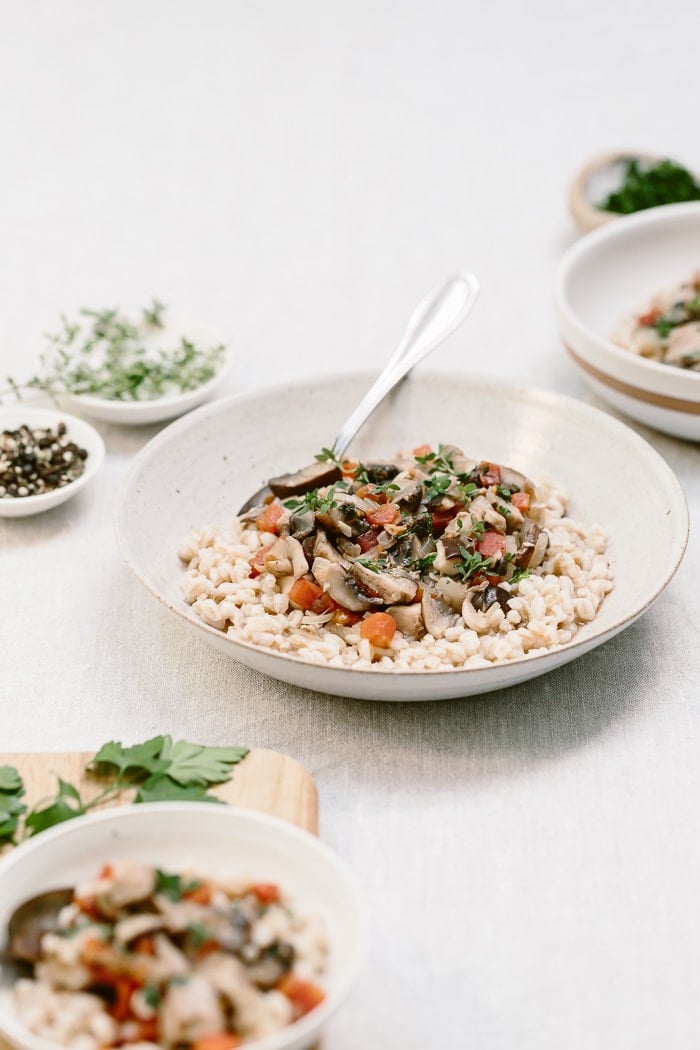 Madeira Wine For Amazing Flavor:
If you take a quick look at the recipe below, you will see the Madeira wine as one of the ingredients. This was my first time using Madeira wine in my cooking. To be quite honest, I didn't even know what it was. However, after a quick google search I found that Madeira is a sweet fortified wine made in the Madeira Islands in the coast of Portugal. While it is usually served with dessert, it is also commonly used in cooking.
At first I was discouraged a little bit as I didn't want to buy a whole bottle to only use a quarter cup of it in this recipe. However, I was surprised to see that even our small liquor store here in Manchester had several Madeira wines available with different price points. The bottle I bought was a small one and it was only $4.00. After the first bite, I thought that the sweet (acidic) flavor coming from the wine balanced the flavors of the mushrooms perfectly so it was well worth the $4 I spent.
However, if you do not want to make the trip to the store, this post I found online suggests that you can also use Marsala wine, dry port or sherry as a substitute.Please note that I have not tried making this dish with those substitutions so use your discretion as you follow the recipe.
About The Complete Make Ahead Cookbook:
As it is usually the case with everything that America's Test Kitchen publishes, I think that this cookbook is yet another masterpiece that you should add into your cookbook collection. The book offers tips and tricks on creating a kitchen to help you make dishes ahead to provide your family with a healthy homemade meal even after a long day at work. In addition, it is a resource, where you can find a little bit of every type of recipe ranging from appetizers, soups and stews, salads, to vegetarian and meat main dishes. The recipes are carefully selected with detailed information as to how to make it in advance. Moreover, as the tip I shared earlier about cleaning mushrooms, the book is full of information on ingredients and techniques.
In addition to this mushroom ragout with farro recipe, I also made their summer vegetable gratin and spicy beef taco bake from the book and they both turned out great. So go get this book and start cooking. I promise it won't disappoint.
Mushroom Ragout with Farro
Made with a combination of assorted mushrooms, this vegan mushroom ragout with farro is a healthy, nutritious and heartwarming bowl of comfort food, especially if you are a lover of mushrooms. It comes together in less than an hour and stores well if you want to make ahead to put it on the table on a Tuesday night.
Print Recipe
Ingredients
For the farro:
1 ½

cups

of whole farro*

3 ½

cups

vegetable broth

Salt and pepper
For the Mushroom Ragout:
2

tablespoons

extra virgin olive oil

1

medium onion

chopped

3

cloves

of garlic

peeled and minced

1

teaspoon

fresh thyme

minced

1

pound

portobello mushrooms

halved and sliced

18

ounces

of assorted mushrooms

trimmed and halved (I used a combination of oyster and shiitake)

¼

cup

dry Madeira

1

(14.5 ounce) can diced tomatoes

2

tablespoons

fresh parsley

minced

2

tablespoons

balsamic vinegar
Instructions
To cook the farro: Place whole farro and vegetable broth in a medium saucepan and cook over medium heat until farro is tender and creamy, for 20-25 minutes. Season with salt and pepper, cover with a lid and keep warm.

To make the mushroom ragout: Heat olive oil in a Dutch pan (or any heavy bottom pan). Add in the onion and cook until softened and lightly browned. Add in the garlic and thyme and cook, stirring constantly, for 30-45 seconds.

Stir in the portobello and assorted mushrooms and cook, stirring frequently, for 10-15 minutes or until the mushrooms are softened and released their juices.

Stir in the Madeira and tomatoes. Give it a gentle stir. Let it simmer for 7-8 minutes or until the sauce is slightly thickened.

Off the heat, stir in the parsley.

To serve: Spoon some farro onto a plate and top with mushroom ragu. Drizzle it lightly with balsamic vinegar.
Notes
If you can't get your hands on whole farro, you can use pearled farro as well. However, the texture and time of cooking might be different. Simply follow the instructions on the packaging for the best results.

To make ahead: Cook mushroom ragout and farro separately. Store them in airtight containers separately in the fridge. When ready to serve, warm them up in the microwave or in a skillet (separately) and serve as directed in the recipe instructions.
A quick note about the change I made to the original recipe: In the original recipe, they precooked the mushrooms in the microwave for 5 minutes (covered with plastic wrap) before mixing them with onions, thyme and garlic. Since we do not own a microwave I wasn't able to do so. However, you can shorten the process by precooking the mushrooms in the microwave.
Nutrition
Serving:
1
g
|
Calories:
294
kcal
|
Carbohydrates:
53
g
|
Protein:
10
g
|
Fat:
6
g
|
Saturated Fat:
1
g
|
Sodium:
665
mg
|
Potassium:
868
mg
|
Fiber:
11
g
|
Sugar:
8
g
|
Vitamin A:
511
IU
|
Vitamin C:
12
mg
|
Calcium:
49
mg
|
Iron:
3
mg
Editor's note: This recipe was adapted with (several minor) changes from the The Complete Make-Ahead Cookbook
. I was given a copy of this cookbook as a gift, but all opinions in this blog post are mine. I truly enjoyed cooking from this book and will be cooking from it in the years to come.
You Might Also Like Like this recipe? Consider sharing: