I do not know you, but picking a favorite pie for thanksgiving is a really hard decision for me. It is the same story every single year. Should I go with the pumpkin pie, apple pie, or the pecan pie? Even though, every year before the big day, I promise to myself to only eat one type and one slice, I can never stick to my decision and end up eating way more than I should resulting in a painful stomachache afterwards.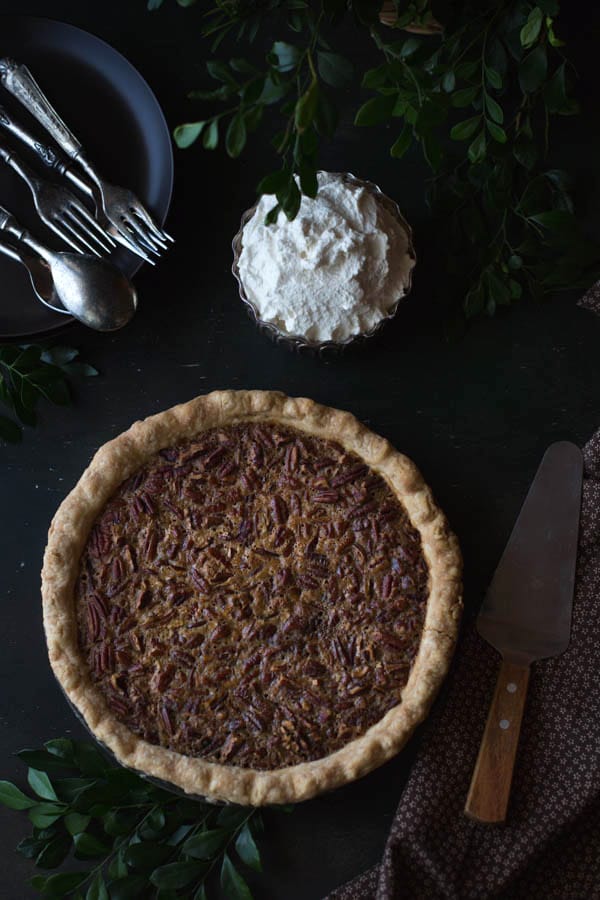 But this year, I am very serious. I am only going to stick to one pie and one pie only. And it is going to be this Old-Fashioned Maple Pecan Pie. I guess, I think of all the autumn pies, this one is my truly favorite one. So this year instead of eating outside, like most islanders do, we are eating at home and this pie is the only desert we'll have.
What I love about this recipe is that (1) it uses maple syrup instead of corn syrup, which we all know, is healthier, (2) it doesn't require prebaking the pie dough (a huge timesaver), and (3) it is easy to make and so so so delicious.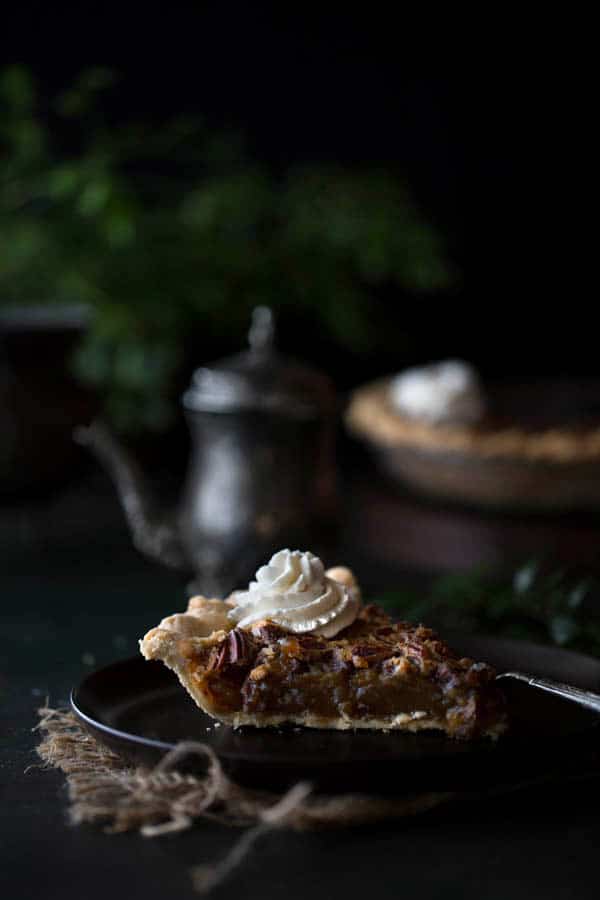 This recipe has 3 steps. First step is making the pie dough. Second one is making the filling. And the last step, which is totally optional, is making the bourbon whipped cream.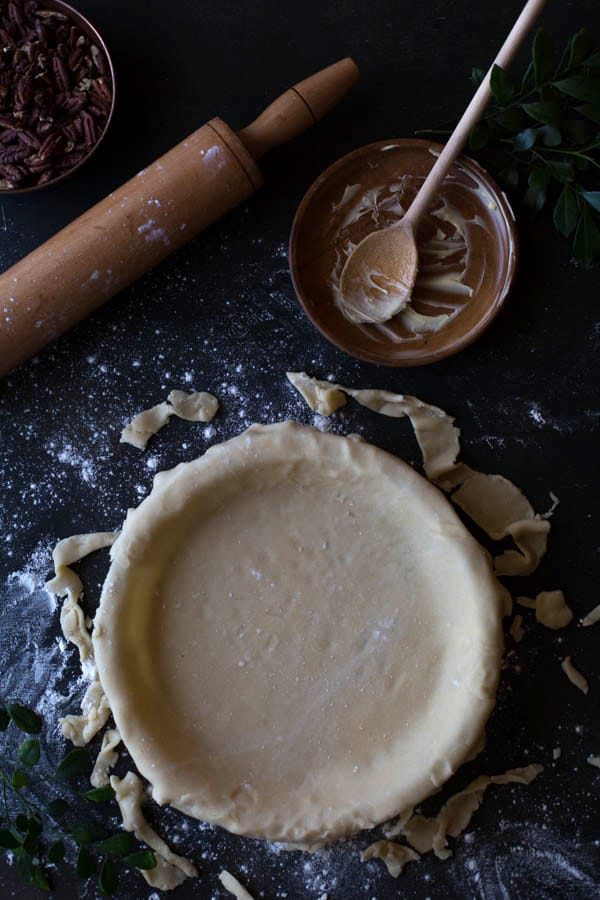 In terms of the pie dough, you have two options. You can either buy it premade from a supermarket, or you can make it yourself, which is what I prefer. I know a lot of people, who are intimidated by making pie dough at home. But the recipe I have here is really and truly foolproof. It is from The Cook's Illustrated Cookbook, which is my go-to cookbook for all of my basic recipe needs. I have used it so many times and it never failed me.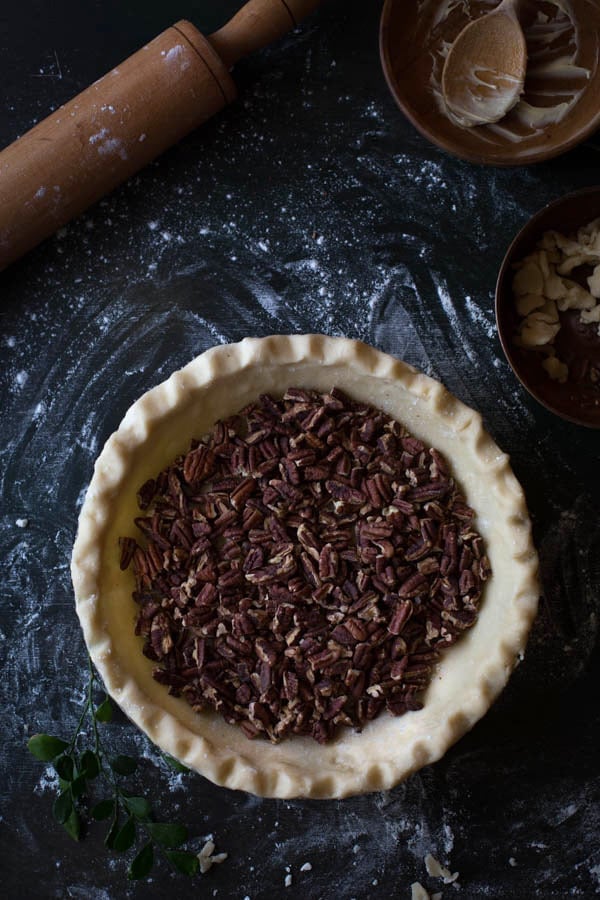 What I love most about it is that you can make it a day in advance and use it on the day of to save on time. Remember, just like everything else, when it comes to making pie dough, practice makes perfect. Though with this recipe, I highly doubt that it will take so much time for you to reach great results even if this is your first time working with pie dough.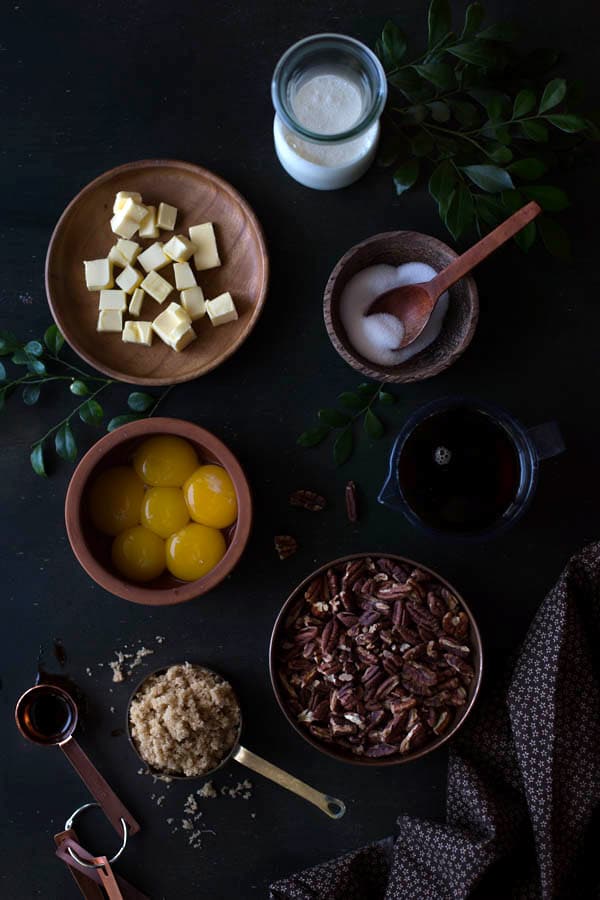 Second step is making the filling, which is rather quick. All you have to do is to warm up the sugars (molasses, brown sugar, and maple syrup) and heavy cream in a saucepan over medium-heat, allow the mixture to cool a little bit, and whisk in the eggs and salt. Then you pour it over the crust and onto the pecans.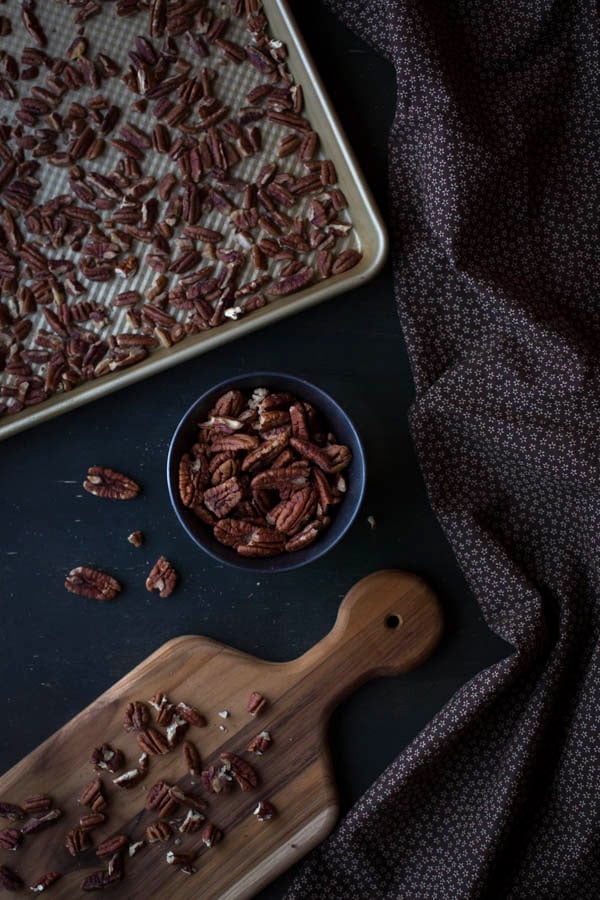 Speaking of pecans, instead of chopping them with a knife, break them with your fingers. It will give you even pieces with very little amount of dust. This way your crust will be clean and smooth. I learned this from one of my favorite food bloggers, Alanna of The Bojon Gourmet. Also, roast your pecans yourself. Believe me, it makes a huge difference. Not to mention, it is so easy to do. Pre-heat your oven to 350 degrees, spread them onto a baking sheet, and let them bake for 5-7 minutes.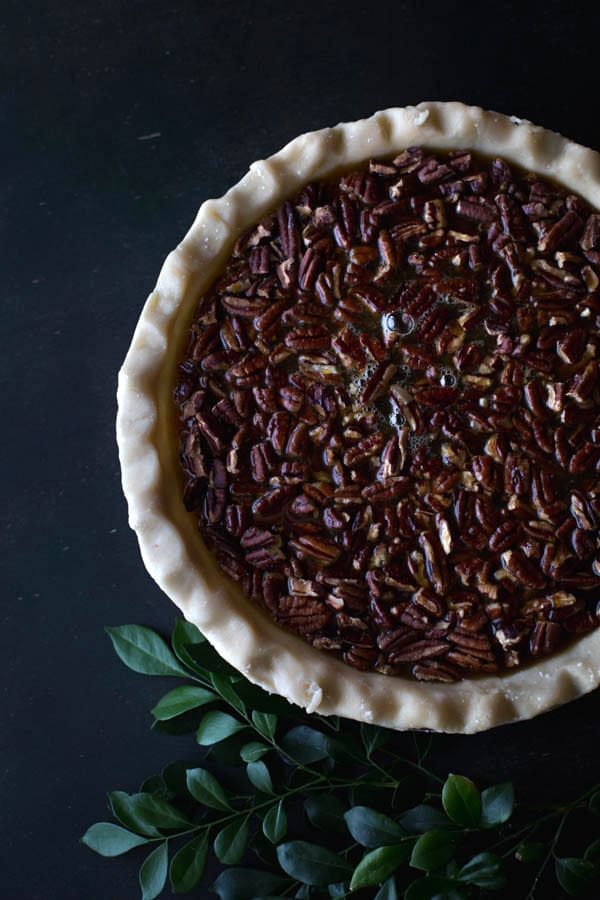 The last step, making the bourbon whipped cream, is optional, especially if you are serving this pie to children. Though I am pretty sure, adults would appreciate the addition of some booze To make it, all you have to do is to whisk sugar, chilled heavy cream, vanilla extract, and bourbon with a hand mixer for a couple of minutes. If you want, you can put it in a pipe bag with a large star tip and pipe it like I did. Or you can always spoon it on (or next to) each slice.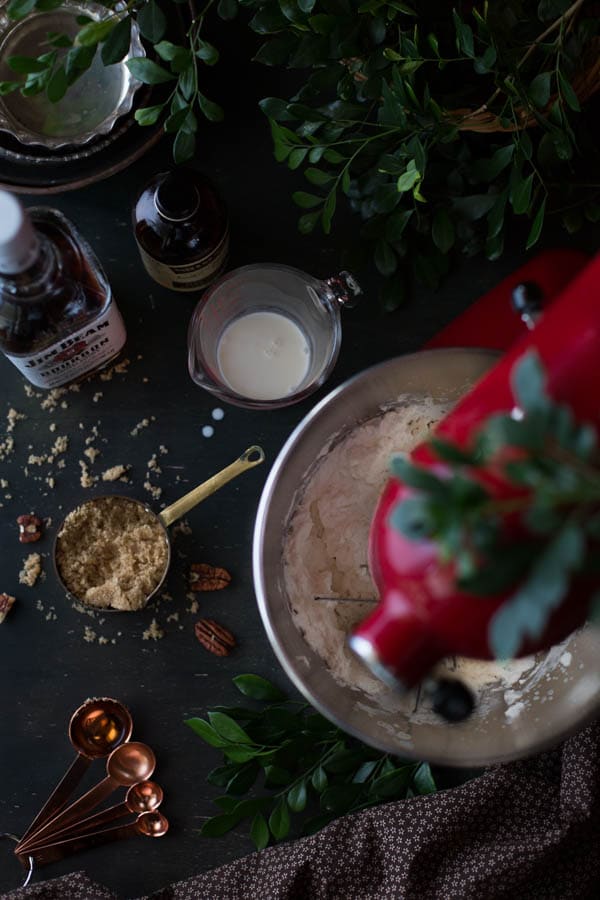 I guess the one only bad thing about this pie is the waiting part. For the best results, I recommend refrigerating it for 2 to 3 hours after it comes to room temperature. I know that it is not fun to wait, but this part is crucial for you to be able to get clean slices out of the pie pan. And do not forget, the old trick of getting a clean first slice out of a pie is cutting two slices.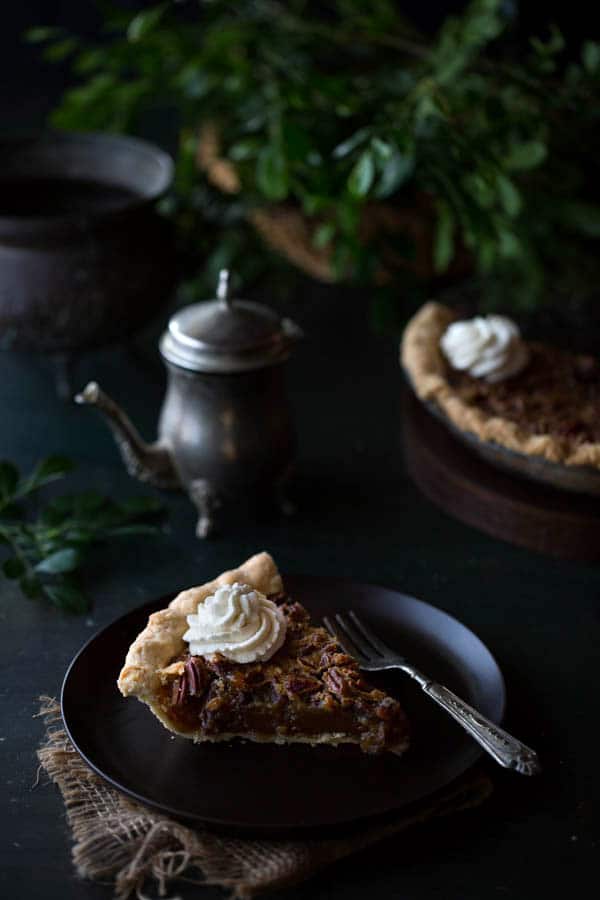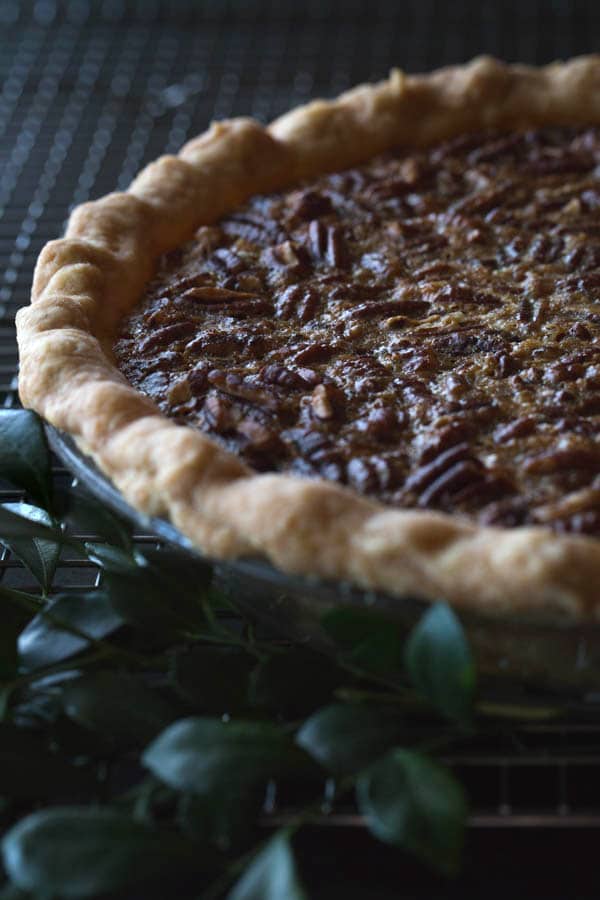 ---
Old-Fashioned Maple Pecan Pie with Bourbon Whipped Cream
Maple Bourbon Pecan Pie made with homemade pie crust. Made without the use of corn syrup and flavored with molasses and maple syrup, this pecan pie recipe takes your usual Thanksgiving pie to a whole new level.
Print Recipe
Ingredients
For the Pie Dough:
1 1/4

cups

6 (1/4 ounces) all purpose flour, plus extra for the work surface

1

tablespoon

sugar

1/2

teaspoon

table salt

3

tablespoons

chilled vegetable shortening

cut into small pieces

5

tablespoons

chilled butter

cut into small pieces

4-6

tablespoons

ice water
For the Filling:
1

cup

250 ml maple syrup

1

cup

7 ounces light brown sugar

1/2

cup

125 ml heavy cream

1

tablespoon

unsulphured molasses

4

tablespoons

unsalted butter

cut into small pieces

1/2

teaspoon

salt

6

large egg yolks

lightly beaten

1 1/2

cups

6 ounces pecans, chopped and toasted
For the Bourbon Whipped Cream:
1

cup

heavy cream

chilled

2

tablespoons

bourbon

1 1/2

tablespoon

light brown sugar

1/2

teaspoon

pure vanilla extract
Instructions
Start with making the pie dough. Process flour, sugar and salt in the bowl of a food processor for 10 seconds.

Add the vegetable shortening and process until it resembles coarse cornmeal, 10 seconds.

Add in the butter pieces and pulse until the texture resembles coarse crumbs, about 9-10 one-second pulses.

Transfer the mixture into a mixing bowl. Pour 4 tablespoons of ice water. Using a wooden spatula, mix until the dough sticks together. At this point, if it is not coming together, you can add 1 or 2 tablespoons of water.

Turn the dough onto a plastic wrap and shape it as a 4-inch round disk). Cover it with plastic wrap tightly and refrigerate for at least 1-hour upto 24 hours.

When ready to bake, take the pie dough out of the fridge and let it sit on the kitchen counter for 10 minutes to soften. Roll it out into a 12-inch circle and fit it into a 9-inch pie pan. Trim (with kitchen scissors) the excess overhanging dough, and gently fold it under. Flute the crust by pressing it between the thumb and index finger of one hand while pushing against it from the inside with the index finger of the other hand.

Place it in the freezer while you are making the filling. (It should be completely chilled for at least 20 minutes.)

Adjust oven rack to the lowest position and pre-heat the oven to 450 degrees.

To make the filling, place maple syrup, sugar, heavy cream, and molasses in a medium-size saucepan over medium heat, stirring occasionally, until the sugar completely dissolves, 3-4 minutes.

Turn off the heat and let it cool for 5 minutes.

Whisk the butter and salt into the mixture. Then whisk in the egg yolks.

Take the pie dough out of the freezer and scatter the pecan pieces equally over the pie dough.

Gently pour the filling over the pecans, ensuring that it is equally distributed over the pie.

Immediately turn the oven temperature down to 325 degrees and bake the pie on the lowest rack for 50-60 minutes or until the center jiggles slightly when it is gently shaken.

Let it cool to room temperature for an hour. Place it in the fridge for at least 2 hours before serving.

To make the bourbon whipped cream: With a hand mixer or a standing mixer (attached with the whisk attachment), mix all the ingredients in medium speed, until stiff peaks form, for 2 minutes. Top each slice with a couple of tablespoons of whipped cream.
Notes
Prep time: 30 minutes
Bake time: 1 hour
Yields: 6-8 slices – depending on the portion size
Nutrition
Calories:
669
kcal
|
Carbohydrates:
77
g
|
Protein:
5
g
|
Fat:
38
g
|
Saturated Fat:
18
g
|
Cholesterol:
223
mg
|
Sodium:
412
mg
|
Potassium:
238
mg
|
Fiber:
1
g
|
Sugar:
57
g
|
Vitamin A:
1339
IU
|
Vitamin C:
1
mg
|
Calcium:
127
mg
|
Iron:
2
mg
Adapted from cookscountry.com's recipe with the same name.
---
Like this recipe? Consider sharing: