Dwight left this morning and will be gone for a week. He went to Atlanta to take care of our taxes and see his family. I can't say I am happy that he left, but I am glad that I'll be able to catch up with the 3-weeks of blogging that I missed while I was in Chicago. So bare yourselves, lot's of new recipes coming your way.
One thing that was so surprising to see in the supermarkets of Chicago was how people became obsessed with granola in the last couple of years. Living on a small island away from city life, I guess I missed that trend.
It was somewhat surprising to see how eating granola became a part of people's daily breakfast routine. The options varied from packaged cereal versions in supermarkets to "homemade" versions in artisanal markets, or even in coffee shops, made me realize what a huge market share granola has gained since we moved to Virgin Gorda.
Above all, what amazed me the most was the variety of options targeting all kinds of taste buds and diets.
When I first made this orange polenta loaf cake, just by itself – without any toppings, I loved it the way it was. But then I thought I could make it even more flavorful, appealing to the eye, and trendy by adding the crunch factor that everyone loves.
Similar to a quickly made granola that continues the same flavor profile of the cake – orange & almond…
So in my second try- this time to photograph for the blog- I topped it off with a quick almond & oat streusel. Though a streusel is nothing like granola, after I added some oats and mixed it with some sliced (and lightly toasted) almonds, it became very close to that taste and ended up being like a moist loaf cake topped with warm, freshly baked granola.
I served it with my mom's classic loaf cake condiment, plain yogurt mixed with a little bit of honey and vanilla extract. You can also serve it with whipped cream or just by itself. Either way, this polenta loaf cake is a delicious dessert for any teatime gathering or breakfast, especially when you want to impress.
If you are a fan of orange flavors in your baking, be sure to also try this Chocolate Orange Cake. It is surely a great recipe for those who love the combo of chocolate and orange.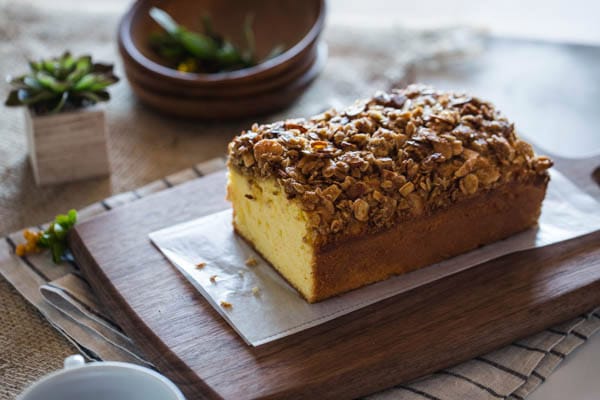 Orange Polenta Cake with Almond & Oat Streusel
Want to try something different? Make this delicious Orange Polenta Loaf Cake topped off with an oat and almond streusel. With its citrusy flavors, this simple quick bread recipe is a great addition to your breakfast or brunch spread.
Print Recipe
Ingredients
For the cake:
1

cup

all purpose flour

1/2

teaspoon

baking powder

1/4

teaspoon

salt

1/2

cup

plus 2 tablespoons cornmeal

I used the Amapola brand all-purpose cornmeal

1

stick

4 ounces unsalted butter, at room temperature

1

cup

(7 ounces) granulated sugar

1

tablespoon

orange juice

freshly squeezed

2

+1 teaspoons orange zest

from the zest of approximately two oranges – divided

3

eggs

at room temperature

1-

teaspoon

vanilla extract

1/2

teaspoon

almond extract

1/2

cup

non-fat yogurt

at room temperature
For the almond streusel topping:
1/2

cup

(1.75 ounces) dark brown sugar, packed

1/2

cup

old-fashioned oats

4

tablespoons

(2 ounces) butter, at room temperature

pinch

of salt

3/4

cup

sliced almonds

lightly toasted

For the yogurt glaze:

Optional

1/2

cup

yogurt

1/4

cup

honey

1/4

teaspoon

vanilla extract
Instructions
Preheat the oven to 350 Degrees. Butter and flour an 8 1/2 by 4 1/2 loaf pan, and set aside.

Using a whisk, mix together the flour, baking powder and salt in a large bowl. Place the cornmeal in a separate bowl. Set aside.

Place the butter, sugar, orange juice, and 2 teaspoons of the orange zest in the bowl of a standing mixer attached with the paddle attachment (you can do this with a hand mixer as well). Mix in medium speed, until creamy (2-3 minutes) scraping down the bowl half way through.

Add in the eggs one at a time ensuring that they are evenly incorporated into the batter.

Add in the vanilla and almond extracts and yogurt. Mix until combined, 30 seconds or so. At this point your batter may looked curdled. This is normal.

Turn the speed down to low and add in the cornmeal. After it is mixed, add in the flour-baking powder-salt mixture in 2 batches. Mix until just incorporated. Do not overmix.

Pour the batter into the buttered and floured pan. Place it in the oven and bake for 25 minutes. Meanwhile, make the topping.

Combine the sugar, oats, butter, 1 teaspoon orange zest, and salt in a bowl. Add in the sliced almonds.

After 25 minutes in the oven, remove the cake, sprinkle with the topping, and bake for an additional 30-32 minutes or until a cake tester inserted in the center comes out clean.

If preferred, make the yogurt and honey glaze by whisking yogurt, honey, and vanilla extract until smooth.

Cool the cake in the pan for 10 minutes. Take it out of the loaf pan, cool for another 15 minutes, and cut it into slices. Serve with yogurt & honey glaze on the side.
Nutrition
Calories:
539
kcal
|
Carbohydrates:
82
g
|
Protein:
12
g
|
Fat:
20
g
|
Saturated Fat:
5
g
|
Cholesterol:
79
mg
|
Sodium:
191
mg
|
Potassium:
321
mg
|
Fiber:
5
g
|
Sugar:
54
g
|
Vitamin A:
292
IU
|
Vitamin C:
5
mg
|
Calcium:
140
mg
|
Iron:
3
mg
---
---
Like this recipe? Consider sharing: