Dairy, refined sugar, and gluten free gingerbread cake garnished with maple sweetened cranberry compote and maple whipped cream. Festive and colorful enough to impress everyone for all your holiday celebrations.
This is a sponsored post by Wolf Gourmet, but as always all opinions are my own.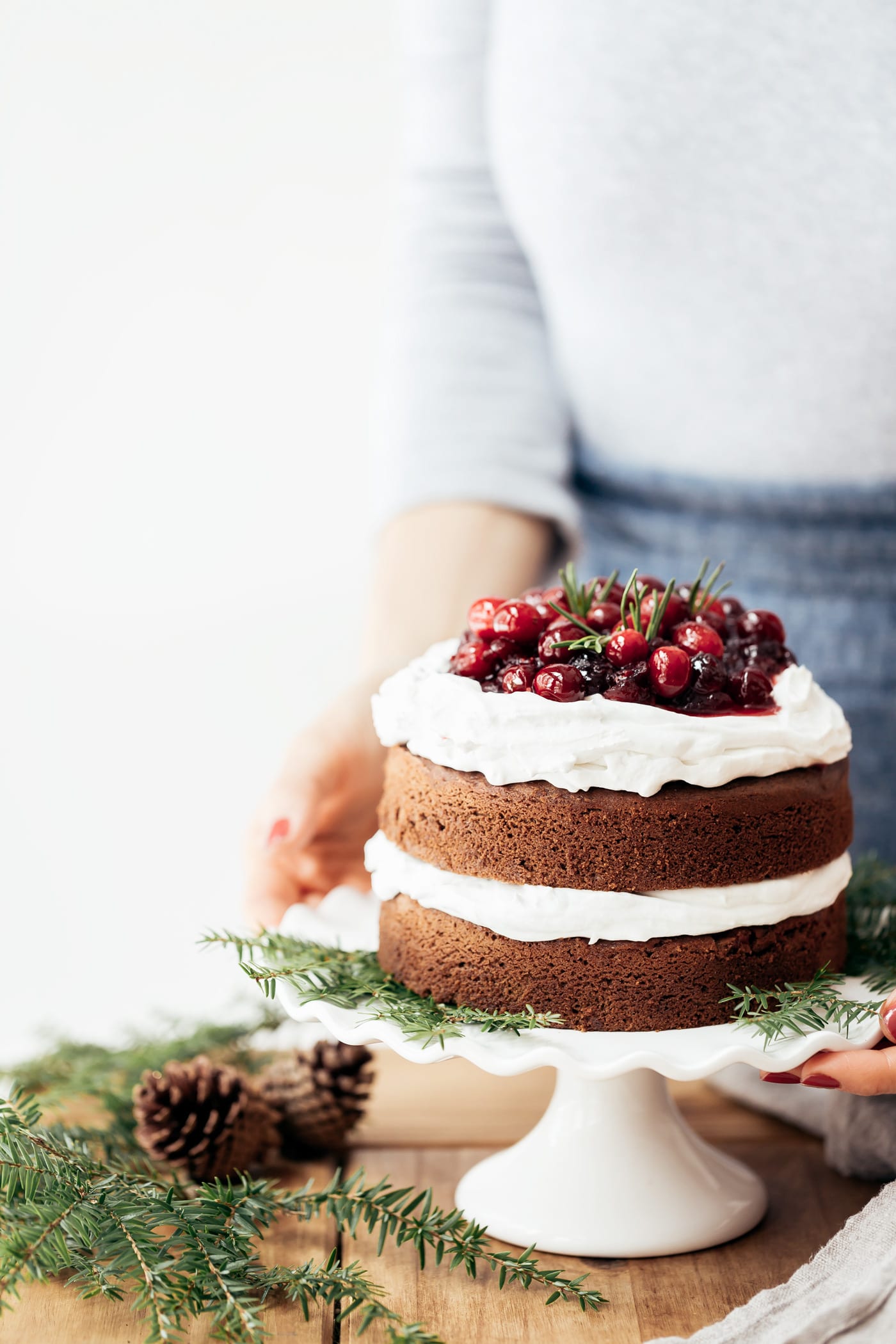 It is hard to believe there is only a week left for Christmas. This year, we are hosting our family so I am gearing up for a busy week of prep and cooking. Though I have to say, I don't know how I will get everything done with all the holiday parties that I have to attend between now and Christmas. Don't get me wrong, I enjoy spending time with friends, but getting myself organized enough to go is a challenge at times. Between family, life and work, I sometimes feel overwhelmed during the holidays. Now that we are coming to the tail end of it, I am ready for the new year.
Today's recipe is a dairy, refined sugar, and gluten free gingerbread cake topped off with cranberry compote. It is one of the desserts that I plan on serving next week. Similar to Thanksgiving, I usually make a few desserts for Christmas and it is usually gingerbread cookies and my ultimate chocolate bundt cake, but this year I am switching things up a bit and making this cake along with the caramel nut tart that I shared last week.
About the Recipe:
The recipe has two components. First you make the cranberry compote and then the batter. If you look at the recipe, you might think that the ingredients list is long, but most of them are spices. Everything comes together in a food processor in less than 2-minutes.
I used two 6-inch cake pans, because I love 6-inch cakes and think that they look super cute. However, if you want you can bake it in a 9-inch cake pan as well. The timing of the baking will be slightly longer (included in the instructions below), but it will still be a beautiful looking, festive, and delicious cake that will impress everyone in your family.
Finally, looking at the recipe belo, you might think that only a quarter cup of coconut flour and 2 tablespoon cocoa powder might not be enough to make a double layer 6-inch cake, but it does. I had my doubts too, but it works. Between the eggs, almond butter, and spices, you have enough ingredients to create a beautiful cake.
My New Favorite Gadget In the Kitchen:
I baked the cakes in my new Wolf Gourmet Countertop Oven. It is a lifesaver in that I do not have to heat the big oven just to make a small cake. I have been using it since Thanksgiving and has been my go-to oven for everything from casserole dishes to cakes or even for toasting bread. It is large enough that I can bake a 9 by 13 inch casserole dish or two 6-inch cakes at one time. It is dependable, easy to clean, and with several settings, it does more than just baking a cake. Not to mention, it looks gorgeous in my kitchen. If you are in the market for one, I cannot recommend it enough.
Print
Gluten Free Gingerbread Cake
Dairy, refined sugar, and gluten free gingerbread cake garnished with maple sweetened cranberry compote and maple whipped cream. Festive and colorful enough to impress everyone for all your holiday celebrations.
Author:
Prep Time:

30 min

Cook Time:

30 min

Total Time:

1 hour

Yield:

8 slices

Category:

Dessert

Method:

Baking

Cuisine:

American
Ingredients
For the Cranberry Compote:
8 ounces fresh cranberries

1 cup maple syrup

Pinch of salt
For the Gingerbread Cake Batter:
½ stick (2 oz.) unsalted butter

½ cup (2.6 oz.) coconut sugar

¼ cup maple syrup

4 eggs

¾ cup unsweetened almond butter

¼ cup (1 oz.) coconut flour

2 tablespoons unsweetened cocoa powder

1 tablespoon ground ginger

Zest of a lemon

2 ½ teaspoons lemon juice, freshly squeezed

1 teaspoon vanilla extract

1 teaspoon baking soda

½ teaspoon ground cinnamon

¼ teaspoon ground cardamom

¼ teaspoon kosher salt

1 ½  cups maple whipped cream
Instructions
Preheat the oven to 350 Degrees. Lightly grease two 6-inch cake pans or one 9-inch cake pan. Line them with parchment paper and set aside.

To make the cranberry compote, place cranberries, maple syrup and salt in a small saucepan. Cook over medium-high heat for 8-10 minutes. The cranberries will start to pop. Mash them lightly and set aside to cool.

To make the gingerbread cake batter: Place the butter, coconut sugar, maple syrup in a small saucepan. Cook, stirring occasionally,  in medium heat until butter completely melts (but not burns), 10 minutes or so.  Set aside to cool.

Place eggs, almond butter, coconut flour, cocoa powder, ground ginger, lemon zest, lemon juice, vanilla extract, baking soda, ground cinnamon, ground cardamom, and salt in the bowl of a food processor. Blend for 30 seconds on high speed, or until fully combined. Add the melted coconut sugar-butter mixture and blend for another 30 seconds or until the batter is smooth. You might want to stop a few times to scrape the sides of the bowl to make sure everything is fully combined.

Set aside half of the cranberry mixture to use as garnish later on.

If you are using two 6-inch cake pans, divide the batter amongst the pans. Drop bits of the remaining cranberry compote all around the pans and them swirl around with a knife until mostly incorporated.

Bake for 20 minutes or until a toothpick inserted in the middle comes out almost clean. If using one 9-inch cake pan, please read the notes below.

Let the cakes cool in their respective pans for 30 minutes on a wire rack. Then using a knife, gently loosen the cakes from the sides of the pans. Turn the pans over to get the cakes out and let them cool completely.

To Assemble: Layer the cakes with whipped cream. Top them off with the reserved cranberry compote.

Slice and serve.
Notes
If using 9-inch cake pan, the baking time would be 30-35 minutes.

To make it ahead:




The Cake: You can bake the cakes 3 days in advance, let them come to room temperature, wrap them tightly with stretch film and keep in the fridge. Be sure to take them out of the fridge a few hours before you are ready to serve so that they can come to room temperature.

The compote: You can make the compote a day in advance and keep it in the fridge until you are ready to use.
Nutrition
Serving Size:

1

Calories:

454

Sugar:

42.7g

Sodium:

306.3mg

Fat:

24.1g

Carbohydrates:

56g

Fiber:

5.9g

Protein:

9.2g

Cholesterol:

103.8mg
This recipe has been adapted from Danielle Walker's Against All Grain Celebrations
.