I still remember the first time I had peach cobbler. It was two months after I moved to the States. I was living in a small inn with two other girls in a tiny room, where I worked as a housekeeper. I had come to the US with the dreams that I built watching Hollywood movies throughout my teenage years.
But the truth was that it was nothing like I expected. For one thing, I had a very strong accent and my English was not very good. People were having a hard time understanding me. And visa versa. They were speaking too fast for me to even know what they were talking about.
A simple thing like getting a bagel for breakfast was a challenge. But above all, the hardest thing was that I didn't have a space to myself that I could get some rest after cleaning 15 rooms a day.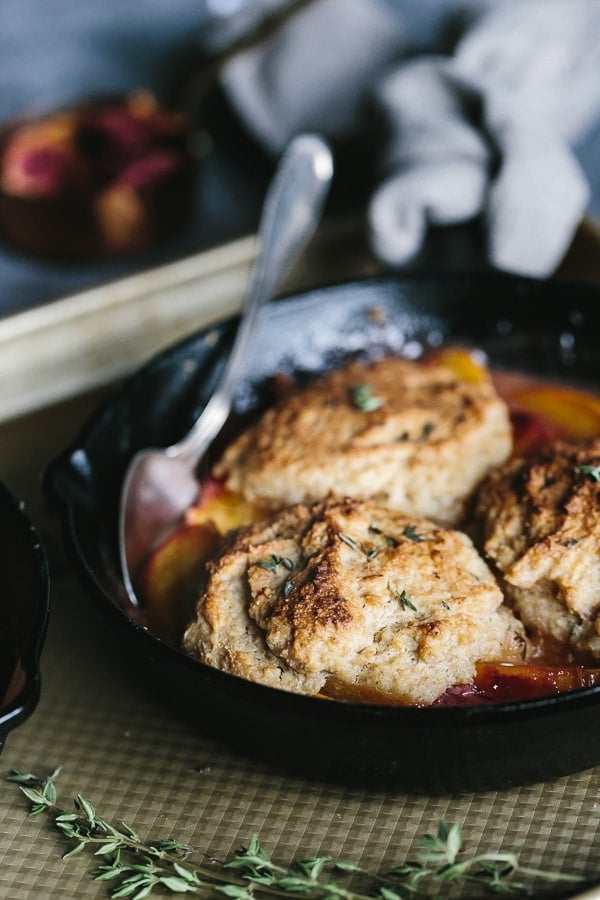 One day I was at the bank, trying to open a bank account so that I could save some money to rent a place of my own. However, there was a little problem. I had no credit history. Sadly, the only way to get a place was to find someone to co-sign a lease for me. Of course, I did not know anyone other than the girls I was sharing the room with, who had just moved to the States with similar dreams as well.
As the gentleman at the bank was telling me the ways to build a credit history, an elderly lady approached me and told me that she had overheard my story and thought that I was such a sweet girl and if I wanted she would let me rent a room in her home. The rent was affordable and her house was within walking distance from the inn. After seeing the place and making sure that she was not a crazy person, I rented the room.
With mixed feelings and not knowing what to expect, I dragged my two suitcases from the inn to her house. Surprisingly, she welcomed me with open arms and a freshly baked peach cobbler as a welcome treat. After months of feeling out of place, it was the first time I felt like I was welcomed. We spent the next three months sharing our stories and getting to know each other.
Originally from North Carolina, she moved to New Jersey after she got married 45 years ago. Her husband passed away a year earlier and her children were living out of state. She was feeling alone and thought that it would be nice to help someone and share her loneliness with. Needless to say, we became very close. I was really lucky to have found her. It was she, who introduced me to some of the classic American desserts.
She loved baking and would occasionally treat me with tasty sweets like apple pie, banana pudding, custard pudding, and peach cobbler. To this day I think her peach cobbler was the best one I have ever had. The warm, crusty, and sweet biscuits baked on top of macerated peaches and served with vanilla ice cream was so new and delicious to me. Since then, it has been one of my all time American favorites.
Unfortunately, I lost contact with her after I moved down to Atlanta for a better job opportunity. But even after 15 years of living in the US, I have never forgotten her generosity and kindness towards me when I needed it the most. This peach cobbler recipe is a little different than hers, but the smell that filled my kitchen as it baked brought back so many sweet memories. I hope she is doing well wherever she is.
About the recipe:
If you are a regular reader you would know, I am all about the crust when it comes to desserts. And this cobbler is no different. The dough for the biscuits is mixed with corn meal and thyme giving it a little unusual kick. If you are making this for breakfast, I recommend mixing together the dry ingredients the night before so that all you have to do in the morning is to stir in the wet ingredients and prep the peaches. I served it with ricotta cheese on the side, but mascarpone, crème fraiche or a scoop of ice cream would also be nice to serve it with.
Finally, I used two small cast iron skillets, but one large (10-inch) cast-iron skillet or a baking pan would also work. I would recommend keeping a close eye on it after the 30 minute mark as the biscuits turn golden brown quickly. If you are not a fan of thyme, feel free to omit it. Though I have to say the combination of thyme and baked peaches is simply delicious.
---
Peach Cobbler with Cornmeal Thyme Biscuits
This Peach Cobbler with Cornmeal Thyme Biscuits is a true summer treat. Both biscuits and peaches are flavored with thyme giving the dish a unique flavor. It is very quick to put together and bakes in less than 40 minutes. I usually make it for breakfast and serve it with ricotta cheese or creme fraiche on the side. Though I am sure that it would make a superb dessert after dinner, especially if you serve it with a scoop of vanilla ice cream.
Print Recipe
Ingredients
For the Filling:
5

medium-sized

2 pounds peaches, pitted and halved (no need to peel)

¼

cup

(45 grams) natural cane sugar ( I used Trader Joe's cane sugar)

1

teaspoon

lemon zest

2

tablespoons

lemon juice

freshly squeezed

3

tablespoons

all purpose flour

¼

teaspoon

Kosher salt
For the Cornmeal Thyme Biscuits:
¾

cup

(90 grams) all purpose flour

½

cup

(60 grams) whole wheat flour

½

cup

(60 grams) fine-ground yellow cornmeal

3

tablespoons

natural can sugar

1 ½

teaspoons

baking powder

¾

teaspoon

Kosher salt

2

tablespoons

fresh thyme

chopped

5

tablespoons

(70 gr.) cold unsalted butter, cut into smaller pieces – plus more for greasing the pan

½

cup

plain yogurt

½

cup

buttermilk

ricotta cheese

to serve (optional)
Instructions
Pre-heat the oven to 375 F Degrees. Butter two 6-inch cast iron skillets or one 10-inch cast-iron skillet and set aside.

Slice each peach half into 5 slices. Place them in a bowl. Add in the sugar, lemon zest, and lemon juice. Give it a gentle stir. Let it sit on the counter until sugar dissolves and peaches release their juices, 10 minutes or so. To make the filling, stir in the flour and salt. Set it aside.

To make the biscuits: Sift all-purpose flour, whole wheat flour, corn meal, sugar, baking powder, and salt in a bowl. Add in the butter. Using a fork (or your fingertips), incorporate the butter into the flour mixture until it resembles a coarse meal. It is okay if there are some pea-sized bits. Add in the yogurt and buttermilk and stir until it all comes together.

To assemble: If using two cast iron skillets, divide the peaches in between two pans. Drop small mounds of the dough onto the fruit, each biscuit being around 4 tablespoons. This dough yields 6 to 7 biscuits so 1 biscuit might be slightly larger than the other ones.

Bake until the biscuits are golden brown on top and the juices of the peach slices are bubbling, 30-35 minutes.

Let it cool 10 minutes before serving.

Serve with dollops of ricotta cheese on the side.
Nutrition
Calories:
365
kcal
|
Carbohydrates:
61
g
|
Protein:
7
g
|
Fat:
12
g
|
Saturated Fat:
7
g
|
Cholesterol:
30
mg
|
Sodium:
527
mg
|
Potassium:
406
mg
|
Fiber:
5
g
|
Sugar:
27
g
|
Vitamin A:
863
IU
|
Vitamin C:
14
mg
|
Calcium:
132
mg
|
Iron:
2
mg
This recipe is adapted from one of my favorite cookbooks: Whole-Grain Mornings: New Breakfast Recipes to Span the Seasons
.
---
Like this recipe? Consider sharing: