Quinoa Porridge Recipe
Here I am typing this at my desk while it is snowing like crazy outside. It is currently 18 F degrees and the layers and layers of clothing I have on are not enough to make me feel warm. Unfortunately, as much as we love the house we live in, the fact that it isn't well insulated makes it really hard for us to commit to another winter of living in it.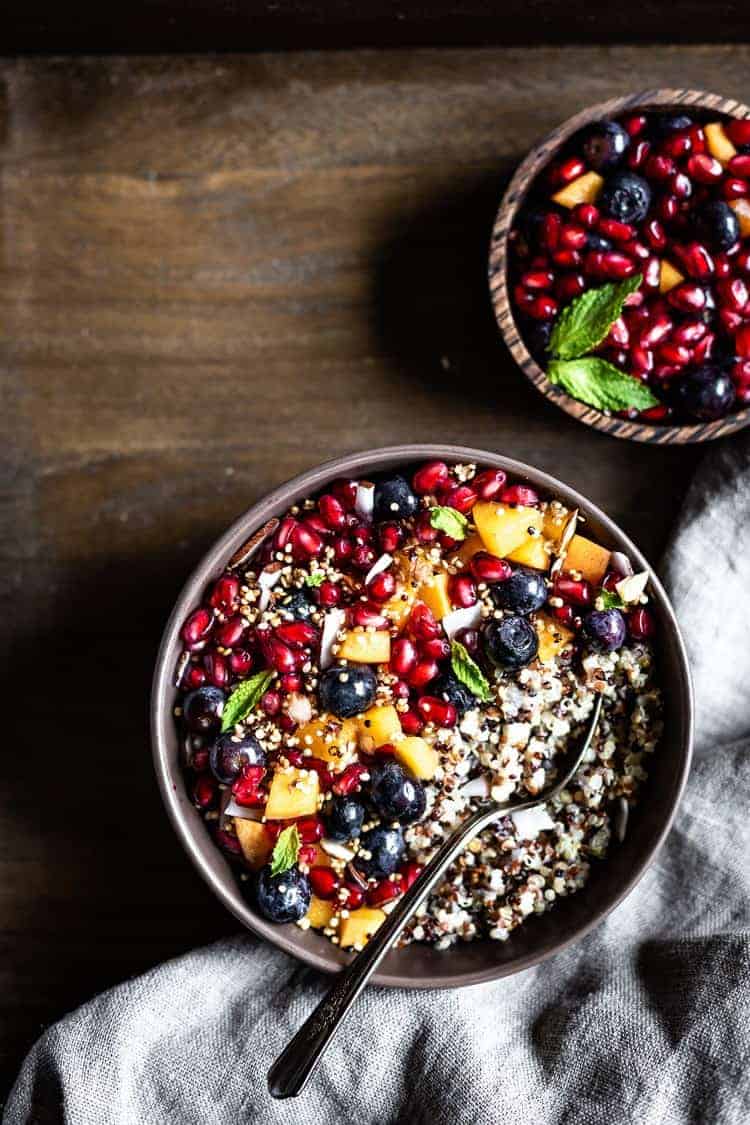 When we first moved to Vermont I was told that I would get used to the winter by the second year, but truth be told I am still struggling with adjusting to such brutally cold temperatures. So far, the only way I feel warm is when I eat something warm, especially for the first meal of the day.
That is why I am currently revisiting my favorite breakfast porridge recipes and making sure that they are updated with more helpful information and new photos. Like this Quinoa Breakfast Porridge recipe. I originally shared it back in 2016, but today I am updating it with some new information.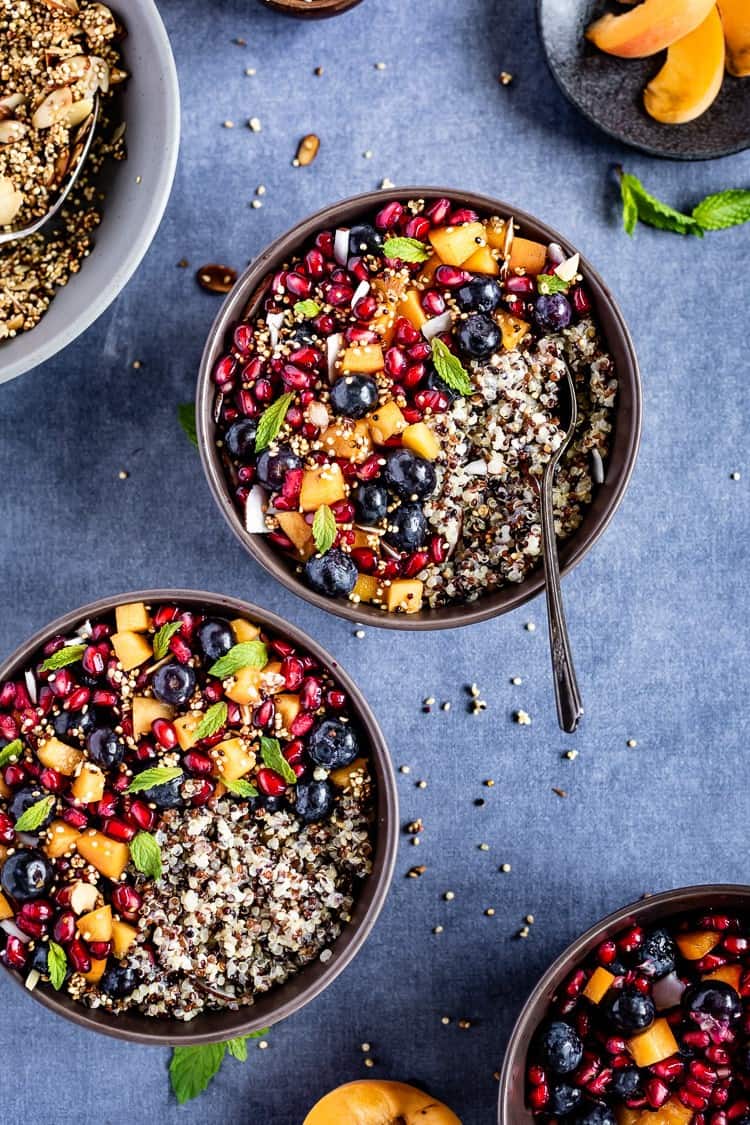 While my usual breakfast porridge recipe is this Oatmeal with Almond Milk and Chia Seeds, every once in awhile I feel like I need a break from it. This quinoa breakfast cereal is a great alternative if you feel the same way. It is a protein-packed, vegan, and gluten free breakfast bowl recipe that you can make it less than 20 minutes.
If you feel the same way and want to switch up your healthy breakfast porridge game, read on…
How to cook quinoa for breakfast cereal

?

While the recipe below is the basic recipe for making quinoa porridge, lately I have also been making a few different variations of it so I thought I could outline those in detail to help you as you make your own.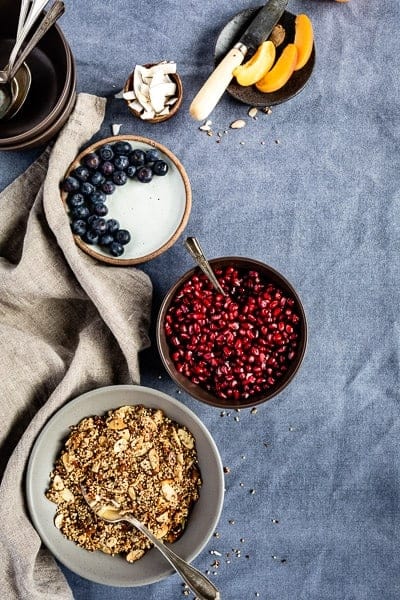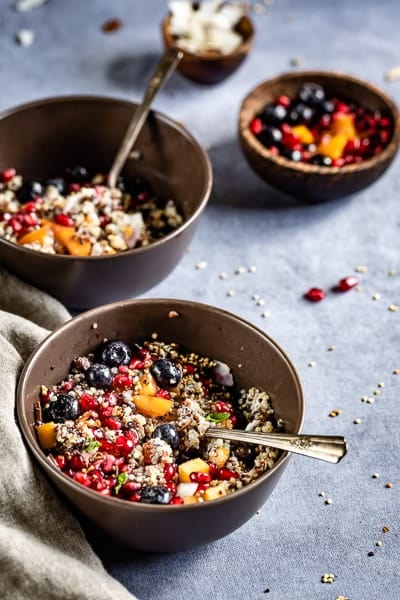 Method #1: Cook quinoa with plant-based milk
The first method is to cook quinoa with your favorite plant-based milk. If you are new to cooking quinoa with milk, this is a good recipe to start. Plant based milks like unsweetened coconut and almond milks deliver a surprisingly creamy porridge making it idea for a heartwarming and healthy breakfast.
In the recipe below, I used coconut milk, but almond milk would also work.
The ideal coconut milk to quinoa ratio is 13,5 ounces of canned and unsweetened coconut milk mixed in with ¼ cup water for 1 cup of uncooked quinoa.
If you want to use almond milk, then the ideal ratio is 2 cups almonds almond milk for 1 cup of quinoa.
Both variations, made with almond or coconut milk, deliver a nice and creamy quinoa breakfast porridge. However, if you want it to be lighter on the creamy part, you can swap some of the plant milk with water.
To sweeten it, in addition to the fruit and quinoa crunch, I used a few tablespoons of maple syrup. However, you can adjust the amount of sweetener you use based on your preference.
As you can see in the photos, I used tri-colored quinoa. However, you can make this recipe with red or white quinoa as well. Though I have to mention, it is imperative to rinse it thoroughly to ensure that its natural coating (that makes it bitter) is fully removed.
Method 2: Use Leftover Quinoa
I usually cook a batch of quinoa with water over the weekend to add it in salads, soups, or serve it as a side dish throughout the week.Lately, I have also been using it make a similar quinoa breakfast porridge as well. This works perfectly if you have leftover quinoa that wouldn't be enough for any other recipe.
To turn (leftover) cooked quinoa into a heartwarming bowl of quinoa breakfast cereal, simply place it in a bowl and pour in ¼ cup of your favorite plant-based milk (or more based on your preference). Place it in the microwave for 45 seconds or so to warm it up. Or you can warm it up on the stovetop, if you don't have a microwave.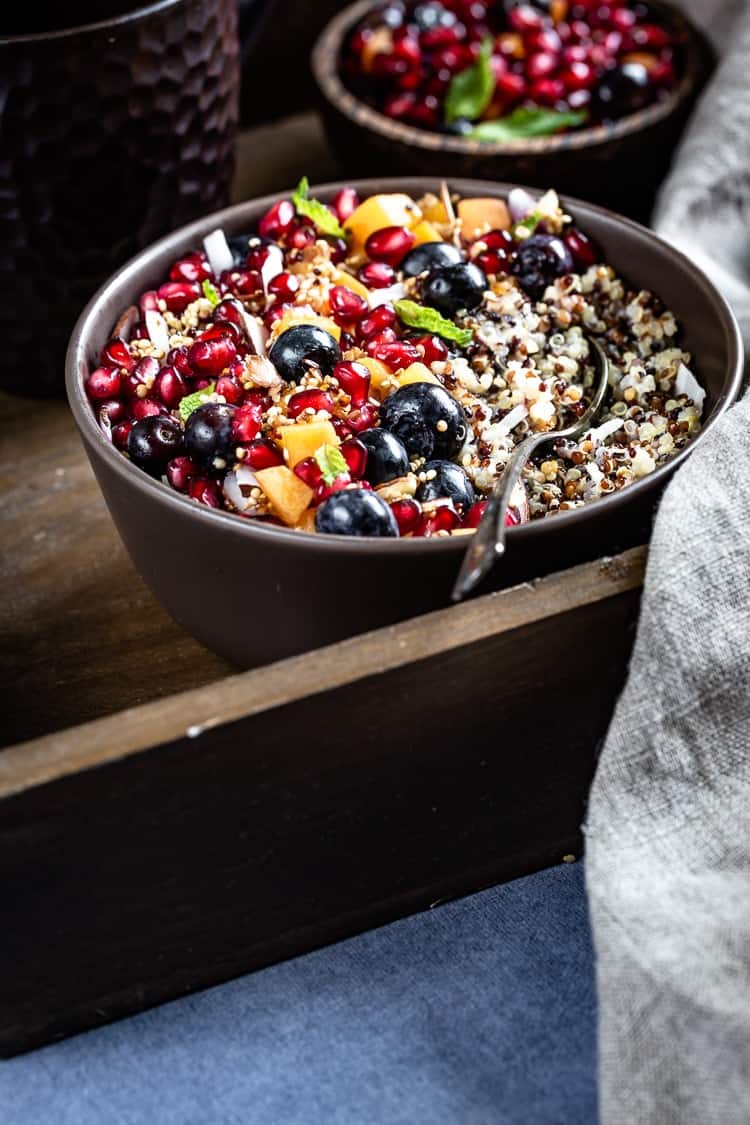 Change your vegan quinoa breakfast by using different toppings
I don't know about you, but I love a big bowl of breakfast porridge topped off with seasonal fruits and homemade granola. Here, I used blueberries and pomegranate seeds along with a handful of quinoa crunch (aka my favorite quinoa snack) and dried coconut flakes. Obviously, you can switch it up with what is in season or what you have in your fridge.
With that being said, yesterday I also made a savory version of this using the leftover quinoa method I mentioned earlier.
To do so, I mixed a cup of leftover quinoa with ¼ cup of water in the microwave. Then I sautéed some onion with bell peppers and shiitake mushrooms and add the cooked warm quinoa in. Right before serving, I placed it in a large bowl and topped it off with a fried egg.
I don't know if it is right to call that version "breakfast porridge" per se, but I thought I could mention.
If you have never used quinoa for breakfast, give this hot quinoa cereal recipe a try. It is surely a great alternative to your usual oatmeal breakfast and an easy way to get in a healthy dose of plant based protein into your diet in the morning.
Other healthy breakfast porridge recipes you might like
Quinoa Breakfast Porridge Recipe
Burnt out on your favorite oatmeal breakfast? Start your day off with this vegan Quinoa Breakfast Porridge - a protein-packed, quick and filling breakfast bowl. Enjoy variations of toppings (fruits, nuts, granola, etc.) mixed in with earthy quinoa.
Print Recipe
Ingredients
For the quinoa porridge:
1

cup

tri-colored

or white quinoa, rinsed and drained

1

13.5 ounces/400 ml unsweetened can of coconut milk*

1/4

cup

of water

2

tablespoons

maple syrup

1/4

teaspoon

salt

1/2

teaspoon

vanilla extract
For the toppings:
1

cup

quinoa crunch or your favorite granola

1

cup

of fresh fruit

I used apricots, blueberries and pomegranate seeds

1/2

cup

unsweetened coconut flakes

8-10

leaves

of fresh mint

optional

maple syrup to finish it off

optional
Instructions
To make the quinoa breakfast porridge: Place the quinoa, coconut milk, water, maple syrup, salt, and vanilla extract in a medium size saucepan (with a tight lid) and heat it over medium high heat. Bring it to a boil, turn the heat down to low, and put the lid on. Cook until most of the liquid is absorbed, 18-20 minutes. Once cooked, let it sit on the counter for 10 minutes. Before serving, fluff it with a fork.

When ready to serve: Distribute the quinoa among 4 breakfast bowls. Top it off with quinoa crunch, fresh fruit, coconut flakes, and fresh mint. Serve it with maple syrup on the side.
Notes
Note: If you are not using all of the porridge at the same time, place it in an airtight container and keep in the fridge up to 3 days. When ready to serve, add a few tablespoons of water (or coconut milk) before reheating on the stovetop or in microwave.
*You can substitute coconut milk with almond milk. Please read the blog post for more information.
*The nutritional values listed below does not include the toppings.
Nutrition
Calories:
485
kcal
|
Carbohydrates:
42
g
|
Protein:
9
g
|
Fat:
33
g
|
Saturated Fat:
28
g
|
Sodium:
168
mg
|
Potassium:
582
mg
|
Fiber:
7
g
|
Sugar:
10
g
|
Vitamin C:
3
mg
|
Calcium:
50
mg
|
Iron:
4
mg
This recipe is adapted (with minor changes) from Megan Gordon's cookbook, Whole-Grain Mornings.
Like this recipe? Consider sharing: