The beginning of this year, I made a promise to myself. I wanted to find a way to share more recipes on the blog. I have been averaging on 1-2 posts a week, but I wanted to increase it to 3 recipes a week.
However, with all my freelance work it proved to be an unrealistic goal. In between all the testing and photographing recipes and the admin work that comes right after that, I couldn't find a way to do it.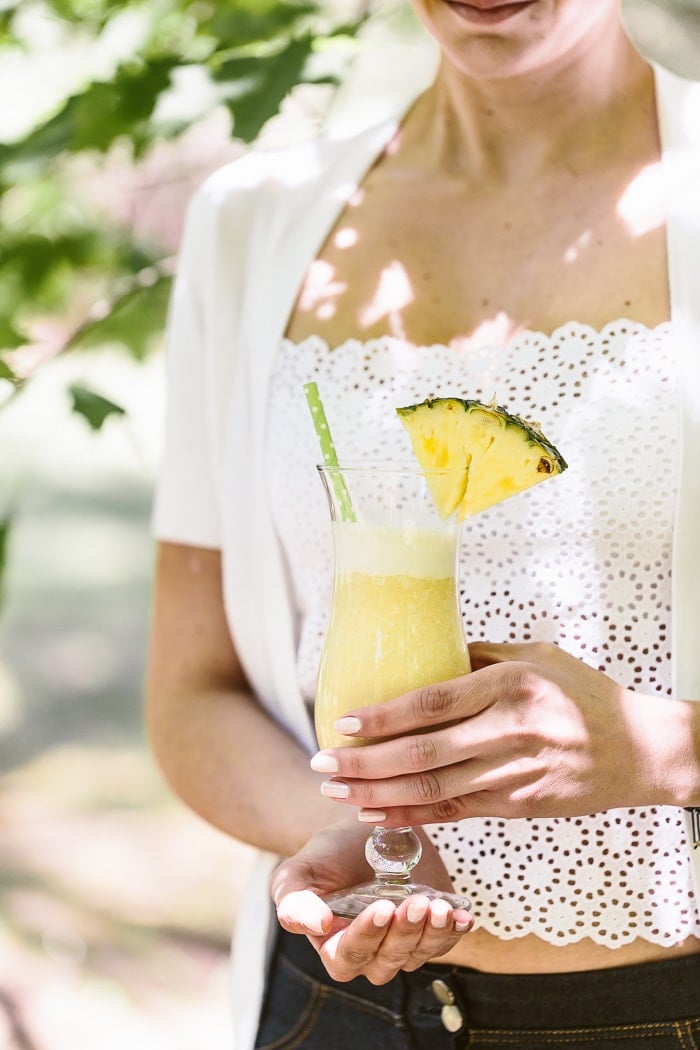 But the other day an idea popped up in my head. What if I were to start small and find easy-to-make yet still useful recipes and share them with one or two photos? If you think about it, the part that takes most of my time is the photographing part so by changing my usual 5-6 photos per post I could have more time to reach my goal. After a little thinking and planning I decided to start a new series that I would like to call Summer Smoothies on Foolproof Living.
Starting this week, until the end of this summer, I will post one smoothie recipe a week with just a few photos and words. My goal is to be your go-to source for healthy, no-sugar added smoothies that you can make for your family during these warmer months of the year. I have already made a list of all the smoothies that I love and want to share with you throughout the next months. If you are a smoothie lover, who is looking for ways to switch up your smoothie routine, be sure to follow along.
About this Pina Colada Smoothie Recipe
The first smoothie recipe of the Summer Smoothies series is this Pina Colada Smoothie. If you are a lover of the famous Puerto Rican cocktail, you will love this smoothie version. This used to be my go-to smoothie back while we were living in the Caribbean.
As it is in the signature cocktail, the two main ingredients are pineapple and coconut milk. However, as I was trying to keep things on the healthier side, instead of the sweetened canned stuff I used freshly cut pineapple and unsweetened coconut milk (I love Trader Joe's brand). To sweeten my smoothie, I used a few pitted Medjool dates, which I find to be the best sweetener for smoothies.
If I have time to plan ahead, I like to buy a big pineapple, cut it into big chunks, place them in plastic bags and freeze to use in smoothies. I find that having them readily cut into smaller pieces makes it so much easier and quicker. It also eliminates the need to use additional ice.
However, if you only have fresh pineapple feel free to add in some ice to make it cold and refreshing. As long as you are not using the canned (additional sugar added) pineapple, you should be fine.
Pina Colada Smoothie
This Vegan Pina Colada Smoothie is made with chunks of pineapple, coconut milk and a few Medjool dates. It is stupid easy to make and ready in 5 minutes.
Print Recipe
Ingredients
For the smoothie:
1

cup

fresh pineapple chunks

1

cup

full-fat coconut milk

pinch

of nutmeg

1-2

Medjool dates

depending on your sweetness preference

½

cup

ice
For garnishing:
1

small slice of pineapple

as shown in the photo

1

tablespoon

unsweetened shredded coconut

as garnish (optional)
Instructions
Place pineapple, coconut milk, nutmeg, dates and ice in a blender. Blend until smooth.

Garnish with a wedge of pineapple, and if preferred, sprinkle it with shredded coconut.
Notes
Alternatively, you can use slice your pineapple into chunks, place them in plastic bags, and keep them in the freezer. If you do decide to use frozen pineapple, you might need less ice.
Nutrition
Serving:
1
g
|
Calories:
1156
kcal
|
Carbohydrates:
182
g
|
Protein:
12
g
|
Fat:
54
g
|
Saturated Fat:
47
g
|
Sodium:
50
mg
|
Potassium:
1985
mg
|
Fiber:
19
g
|
Sugar:
139
g
|
Vitamin A:
643
IU
|
Vitamin C:
457
mg
|
Calcium:
212
mg
|
Iron:
11
mg
Like this recipe? Consider sharing: