Foolproof Living's Summer Smoothie Recipes Series continues with this Strawberry Banana Yogurt Smoothie recipe. This icecream-in-a-glass like smoothie is for those of you looking for a refreshing breakfast smoothie or an afternoon pick me up in these hot days summer.
This post has been sponsored by the Dannon Company and The J.M. Smucker Company. As always, all thoughts and opinions are mine.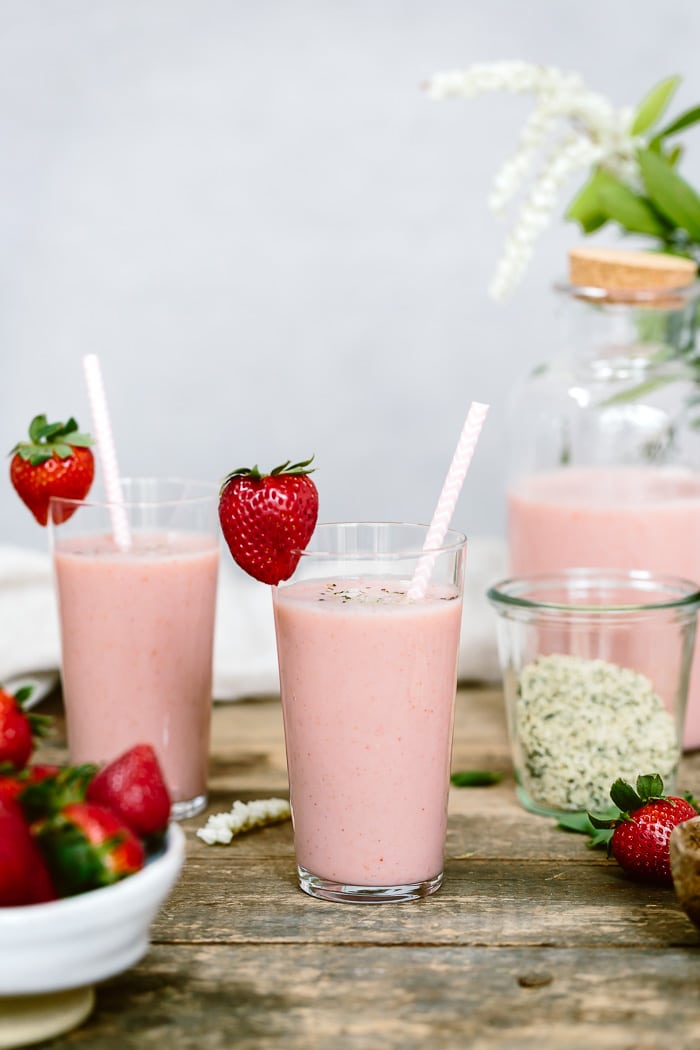 It has probably been over 4 years since I switched from regular milk to almond milk (and have been making almond milk at home now) with the hopes of limiting the intake of animal products in my diet. It was an easy switch for me as they both have a similar consistency and look.
I also love the taste of almond milk. However, one thing that I do not think that I could ever compromise is yogurt. I am a huge fan of yogurt, so much so that I am one of those people who put yogurt on everything. I guess the main reason for that is because, being from Turkey, I grew up eating yogurt every day. Back when I first moved to the US, my American friends would make fun of me for putting yogurt on my food.
Now, 15 years later, the yogurt section of most grocery stores has practically taken over the dairy aisle and every one of those friends is eating yogurt.
Go figure…
Today's recipe, Strawberry Banana Yogurt Smoothie , was one of the first smoothies I have ever made. Since then I have made hundreds of smoothies with or without yogurt, but still to this day this smoothie is at the top of my favorite smoothies list.
As the name suggests, I used strawberries (the leftover strawberries from the Almond Flour Strawberry Cake I made last week), banana, and yogurt. However, the yogurt is not just any yogurt; it is Dannon's Non-fat Light & Fit vanilla yogurt. Now, I choose the vanilla flavor because I like it, but there are so many other flavors you can choose from.
Don't like vanilla? Go for strawberry, banana, salted caramel, tiramisu, or blackberry. Don't like any of those flavors? Go for plain yogurt. Literally, the sky is the limit.
To sweeten my smoothie, in addition to the fruit, I used a little bit of strawberry flavored Smucker's Fruit and Honey spread. As you will see in the recipe below, for 2 servings I used a tablespoon of the spread. However, you can adjust the amount you use based on your sweetness preference. I love Smucker's Fruit and Honey spread because it is made with ripened fruit that is naturally sweetened with honey.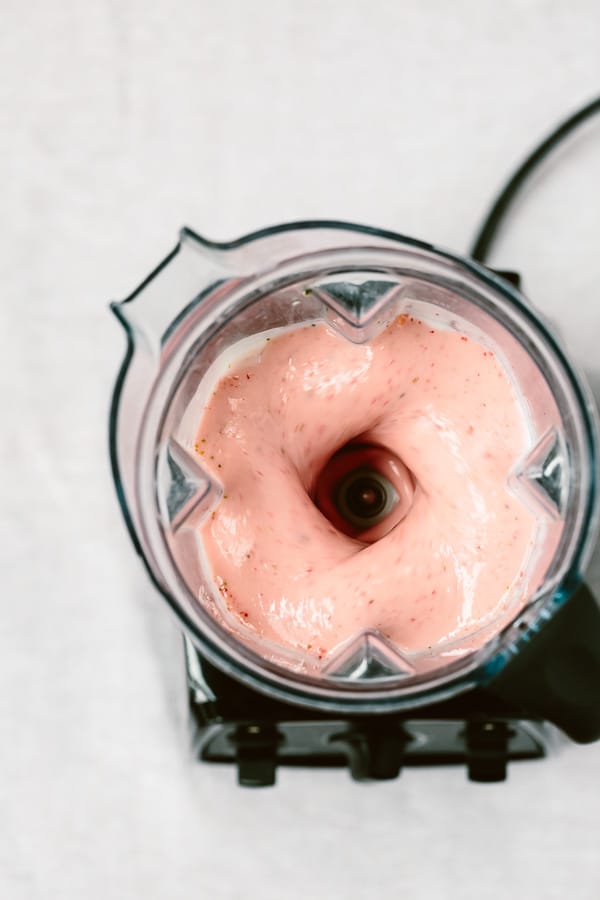 Finally, as additional superfoods, I used chia seeds and hemp seeds. They are both rich in fiber, minerals, and Omega-3 fatty acids. It is totally optional to use them and they don't affect the taste that much. However, if you have them in your pantry, I recommend adding them in as they are such an easy way to increase the nutritional value of your smoothies.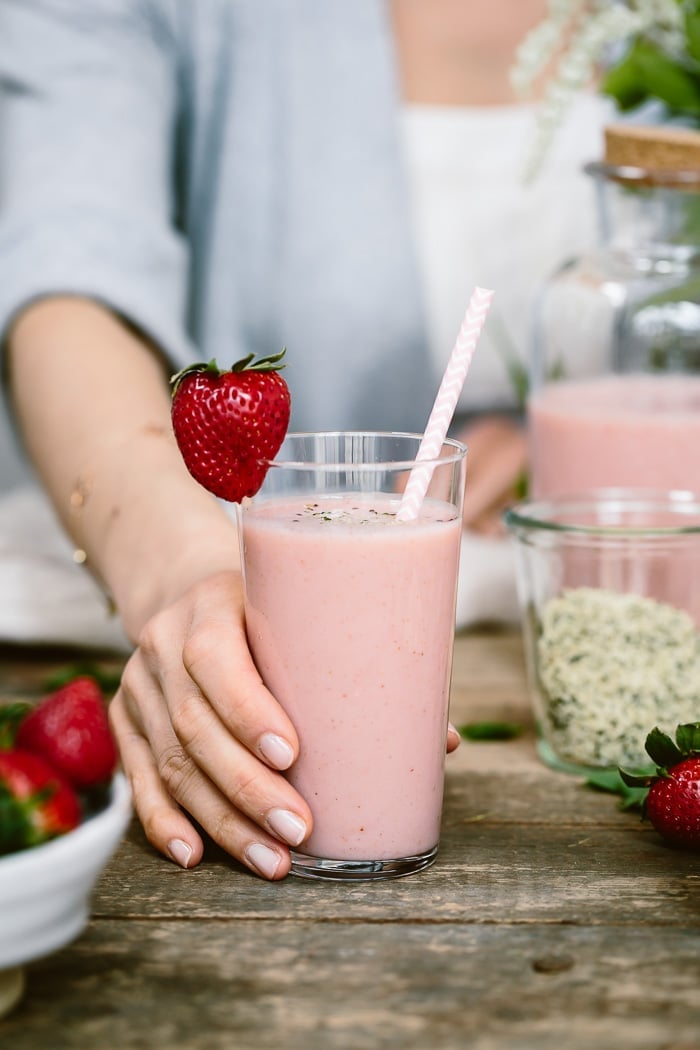 As I mentioned earlier, this smoothie tastes like ice cream in a glass. It is a great way to start the day or serve to your kids as a refreshing afternoon snack in these warm days of summer. Either way, once you give it a try, I guarantee you that it will become a favorite in your household just like it is in ours.
Frequently Asked Questions:
Is Strawberry Banana Yogurt Smoothie healthy?

While I believe that everything should be consumed in moderate doses, smoothies made with yogurt are generally considered healthy. Fresh fruit mixed in with yogurt that contains probiotics (also known as active living bacteria) can help keep intestines healthy. Additionally, yogurt contains a generous amount of calcium, potassium, magnesium, B6 and B12 vitamins. Additionally, in general if you use minimal amount of sweeteners and stick to natural ones (like I did here), you will have a much healthier breakfast smoothie on the go.

How To Make Strawberry Banana Yogurt Smoothie?

The process is very easy. Simply put strawberries, bananas, yogurt, and ice in a blender and mix it up. If you want to make it healthier add more protein into the recipe, you can also add in chia seeds and/or hemp seeds. Alternatively, if you do not have a blender, you can use a food processor to blend your smoothie.
Strawberry Banana Smoothie Nutrition Information: This smoothie has a healthy amount of protein, 7.5 grams per serving. Plus, as I mentioned earlier, it is rich in calcium, magnesium, and potassium. You can see detailed nutrition values underneath the recipe.

Can I freeze this Strawberry Banana Smoothie?:

I do not believe that this is a great recipe to freeze. However, if you have leftovers, you can keep them in an airtight jar in the fridge and enjoy the next morning. Though I recommend giving it a good shake before serving it.
Other Smoothie Recipes You Might Like:
Strawberry Banana Yogurt Smoothie Recipe
This Strawberry Banana Yogurt Smoothie is made with fresh summer fruit, vanilla yogurt and naturally sweetened strawberry spread.
Print Recipe
Ingredients
1

cup

yogurt

1/2

cup

strawberries

hulled

1

teaspoon

naturally sweetened strawberry jam

adjust the amount based on your preference

1

banana

ripe, peeled and cut into small pieces

1

teaspoon

chia seeds

optional

1

teaspoon

hemp seeds

optional

1

cup

ice
Instructions
Place all the ingredients in a blender and blend until smooth. Taste for sweetness and add if necessary.

Serve immediately.
Notes
Both chia seeds and hemp seeds are considered as superfoods. Even though they are optional ingredients and do not change the taste of the smoothie, I highly recommend adding them into your smoothies.
Nutrition
Calories:
190
kcal
|
Carbohydrates:
30
g
|
Protein:
6
g
|
Fat:
6
g
|
Saturated Fat:
3
g
|
Cholesterol:
16
mg
|
Sodium:
64
mg
|
Potassium:
479
mg
|
Fiber:
3
g
|
Sugar:
21
g
|
Vitamin A:
159
IU
|
Vitamin C:
27
mg
|
Calcium:
178
mg
|
Iron:
1
mg
Like this recipe? Consider sharing: