Boxes are packed and sent away, good byes are said, and all our bags are by the door. In less than 3 hours we will be on our way to our new life. As I am typing this on a chaise lounge on the beach, I am soaking in all the last bits of the morning Caribbean breeze. I have had this waffle recipe for days now, but every time I sat down to write it I felt short of words. And I still do. That is why, today I am going to keep it short.
These pumpkin waffles are enhanced with seasonal spices like cloves, cinnamon, nutmeg, and ginger. They are perfect for chilly autumn mornings and for the upcoming holidays. Here are some notes about this recipe: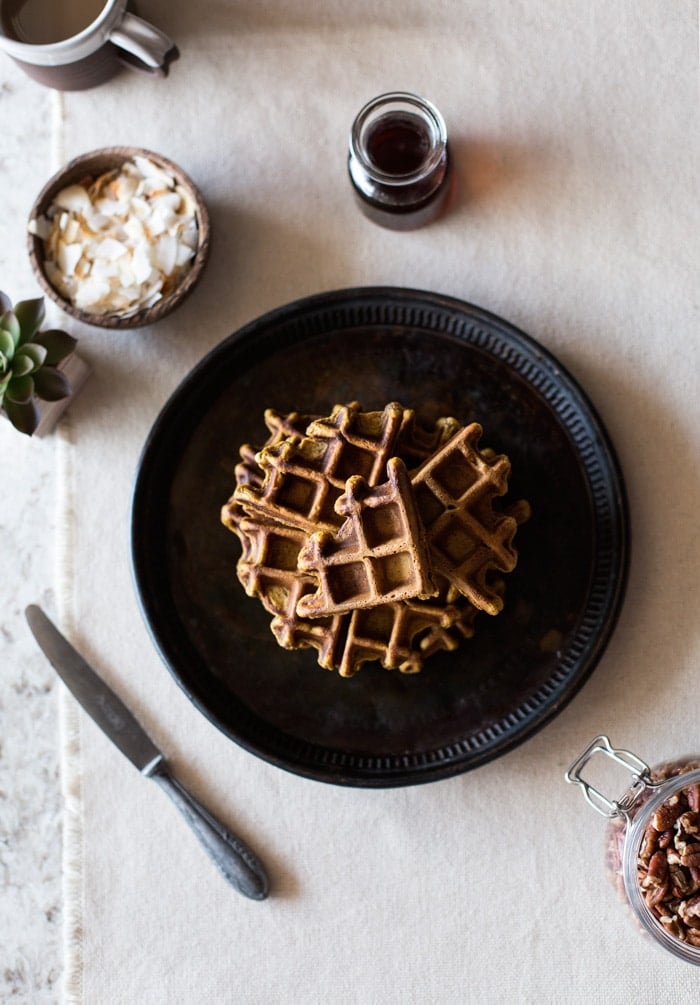 2) This was my first time trying my hand on making coconut whipped cream. Honestly, it took a couple of tries for me to get that whipped cream texture and look. But as it usually happens, I learned a couple of important lessons along the way.
1) I prefer making the batter at night, cover it with stretch film, and keep it in the fridge overnight. Resting the batter enhances the flavor by allowing the flour to hydrate and absorb all the liquids. As an added benefit, it is ready to pour into the waffle maker in the morning. But if you are short on time and/or prefer to make on the same day, that is fine too.

First, it is imperative that the mixing bowl and the beaters are chilled. Place them in the fridge for at least 10-15 minutes before you start beating.
Second, make sure that the coconut milk is chilled in the fridge for at least 8 hours (or preferably overnight) for the solids and liquid to separate. In order for this to work, you want to make sure that they are fully separated and that you are only using the solid (creamy) part (I use the liquid part in smoothies).
Using a spoon, carefully scoop the solid part and place it in the chilled mixing bowl and start whipping right away. It takes 1-2 minutes for it to get that whipped cream look. I didn't add any powdered sugar to it as I wanted to sweeten my waffles with maple syrup, but if you prefer a sweet coconut whipped cream, feel free to add powdered sugar at the very end and whip it for another minute or so.
Once it is ready, keep it in the fridge until you are ready to use it. Keep in mind that just like it is with whipped cream made with heavy cream it hardens as it sits in the fridge.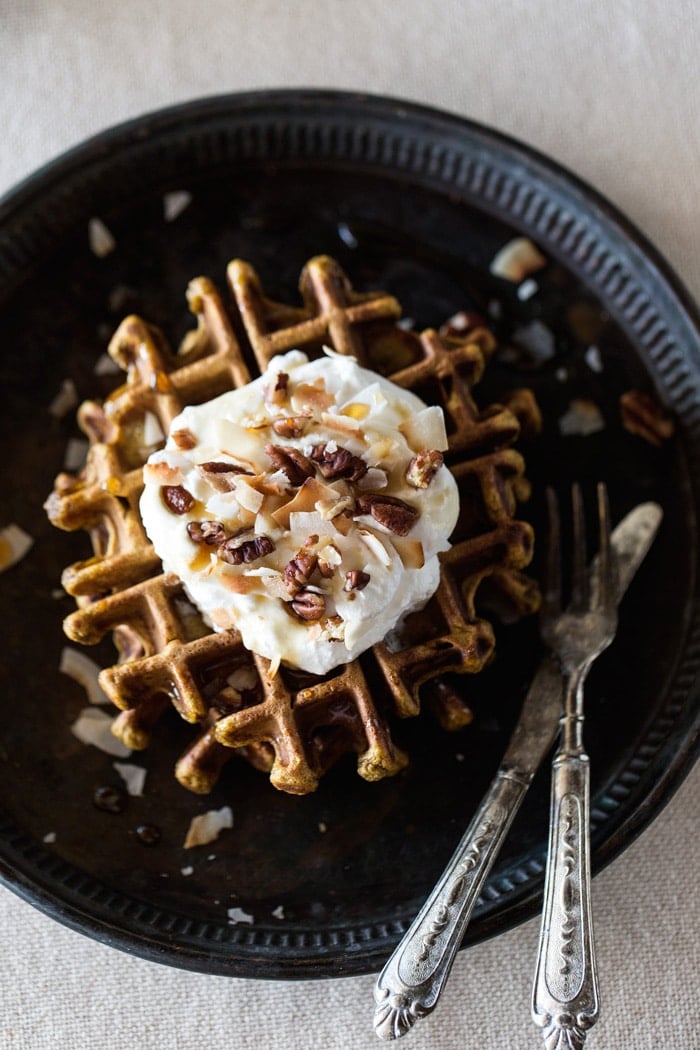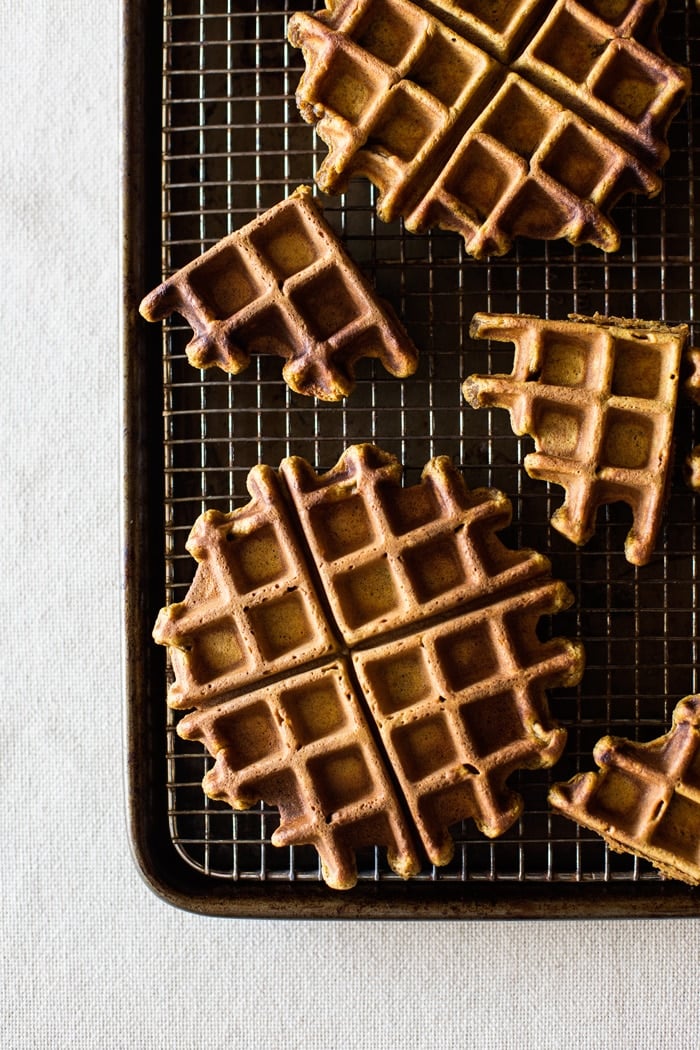 3) Last but not least, feel free to freeze them after they are cooked. When ready to eat, simply toast one in your toaster and enjoy it right away.
Other Pumpkin Recipes That You Might Be Interested
---
Spicy Pumpkin Waffles with Coconut Whipped Cream
The one and only recipe you need for Spicy Pumpkin Waffle recipe. To make things faster, feel free to make the batter a day in advance. I topped mine off with coconut whipped cream, but regular whipped cream, creme fraiche, or even a big scoop of ice cream would work well. Either way, this is the perfect weekend breakfast recipe you can make during fall.
Print Recipe
Ingredients
For the batter
1/4

cup

light brown sugar

3

tablespoons

cornstarch

11/4

cup

(6.25 ounces) all-purpose flour

11/2

teaspoons

baking powder

1/2

teaspoon

table salt

11/2

teaspoons

ground cinnamon

11/2

teaspoons

ground ginger

1/4

teaspoons

ground cloves

1/2

teaspoon

ground nutmeg

preferably freshly grated nutmeg

2

large eggs

yolks and whites separated

1

cup

whole milk

1

cup

pumpkin puree – I used unsweetened canned pumpkin puree

4

tablespoons

(2 ounces) unsalted butter, melted and lightly cooled

Vegetable spray

for spraying the waffle maker

Handful of pecans – as garnish

1/4

cup

unsweetened shredded coconut

lightly toasted

1/2

cup

maple syrup – to serve
For the Coconut Whipped Cream
1

can

15 oz. full-fat coconut milk, chilled in the fridge overnight*

1/4

teaspoon

vanilla extract
Instructions
Pre-heat your oven to 200 degrees. Line a baking sheet with parchment paper and set aside.

Mix together the brown sugar and cornstarch in a medium sized mixing bowl until no lumps remain. Whisk in the flour, baking powder, salt, cinnamon, ginger, cloves, and nutmeg.

In a separate mixing bowl, whisk the egg yolks, milk and pumpkin puree until combined. Pour in the melted butter and stir until they are blended.

Using a spatula, gently stir in the dry ingredients into the wet ingredients. Do not overmix. It is okay if there are some lumps. Set aside.

Using a standing (or hand-held) mixer, whip the egg whites until stiff peaks form, 1- 11/2 minutes.

Gently fold in the egg whites in to the waffle mixture in three badges, making sure that there is no white bits remain.

Heat your waffle iron. Lightly spray it with vegetable spray. Bake it according to your waffle iron's instructions. Cook until it is cooked through.

Remove each cooked waffle and place on a baking sheet without stacking. Place the waffles in the oven to keep warm while you continue to cook the rest of the batter.

Meanwhile make the coconut whipped cream. Before you start, chill the mixing bowl and beaters in the freezer for at least 15 minutes. Remove the chilled coconut milk from the fridge without shaking. Open the coconut milk, making sure to not shake it. Using a large spoon, scoop coconut cream solids (the creamy white part) into the cold mixing bowl (you can use the leftover liquid for smoothies)*. Beat coconut cream using an electric mixer with chilled beaters on medium speed for 1-2 minutes, turn the speed to high and continue mixing for 1 more minute until stiff peaks form. Stir in the vanilla extract and beat 1 more minute.

To serve, place two waffles on a plate. Top them off with a spoonful of whipped coconut cream, chopped pecans, and toasted coconut. Drizzle the waffles with maple syrup and serve.
Notes
* I poured half a cup of batter for each waffle and ended up with 6 waffles.
Nutrition
Calories:
499
kcal
|
Carbohydrates:
85
g
|
Protein:
10
g
|
Fat:
14
g
|
Saturated Fat:
8
g
|
Cholesterol:
79
mg
|
Sodium:
633
mg
|
Potassium:
345
mg
|
Fiber:
5
g
|
Sugar:
29
g
|
Vitamin A:
6733
IU
|
Vitamin C:
2
mg
|
Calcium:
348
mg
|
Iron:
5
mg
The pumpkin waffle recipe is adapted from this Ultimate Pumpkin Waffles recipe with minor changes.
---
Like this recipe? Consider sharing: