A bunch of foodbloggers are celebrating the #POPSICLEWEEK and this vegan minty strawberry coconut milk popsicles is my contribution. If you are like me, a beginner to making popsicles at home, this easy-to-make vegan popsicle recipe that is made with only 4 ingredients is for you. 
There is a reason why this is the first time you are seeing a popsicle recipe on this blog. It was more than 3 years ago when I purchased the popsicle mold you see in the photo below. We were still living in the Caribbean and I was so excited about creating popsicle recipes to share on the blog while selfishly enjoying in the always-warm temperatures of Virgin Gorda, the small island we were living on.
On the day the popsicle mold arrived in the mail, I found a recipe online and made it right away. Sadly, after 6 hours of waiting, the result was a DISASTER. For one thing, I couldn't get the popsicles out of the mold without breaking them. Second, they didn't taste good. The recipe called for fresh passion fruit, which was in season, but my passion fruit was so sour that it was so hard to even eat one popsicle. I was so bummed.
After my first experience, I tried it a few more times, where I have had a couple of recipes that were acceptable, but not good enough to share here on the blog. So I gave up and ignored the #POPSICLEWEEK put together by Billy, the blogger behind Wit and Vinegar, for years.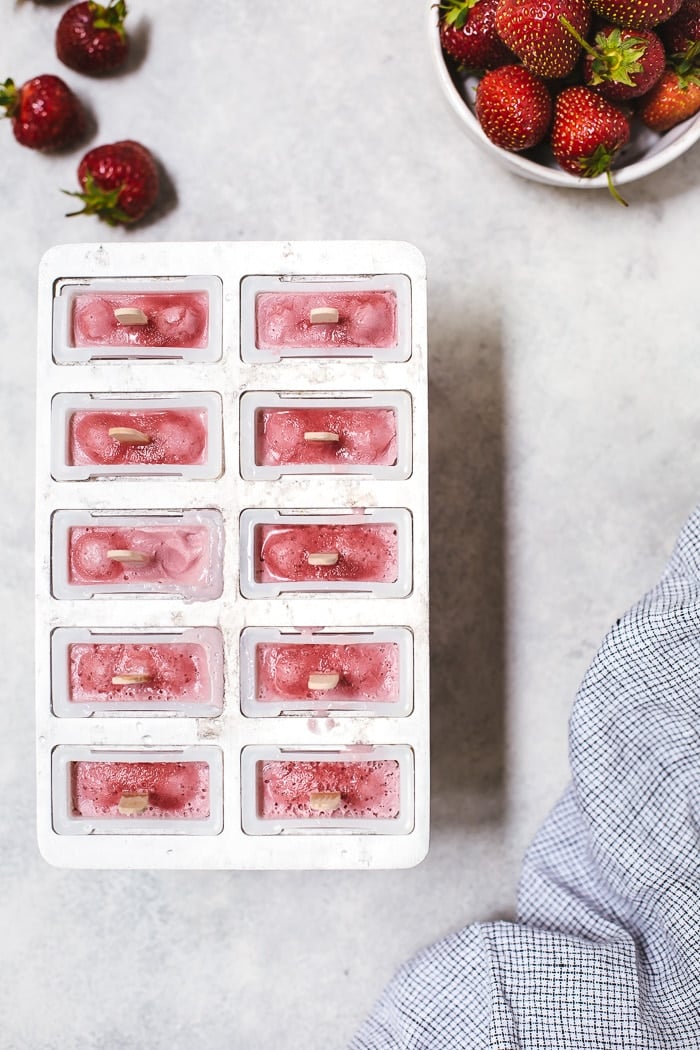 Every year I watched people create beautiful looking popsicle recipes and post them on their blogs while I felt defeated. This year, however, I decided not to ignore it. Instead, I found a super simple recipe, tweaked it a little bit, and gave it another try. It ended up being a recipe that I would be proud to share alongside many of my favorite blogger friends in this year's #POPSICLE WEEK. More than anything, this minty strawberry coconut milk popsicle recipe is a great recipe if you are new to making popsicles and/or had a similar experience in the past.
About this Minty Strawberry Coconut Milk Popsicle Recipe:
The recipe has only 4 ingredients and it takes less than 10 minutes to make. Basically, you blend a handful of fresh mint leaves with fresh strawberries, full-fat coconut milk, and a few tablespoons of maple syrup. The sweetness of the recipe depends on the sweetness of your strawberries and your preference. I find that the combination of strawberry and fresh mint works so well, but I have also tried this recipe with basil a few times in the past.
How To Get The Popsicle Out of The Mold:
Admittedly, my biggest issue was getting the ice cream out of the molds before half of the ice cream was. If I did it too early, they would break and if I did it too late, then half of the popsicle would have already melted. Neither of which looked good enough to be photographed.
So after several tries, I found that the best way to remove popsicles out of their mold lies in this two-step method.
After you let your popsicles completely freeze for at least 6 hours, first take them out and let them sit on the kitchen counter for 5 minutes or so. Obviously, the temperature of your house determines the amount of time you leave them outside. Here in Vermont around this time of the year, the temperature of my house is usually somewhere between 68 to 70 degrees so 5-7 minutes is ideal.
Second, fill a large cup (one that you will be able to put the whole mold in) with warm tap water and place the whole mold until it reaches to the top border of the mold for 30-45 seconds. This step is important as if you immerse only a portion of the mold, the rest of the popsicles will not melt at the same level and will result in broken or half-melted popsicles. Then try the light-jiggling move to get each popsicle out of its mold. They should come out easily. If they don't, put the whole mold back in the water for another 5-10 seconds making sure to try again after every time.
Now, the timing of how long it takes for them to come out of the mold for different recipes might be different. However, while I found that this method usually works for most of the recipes I tried, I recommend keeping a close eye on your popsicles as you apply it in your kitchen.
Finally, if you are wondering about my favorite popsicle mold, this
is the one I use. However, Bill just published a list of his favorite popsicle molds. While I am quite pleased with the one I have, I think for next year I am going to invest in one of his suggestions.
I do not know if you are going to be seeing many more popsicle recipes on Foolproof Living in the days, months or years to come, but I know that I will no longer be ignoring the popsicle week. If you want to see more recipes, make sure to check out the popsicleweek hashtag on Instagram.
Print
Strawberry Coconut Milk Popsicles
Author:
Prep Time:

10 min

Cook Time:

0 min

Total Time:

10 minutes

Yield:

10 servings

Category:

Dessert/Ice Cream

Method:

Blending

Cuisine:

American
Ingredients
2 cups fresh strawberries, hulled
1 (14-ounce) can full-fat coconut milk
3 tablespoons maple syrup
12-15 leaves of fresh mint, rinsed
Instructions
Place all the ingredients in to a blender. Blend until smooth.
Divide the mixture amongst 10 popsicle molds, add sticks to each one, and freeze for at least 6 hours.
When ready to serve, follow the instructions on how to remove the popsicles out of the molds in the blog post above and serve immediately.
Nutrition
Serving Size:

1

Calories:

103

Sugar:

5.1g

Sodium:

6.2mg

Fat:

8.6g

Carbohydrates:

7.5g

Fiber:

0.6g

Protein:

1g

Cholesterol:

0g