There is a reason why this is the first time you are seeing a popsicle recipe on this blog. It was more than 3 years ago when I purchased the popsicle mold you see in the photo below. We were still living in the Caribbean and I was so excited about creating popsicle recipes to share on the blog while selfishly enjoying in the always-warm temperatures of Virgin Gorda, the small island we were living on.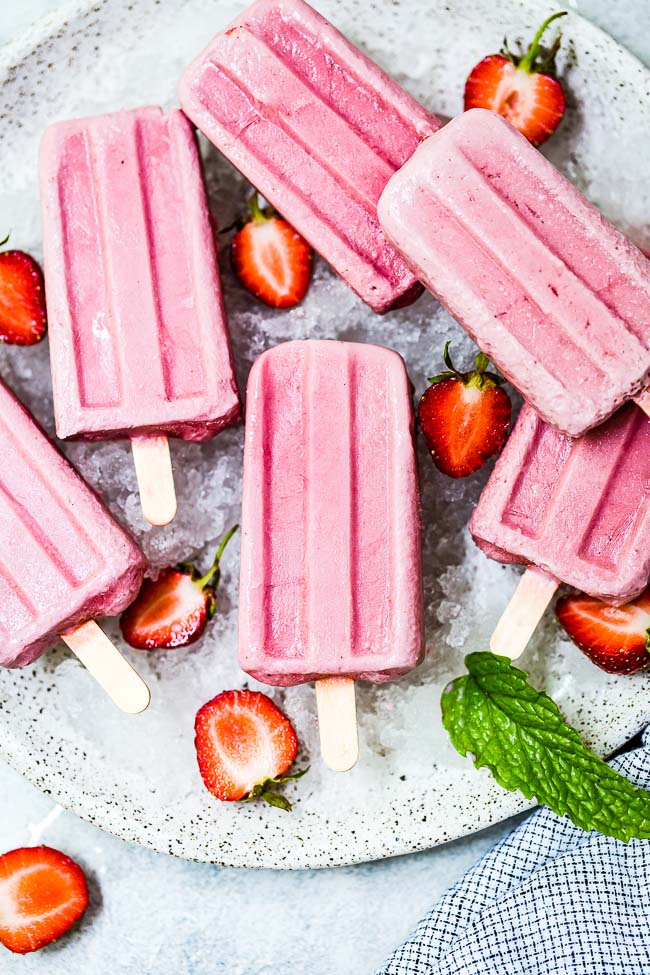 On the day the popsicle mold arrived in the mail, I found a recipe online and made it right away. Sadly, it turned out to be a disaster. It was my bad that I picked a rather complicated recipe.
Feeling so disappointed, I never get back to making them. Until recently…
Now, years later, I am getting back at it. Though this time, the recipe I am using is stupid simple. These strawberry coconut popsicles are great if you are like me, a beginner in making popsicles at home.
Ingredients:
The list of ingredients is for these vegan strawberry popsicles is pretty short. You only need:
Strawberries: I used fresh strawberries because they are in season but frozen ones would also work. I would lightly thaw them and make sure the juices are strained.
Coconut Milk: Use full-fat coconut milk as it will help with making your strawberry popsicles super creamy.
Maple Syrup: Since I was after vegan popsicles, I opted for maple syrup, but honey would also work.
Fresh Mint: This is an optional ingredient, but if you have it on hand I think it makes it so nice and refreshing.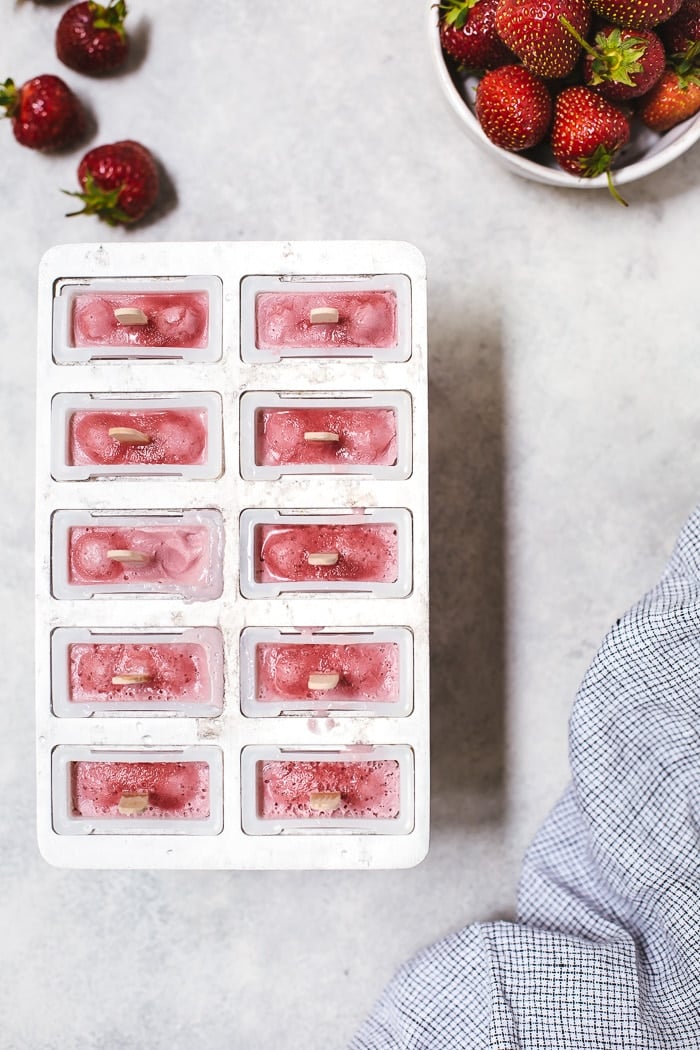 How to make this strawberry coconut milk popsicle recipe:
The process of making these strawberry coconut cream popsicles cannot be easier.
Blend: Place all ingredients in a blender. Blend until smooth.
Taste: Give it a taste and make sure that it is sweet enough for you. If you want it to be sweeter add in a tablespoon (or more) maple syrup.
Pour: Divide the mixture in between 10 popsicle molds. Use a spoon to tap down on the mixture to get out any air pockets. Place the cover on mold and insert popsicle sticks into the center of each mold.
Freeze: Place them in the freezer and freeze for at least 6 hours or preferably, overnight.
How To Get The Popsicle Out of The Mold:
If you have ever made popsicles, you might have found it difficult to get the popsicles out of the mold.
It certainly happened to me. Therefore, I thought that I would share the method that worked for me. I'd like to call this the two-step method.
Step 1: After at least 6 hours of freezing, take the mold out of the freezer and let it sit for 5 minutes on the counter. If your kitchen is hotter than 68-70 degrees then you might be fine with 3-4 minutes.
Step 2: fill a large cup (one that you will be able to put the whole mold in) with warm tap water and place the whole mold until it reaches to the top border of the mold for 30-45 seconds. This step is important as if you immerse only a portion of the mold, the rest of the popsicles will not melt at the same level and will result in broken or half-melted popsicles. Then try the light-jiggling move to get each popsicle out of its mold. They should come out easily. If they don't, put the whole mold back in the water for another 5-10 seconds making sure to try again after every time.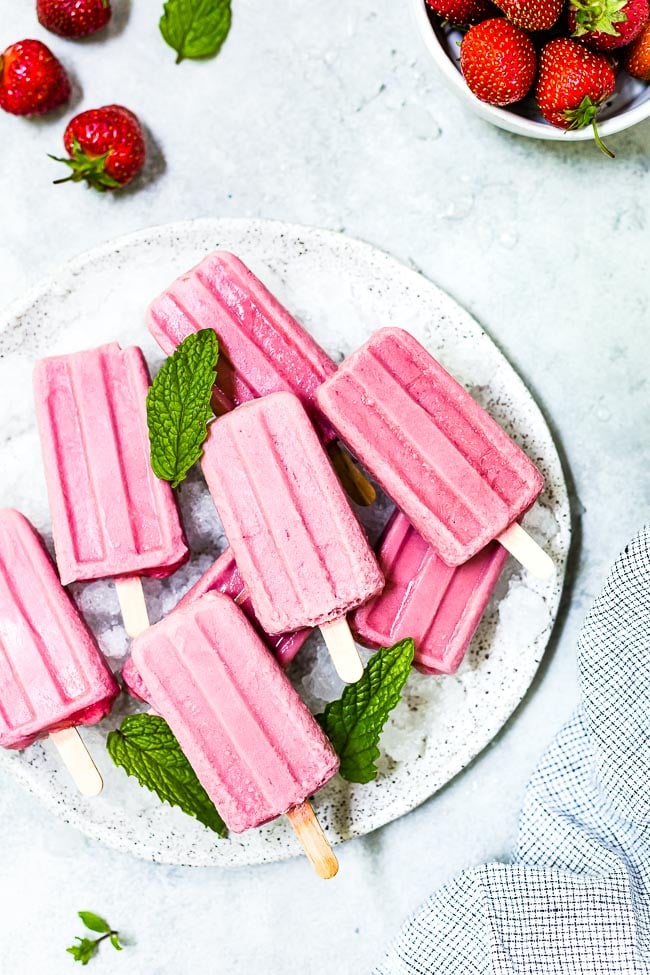 Now, the timing of how long it takes for them to come out of the mold for different recipes might be different. So the best thing to do is to keep a close eye on as it is in the water bath to make sure that it is not melting.
Do you have a popsicle mold you recommend?
If you are new to making popsicles at home you might feel overwhelmed with the crazy amount of options in the market. While I only tried 2 different kinds, I use this one (affiliate link) and am very happy with it.
Here are a few more vegan coconut milk ice cream recipes:
Can't get enough ice cream? I thought so. Here are a few more ice cream recipes you can make with coconut milk:
Strawberry Coconut Milk Popsicles Recipe
These 4-ingredient Creamy Strawberry Coconut Milk Popsicles are naturally sweetened with maple syrup and fresh strawberries and flavored with fresh mint. They are super easy to make and come together in just about 10 minutes and make the best summer dessert for everyone in the family.
Print Recipe
Ingredients
2

cups

fresh strawberries

hulled

1

14-ounce can full-fat coconut milk

3

tablespoons

maple syrup

12-15

leaves

of fresh mint

rinsed
Instructions
Place all the ingredients in to a blender. Blend until smooth.

Divide the mixture amongst 10 popsicle molds, add sticks to each one, and freeze for at least 6 hours.

When ready to serve, follow the instructions on how to remove the popsicles out of the molds in the blog post above and serve immediately.
Notes
Notes:
The timing below does not reflect the minimum 6-hours of freezing time.
If you are having issues with removing your popsicles try my two-step method that I mentioned in the blog post (above the recipe card).
Nutrition
Calories:
117
kcal
|
Carbohydrates:
8
g
|
Protein:
1
g
|
Fat:
10
g
|
Saturated Fat:
8
g
|
Sodium:
7
mg
|
Potassium:
163
mg
|
Fiber:
1
g
|
Sugar:
6
g
|
Vitamin C:
18
mg
|
Calcium:
18
mg
|
Iron:
1
mg
This recipe was published as a part of the #POPSICLEWEEK put together by Billy, the blogger behind Wit and Vinegar. For more delicious and easy popsicle recipes be sure to check out his popsicle week page.
This post was originally published in June 2017. It has been updated with additional helpful information with no changes to the original recipe in June 2020.
Like this recipe? Consider sharing: