To create this post, the awesome folks at Wolf Gourmet gifted me with one of their top-of-the-line high powered blenders. As always, all opinions are my own.
Have you ever tried cooking with sunchokes (aka jerusalem artichokes)?
Well, I haven't. Or at least until now. If you haven't either, you are at the right place, because today we are making sunchoke soup.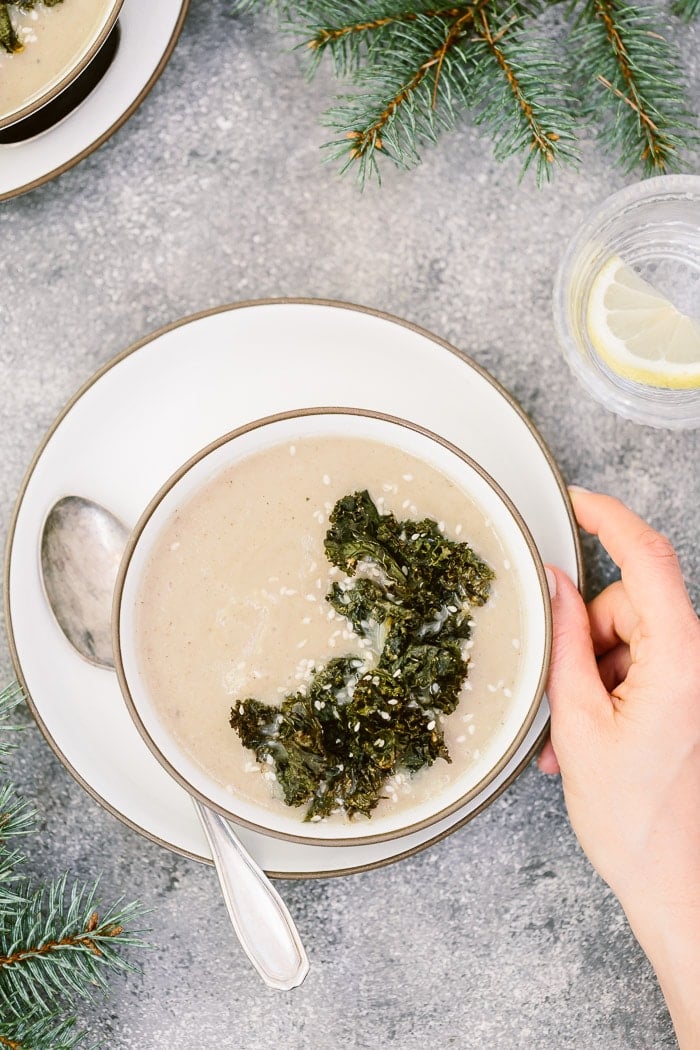 The first time I saw the name "sunchoke" on a menu was when I met my friend Emily for lunch in New York City back in 2015. We decided to order a few different dishes from the menu to share so that we could each taste more than one dish. When she saw the fried sunchokes on the menu, she immediately asked for it.
Not knowing what they were, I kept quiet. Surprisingly, after the first bite, I knew why she went for them so quickly. They were similar to potatoes but more flavorful and less starchy. Either way, they were SO good.
Since then I meant to try my hand cooking with them, but never got around to it until I saw them at the farmer's market last week. While I was contemplating if I should buy some, I saw another lady filling her bag with them.
She looked like she knew exactly what she was doing so I asked how she uses them. She said that her husband loves sunchoke soup and as soon as colder months kick in he asks for it. She even provided me with this quick recipe right there at the stand. After the farmer's market, I came home and made it. It was so good to not share. So here it is.
What is Sunchoke (AKA Jerusalem Artichoke)
First things first, what is a sunchoke?
Here are 6 things you need to know about sunchokes:
In terms of looks, they are somewhere between a small potato and ginger root.
They taste similar to potatoes with more earty and nutty flavor.
They are also called Jerusalem artichoke, but in reality they have no relation to Jerusalem and taste nothing like artichokes.
They are grown underground.
Some people also call them "fartichokes" as they might make you gassy after eating them.
They are low in calorie, rich in fiber, and are a great source of magnesium, iron, calcium and potassium.
Do you really need to peel sunchokes? How To Prepare Sunchokes
As I was getting ready to make the soup, my first question was whether I need to peel them or not. To be honest, I was hoping that I didn't have to, because as you can see in the photos, they look like ginger root. And if you have ever peeled ginger root, you know how hard and tedious it is to do so.
A quick google search revealed that the skin was edible, but a thorough wash to make sure that it was free of any dirt was highly recommend. Following these directions, I washed under running water with a soft kitchen brush. It worked perfectly.
About This Sunchoke Soup Recipe:
Once your sunchokes are clean, the rest is pretty easy. You put all the in a large pan, cook until sunchokes are soft, and puree in a blender until smooth. Once it is reheated, you have a heartwarming, filling and healthy soup on the table in less than an hour.
When it comes to blending these kinds of soups, your life gets much easier when you have a high-performance blender. So when the folks at Wolf Gourmet reached out and asked if I could review their blender I did not hesitate a minute.
And let me tell you, this high power blender didn't disappoint. With its responsive speed control, it pureed the whole soup in less than 30 seconds. The end result was a smooth and velvety soup that was ready in no time.
Plus, this state of the art blender offers four blending presets to provide you a range of texture options, including smoothie, puree, soup and ice crush. While these program settings offer walk-away convenience, if you prefer, you can manually control the settings to have more control over.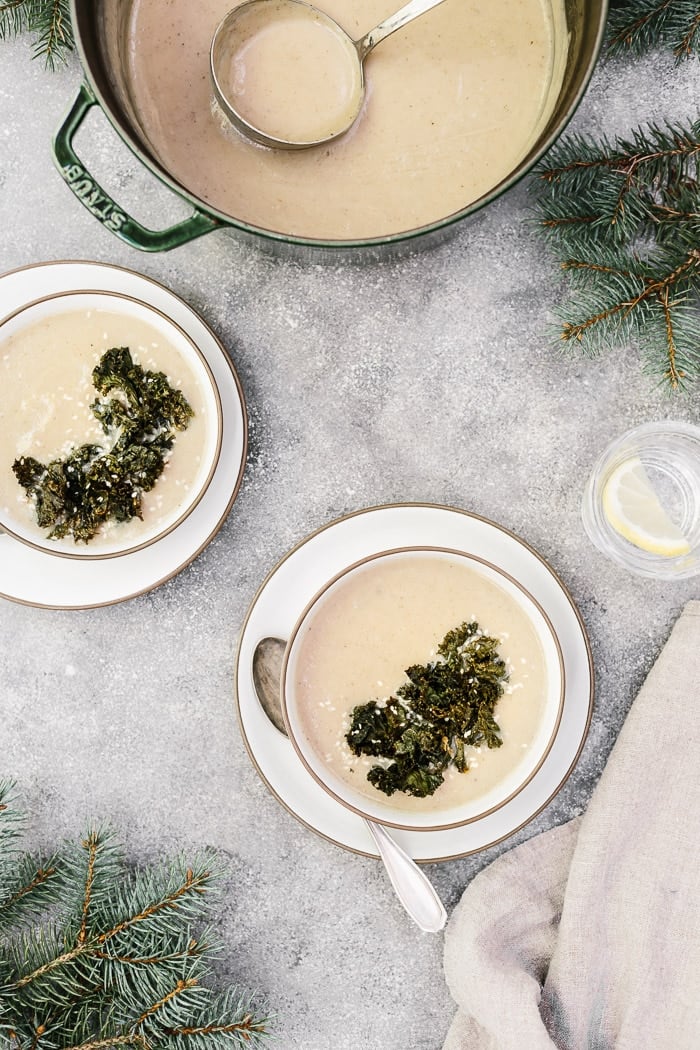 Since making this soup, I have also made a few salad dressings and sauces using this blender. If you are like me and love making your own dressings, sauces or dips you will especially love this blender as its tight-fitting lid includes an emulsion dosing cup for adding ingredients slowly to avoid separation of oils.
All in all this is a great blender that will make your life easier. It looks good and works quietly. If you are in the market for a high-powered blender, I think Wolf Gourmet is worth the investment.
THE GIVEAWAY is now closed.
The winner has Svetlana D.
Thanks to everyone for entering the giveaway.
The awesome folks at Wolf Gourmet are letting me give one of these blenders to one of my readers. For a chance to win, let me know what would be the first thing you would make if you were to win.
I will announce the winner on November 13th, 2017 at 12pm EST here on the blog and via e-mail.
Fine print: This giveaway is only open to US residents.
Other Soup Recipes You Might Like:
Sunchoke Soup
Are you ready to up your soup game this fall? If so, you are at the right place, because we are making sunchoke soup. This vegetarian and gluten-free sunchoke soup is easy to make and ready in less than an hour.
Print Recipe
Ingredients
For the soup:
2

pounds

sunchokes

with the skin on

2

tablespoons

butter

1

medium-size onion

chopped

3

stalks of celery stalks

rinsed and sliced thinly

1

teaspoon

salt

½

teaspoon

black pepper

4

cups

unsalted or low-sodium vegetable

or homemade chicken stock

2

cups

water
As topping – (Optional)
Homemade kale chips

1

teaspoon

sesame seeds
Instructions
Place the sunchokes in a colander and rinse under running water. Using a kitchen brush, lightly brush them to get rid of the soil on them, if there is any. Cut into 1-inch cubes and set aside.

Heat butter in a large Dutch oven (or any heavy bottom pan) in medium heat. Add in the onion and celery. Cook, stirring frequently, until softened, 5-7 minutes.

Add in the salt, pepper, stock, water, and sunchokes. Give it a stir. Bring it to a boil. Turn down the heat and let it simmer for 45-50 minutes or until sunchokes are easily pierced when inserted with a knife.

In a blender, puree the soup in 2 batches until smooth. Return the soup to the pan and reheat over medium heat.

Taste for seasoning and add in if necessary.

Ladle into bowls. If prefered, top each bowl with kale chips and sesame seeds.
Nutrition
Calories:
162
kcal
|
Carbohydrates:
30
g
|
Protein:
3
g
|
Fat:
4
g
|
Saturated Fat:
2
g
|
Trans Fat:
1
g
|
Cholesterol:
10
mg
|
Sodium:
1060
mg
|
Potassium:
686
mg
|
Fiber:
3
g
|
Sugar:
17
g
|
Vitamin A:
491
IU
|
Vitamin C:
7
mg
|
Calcium:
34
mg
|
Iron:
5
mg
Like this recipe? Consider sharing: