Warm your heart with this chicken potato noodle soup in these last days of winter.
This soup is a lighter version of our favorite winter classic, chicken noodle soup. As the name suggests, I switched pasta noodles with spiralized potato noodles to cut down in the calories and recreate a skinnier version of our favorite winter bowl of goodness.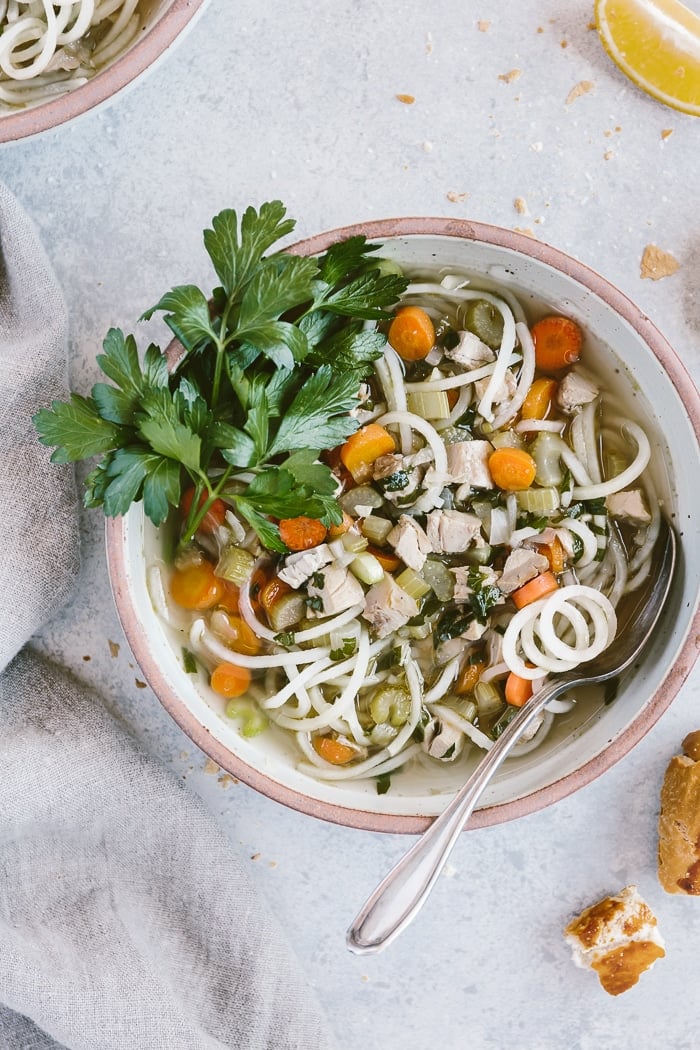 Sprilazing Potatoes:
To prevent spiralized potato from turning brown, I recommend placing it in a bowl of cold tab water. If you want to prep ahead and spiralize the potato in advance, you can do so. As long as it is submerged in water and kept in the fridge, it should be fine up to 8 hours.
If you do not have a spiralizer, you can also use a peeler to create long and thin ribbons of potatoes.
Since the potatoes are so thin, they cook rather quickly so keep an eye on them after you place them in the already simmering soup to avoid overcooking.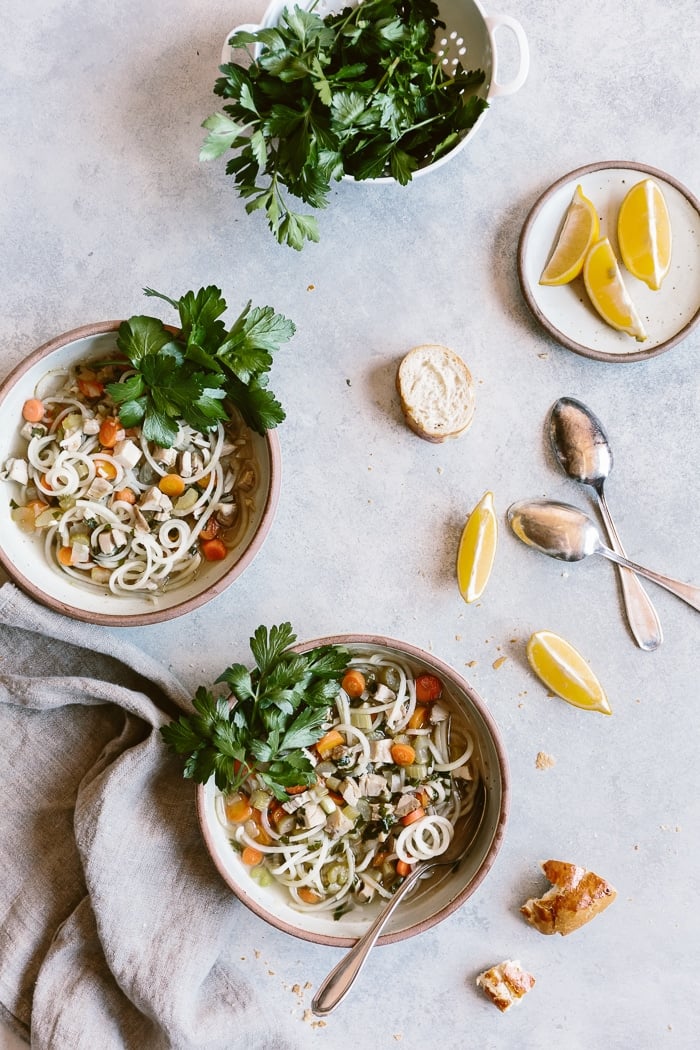 A big squeeze of lemon juice:
Most chicken noodle recipes online do not use a squeeze of lemon juice at the end. For some reason, my mother always did. So I did continue with her tradition and used it. I feel as though it brings all the flavors together. However, if this is not your thing feel free to omit the lemon juice.
Either way, this chicken potato noodle soup is a great and lighter alternative to the chicken noodle soup we all love. I know that with the current temperatures being in teens, I will be putting it on the rotation until spring finally makes its appearance.
Print
Chicken Potato "Noodle" Soup
This chicken potato "noodle" soup is a lighter version of the classic chicken noodle soup we all love. In my version, I used spiralized potato noodles instead of the usual pasta noodles. It is easy-to-make and perfect for those, who are calorie conscious.
Author:
Prep Time:

20

Cook Time:

30

Total Time:

50 minutes

Yield:

4 servings

Category:

Soup

Cuisine:

American
Ingredients
2 tablespoons olive oil
2 small onions, chopped
3 medium-size carrots, peeled and sliced into 1/2 inch thick slices
3 stalks of celery ribs, sliced into 1/2 inch thick slices
3-4 cloves of garlic, peeled and minced
6 cups low-sodium (or homemade) chicken stock
2 cups water
2 tablespoons of lemon juice, freshly squeezed – plus lemon wedges to serve with
¼ cup fresh Italian parsley leaves, rinsed, more as garnish
1 ½ teaspoon kosher salt
½ teaspoon black pepper, freshly ground
1 ½ cups cooked and shredded chicken
1 large russet potato, spiralized
Instructions
Heat olive oil in a large heavy bottom pot. Add onion, carrots, and celery and cook over medium until they start softening, 8-10 minutes.
Stir in the garlic and cook stirring constantly until fragrant, 30 seconds or so.
Add in the stock, water, lemon juice, parsley leaves, salt and pepper. Bring it a boil, turn the heat down to medium-low, and let it simmer for 10-15 minutes.
Stir in the shredded chicken and cook for 15-20 minutes.
Right before serving, stir in the spiralized potato "noodles". Cook for 7-8 minutes. *
Ladle the soup into large bowls, garnish with fresh parsley leaves, and serve with lemon wedges and crusty bread.