Fan of chicken soups? Be sure to also try our Vegetable Chicken Soup, Healthy Wild Rice Chicken Soup, and Slow Cooker Chicken Stew.
It is no secret that chicken noodle soup is a winter classic, but what if I told you that you could turn potatoes into noodles using your spiralizer and make a similar chicken potato noodle soup with fewer calories? That is exactly what we are doing today.
I'll be honest when I first thought about this recipe I wasn't too sure about changing up such a classic recipe by adding potatoes in chicken noodle soup. However, to our surprise, both my husband and I agreed that this version was just as good as the original one. So here I am with a skinnier version of our favorite soup; Potato Noodle Chicken Soup.
So if you were wondering whether or not you can put potatoes in chicken noodle soup, I am here to tell you that not only the answer is yes, but also it is a great idea to turn them into noodles and omit using the pasta noodles altogether.
Intrigued? Let's break it down.
Ingredients
To make this chicken soup with potatoes, you will need:
Mirepoix (aka onion-carrot-celery): As in the original recipe the recipe starts with a combo of chopped onions, carrots, and celery. You will need about a cup of each.
Flavorings & Seasoning: Fresh minced garlic, fresh parsley, salt, and pepper.
Chicken Stock & Water: I used my homemade chicken stock recipe here, but you can always use storebought low sodium stock.
Cooked & Shredded Chicken: This is a perfect soup recipe to use up leftover chicken, which is exactly what I did. If you do not have leftover chicken you can also use rotisserie chicken.
Russet Potato: I used a russet potato as I think it is a sturdier (for the lack of a better word) potato that can handle spiralizing. I also think that it can also hold its shape better compared to other types of potatoes.
Freshly Squeezed Lemon Juice: To me, a squeeze of lemon juice makes this a healing soup so don't skip on adding that at the last minute.
How to spiralize potatoes and prevent browning?
To prevent the spiralized potato from turning brown, I recommend placing it in a bowl of cold tap water. If you want to prep ahead and spiralize the potato in advance, you can do so. As long as it is submerged in water and kept in the fridge, it should be fine up to 8 hours.
If you do not have a spiralizer, you can:
Use a vegetable peeler to create long and thin ribbons of potatoes.
Check your local grocery store to see if they are selling already spiralized potatoes.
Instead of turning potatoes into noodles, you can also cut them in small 1/2-inch cubes.
One important thing to mention here is that since potato noodles are so thin, they cook rather quickly so keep an eye on them after they are added into the simmering soup.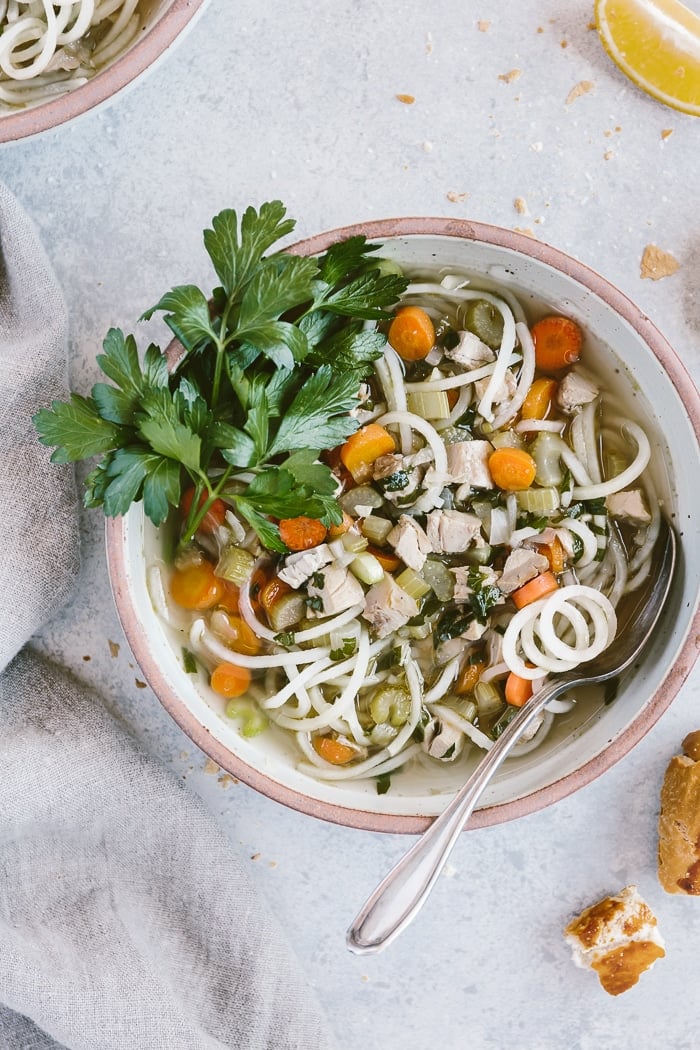 How To Make This Recipe?
Below are the step-by-step instructions to make this chicken noodle soup recipe:
Sautee mirepoix & garlic: Start by heating a tablespoon of oil in a pot in medium heat. Add in the mirepoix and saute until vegetables are softened, 8-10 minutes. Stir in garlic and cook for 30 seconds.
Add in the chicken stock and water: Pour in the chicken stock, water, cooked (and shredded chicken), and salt and pepper. Bring it to a boil and let it simmer until all of the veggies are cooked. This should take about 15-20 minutes.
Add in the potato "noodles": Add in the spiralized potato into the simmering liquid and let it cook for 7-9 minutes or until potato noodles are cooked. This happens pretty quickly so keep a close eye on it.
Add in a squeeze of lemon juice and fresh parsley: Finish it off with a generous squeeze of lemon juice and some chopped fresh parsley.
Taste for seasoning: Give it a taste and add in more seasoning if necessary. Serve!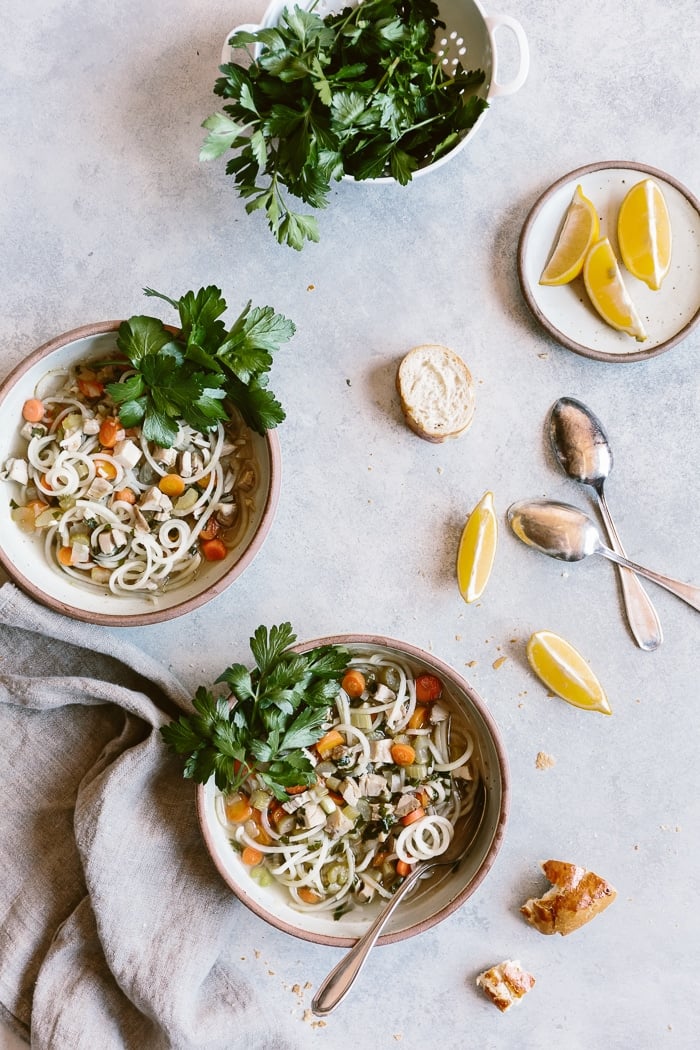 This potato noodle chicken soup is a great and lighter alternative to the chicken noodle soup we all love. I know that with the current temperatures being in teens, I will be putting it on the rotation until spring finally makes its appearance.
Other Healthy Chicken Soup Recipes You Might Like:
Chicken Potato Noodle Soup Recipe
This chicken potato noodle soup is a lighter version of the classic chicken noodle soup we all love. In my version, I used spiralized potato noodles instead of the usual pasta noodles. It is easy-to-make and perfect for those, who are calorie conscious.
Print Recipe
Ingredients
2

tablespoons

of vegetable oil

such as grapeseed

2

small onions

chopped

3

medium-size carrots

peeled and sliced into 1/2 inch thick slices

3

stalks of celery

sliced into 1/2 inch thick slices

3

cloves

of garlic

peeled and minced

1 ½

cups

cooked and shredded chicken

6

cups

low-sodium

or homemade chicken stock

2

cups

water

1 ½

teaspoon

kosher salt

½

teaspoon

black pepper

freshly ground

1

large russet potato

spiralized

2

tablespoons

of lemon juice

freshly squeezed – plus lemon wedges to serve with

¼

cup

fresh Italian parsley leaves

rinsed, more as garnish
Instructions
Heat olive oil in a large heavy bottom pot in medium heat. Add onion, carrots, and celery and cook over medium until they are softened, 8-10 minutes.

Stir in the garlic and cook stirring constantly until fragrant, 30 seconds or so.

Add in the shredded chicken, chicken stock, water, and salt and pepper. Bring it a boil, turn the heat down to medium-low, and let it simmer for 10-15 minutes.

Stir in the spiralized potato "noodles". Cook for 7-8 minutes.

Finish it off with freshly squeezed lemon juice and fresh parsley.

Ladle the soup into large bowls and serve with lemon wedges and crusty bread.
Nutrition
Calories:
217
kcal
|
Carbohydrates:
21
g
|
Protein:
12
g
|
Fat:
10
g
|
Saturated Fat:
7
g
|
Cholesterol:
15
mg
|
Sodium:
1594
mg
|
Potassium:
1237
mg
|
Fiber:
3
g
|
Sugar:
5
g
|
Vitamin A:
8001
IU
|
Vitamin C:
19
mg
|
Calcium:
47
mg
|
Iron:
1
mg
Like this recipe? Consider sharing: