When it comes to seasoning turkey tenderloins, you can go in a few different directions. The two methods I like are made by using a simple seasoning mixture and using a simple marinade. The first one, coating them with a thin layer of seasoning, is the method I used in my Roasted Turkey Tenderloin recipe.
The second method, which I am covering here, is made by marinating turkey breast tenderloins in a soy sauce-based marinade for a few hours. The result is nothing short of a miracle with the most delicious and melt-in-your-mouth tender turkey tenderloins. Yes, there is a bit of advance prep and wait, but I think it is totally worth it.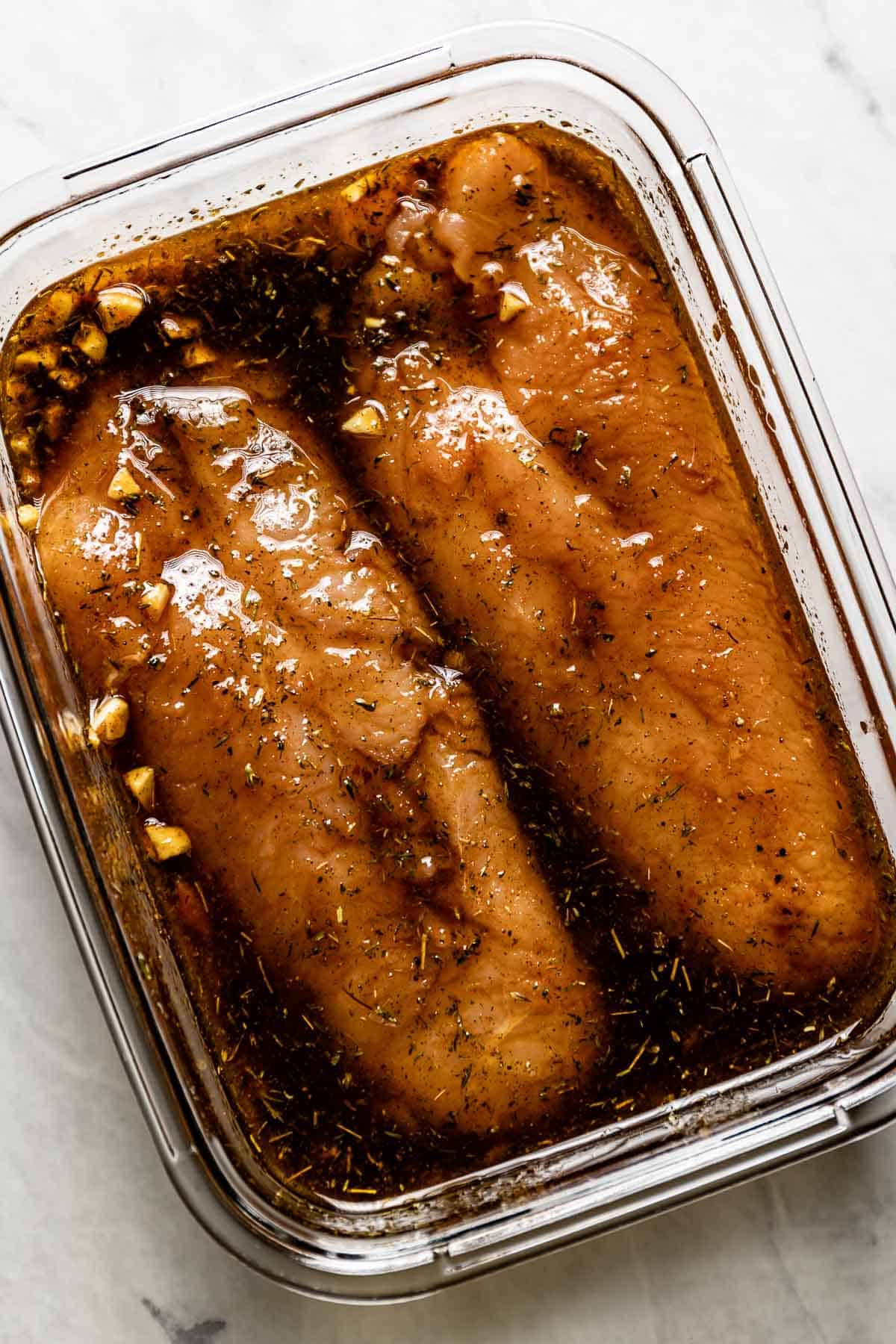 Ingredients You Will Need?
To make this marinade for turkey tenderloin, gather olive oil, soy sauce, fresh lemon juice, Dijon mustard, brown sugar, onion powder, paprika, dried thyme, dried sage, black pepper, and minced garlic.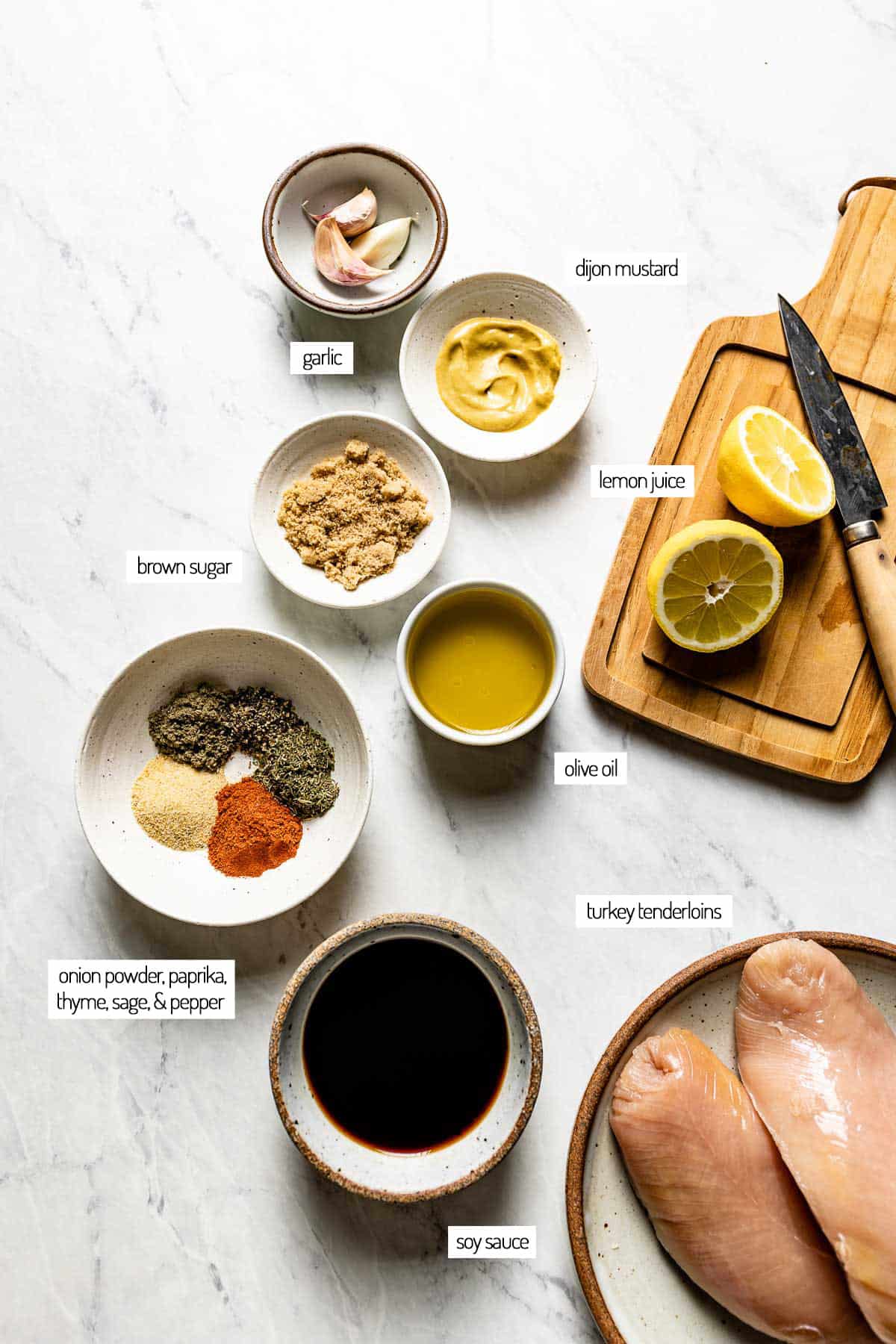 To complete your oven-roasted turkey tenderloin, you will also need two turkey tenderloins that weigh about 4 ounces (~113 grams) each.
Substitutions
Making my go-to marinade for turkey breast tenderloin does not require many ingredients, but if you are missing an ingredient, you can substitute with the following ingredients:
Sugar: Coconut sugar is a natural sweetener substitute for brown sugar in this easy turkey tenderloin recipe. It doesn't add a coconut-y taste while still offering the sweetness that we are after.
Lime juice: Lime juice makes an excellent substitute for lemon juice.
Garlic: You can use 1 tablespoon of garlic powder as a substitute for garlic cloves.
Italian seasoning: Missing a few ingredients for your turkey tenderloin seasoning? Don't stress! Italian seasoning can be used in place of ingredients like sage and thyme.
How to Make the Recipe?
Whether you're cooking turkey tenderloins in the oven or preparing grilled turkey tenderloin for a summer get-together, this simple marinade will give every bite restaurant-quality flavor.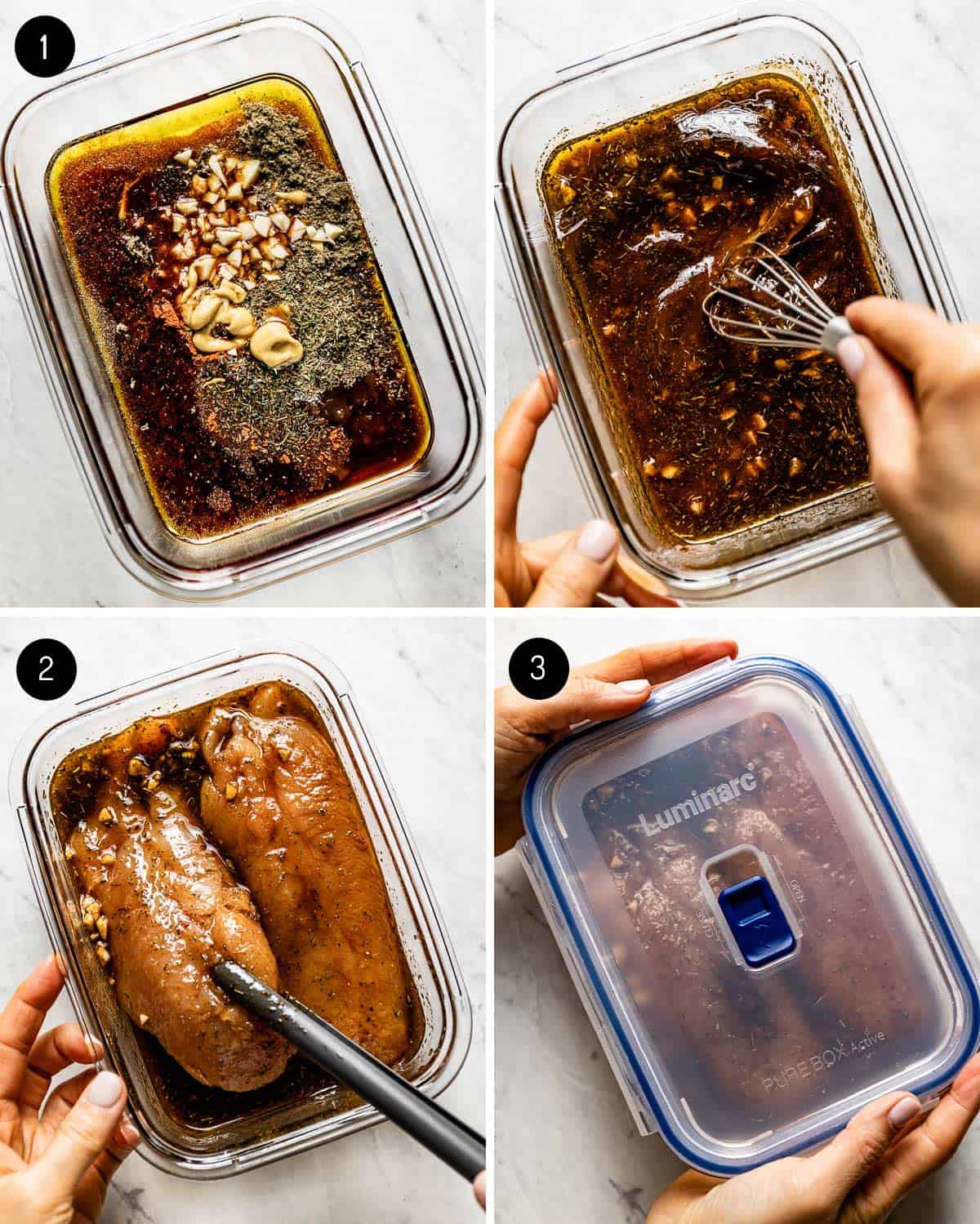 Mix the marinade for turkey tenderloins: In a small bowl or measuring cup, whisk together the marinade ingredients: olive oil, soy sauce, lemon juice, Dijon mustard, brown sugar, paprika, thyme, sage, black pepper, and garlic. Reserve 3 tablespoons of the mixture and set it aside.
Add the turkey fillets: Pour the remaining marinade into a large resealable plastic bag or a medium size shallow bowl with a tight-fitting lid. Then, set turkey tenderloins in the marinade, fully submerging each piece of meat. Seal bag, if using.
Marinate the turkey: Cover and refrigerate turkey tenders for 2 to 4 hours.
How to Bake Marinated Turkey Breast Tenderloins
Wondering how long to bake turkey breast fillets? Curious about how to bake turkey breast tenderloins without drying them out? This how-to guide has everything you need for baking turkey tenderloin like a pro.
Prepare the oven: Fifteen minutes before you roast the marinated turkey tenderloin, preheat the oven to 350 degrees F.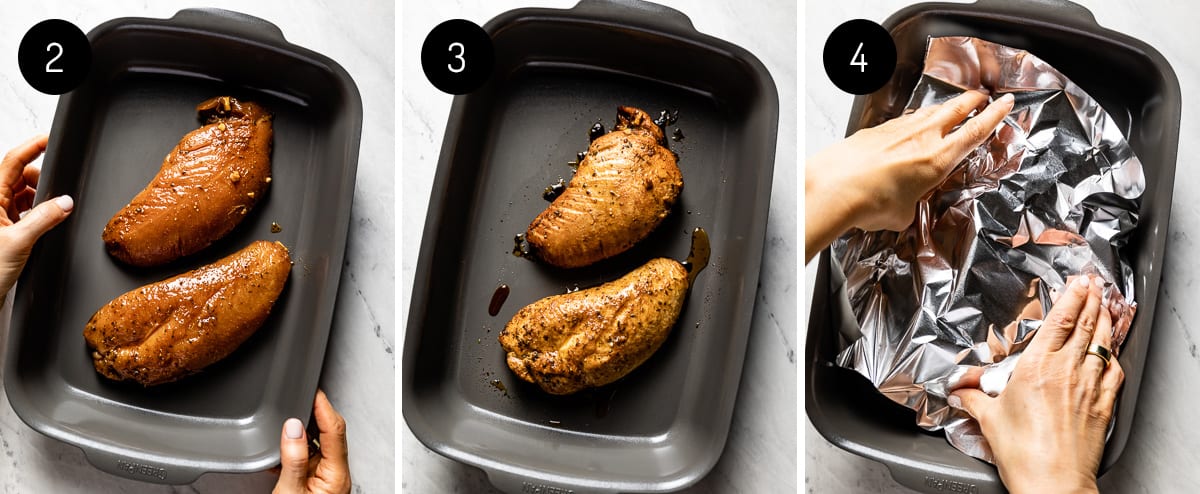 Transfer the loins: Remove the marinated turkey tenderloins from the seasoning mixture. Transfer the meat to an ovenproof dish and discard any remaining marinade.
Roast: Place turkey tenderloins in the preheated oven and roast them until a meat thermometer registers 155 degrees F. when inserted into the thickest part of the meat. For 4-oz. pieces, the turkey tenderloin cook time should be 20-23 minutes, though larger tenders may require more time. Remove the turkey from the oven.
Let the turkey loins rest: Place a sheet of tin foil over the baked turkey tenders, and let the meat rest for 10 minutes. During this time, the internal temp. for turkey tenderloin should reach 165 degrees Fahrenheit.
Serve: Slice the turkey fillets, drizzle them with the reserved marinade, and serve.
How Long Should I Marinate Turkey Breast Fillets?
Before baking turkey breast tenderloins, I recommend marinating them for 2-4 hours or up to 8 hours. Any longer, the turkey tenderloin marinade's soy sauce will begin to degrade the quality of the meat, turning it tough or mushy.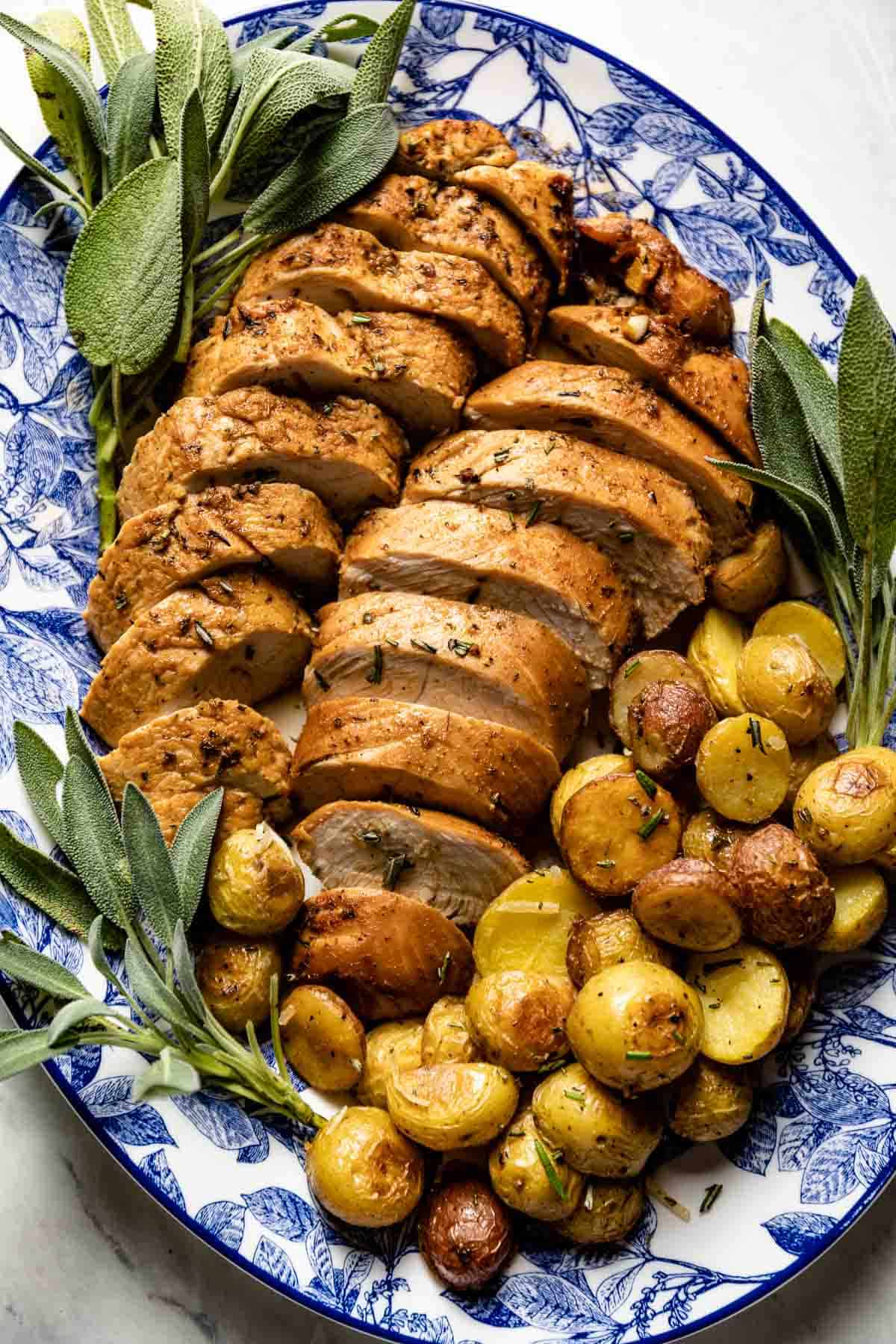 Expert Tips
You don't need to be an expert in turkey recipes to make the best marinade for turkey tenderloin. Give your baked turkey breast tenderloin recipe great flavor with these easy tips.
Tenderloin size: I designed this marinated turkey breast fillet recipe for two, 4-ounce (~113 grams) turkey tenders. However, if your tenderloins are larger, you can easily multiply this marinade recipe to accommodate the extra turkey.
Make ahead: This baked turkey tenderloin marinade is a godsend for quick meal prep. You can prepare this turkey marinade up to one day in advance. Then, store it in an airtight container in the fridge until the next day when you're ready to use it.
Multiple uses: The good thing about this turkey tenderloin marinade is that it can be used for other turkey parts such as turkey cutlets, turkey breasts, and turkey thighs. Simply adjust the amount based on the weight of your meat. Additionally, this easy marinade can be used for any cooking method, including grilling, roasting, cooking on the stove, in a slow cooker, air fryer, or in an Instant Pot.
Extra seasoning and optional garnishes: While it is optional, I like to finish off my baked marinated turkey tenderloins with a sprinkle of coarse sea salt and a small amount of ground pepper. And for garnish, you can use fresh rosemary or fresh sage leaves and serve it with a favorite side dish (i.e. roasted potatoes) to make it visually impressive.
FAQs
What is the difference between a marinade and a brine?
Marinades are mostly used to add a flavor to the meat and are usually made by mixing oil with some sort of an acidic ingredient (like soy sauce, lemon juice, or apple cider vinegar) and various spices and seasonings. The marinading time usually varies between 2 hours to 8 hours.

On the other hand, brine is used to add moisture and properly salt the turkey meat by soaking it in a salty mixture for a longer period of time (usually 24 hours).
Should I marinate the turkey overnight?
If you are using this turkey tenderloin marinade recipe, the answer is yes! Marinating each part of the turkey for up to 8 hours is the key to preparing flavorful turkey tenderloin.
What temp. should turkey tenderloin be cooked to?
Your turkey tenderloin temp. when done should reach 165 degrees F. However, I believe the best way to cook turkey breast fillets is by removing them from the oven when their internal temperature reaches 155 degrees F. Then, let the marinated turkey breast tenderloin rest under a tin foil tent, and its temperature should reach 165 degrees F. after 10 minutes.
Other Meat Marinade Recipes You Might Like:
Marinating meat to flavor them is probably the easiest way of seasoning and making them delicious. Below are my favorite meat marinades that I use often:
If you try this Turkey Tenderloin Marinade recipe or any other recipe on Foolproof Living, please take a minute to rate the recipe and leave a comment below. It helps others who are thinking of making the recipe. And if you took some pictures, be sure to share them on Instagram using #foolproofeats so I can share them on my stories.
Turkey Tenderloin Marinade Recipe
This Turkey Tenderloin Marinade Recipe is a sweet and savory combination of ground spices, brown sugar, mustard, and soy sauce, resulting in perfectly juicy, ultra flavorful tenderloin. Serve this dish with your choice of side for the perfect holiday meal or even an everyday weeknight dinner.
Print Recipe
Ingredients
¼

cup

olive oil

¼

cup

soy sauce

2

tablespoons

lemon juice

1

teaspoon

Dijon mustard

1

tablespoon

brown sugar

or coconut sugar

1

teaspoon

onion powder

1

teaspoon

paprika

or smoked paprika

1

teaspoon

dried thyme

1

teaspoon

dried sage or oregano

½

teaspoon

black pepper

3

cloves

garlic

minced

2

turkey tenderloins – 4 ounces

~113 gr. each
Instructions
Make the marinade: Whisk together olive oil, soy sauce, lemon juices, dijon mustard, brown sugar, onion powder, paprika, thyme, sage, black pepper, and garlic in a measuring cup. Reserve 3 tablespoons of the marinade and set it aside.

Marinate the turkey: Pour the rest of the marinade into a sealable plastic bag or a shallow bowl with a tight-fitting lid. Place the turkey tenderloins in the marinade and make sure that they are fully submerged in the marinade. Cover it with the lid and marinate for 2-4 hours* in the refrigerator.

Preheat the oven: Fifteen minutes before you are ready to roast the tenderloins, preheat the oven to 350 degrees Fahrenheit.

Transfer to a baking dish: Remove the tenderloins from the marinade on an ovenproof dish* and discard the remaining marinade.

Bake: Roast in the preheated oven for 20-23 minutes or until a meat thermometer inserted into the thickest part of the tenderloin registers 155 degrees.*

Rest: Tent it with foil and let it rest for 10 minutes. As it sits (covered) with foil, it should reach 165 degrees Fahrenheit.

Serve: Slice and drizzle it with the reserved marinade before serving.
Notes
Baking time: These recipes were tested using two turkey tenderloins that were about 4 ounces each. The baking time might vary slightly depending on the size of your loins. The best way to check doneness is by using a

meat thermometer

(affiliate link.)

Internal temperature: While the ideal internal temperature for Turkey Tenderloins, according to

USDA food safety guidelines

, is 165 degrees F., we are removing them from the oven a bit earlier than they reach 165 degrees because we found that if we bake them any longer, they become dry. Instead, by covering them and letting them rest, we help residual heat continue to cook them. As a result, we end up with perfectly moist and melt-in-your-mouth moist turkey tenderloins.

Equipment: When baking marinated tenderloins, I used a metal baking dish as it does a good job of retaining heat. Plus, since we rely on the residual heat to continue to cook the tenderloins, I find that a metal baking dish works the best. Therefore I would not recommend using a glass baking dish (like Pyrex) for this recipe.
Marinating time: If you have the time, you can marinate the meat for up to 8 hours. Though I wouldn't recommend longer than that. If you are short on time, 25-30 minutes of marinating time should work as well.
Seasoning: For a slightly smokey flavor, use smoked paprika as a part of the seasoning.
Make-ahead: You can make this marinade 24 hours in advance and store it in the fridge in an airtight container until you are ready to use it.
Nutrition
Calories:
241
kcal
|
Carbohydrates:
6
g
|
Protein:
22
g
|
Fat:
15
g
|
Saturated Fat:
2
g
|
Polyunsaturated Fat:
1
g
|
Monounsaturated Fat:
10
g
|
Cholesterol:
38
mg
|
Sodium:
883
mg
|
Potassium:
75
mg
|
Fiber:
1
g
|
Sugar:
3
g
|
Vitamin A:
260
IU
|
Vitamin C:
4
mg
|
Calcium:
20
mg
|
Iron:
1
mg
Like this recipe? Consider sharing: