Need more ideas to make your mornings easier? Overnight Oats with Steel Cut Oats, Overnight Muesli with Yogurt, Yogurt Overnight Oats, and Chia Seed Oatmeal are all great options to make the most important meal of the day not only quick and easy but filling and nutritious.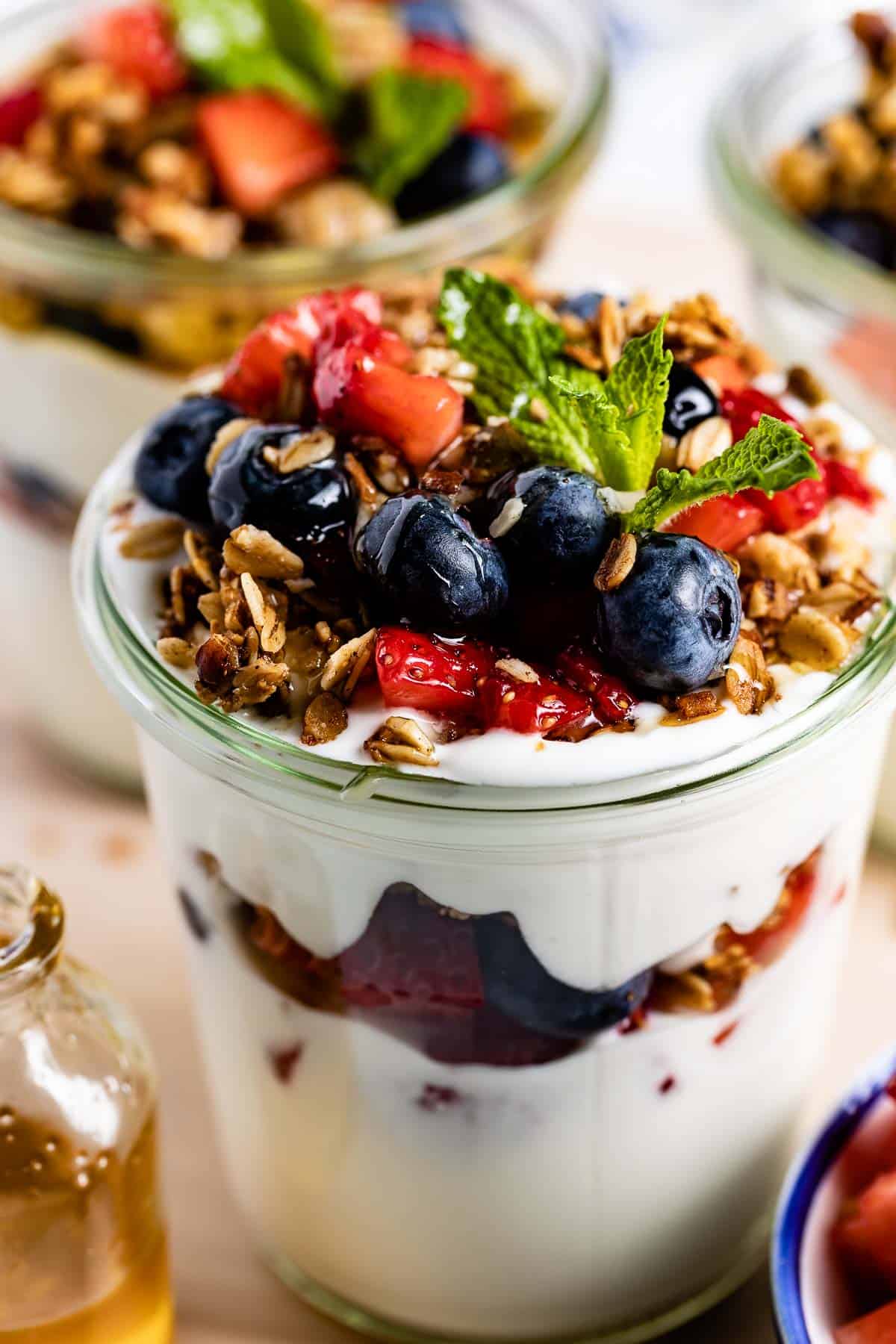 Why Should You Make This Recipe?
Nothing beats fresh fruit, thick creamy yogurt, and crunchy granola. This layered fruit and yogurt parfait recipe will rival any Starbucks or Chick fil A yogurt parfait and save you money too.
Need more convincing? Here are a few other reasons to give it a try:
Made with 3 ingredients. Fresh fruit, crunchy granola, and Greek yogurt are all you need for this easy healthy breakfast parfait that you can make in minutes.
It stores well so you can make ahead for a grab-and-go breakfast.
Easy to customize with whatever you have on hand. If you don't have fresh fruit, use frozen fruit. Got a bit of a sweet craving? Add honey or maple syrup. The options are endless for this healthy Greek yogurt parfait recipe.
Ingredients
Since this greek yogurt parfait only has 3 ingredients (not counting the optional sweetener), I recommend using the best ingredients you can find.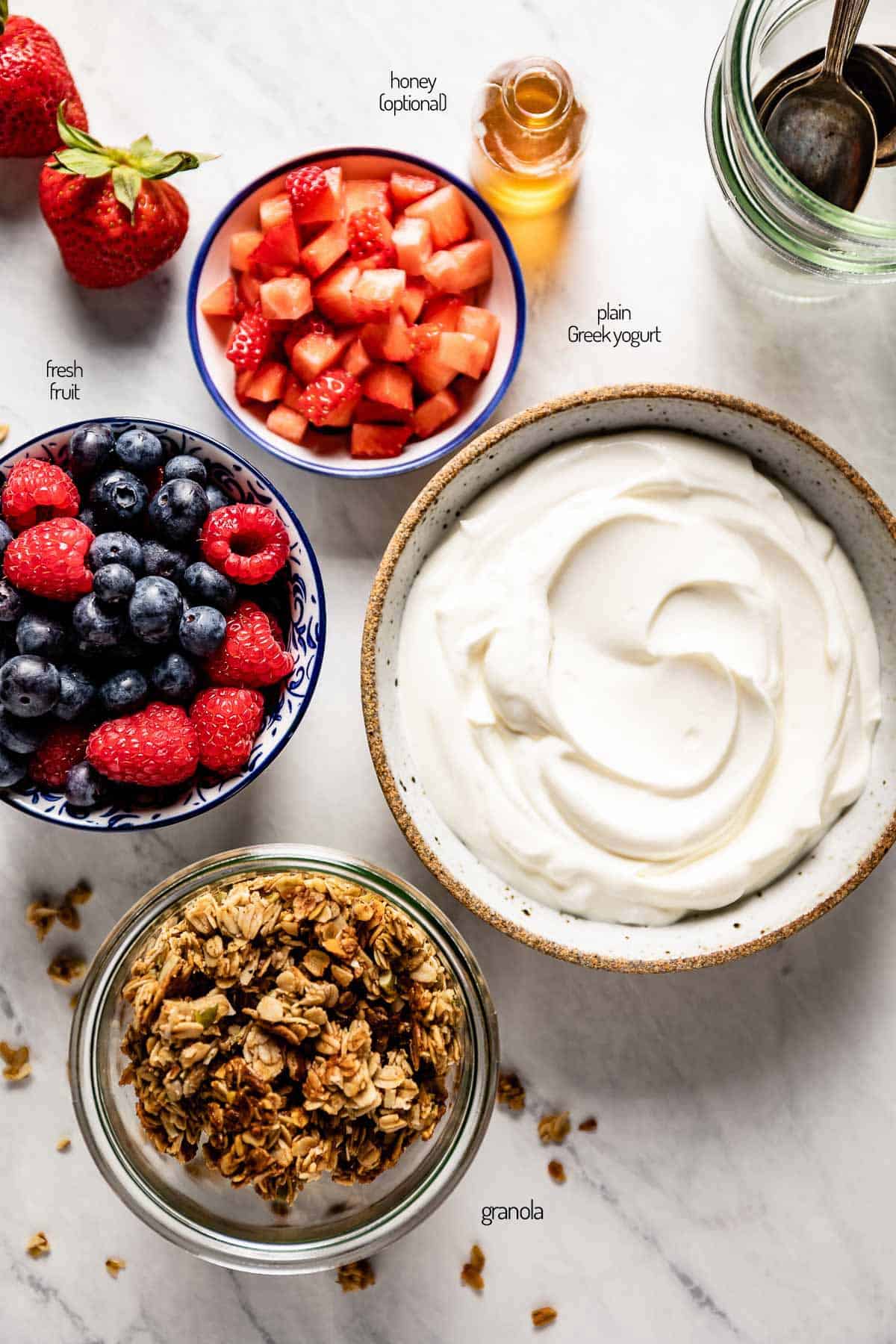 Greek Yogurt: I prefer whole milk plain yogurt for its thicker consistency and no added sugar, but any of your favorite types of yogurt will work as well. Vanilla Greek yogurt (I make mine at home), honey yogurt, and even vegan choices such as coconut or almond milk yogurt would work well in this recipe.
Berries/Fruit: I used a combination of fresh strawberries and blueberries, but any of your favorite fruit combinations (including my Breakfast Fruit Salad) would work. No fresh fruit? Use frozen fruit! Frozen berries work perfectly in this recipe.
Granola: I might be biased but I think the best granola for yogurt parfait is homemade granola as and it can be made with less sugar (than most store-bought brands). However, in a crunch, you can use storebought. If you are in need of a good granola recipe, feel free to check out my Chunky Granola. Or, if you are after high protein yogurt breakfast, try my Quinoa Crunch for added plant-based protein.
Substitutions and Optional Additions
The best part about a DIY parfait is making it your own. Here are a few great choices to get you started.
Sweetener: Add a natural sweetener like a drizzle of honey, maple syrup, or agave to your homemade parfait. Or, try incorporating my Honey Syrup, Blueberry Puree, or fresh raspberry sauce to flavor the yogurt.
Protein Powder: Add a scoop of your favorite whey or plant-based protein powder for a high-protein snack.
Superfoods: Incorporate ½ teaspoon of chia seeds or hemp seeds per serving to make it even more nutritious.
Nut Butters: Add a tablespoon of almond butter or peanut butter for healthy fats and protein. Though I recommend checking the labels for added sugars.
Nuts & Seeds: Want to cut down on carbs? Switch out the granola for a handful of nuts and seeds. However, if you prefer a low-calorie yogurt parfait with no added sugar omit the granola and the nuts.
Chocolate Chips: If you can't deny your sweet tooth and want to splurge, chocolate chips may just satisfy your craving.
How To Make A Parfait With Greek Yogurt
Making this yogurt and fruit parfait cannot be easier. Follow these steps for a quick breakfast that is not only delicious but also visually impressive: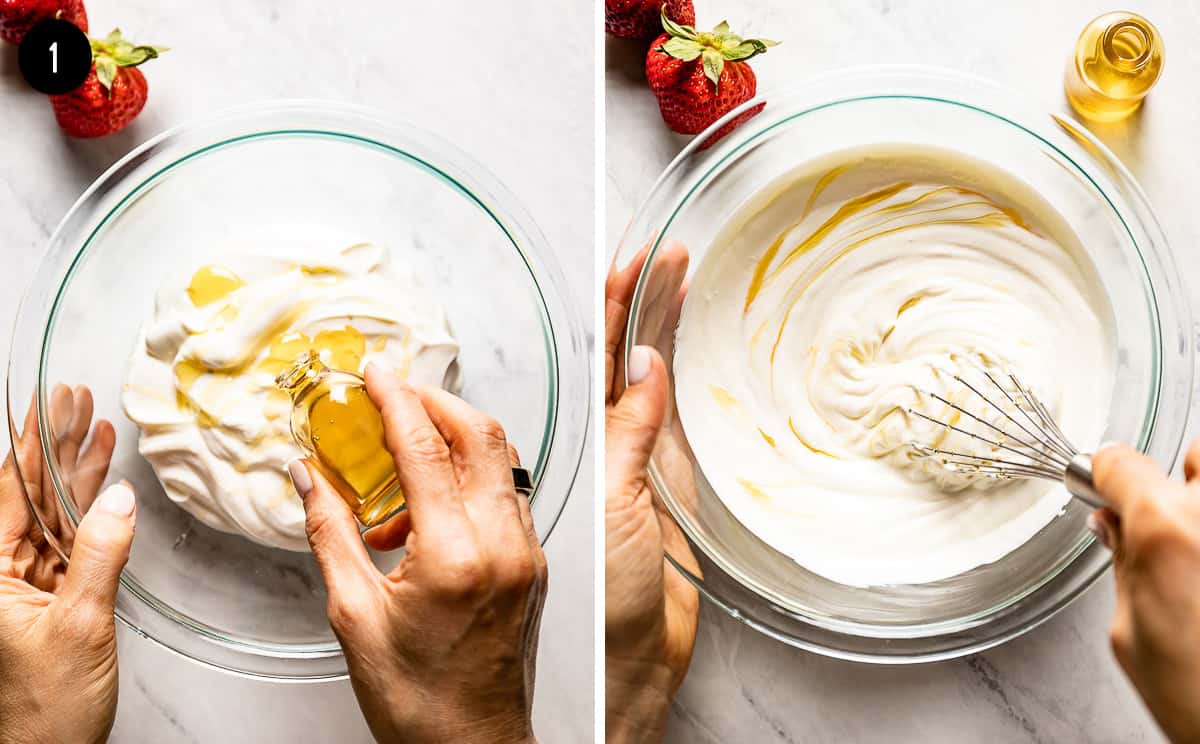 Add the sweetener (optional): If using, whisk together your choice of sweetener with your favorite yogurt until it is completely whipped and creamy.
Build the yogurt parfait layers: Spoon half of the yogurt at the bottom of a bowl, tall glasses, or mason jars. Layer with half of the fruit and half of the granola. Carefully spoon the remaining yogurt mixture into the glass and add the rest of the fruit and granola to the top.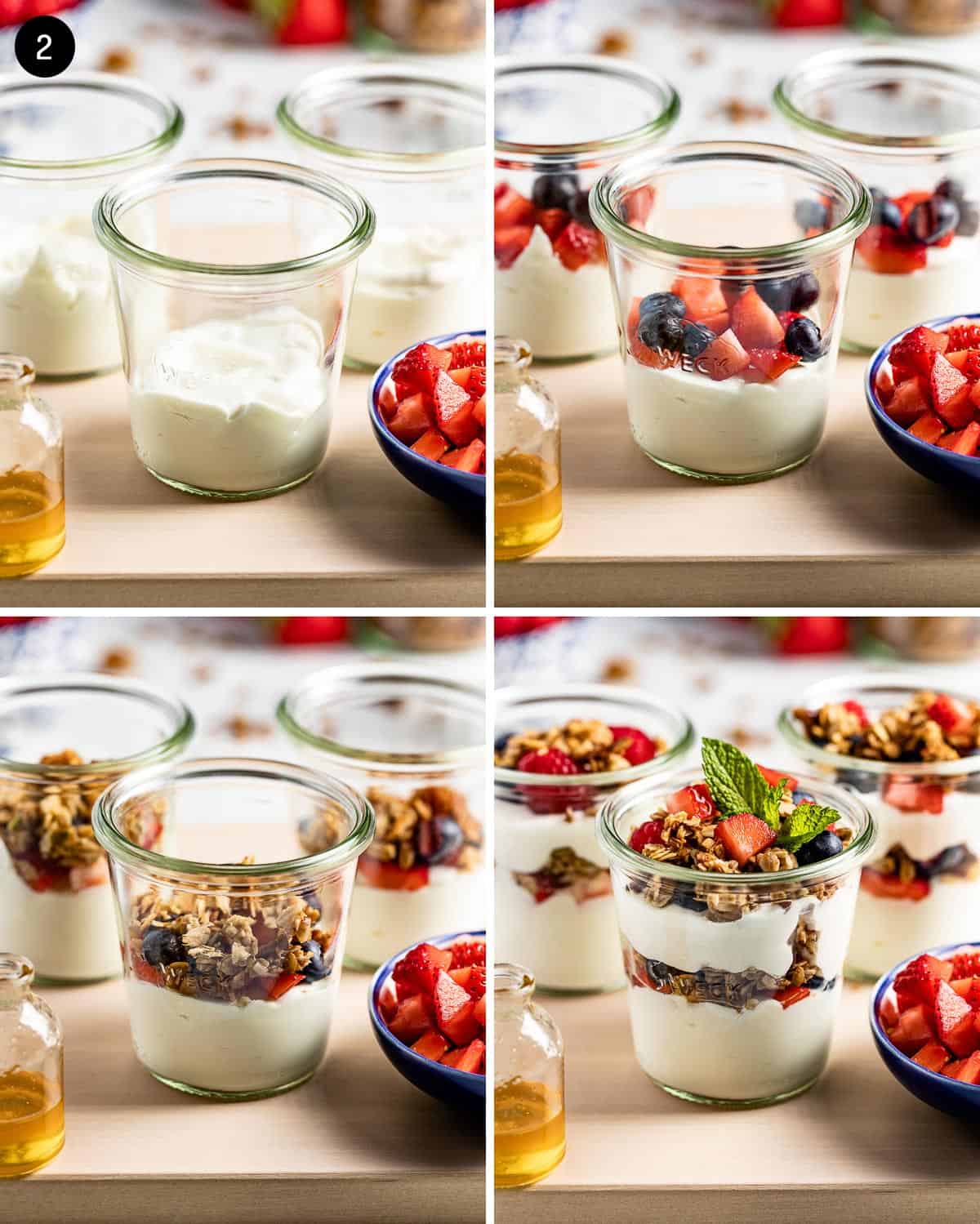 Garnish: If you prefer, finish it with a drizzle of honey (or maple syrup), more fresh fruit, and granola on top. Serve immediately or store in the refrigerator for later.
How To Make Ahead And Store
Got some leftovers or want to make it ahead? No problem! Follow the tips below to enjoy these healthy yogurt parfaits for days:
Make-Ahead Instructions:
Making this layered parfait recipe as a part of your weekly meal plan is a breeze, but there are a few things to keep in mind:
Serve granola on the side: I recommend leaving the granola out when layering the parfait because as it sits it will lose its crunchy texture and become soggy. Let's face it, no one likes soggy granola. Instead, serve it on the side and add the granola into the parfait right before serving.
Use mason jars: I think 8 oz. mason jars – affiliate link – (mostly used for canning) are ideal for the perfectly portioned and grab-and-go homemade yogurt parfait. Simply layer yogurt and fruit, tighten it with the lid and store it in the fridge.
Make-ahead yogurt parfait should keep fresh in the fridge for up to 4 days.
To Store Leftovers:
If you have leftovers, place them in an airtight container (such as a mason jar) and keep them in the fridge for up to 4 days. Be sure to serve them with extra fruit and granola on the side.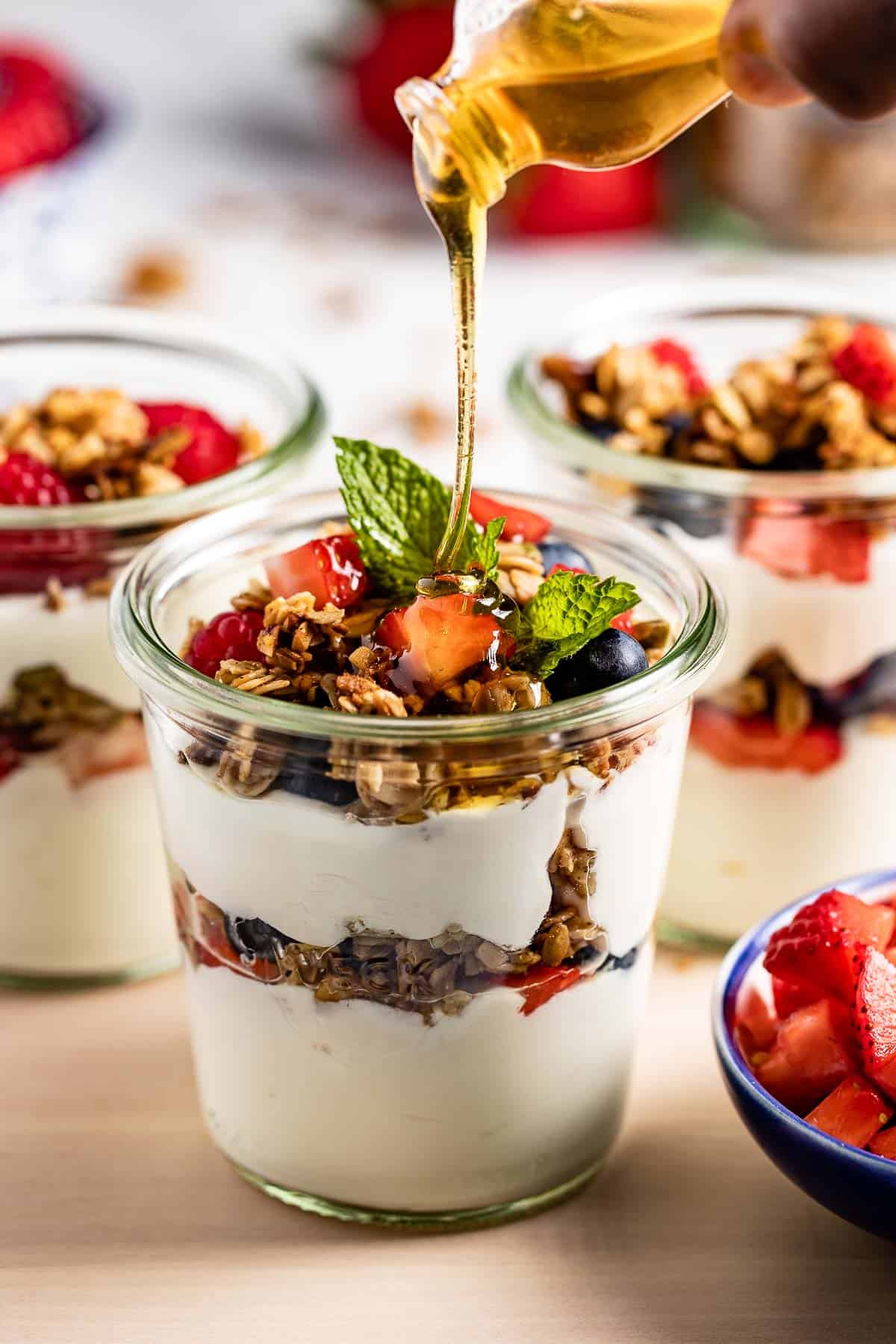 Expert Tips
Here are a few quick tips for the best yogurt fruit granola parfait that you can make over and over again.
Whisk yogurt: It might sound like an extra step, but taking a few minutes to whisk the yogurt in a bowl makes it even more creamy and easy to layer.
Make it your own: The thing I love about this simple recipe is that it is so easy to change it up with whatever you have on hand. Use these measurements as a place to start and make it your own with different fruit, yogurt, and granola.
When serving for breakfast or brunch: If I am serving this for friends, I make sure to take my time in layering, use colorful fresh fruit and always garnish it with fresh mint. People go crazy as soon as they see pretty parfaits layered with colorful fruit in jars.
FAQs
What is the difference between yogurt and parfait?
Yogurt is a thick milk-based product that is sold plain or with other flavorings such as fruit and sweetener. A parfait, on the other hand, is a layered dessert typically consisting of yogurt, fresh or frozen fruit and berries, ice cream, and whipped topping.
What is in a yogurt parfait?
Most Yogurt parfait recipes are made with plain or flavored yogurt, fresh fruit (mostly berries), and granola made with ground oats, nuts, and seeds.
What is the best yogurt for a parfait?
The best yogurt for parfait is plain Greek yogurt as it has a thick and creamy consistency that is ideal for a yogurt parfait recipe. Plus, it is made without the addition of sugar making this breakfast a healthy option. However, you can use any type of yogurt (including plant-based options) to make this easy breakfast recipe.
Is yogurt parfait healthy?
It is no secret that Greek Yogurt and fresh fruit are good for you and are recommended as a part of a healthy diet. However, it is best to be conservative when adding granola to the parfait as it is usually made with added sugars.
How many calories in a yogurt parfait?
One serving of this Greek Yogurt Parfait recipe is 298 calories.
Other Easy Breakfast Recipes You Might Also Like:
Whether you are a fan of Chic Fil A's Yogurt Parfait or Pioneer Women's Yogurt Parfait with honey, I hope you give my version a try. I know those are favored by many people but my version here is just as easy and delicious.
And if you have leftover yogurt, try your hand at making my Frozen Yogurt Bark as well. It's a healthy dessert that is a great alternative to ice cream.
If you try this Fruit and Yogurt Parfait recipe or any other recipe on Foolproof Living, please take a minute to rate the recipe and leave a comment below. It is a great help to others who are thinking of making the recipe. And if you took some pictures, be sure to share them on Instagram using #foolproofeats so I can share them on my stories.
Greek Yogurt Parfait Recipe
This Fruit and Yogurt Parfait recipe is made by layering yogurt with granola and fruit. It is quick and easy to put together. It also stores well so it is a great breakfast recipe to make it a part of your weekly meal prep.
Print Recipe
Ingredients
1

tablespoon

honey or maple syrup

optional – more as a drizzle

¾

cup

plain Greek yogurt

¼

cup

berries

or any other fruit cut into small 1-inch chunks

¼

cup

homemade granola

or store bought granola
Instructions
If using a sweetener, mix it with greek yogurt in a small bowl until fully combined.

To layer the yogurt parfait, place half of the yogurt at the bottom of a mason jar or a bowl. Top it off with half of the fruit and half of the granola. Cover them with the rest of the yogurt and top it off with the rest of the fruit and granola.

If preferred, finish it off with a drizzle of honey. Serve immediately.
Notes
This recipe can be multiplied as many times as you want.

Make Ahead: If you are making these granola parfaits as a part of your meal plan I would recommend against using the granola as a part of the layers. Instead, just layer them with fruit and yogurt and serve the granola on the side to add in later to prevent it from getting soggy. I also recommend using 8 oz. mason jars as they are not only ideal in size but also great for serving.
Nutrition
Calories:
298
kcal
|
Carbohydrates:
28
g
|
Protein:
21
g
|
Fat:
11
g
|
Saturated Fat:
3
g
|
Polyunsaturated Fat:
2
g
|
Monounsaturated Fat:
3
g
|
Cholesterol:
10
mg
|
Sodium:
78
mg
|
Potassium:
185
mg
|
Fiber:
4
g
|
Sugar:
16
g
|
Vitamin A:
122
IU
|
Vitamin C:
1
mg
|
Calcium:
225
mg
|
Iron:
1
mg
Like this recipe? Consider sharing: