Growing up, our summer vacations always started with a long drive to our destination. My parents loved taking road trips, to them, it was more about the journey than the destination.
Most of the time, our preferred vacation spot would be somewhere along the Mediterranean coast. Since we lived in the northern part of Turkey, this meant driving somewhere between 10-12 hours to the South in the hot summer sun.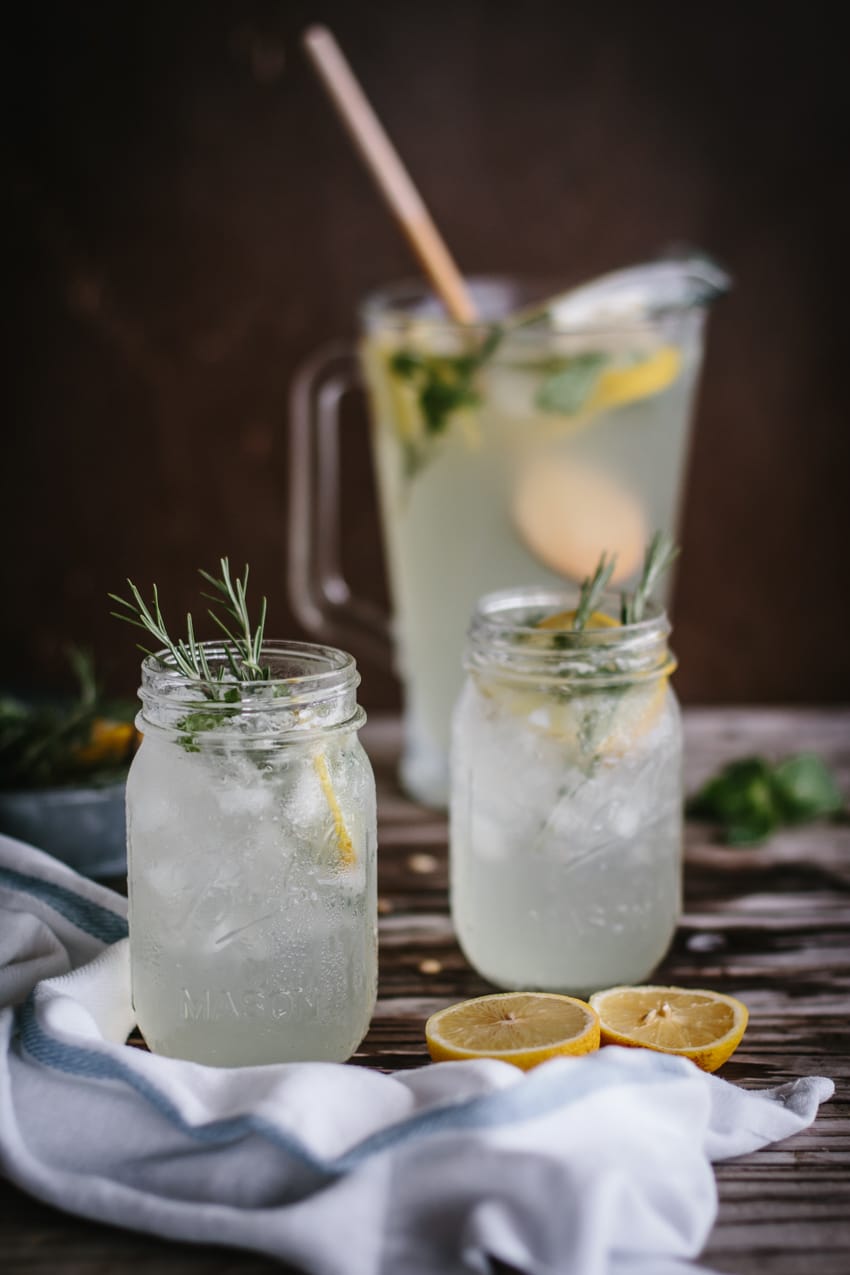 Back in those days, we didn't have an air-conditioned car so operating under the sun for that long required something to keep us refreshed.
My mom's solution to the problem was this rosemary lemonade. She would start making it a day in advance with a bag full of fresh lemons and herbs and would put it in a large ice-filled beverage with a dispenser. We would sip on it throughout the trip.
To this day, every time I drink this lemonade my mind directly goes to those days of my childhood. I recently made it again and my husband thought that it was the best lemonade he had so I thought I should share it here with you.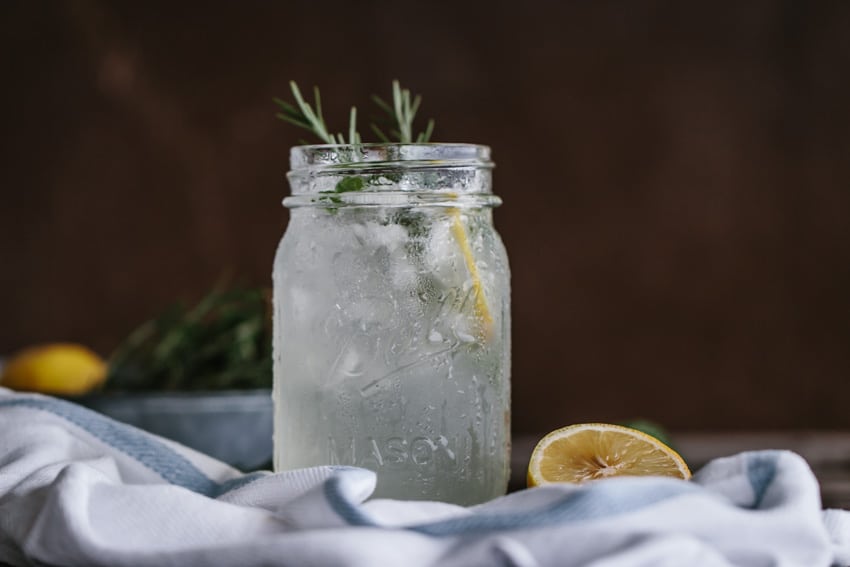 How to make mint lemonade with rosemary:
The process of making this Vanilla Lemonade with Mint and Rosemary has 3 parts:
First, place medium mesh strainer in a bowl. Set it aside.
Scrape the seeds of the vanilla pod and place them in a small bowl. Do not discard the vanilla pod.
Second, slice whole lemons and place them in the strainer. Add in fresh mint leaves, fresh rosemary sprigs, Sucanat (natural sugar – this brand is the one I use – affiliate link) and vanilla seeds and pod.
Give it a message using your clean hands. I usually wear disposable gloves to do this. The whole purpose of doing so is to get some of the juices of sliced lemons and their zest out and make sure that both lemons and fresh herbs are coated with sugar and vanilla.
Cover it with plastic wrap and place it in the fridge for at least 3 hours, preferably overnight.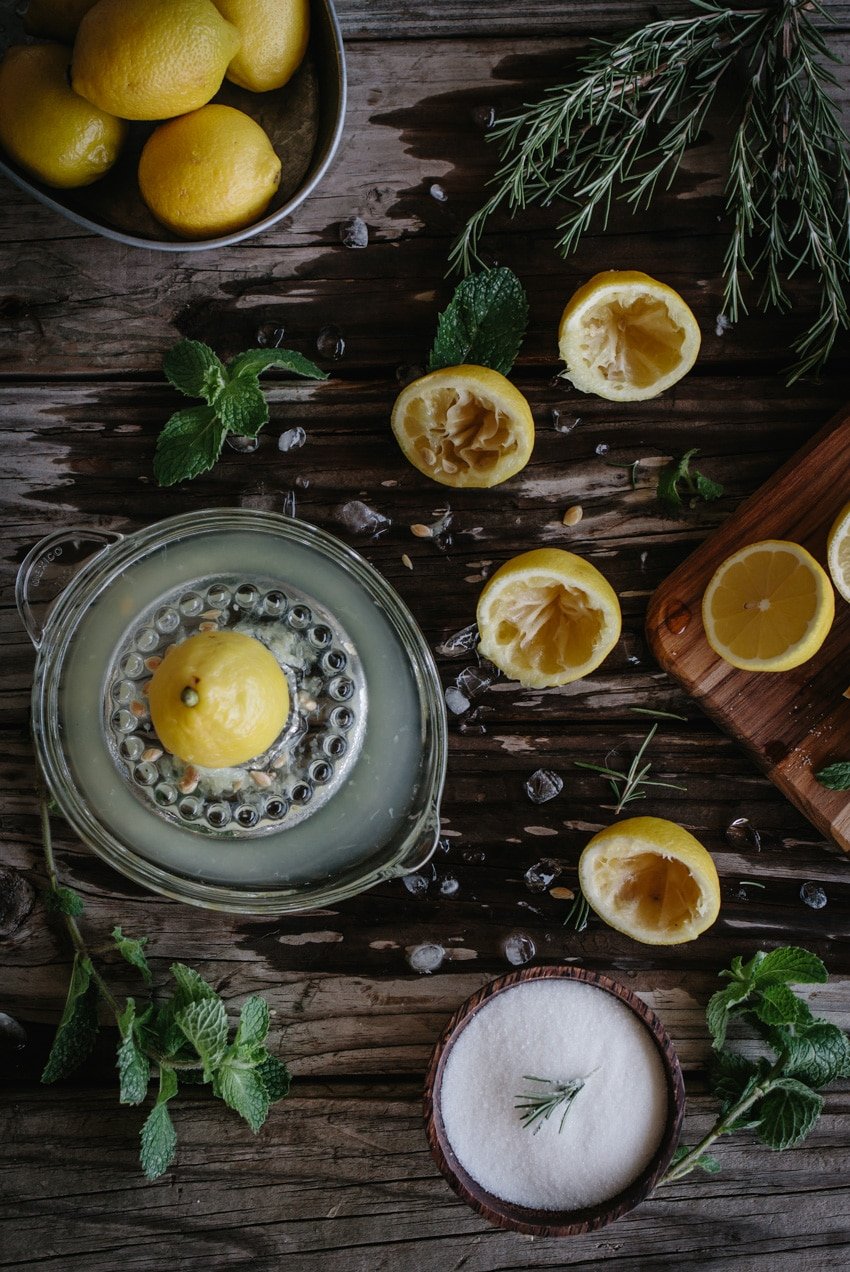 Finally, take it out of the fridge and message the lemons, pressing through the strainer, until all of their juices are out. Remove the solids and pour the juices in the bowl into a large bottle.
Give your vanilla lemonade a taste. It should super sweet and sour. Add in 8 cups of cold water and pour it into a large jug filled with ice. Give it a stir and serve.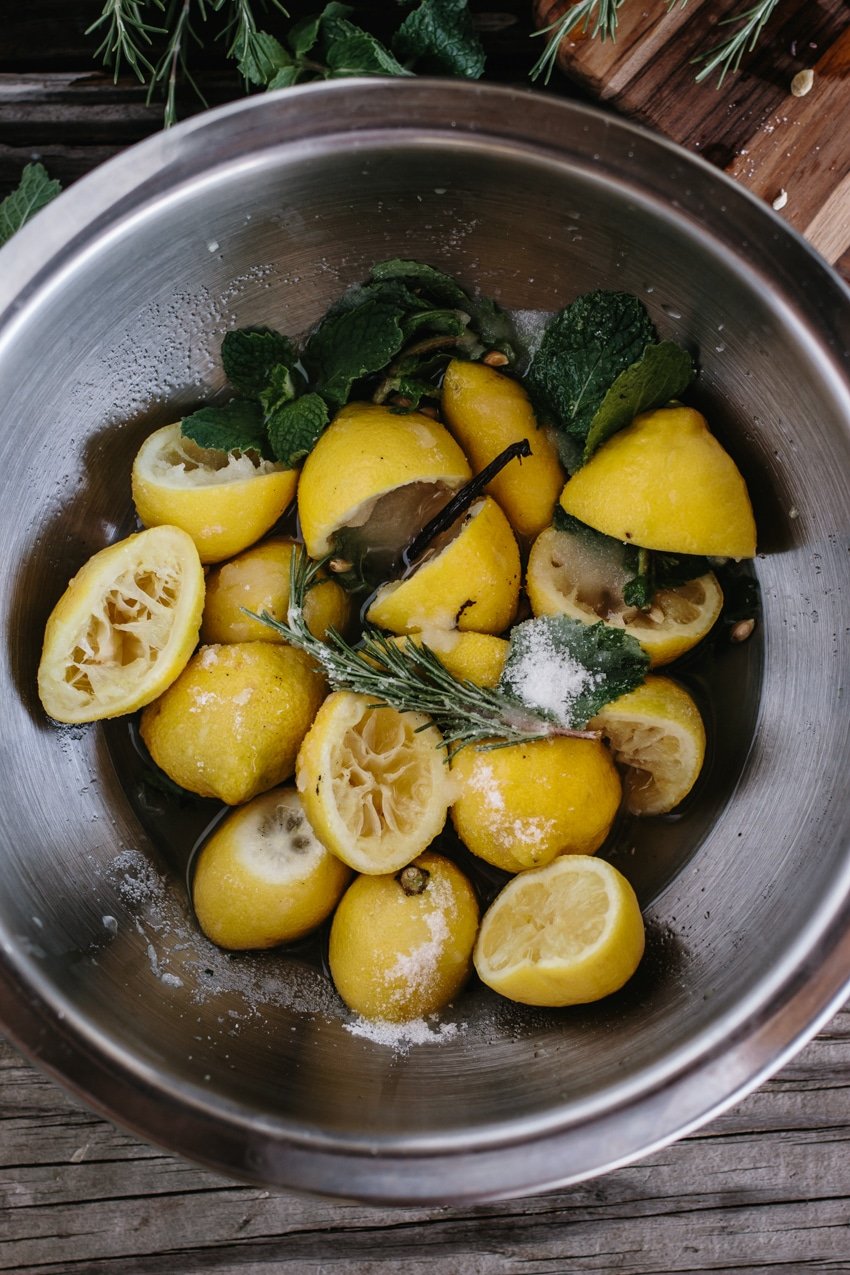 What makes this homemade lemonade better than other recipes
In my opinion, there are 3 things that make this the best rosemary lemonade recipe:
Using fresh mint and fresh rosemary: My mom used to say, herbs are like perfume they finish the dish and make it better. This recipe is an excellent example of that. Letting the fresh herbs sit in the strainer with sugar, lemons, and vanilla pod let them release their flavors and infuse into the lemonade.
Time: Letting everything sit for a few hours let the flavors mingle and give enough time for the juices of the lemon to release into the bowl.
My mom always made it a day before and let it sit in the fridge. If you have time, I highly recommend doing so.
Lemon Skin: Most lemonade recipes discard the lemon skin, but I think lemon zest has a lot of flavors that should not be wasted. Letting the sliced lemons (with the skin on) sit in the strainer with the other ingredients and later messaging it allows the oils in the skin release into the lemonade.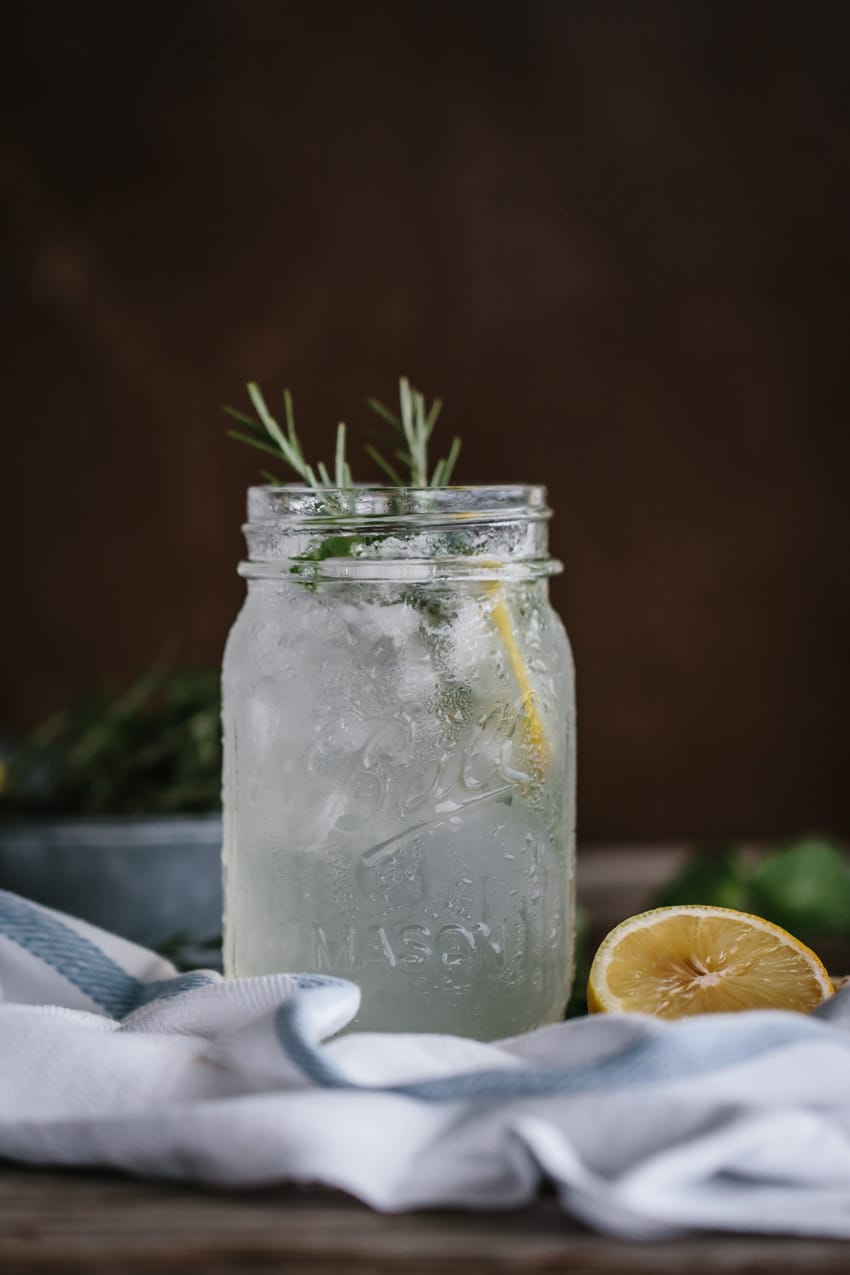 A Few tips for the best homemade lemonade with mint and rosemary
Rosemary Lemonade Cocktail: If you are serving this to adults, you can always add in some vodka or gin to turn it into a cocktail. I would do this before adding the ice. Place the concentrated lemonade into a cocktail shaker filled with ice, add in vodka (or gin), and give it a good shake. Pour it over ice garnished with fresh mint and/or rosemary.
Sparkling Rosemary Lemonade: You can also make a sparkling lemonade using sparkling water instead of water.
Don't have vanilla pods? While fresh vanilla seeds take this otherwise ordinary mint vanilla lemonade to the next level, if you do not have vanilla pods, you can use two teaspoons of vanilla extract instead.
New to Sucanat? Sucanat is a less processed version of granulated sugar. I have been using it in place of sugar for a few years now and love that it adds a nice molasses-like flavor into my recipes. If you want to learn more about it, you can learn more here.
If you don't have any, you can use granulated sugar instead.
Other refreshing non-alcoholic drink recipes you might like:
Mint and Rosemary Lemonade with Vanilla
An easy to make vanilla rosemary lemonade infused with fresh mint. With just a little bit of prep work, you can easily make lemonade at home.
Print Recipe
Ingredients
8

large lemons

washed and sliced in 1/2 inch slices

1

cup

Sucanat

Natural sugar or granulated sugar

10

sprigs of fresh mint

2

sprigs of fresh rosemary

more as a garnish

1/2

vanilla bean

scraped seeds (or 2 teaspoons of vanilla extract)

8

cups

of cold water

ice
Instructions
Place medium mesh strainer in a bowl. Set it aside.

Scrape the seeds of the vanilla and place them in a small bowl. Do not discard the vanilla pod.

Place lemon slices, sugar, mint, rosemary, vanilla seeds, and pod in the strainer.

Using your clean hands, gently massage the lemons to (1) get their juices out and (2) mix everything.

Cover it with plastic stretch film and place it in the fridge for at least 3-4 hours or preferably overnight.

In the morning, again using clean hands massage the lemons to get all their juices out. Strain and discard the solids.

Pour the concentrated lemon juice into a large pitcher (or jug) and stir in 8 cups of cold water.

Pour into mason jars filled with ice and garnish with fresh rosemary.
Nutrition
Calories:
177
kcal
|
Carbohydrates:
47
g
|
Protein:
2
g
|
Fat:
1
g
|
Saturated Fat:
1
g
|
Sodium:
20
mg
|
Potassium:
218
mg
|
Fiber:
4
g
|
Sugar:
37
g
|
Vitamin A:
102
IU
|
Vitamin C:
77
mg
|
Calcium:
55
mg
|
Iron:
1
mg
This vanilla lemonade recipe was originally published in 2014, but updated in July of 2018 with some additional helpful information.
Like this recipe? Consider sharing: