Today's recipe comes from my friend Jennifer's new cookbook, The Gourmet Kitchen. Jennifer is the author and photographer behind the popular food blog, Savory Simple. I ran into Savory Simple over 3 years ago while I was looking for inspiration for a recipe.
I still remember scrolling through her recipes and beautiful photographs and thinking to myself that she has a great deal of knowledge of cooking. Her recipes were written in a way that was easy to understand with tips that would guide the home cook along the process. Later, when I found out that she was a culinary graduate it all made sense: She knew what she was talking about.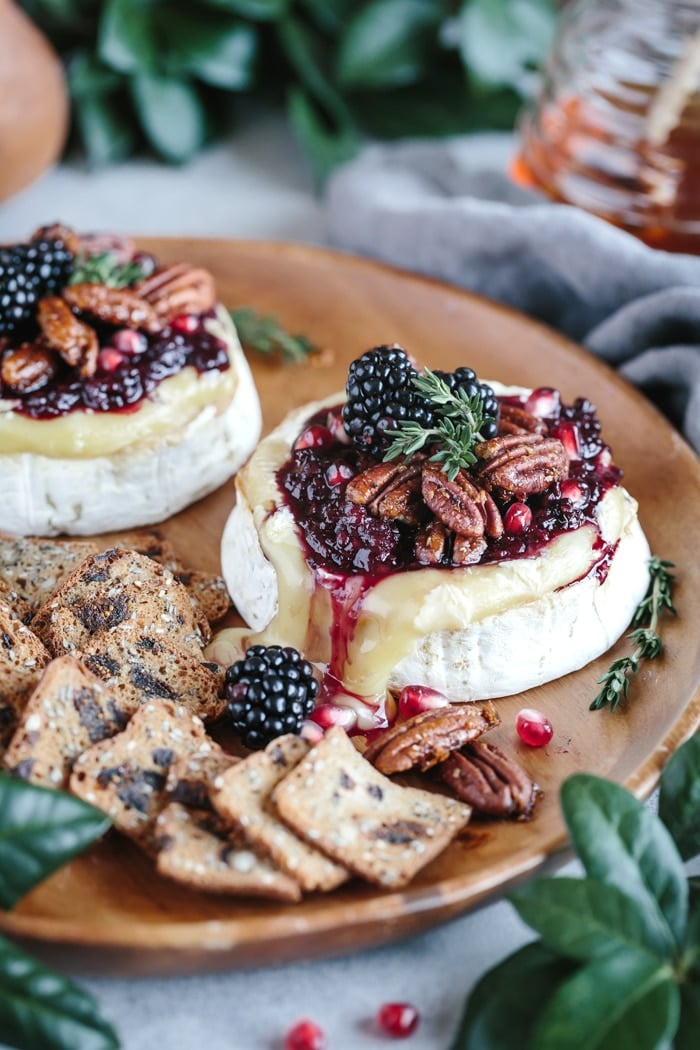 About this Spicy Candied Pecan Baked Brie Recipe:
For years, baked Brie was my go-to recipe for entertaining. I have baked so many wheels of Brie that I lost count. It was the simplest dish I could think of, and quite honestly, I didn't think of it as a recipe worth sharing. However, after reading Jennifer's version and realizing that I was doing it wrong all along, I decided that it was about time to post a baked Brie recipe that will knock you sucks off.
How do you bake your Brie?
Until I read The Gourmet Kitchen's version, I would cover my Brie with some sort of a jam and some nuts and bake it in the oven for 10-15 minutes and serve it that away. However, Jennifer does it differently, and I have to say, I think it is a much better way. Instead of baking Brie covered with condiments, she bakes it separately, just by itself. She also slices off the top rind. I loved this technique, because when you cut the top rind off and leave the sides intact, you basically create a "cup" that the cheese bakes in making all the gooey goodness stay in the "cup" and easier to serve.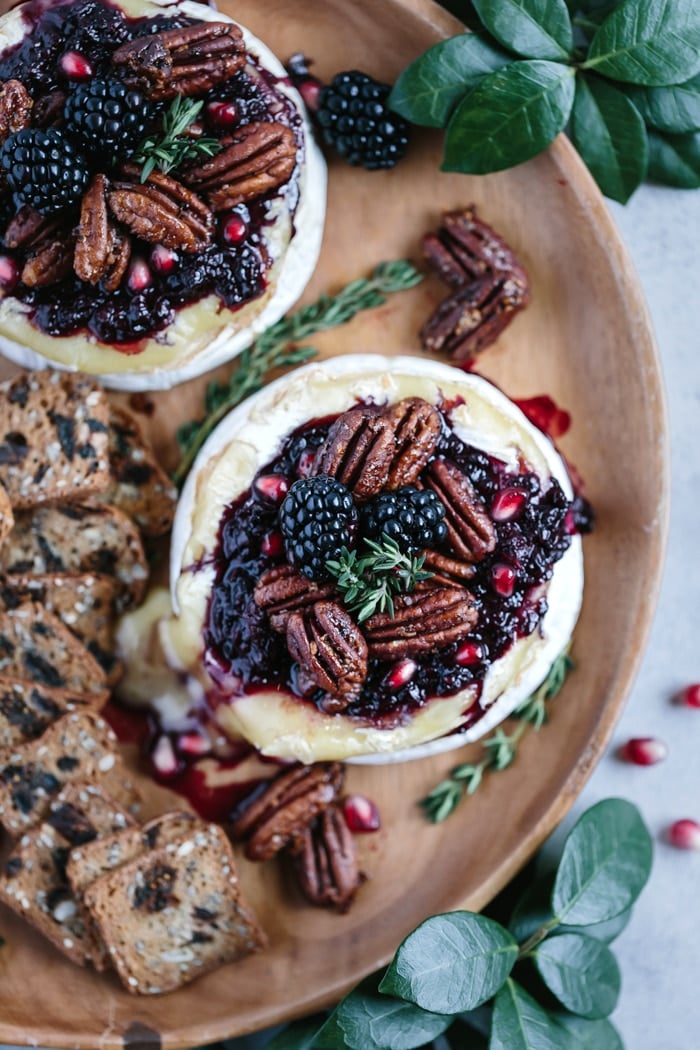 The Toppings:
Now, you can certainly serve baked Brie with your favorite marmalade and nuts. However, in this pecan baked brie recipe we are taking things up a notch.
First, make the spiced candied pecans by roasting pecans after coating them in a butter-maple syrup-cinnamon-cayenne mixture.
Second, make a simple blackberry compote by reducing fresh blackberries with a little bit of lemon juice, honey and vanilla extract. Once you top your baked Brie with these condiments, you and your guest are in for a serious treat.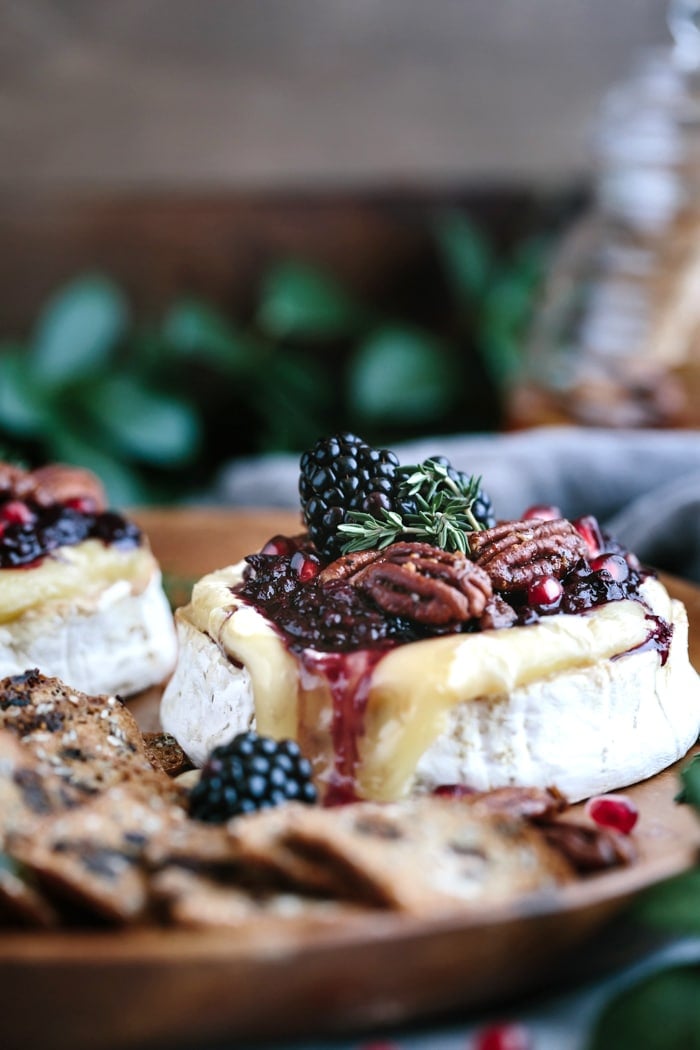 With the holidays approaching, I just can't imagine a better dish to entertain. Why not switch things up a little bit and give this luxurious baked Brie recipe a try? I know for a fact that it will not disappoint.
Be sure to watch the how To Make Baked Brie Video below.
Baked Brie Recipe with Blackberry Compote and Spicy Candied Pecans
Take your baked Brie game up to the next level with this Spicy Candied Pecan Baked Brie recipe flavored with homemade blackberry compote. This appetizer is not only easy-to-make, but also ridiculously flavorful. Perfect for all your upcoming holiday parties.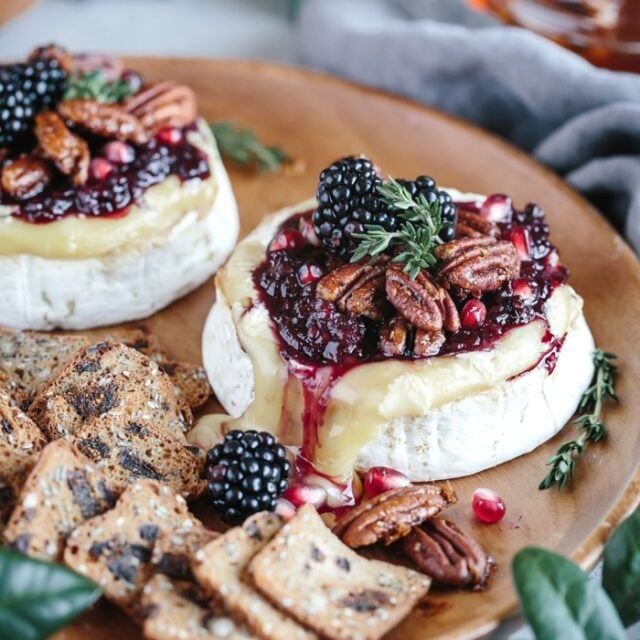 Print Recipe
Ingredients
For The Spicy Pecans:
1

cup

pecan halves

½

tablespoon

unsalted butter

melted and cooled

1 ½

tablespoons

natural cane sugar

or light brown sugar

2

teaspoons

maple syrup

¼

teaspoon

ground cinnamon

¾

teaspoon

kosher salt

¼

teaspoon

cayenne pepper
For The Blackberry Compote:
2

cups

blackberries

plus more for garnish

1

tablespoon

lemon juice

freshly squeezed

1

tablespoon

honey

1

teaspoon

vanilla extract
For The Baked Brie:
2

wheels

Brie

(8-ounces each) room temperature

handful of pomegranate seeds as garnish

optional

a few fresh thyme leaves as garnish

optional

crackers for serving
Instructions
To make the spicy candied pecans:
Pre-heat the oven to 350 F degrees.

Line a baking sheet with parchment paper.

Place pecans on the sheet and toast for 10 minutes or until fragrant.

While they are roasting, mix together the butter, cane sugar, maple syrup, cinnamon, salt, and cayenne pepper in a bowl.

Place the hot pecans into the mixture (be careful as it may sputter and hiss) and make sure that they are evenly coated. Spread them on the baking sheet on a single layer and place it back in the oven. Bake for another 10 minutes, stirring every 3-4 minutes. Remove from the oven and let it cool.
To make the blackberry compote:
In a medium saucepan, heat the blackberries, lemon juice, honey, and vanilla in medium heat, stirring regularly. As liquid begins to release from the berries, turn the heat up to medium. Cook, stirring periodically, until it is reduced and the liquid is syrupy.

Pre-heat the oven to 350 F degrees. Line a baking sheet with parchment paper.

Carefully slice away the top of the Brie rinds and discard them. Leave the sides intact. Bake both wheels of Brie for 15 minutes or until melted through.

Top each baked Brie with blackberry compote and spicy candied pecans.

If preferred garnish them with a few blackberries, pomegranate seeds, and fresh thyme leaves.

Serve immediately.
Notes
The instructions in the video is slightly different than the ones in the recipe, but either way would work.
You can make the blackberry compote and candied pecans a day ahead and store them in the fridge until you are ready to use them. If you do so, I recommend lightly warming up the compote before drizzling it over the baked brie.
I highly recommend baking brie at the last minute, right before serving. Not only, it fills your house with the most delicious cheese smells but also looks very appetizing when it first comes out of the oven.
Nutrition
Calories:
248
kcal
|
Carbohydrates:
11
g
|
Protein:
9
g
|
Fat:
20
g
|
Saturated Fat:
7
g
|
Cholesterol:
37
mg
|
Sodium:
442
mg
|
Potassium:
163
mg
|
Fiber:
3
g
|
Sugar:
8
g
|
Vitamin A:
342
IU
|
Vitamin C:
8
mg
|
Calcium:
86
mg
|
Iron:
1
mg
This recipe is adapted (with minor changes) from The Gourmet Kitchen.
Like this recipe? Consider sharing: