This post is sponsored by Mezcal Creyente, but as always all opinions are my own.
One of my favorite things about writing a food blog is spending time in the kitchen to create new recipes. Give me the ingredients, tell me what you feel like eating and I will make it happen. It gets even more fun when it is a new ingredient that I have never used before.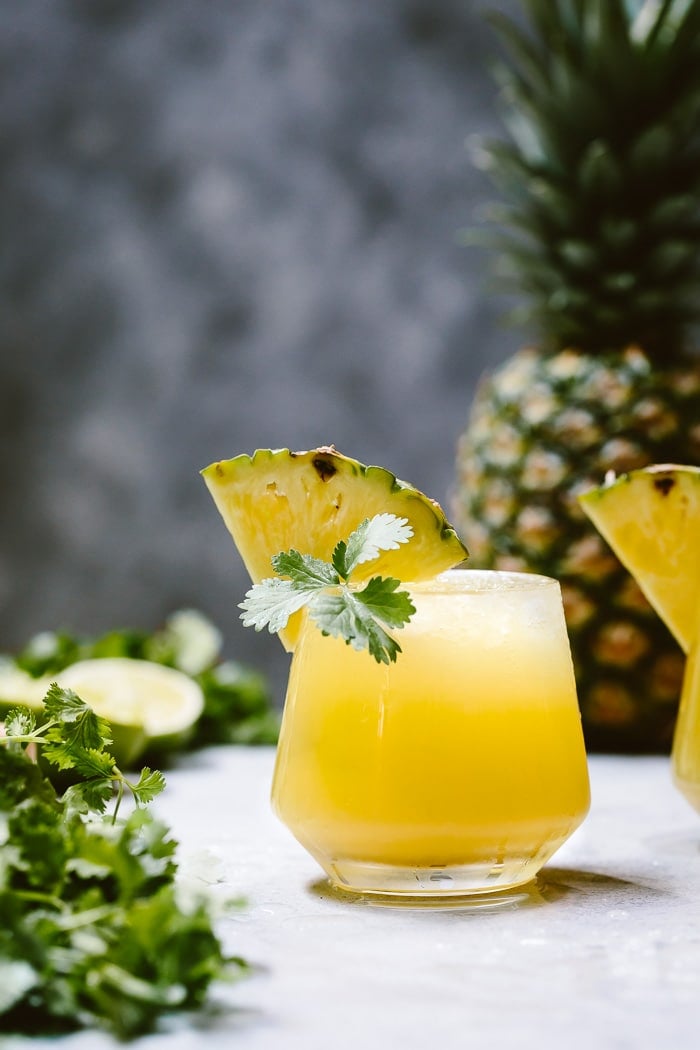 Therefore, when Mezcal Creyente asked me to create a cocktail based on the "ruling element" of my zodiac sign, I knew this was going to be fun. I had never tasted mezcal before but heard a lot about it from a friend, who visited Oaxaca, Mexico last summer.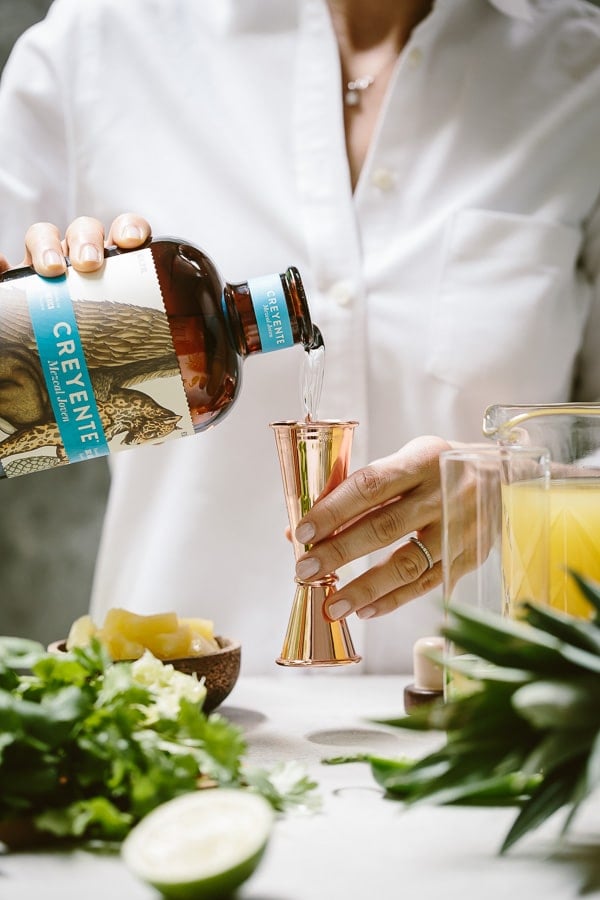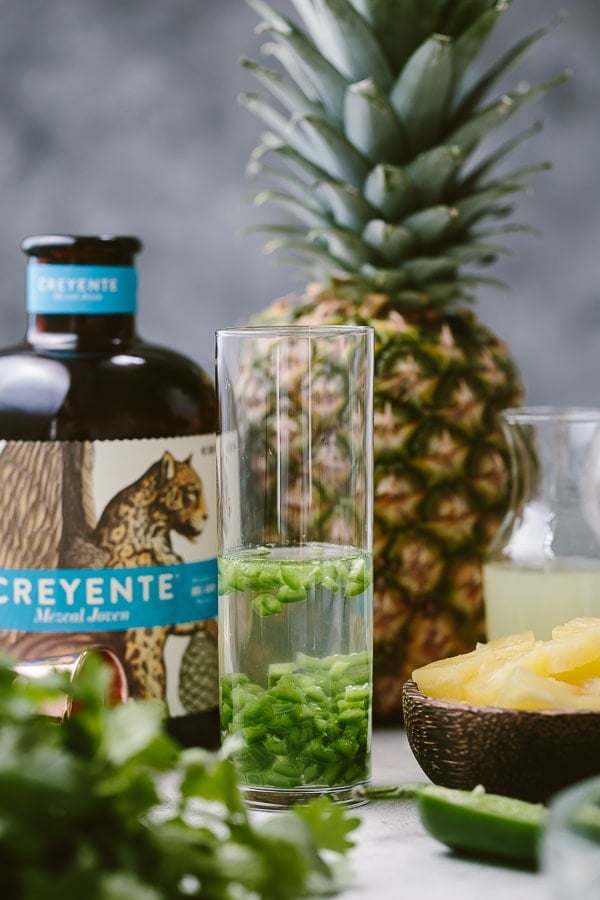 Coincidently, that weekend I was planning to meet a friend in New York City. Luckily, she was up for the challenge and agreed to try it with me. So we found a mezcal bar in lower Manhattan and enjoyed our first mezcal cocktails together.
As I was browsing down the cocktail menu (aka doing research for work), I was looking for a drink with a little bit of a spicy tone. Since I am an Aries and my ruling element is fire, I wanted to have something spicy and fire-y at the same time. I ordered a cocktail made with grapefruit and chile de arbol. It was love at first sip. The sweet, spicy and smokey flavors, all at the same time, were just so captivating.
When I came back home the next day, I knew I wanted a similar sweet-spicy-smokey flavor combination in my signature cocktail. I already loved the combination of pineapple, jalapeño, and cilantro and wanted to try it with Mezcal Creyente.
And it didn't disappoint. With every sip, it made me want to drink more.
I can almost hear you say, "But, what is mezcal?"
What is Mezcal?
Allow me to explain:
Mezcal is a distilled alcoholic beverage that is made from the heart of the agave plant called the piña. To make it, they roast the piña using an artisanal method with mesquite wood in a stone oven for 3 days. This is how it gets its characteristic smoky aroma and taste.
Mezcal Creyente Joven is a blend of two extraordinary mezcals from Oaxaca's Tlacolula and Yautepec regions. With sweet hints of fruit and light herbal notes, it has a smokey flavor that offers a unique set of complexity to any cocktail it is added.
About this Spicy Pineapple Jalapeno Mezcalita Recipe:
The fire-y part of this mezcal pineapple cocktail comes from jalapeño. Letting a small chopped and seeded jalapeño sit in Mezcal Creyente Joven for a few minutes infuses its spicy flavors into the liquor and complements its smokey notes in a beautiful way.
Since I am a fan of jalapeño and cilantro flavors together, I muddled a handful of fresh leaves of cilantro just enough to extract its aroma. Then I mixed it with some orange liquor, lime juice and pineapple juice. After I strained the spicy Mezcal Creyente into the pitcher my drink was ready. I poured it over crushed ice and garnished it with wedges of pineapple and a few leaves of fresh cilantro.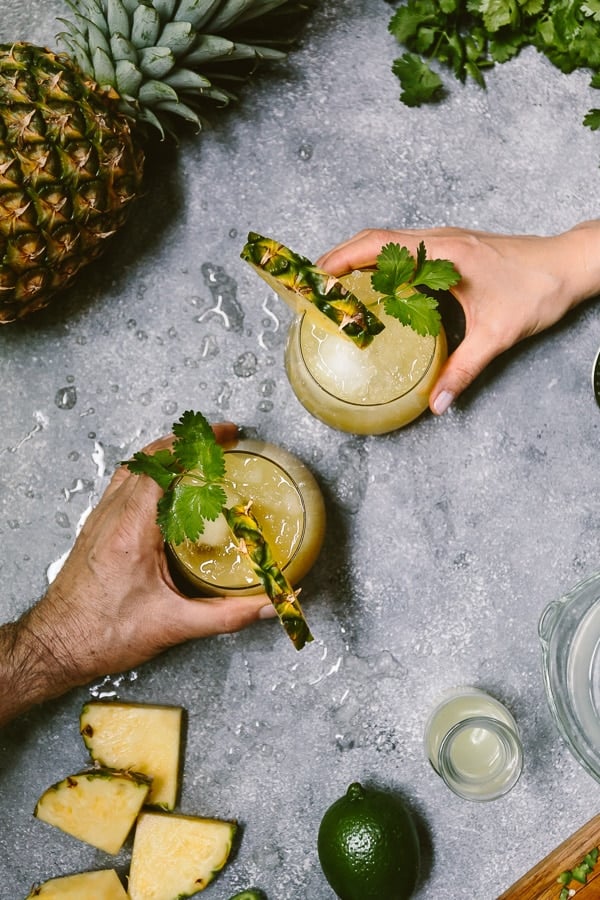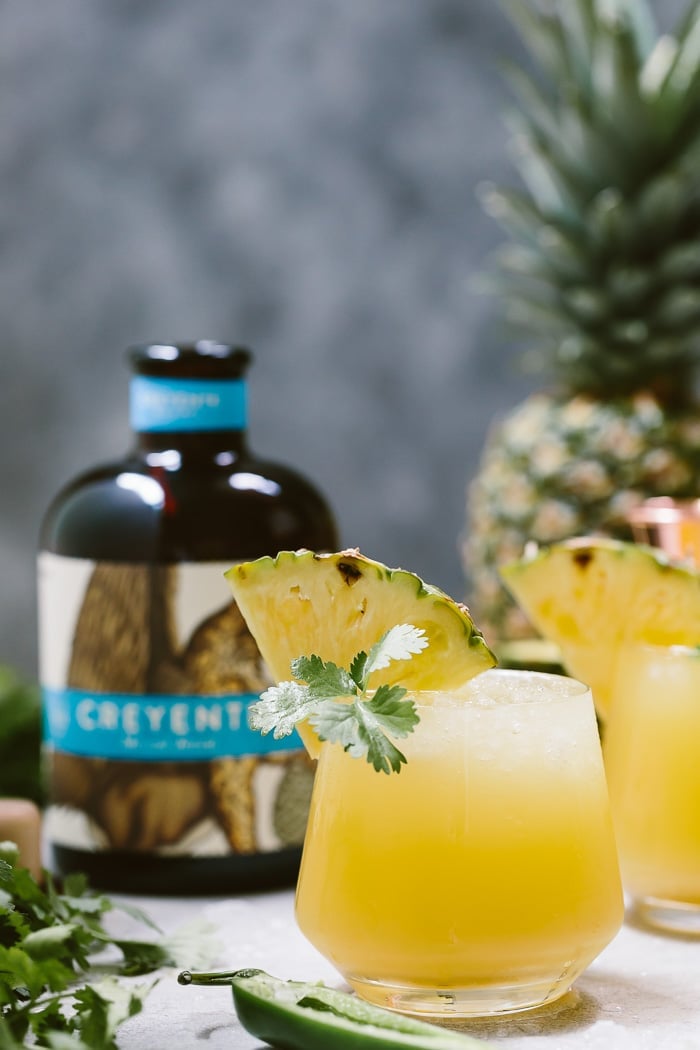 In the end, we all agreed that the sweet and spicy flavors coming from all the ingredients in this cocktail complimented Mezcal Creyente very well and left us with a new cocktail recipe that we will be used often throughout the summer.
Other Pineapple Based Drinks You Might Also Like:
Other Creative Cocktail Recipes You Might Like:
Spicy Pineapple Jalapeno Mezcalita
This Spicy Pineapple Jalapeno Mezcalita is a refreshing cocktail made with pineapple, cilantro, jalapeño, and mezcal. A delicious drink with sweet, spicy and smokey flavors all at the same time.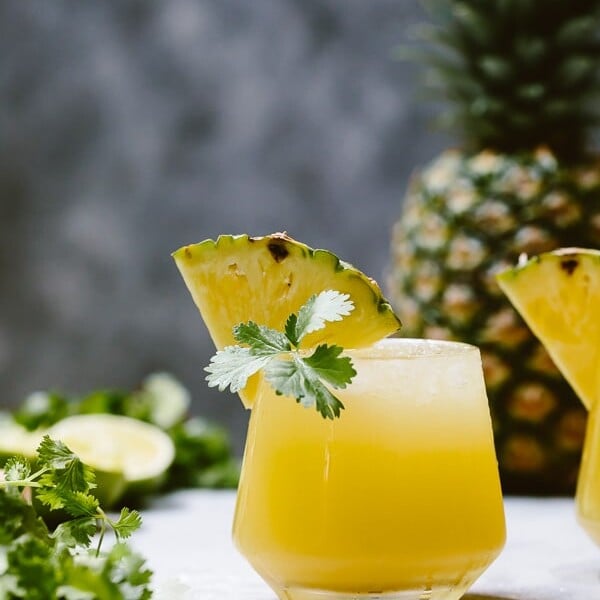 Print Recipe
Ingredients
3

ounces

Mezcal

1

small jalapeño

sliced thinly – plus more as a garnish

1

ounce

orange liquor

1/2

cup freshly squeezed lime juice

1 1/2

cups

pineapple juice

1

tablespoon

fresh cilantro leaves

plus more as garnish 1 1/2 cups pineapple juice

2

wedges of pineapple

Ice
Instructions
Place Mezcal Creyente in a jar. Add in the jalapeño slices, put the lid on and let it sit for 15-20 minutes. The longer it sits the spicier it will get. If you like it spicier, feel free to let it sit longer.

Gently muddle cilantro in a large glass just enough to release its essential oils. Add in the orange liquor, lime juice and cilantro and give it a mix. Strain it into a pitcher.

Strain the jalapeño flavored Mezcal and pineapple juice into the same pitcher and stir well.

Pour the drink into glasses filled with ice. Garnish with fresh pineapple, a few slices of jalapenos, and fresh cilantro leaves. Serve immediately.
Nutrition
Calories:
263
kcal
|
Carbohydrates:
33
g
|
Protein:
1
g
|
Fat:
1
g
|
Saturated Fat:
1
g
|
Sodium:
5
mg
|
Potassium:
301
mg
|
Fiber:
1
g
|
Sugar:
26
g
|
Vitamin A:
104
IU
|
Vitamin C:
34
mg
|
Calcium:
32
mg
|
Iron:
1
mg
Like this recipe? Consider sharing: