We decided to stay home for Christmas this year. Since we already spent Thanksgiving with family, we are going to have a quiet day at home. I am happy about this, because I really do not feel like travelling. Like I usually do, I will make a big pot of roast and serve it along with a few appetizers and a bottle of wine. However, this year for New Years Eve, we are planning to have a small party at our house. Nothing too big, just a couple of friends… Of course, I am in charge of food. Since a few of our friends are vegetarian, I am planning on a meat-free spread. The plan is to play games, eat and drink good food, and watch the fireworks in downtown Atlanta.

This post has been sponsored by Kroger. All thoughts and opinions are my own.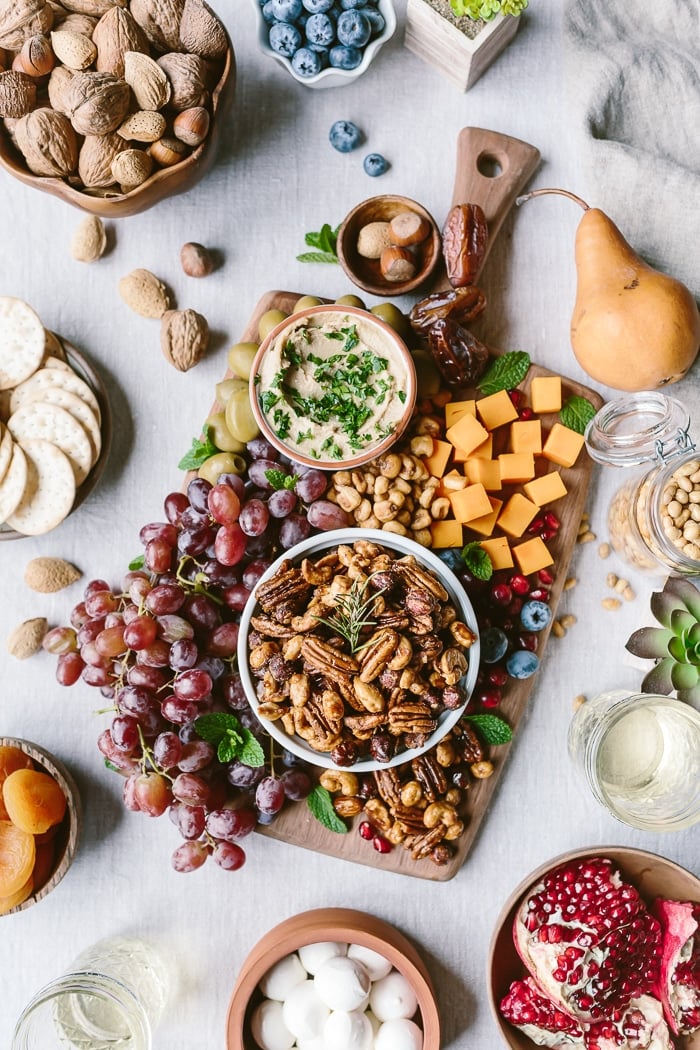 So the menu… When it comes to entertaining friends at home, I have a few go-to recipes. Since it is not going to be a formal sit-down dinner, I always start with a couple of appetizers that people can serve themselves. And what is better than a cheese plate with lots of fresh fruits, a few different kinds of cheese, and some dips served with crackers. I usually include a few different kinds of nuts as well, but this year I am taking it a step further and including these spicy candied nuts in my cheese plate. They are delicious, addictive, and perfect for entertaining.
About the Nuts:
One thing I love about this recipe is that you can use any nuts you like. Just mix them up as you please. Here, the important thing is to make sure to purchase the freshest nuts you can get your hands on. Here in Atlanta, I go to our local Kroger, because they have a new line of products called Simple Truth. Their products are mostly organic, natural, and free from artificial flavors. Plus, in addition to a wide variety of nuts, you can pick from different kinds of tasty snacks like toasted corn, chips, and trail mix. Perfect for all my entertaining needs.
About This Spicy Candied Nuts Recipe:
The process of making these spicy candied nuts could not be easier. You make a simple syrup flavored with a bunch of spices and roast the nuts with the mixture. Once it is cooled, it is ready to serve. I used a few sprigs of fresh rosemary, because we love rosemary. If you are not a fan, just omit it.
In terms of the simple syrup, I initially planned on using coconut sugar. As you may have read in my coconut sugar cookies recipe post, coconut sugar is my new favorite ingredient to use in my baking. However, for this recipe it did not provide the results that I was hoping for. The simple syrup that I made with coconut sugar did not pair well with the spices and ended up having a bitter and unpleasant taste. Certainly not something I was aiming for. So I made another one, but this time I used sucanat (aka natural cane sugar) and it was perfect.
In terms of nuts, I used hazelnuts, cashews, pecans, and almonds. Though like I mentioned earlier, any nuts would work. The nuts I used were all raw and unsalted, but if you prefer you can use already roasted and salted nuts. Though if you do, I recommend adjusting the amount of salt you use in your sucanat simple syrup. In the recipe below, you will see a long list of spices. If you are missing one or do not care for it, simply omit it.
How to Serve:
As you can see in the photos, I served them with a few kinds of cheese, dried and fresh fruit, some unshelled nuts (just because they are fun), crackers, my homemade Mediterranean hummus, and some snacks like roasted corn and soy nuts on a wood cutting board. I usually fill the cutting board with as much as I can and use small bowls and plates to serve around the board. This way everyone can treat him/herself as they please. Plus, I think it makes it easier when it comes to replenishing it throughout the night.
Everything you see in these photos was from our local Kroger. I love that I can find everything I am looking for in one quick visit and am able to find healthy and fresh ingredients every time I need to entertain. I highly recommend giving a try to the Simple Truth product line for all your holiday entertaining needs this season.


Finally, the folks over at Kroger are allowing me to give one of my readers a $50 gift card. To get a chance to win, leave a comment below telling me about your plans for this New Year Eve before January 1st, 2017 – 12PM EST. I will announce the winner via e-mail and here in the blog post. This giveaway is open to U.S. residents only. Good luck friends!
***** THE GIVEAWAY IS CLOSED. Linda is the winner. *****
Spicy Candied Nuts
Whether you use it for entertaining, edible gifts, or just to snack on for yourself, these Spicy Candied Nuts are totally delicious and addictive. They are naturally sweetened with natural cane sugar and flavored with cinnamon, cumin, red pepper flakes, and ginger. Ready in less than half an hour and guaranteed to impress.
Print Recipe
Ingredients
½

teaspoon

ground cinnamon

½

teaspoon

ground cumin

½

teaspoon

ground ginger

½

teaspoon

cayenne pepper

optional

1

teaspoon

kosher salt

divided

1

cup

Sucanat

I used Wholesome brand

1/3

cup

water

5

cups

mixed unsalted and unroasted nuts

cashews, almonds, pecans, hazelnuts, etc.*

1

sprig of fresh rosemary

leaves torn
Instructions
Preheat the oven to 350 F degrees. Line a baking sheet with parchment paper.

Mix together all the spices and ½ teaspoon salt in a bowl. Set aside.

Place sucanat, water, and rest of the salt in a saucepan. Stirring occasionally, bring the mixture to a boil over medium-high heat. Turn down the heat to medium-low and cook until it is slightly thickened, 4-6 minutes. Off the heat, stir in the spices.

Spread the nuts in the prepared baking sheet and roast for 5 minutes. Take it out of the oven and drizzle it with the mixture. Give it a big stir to make sure that the nuts are fully coated with the sugar syrup.

Bake for 20 more minutes, stirring and flipping the nuts three times during the process. You will see that as they bake the syrup will thicken and stick to the nuts.

Take the nuts out of the oven, stir in the rosemary leaves, and let them cool on the counter.

When ready to serve, break up the nuts if there are clustered, and serve.
Notes
-If you want you can make this recipe a day in advance, and once it is completely cooled, break the nuts apart and store them in an airtight container in room temperature. When ready to serve, you can re-heat them in a low temperature oven (250 F°) for a short amount of time (less 10 minutes).
– If you have any leftovers, you can freeze them in an airtight container up to a month.
Nutrition
Calories:
1018
kcal
|
Carbohydrates:
77
g
|
Protein:
25
g
|
Fat:
74
g
|
Saturated Fat:
10
g
|
Sodium:
485
mg
|
Potassium:
871
mg
|
Fiber:
13
g
|
Sugar:
40
g
|
Vitamin A:
105
IU
|
Vitamin C:
1
mg
|
Calcium:
106
mg
|
Iron:
6
mg
Like this recipe? Consider sharing: