The day I received my new Donut Pan (affiliate link) in the mail, my husband, Dwight, asked me if I could make something for a "guys-only" barbecue party that he wanted to go to. I took it as a sign from above and decided to use this as an opportunity to finally make these Cinnamon Baked Doughnuts with Vanilla Bean Glaze that I've been wanting to try.
I was relieved because if I had made them just for us, there was a strong possibility that I would eat them all by myself!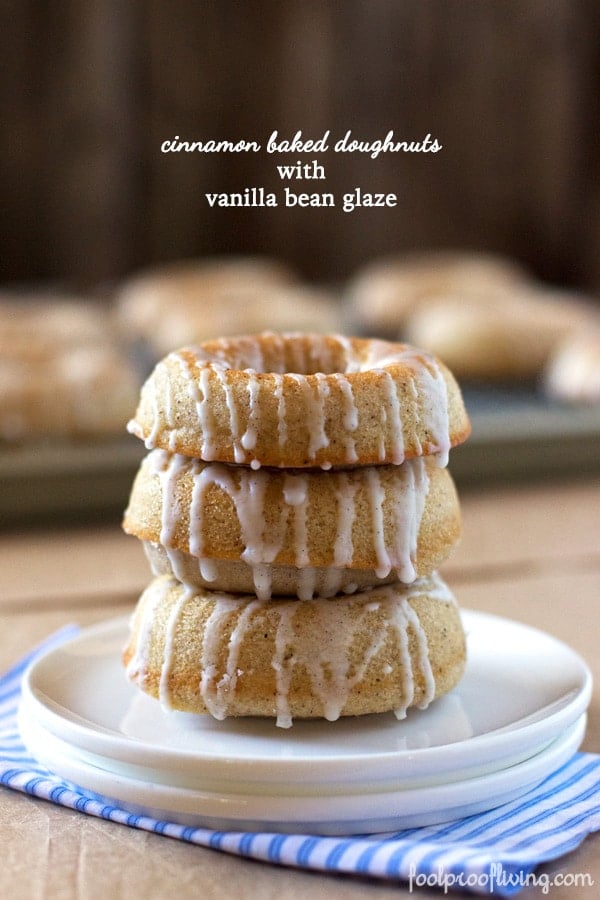 As they were baking in the oven and the sweet smells of cinnamon and sugar filled my house, I started to feel like I was losing all of my well-intentioned dieting inhibitions.
Believe me, you guys – I hate to admit it, but I am definitely capable of eating 16 doughnuts all by myself. Especially these ones.
When these Cinnamon Baked Doughnuts came out of the oven, all rational thought went out the window as I decided my mouth was somehow heatproof and dug right in, unable to wait for them to cool before I taste-tested them.
Just look at these! If you could smell the mouth-watering aroma at the moment, I'm sure you'd understand – and have a burnt tongue too!
After drizzling them with the vanilla bean glaze, they were no longer just Cinnamon Baked Doughnuts. They were Cinnamon Baked BOMBS!
I mean, really – how can one be expected to be rational when these are on her kitchen counter??!!?
Other Baked Goods That You Can Serve for Breakfast
Cinnamon Baked Doughnuts with Vanilla Bean Glaze
Ina Garten's Baked Cinnamon Donuts recipe is just the most delicious breakfast with your coffee or treat with your afternoon tea. Make this simple donut batter, bake it in a donut pan and drizzle it with a quick vanilla glaze for a delicious homemade baked donut recipe.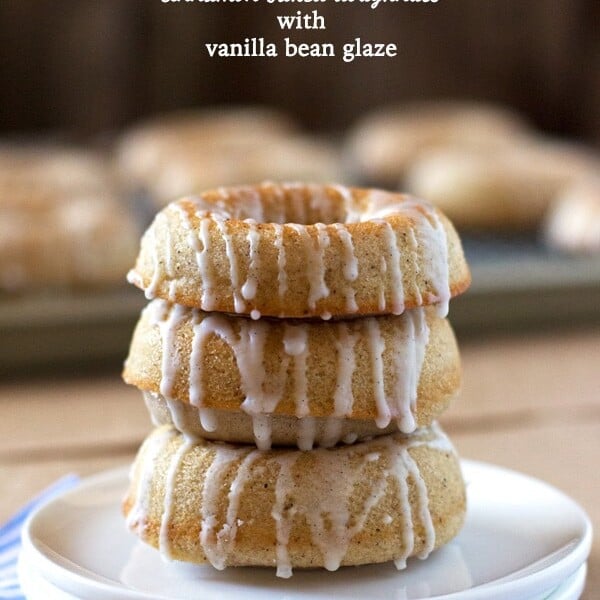 Print Recipe
Ingredients
For The Donut Batter
2

cups

10 oz. all-purpose flour

1 1/2

cups

10.5 oz. granulated sugar

2

teaspoons

baking powder

1

teaspoon

cinnamon

1

teaspoon

ground nutmeg

1/2

teaspoon

Kosher salt

1

large egg

1 1/4

cups

whole milk

2

tablespoons

unsalted butter

melted and cooled

2

teaspoons

vanilla extract

baking spray with flour
For The Vanilla Bean Glaze
2

cups

confectioners' sugar

1

vanilla bean

split in half lengthwise

1/4

cup

whole milk
Instructions
Preheat the oven to 350 degrees. Spray your doughnut pan with the baking spray generously. (Since I only have one doughnut pan, I baked them in 3 batches. This batter makes a total of 16 doughnuts.)

Using the back of a small knife, take seeds out of the vanilla bean and place it in the milk. Whisk until combined and put it in the fridge.

Sift together flour, sugar, baking powder, nutmeg,cinnamon, and salt in to a large bowl.

In a, separate, small bowl, whisk together the milk, egg, vanilla, and butter.

Stir the milk mixture into the flour mixture and mix until just combined or until there are no visible lumps.

To be able to pour it easily, pour the batter into a measuring cup with an easy-pour spout. Fill each doughnut whole until they are three-quarters full.

Bake for 16-17 minutes or until a toothpick inserted in the middle of a doughnut comes out clean.

In the mean time make the glaze: Take the vanilla seed and milk mixture out of the fridge. Place confectioners' sugar in a small bowl. Whisking constantly, slowly pour the milk mixture over the confectioners' sugar. Whisk until it is silky. (If you find the consistency too watery, add more confectioners' sugar. If it is too thick, add more milk.)

Once the doughnuts are baked, let them cool, at room temperature, for 5 minutes. Place them on a wire rack and drizzle with vanilla bean glaze when they are still warm.

Serve immediately.
Notes
Since I only have one doughnut pan, I baked them in 3 batches. If you have more than 1 doughnut pan, feel free to bake them all together by extending the baking time by 1-2 minutes.
Nutrition
Calories:
177
kcal
|
Carbohydrates:
51
g
|
Protein:
3
g
|
Fat:
3
g
|
Saturated Fat:
1
g
|
Cholesterol:
16
mg
|
Sodium:
140
mg
|
Potassium:
51
mg
|
Fiber:
1
g
|
Sugar:
23
g
|
Vitamin A:
96
IU
|
Calcium:
60
mg
|
Iron:
1
mg
Adapted (with some changes) from Ina Garten's Cookbook Barefoot Contessa Foolproof from her Cinnamon Baked Doughnut recipe.
Like this recipe? Consider sharing: