Amongst all my almond flour desserts, muffins made with almond flour are my favorite because they come together pretty quickly and can be served as a humble breakfast or they can be spread with frosting to turn them into a delicious show-stopping cupcake.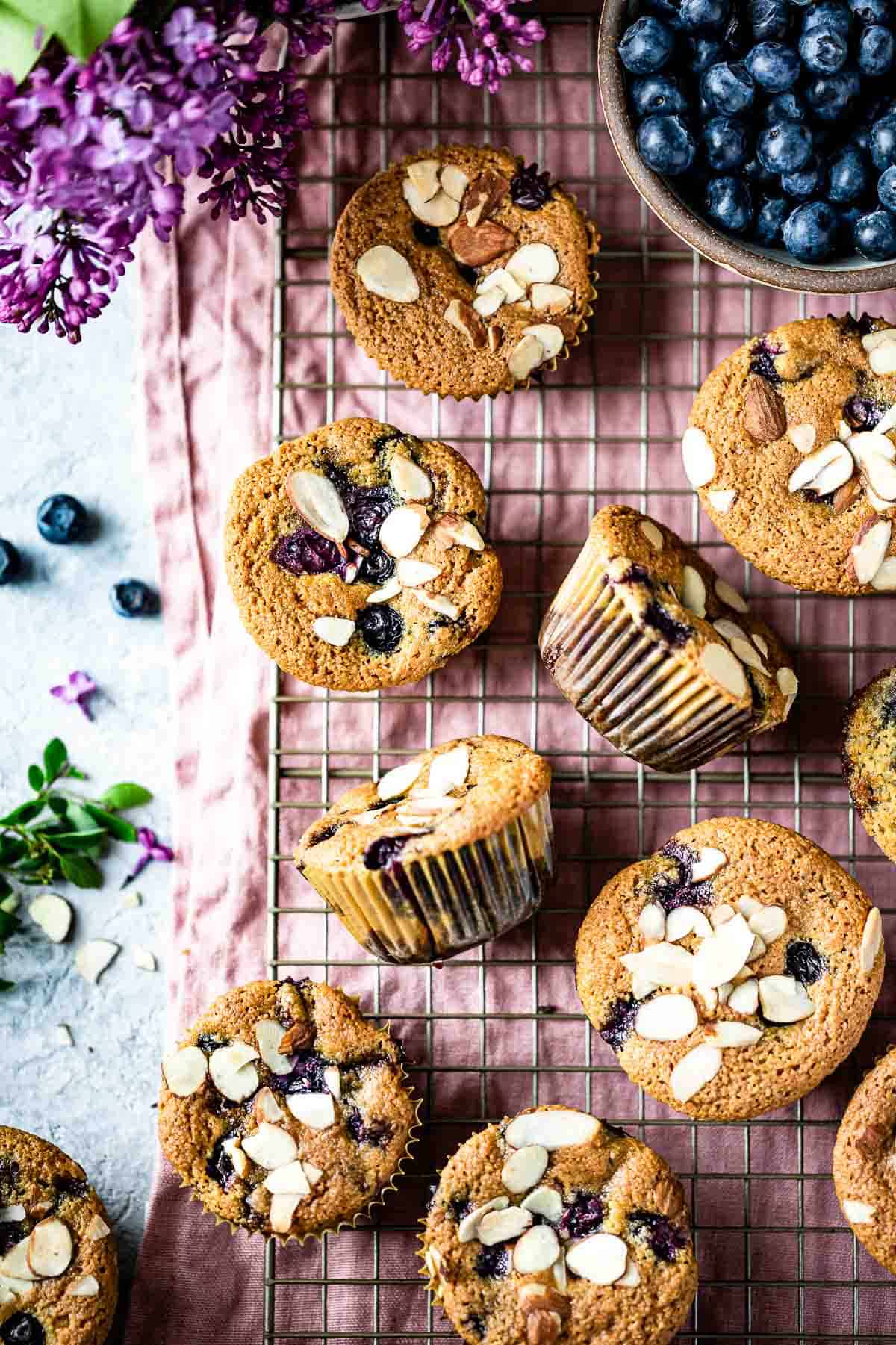 If you are a fan as well, you might also like my Almond Flour Apple Muffins, Almond Flour Zucchini Muffins, and Almond Flour Pumpkin Muffins.
Why Should You Try This Recipe:
These blueberry almond flour muffins recipe is the perfect grab-and-go breakfast. Here are a few other reasons why it's worth a try:
Deliciously moist & stores well: Thanks to almond flour, this blueberry muffin recipe is moister compared to traditional muffins. You can make a whole batch on the weekend, store it in the fridge, and warm it up for breakfast to enjoy throughout the week.
Minimally sweetened with no refined sugar: Sweetened with less than a cup of pure maple syrup and fresh blueberries, this is a healthier muffin recipe that you can enjoy without guilt.
Easy & Quick to make: All you need is 45 minutes and two bowls and a whisk to make these grain-free blueberry muffins. Plus, since it is so easy to make you can make it with your kids as well.
Ingredients:
As it is with any muffin recipe, the ingredients for this almond flour blueberry muffins recipe can be divided into three categories: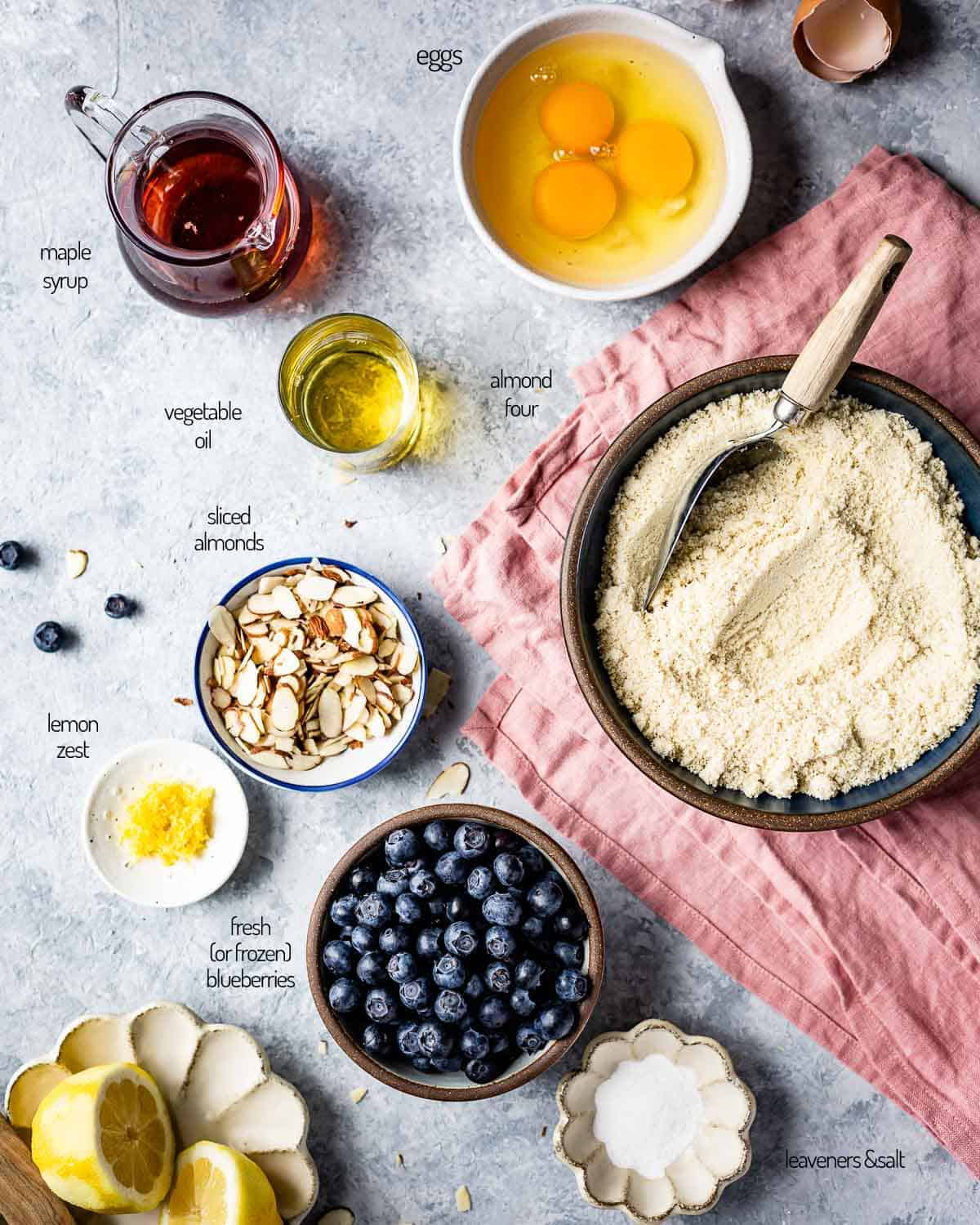 Dry ingredients: Almond flour, baking powder, baking soda, and kosher salt.
Wet Ingredients: Eggs, maple syrup, vanilla extract, and melted coconut oil
Last-minute add-ins: Fresh blueberries, lemon zest, and sliced almonds.
Substitutions & Variations:
Frozen blueberries: You can make these muffins with frozen blueberries as well. And the best part is that it is a one-to-one swap and you do not have to thaw them before adding to the muffin batter.
Almond Flour vs Almond Meal: While I prefer to make this almond flour muffin recipe with blanched almond flour (made from blanched almonds) rather than almond meal (made from almond with the skin on), you can use them interchangeably. Almond Meal Muffins would be more earthy and dark in color but still taste good. If you prefer to make your own almond flour, you can follow my guide on Making Almond Flour (using whole almonds) at home.
Use honey as a sweetener: You can swap maple syrup with an equal amount of honey. However, be aware that the almond flour blueberry muffins made with honey taste floral and a tiny bit sweeter.
Oil: Any neutral-flavored oil would work in this recipe. I also like grapeseed, walnut, or avocado oil.
Berries: You can use this recipe to make Almond Flour Raspberry Muffins by using an equal amount of fresh raspberries in place of blueberries. And before you ask, you can use frozen raspberries as well.
To make Paleo Blueberry Muffins: If you are following a paleo diet, you can make your own paleo-friendly baking powder. To do so, mix together 1/4 teaspoon of baking soda with 1/2 teaspoon of cream of tartar and use that in place of 1 teaspoon of baking powder in the recipe.
For Keto Blueberry Muffins with Almond Flour: If you are on the keto diet, you can swap maple syrup with an equal amount of this Keto maple syrup (affiliate link) to turn these into keto blueberry muffins.
How to Make This Recipe?
This Gluten-Free Blueberry Muffins with almond flour recipe has 5 easy steps:
Preheat the oven to 325-F (165-C) degrees. Line a 12-cup muffin pan with muffin paper liners (affiliate link) and set it aside.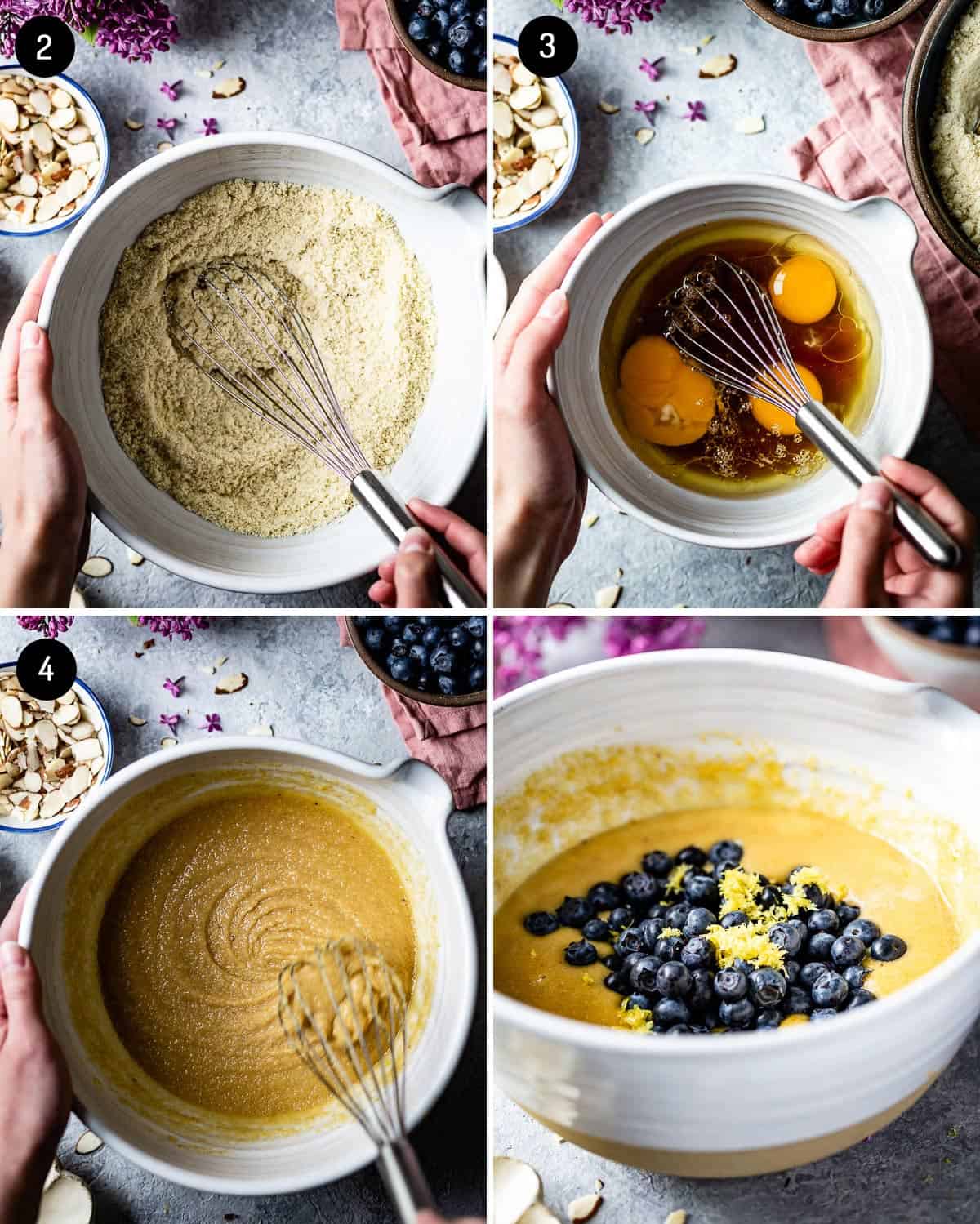 Mix Dry Ingredients: Mix together the dry ingredients, almond flour, baking powder, baking soda, and kosher salt in a large mixing bowl.
Whisk Wet Ingredients: In a separate bowl, whisk together the wet ingredients – eggs, maple syrup, and coconut oil (melted and cooled.)
Combine dry and wet ingredients: Pour the liquid ingredients into the dry ingredients and stir to combine. Fold in the blueberries and lemon zest into the muffin batter at the last minute.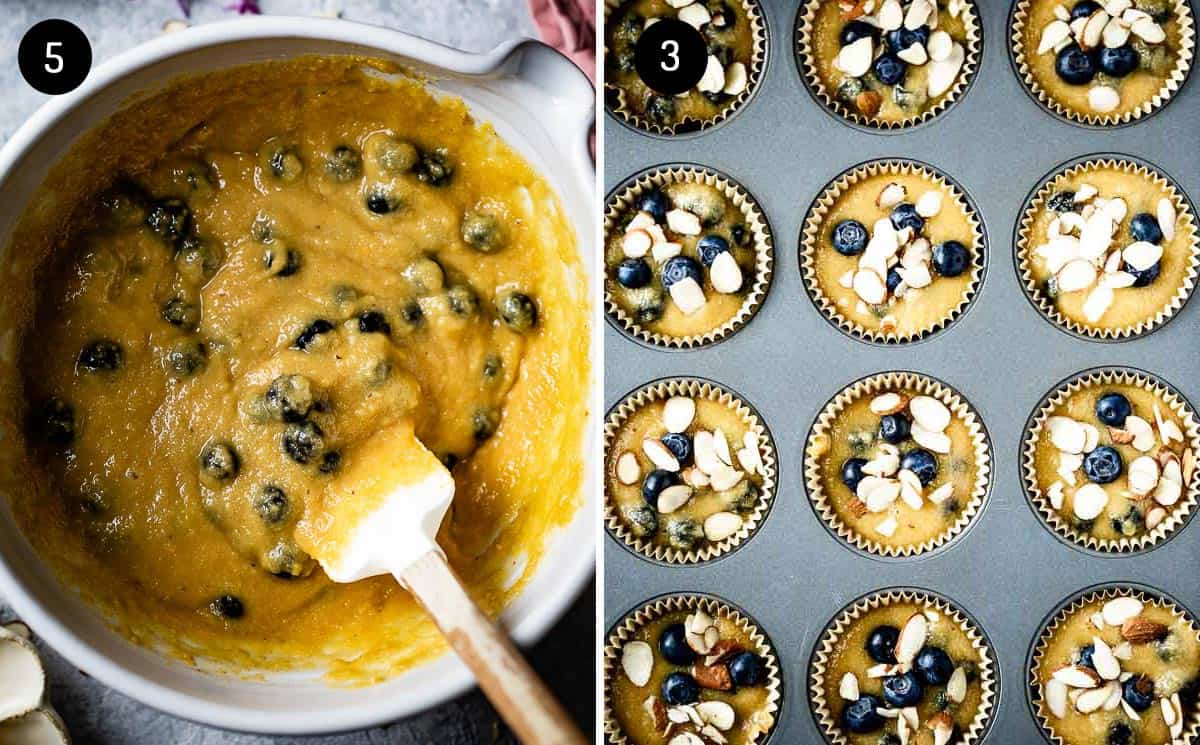 Bake: Using an ice cream scoop, scoop the batter into a 12-cup muffin tin, top with a sprinkling of sliced almonds, and bake the simple gluten-free blueberry muffins in a 325-degree oven for 32-35 minutes, or a toothpick inserted in the middle comes out with no crumbs. Let muffins cool for a few minutes and then transfer to a wire rack.
Enjoy one (or more) for breakfast with your morning coffee, or serve to the kids as a healthy afternoon snack.
How To Store, Freeze, and Thaw:
Below you will find everything you need to know to enjoy these almond flour lemon blueberry muffins for days.
Storage: Since these blueberry muffins are made with almond flour, the added moisture and fat content in the flour will shorten their shelf life. I found the best way to store these muffins is in an airtight container in the fridge for up to days. When ready to serve, warm them in a low preheated oven (300 degrees) for 5 minutes or so.
Freezing instructions: As it is with all my other almond flour recipes, these almond flour muffins freeze well. Be sure to cool completely on a cooling rack for 1 hour or they are fully cooled to room temperature. Transfer them into a plastic bag (I use freezer bags ) and get the air out of it as much as possible. Label, date, and store in the freezer for up to 3 months.
Thawing Instructions: Frozen muffins can be thawed completely to room temperature. Alternatively, to rewarm from the frozen muffins, place them in a 300-degree oven for 10 minutes, or in the microwave on high for 30 seconds-1 minute.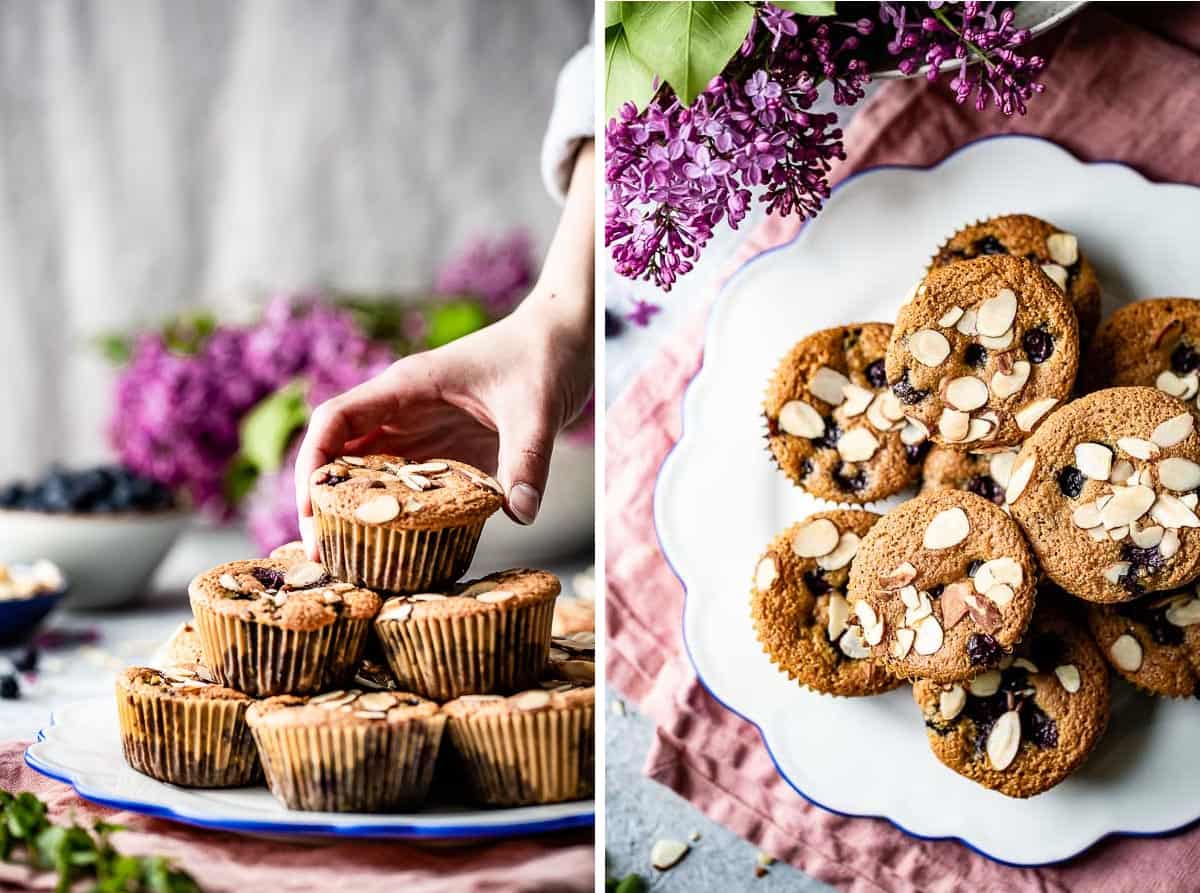 Expert Tips:
Here are a few quick pro tips for the best almond flour blueberry muffins that you can make on your first try:
Room temperature ingredients: As it is with most baking recipes, for best results make sure that all your ingredients are at room temperature.
Toss blueberries with almond flour before folding into the batter: To prevent your blueberries (fresh or frozen) from sinking to the bottom during baking, toss the berries with 1-2 Tablespoons of the almond flour mixture before folding into the batter.
Coating the berries with the recipe's dry ingredients helps the blueberries stick to the muffin batter, giving you specks of warm, melty blueberries well distributed throughout the muffin.
Fill each muffin tin until ⅔ is full: The recipe for blueberry muffins with almond flour below makes 12 muffins. As you fill muffin cups you might feel like the batter is not enough. The secret is to fill each cup two-thirds full. It is also important to mention that almond flour muffins do not rise as much as regular blueberry muffins (made with regular flour) but they are delicious nonetheless.
Want to turn them into Almond Flour Blueberry Cupcakes? Add ½ tsp pure almond extract to the wet ingredients, omit the sliced almonds, and when completely cool, top with a heaping dollop of maple whipped cream or maple cream cheese frosting, and garnish with more fresh blueberries.
Want to try a muffin recipe made with a combination of almond and coconut flour instead? Try my flourless blueberry muffins.
FAQs
Can You Use Frozen Blueberries in Muffins?
Yes, frozen blueberries are a perfect substitute for fresh blueberries, especially when the berries are not in season. This simple swap allows you to make these low-fat, gluten-free blueberry muffins any time of year.
What Temperature to Bake Muffins?
This gluten and dairy-free blueberry muffins recipe bakes best at a moderate 325 degrees F. The oven temperature is lower than traditional muffin recipes (typically 375 degrees) because almond flour has a tendency to burn more easily.
How Many Calories?
One of these healthy gluten-free blueberry muffins has only 233 calories! Not only are these blueberry muffins from scratch gluten-free, but they are also dairy-free, wheat-free, refined sugar-free, low-carb, and with one simple ingredient swap, they are paleo and keto diet friendly, too!
Can I use all-purpose or coconut flour instead of almond flour?
This recipe is tested with almond flour and will not work with regular flour or coconut flour.
You Might Also Like:
If you enjoyed these recipes, here are a few other almond flour recipes you might like:
And if you have some extra blueberries you are trying to use, below are a few easy blueberry recipes from the archives:
If you try this Healthy Almond Flour Blueberry Muffins recipe or any other one of our almond flour recipes on Foolproof Living, please take a minute to rate the recipe and leave a comment below. It is a great help to others who are thinking of making the recipe. And if you took some pictures, be sure to share them on Instagram using #foolproofeats so I can share them on my stories.
Almond Flour Blueberry Muffins Recipe
These easy Gluten Free Almond Flour Blueberry Muffins are moist, sweet, and loaded with blueberries. Made with almond flour, they are a perfect treat for a healthy breakfast or an afternoon snack.
Print Recipe
Ingredients
Dry Ingredients:
2

cups

almond flour

(8.4 oz. )

1

teaspoon

baking powder

½

teaspoon

baking soda

½

teaspoon

kosher salt
Wet Ingredients:
3

large eggs

at room temperature

⅔

cup

maple syrup

¼

cup

neutral vegetable oil

coconut, walnut, or grapeseed oil would work

1/2

teaspoon

vanilla extract
For the Blueberry Muffins
1

cup

fresh

or frozen blueberries*

Zest of a lemon

3

tablespoons

sliced almonds

optional
Instructions
Preheat the oven to 325-F (165-C) degrees. Line a 12-cup muffin tin with muffin liners and set aside.

In a large bowl, whisk together the dry ingredients, almond flour, baking powder, baking soda, and salt, until no lumps remaining. Set aside.

In a small bowl, whisk eggs, maple syrup, vanilla extract, and oil.

Pour the wet mixture into the dry mixture and give it a good whisk until there are no lumps.

Fold in the blueberries and lemon zest.

Divide the batter equally in the prepared muffin tin.

Sprinkle with sliced almonds (if using).

Bake 32-35 minutes or until muffins turn golden brown.

Let it cool for 5 minutes and serve while it is still warm.
Video
Notes
Notes:
Can I use frozen blueberries to make these muffins? You can use an equal amount of frozen blueberries in place of the fresh ones. There is no need to thaw them.
Can I swap maple syrup with honey? Yes, you can. Simply use an equal amount of honey. Please be aware that the version made with honey might be slightly sweeter and darker in color (depending on the type of honey you are using.)
Storage: These blueberry muffins are best the day they are baked, still warm from the oven. You can store them in an airtight container for upto 4 days.
Freezing Instructions: Fully bring the blueberry muffins to room temperature, place in a freezer-friendly container, and freeze them for upto 3 months.
To Thaw: There is no need to thaw them as almond flour does not fully freeze. Simply heat them in a low-heat (300 F degree) oven for 10-15 minutes before serving.
Nutrition
Calories:
233
kcal
|
Carbohydrates:
18
g
|
Protein:
6
g
|
Fat:
17
g
|
Saturated Fat:
5
g
|
Cholesterol:
41
mg
|
Sodium:
196
mg
|
Potassium:
103
mg
|
Fiber:
3
g
|
Sugar:
12
g
|
Vitamin A:
219
IU
|
Vitamin C:
1
mg
|
Calcium:
103
mg
|
Iron:
1
mg
Like this recipe? Consider sharing: