Are you ready to learn how to set up a beautiful cheese board set up for the holidays? Scroll down to read through my tips and tricks as well as the recipe for Baked Goat Cheese Balls.
These warm inside and crunchy outside appetizers are my go-to recipe whenever I entertain. Coated with herbs, dipped in an egg-mustard mixture, and then rolled in toasted crumbs, they can be prepped ahead of time, kept in a plastic bag, and frozen until you are ready to use.
This post is sponsored by Vermont Creamery, but as always all opinions are my own.
Well hello there. Are you ready to get your cheese on? If so, you are in for a treat because we are talking about one of my favorite kinds of cheese today: goat cheese.
With Christmas and New Years Eve approaching, I thought why not put together a cheese board that will give you some inspiration as you plan for all your gatherings. So I partnered up with my cheese friends, Vermont Creamery, to bring you this scrumptious set up.
When it comes to entertaining (especially for the holiday season), I believe there is nothing better than welcoming everyone with a signature cocktail and a beautiful cheese board. It not only breaks the ice, but also serves as a great conversation starter if there are people at your party who are meeting for the first time. Because as you know, most everyone loves alcohol and cheese. And in my many years of entertaining, I learned that most everyone has a favorite story to share when it comes to cheese.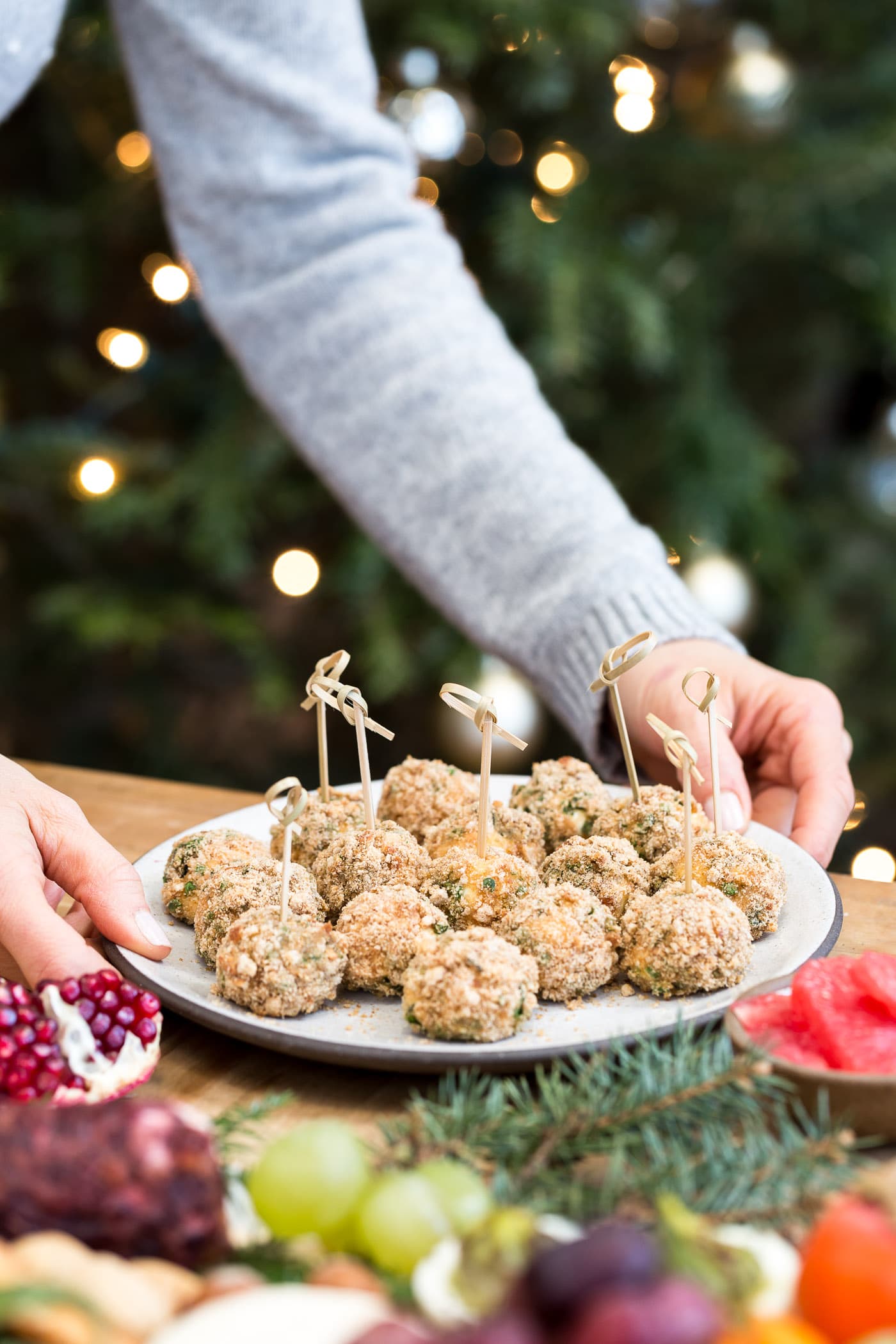 Now, if I am being honest, I don't usually go over the top like the one you see in these photos. Obviously, these kinds of boards only happen during special occasions. However, there are a few things that I do no matter what size of a cheese board I set up. So here are my 8 tips when it comes to setting up a cheese board:
– Stick to 2-3 types of cheese: I usually go for a firm cheese (i.e. aged Gouda, Parmesan), a semi hard cheese (i.e cheddar, Gruyere, Manchego), and a soft cheese (i.e. goat cheese, epoisse, brie.) I think that these types of cheeses go well together and people mostly love them.
With that being said, it is totally fine to stick to one type of cheese, similar to what I did here. In my set-up, I used mainly goat cheeses. Vermont Creamery has a great line of aged and fresh cheeses that made it so easy. For my set up here, I used their aged goat cheeses like Bijou and Coupole (both made with fresh pasteurized goat's milk), St. Albans (made with aged cow milk cheese), Cremont (made with aged goat's and cow milk), and fresh goat cheeses that are coated with cranberry & orange and Herbes de Provence.
Click here to check out where you can find Vermont Creamery cheeses in your area. Want to know more about them? Be sure to check out my blog post, Vermont Cheese Camp, to see the photos of my trip to their facilities back in September of 2016.
– Always serve your cheese at room temperature: Now, I am sure there are exceptions to this, but 9 out of 10 times, cheese served at room temperature spreads easier and tastes better. I usually take my cheeses out of the fridge an hour or two before serving.
– Don't be afraid to make it colorful: I don't know about you, but I eat with my eyes. If a dish is visually appealing and colorful, it makes me want to eat it even more. So when it comes to my cheese board set up, I love adding color using seasonal fresh and dried fruit, homemade jams, honey, nuts, and dips. Additionally, these colorful food add some sweetness to the set up helping people balance the flavors.
– Be sure to include a few of your favorite appetizers: Now, I know that it is additional work, but I promise when you add a few extras, it adds that wow factor. While you can certainly skip on this, if you have time add a few of your go-to appetizers to your cheese set up.
For this set up, I made my avocado deviled eggs and marinated olives. However, next time I also plan on adding mascarpone stuffed dates with pomegranate and honey into the mix.
– Include a warm appetizer (especially during the winter time): While people usually go crazy over the set up, an added bonus, something freshly baked (or cooked), will make them swoon even more.
For this set up, I made oven baked goat cheese balls. They are coated with melba crackers (that I pulverized in my food processor), eggs, and thyme. I love them, because they are the perfect finger food. Additionally, you can make them ahead of time, freeze in plastic bags, and bake them right before your guests arrive. Though I have to warn you, with the incredibly scrumptious smell of freshly baked goat cheese coming out of the kitchen, these usually go first, so be sure to have some extras on hand.
– Feel free to experiment with crackers and bread: Nowadays, even the smallest of grocery stores have a great cracker section. Ours is right next to the cheese aisle. There are so many different kinds, and I find it so much fun to experiment with different brands. I personally love the ones with nuts, but since I am not the only one eating I make sure to pick out a few different types. You can also add sliced bread onto your cheeseboard. If you do so, I recommend toasting them a few minutes before your guests arrive so that they will be warm.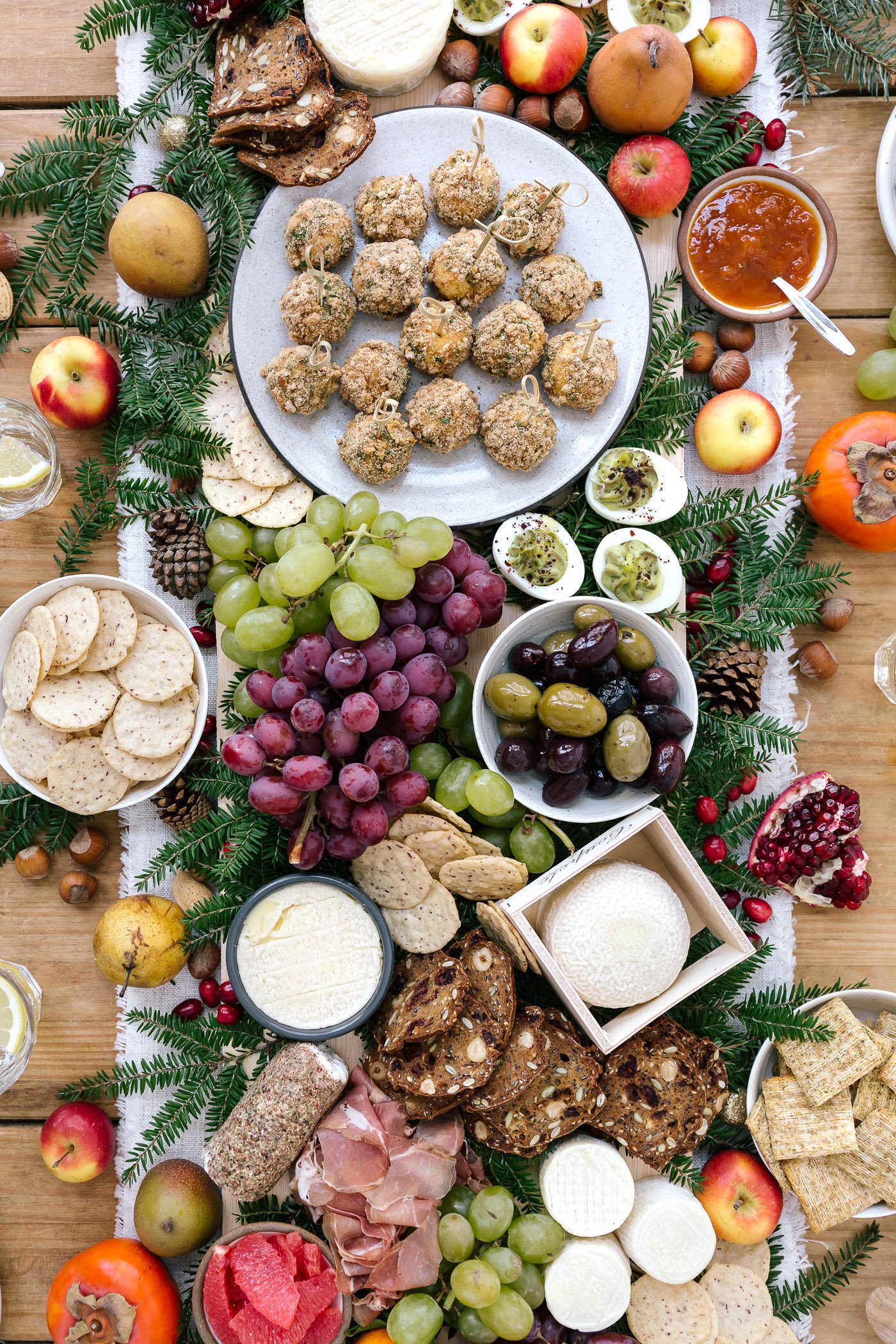 – Use fresh herbs or forage some leaves to add a green color to the set up: If you are like me, a big Ina Garten fan and watch her show regularly, you know how she uses fig leaves in her cheese boards. Similar to her set up, I foraged some pine leaves and covered the empty parts of my board with them. It went well, as it is the holidays. However, you can use whatever leaves you can get your hands on depending on the season you are in. In the past, I used strawberry leaves and even fresh herbs like rosemary, mint, and thyme.
– Add some cured meats to the mix: I think cured meats are an essential part of a cheeseboard. I usually use some thinly sliced prosciutto, salami, and pepperoni. However, I try to keep them all on one side, especially if I have guests who are vegetarian. That way, they won't be mixed with the cheeses and our vegetarian friends can easily enjoy them with everyone else.
LOVE CHEESEBOARDS? Check out my meat and cheese platter post for more tips on setting up gorgeous cheeseboards.
If You Liked This Baked Goat Cheese Balls recipe, You Might Also Like
Baked Goat Cheese Balls
Yields:
12
Goat Cheese Balls
This Baked Goat Cheese balls are coated with herbs, dipped in an egg-mustard mixture, and then rolled in toast crumbs. You can prep these ahead of time, keep them in a plastic bag, and freeze until you are ready to use. They make the perfect appetizer for any cheese board set up and usually disappear a few minutes after they come out of the oven. This recipe was adapted from
Baked Goat Cheese Salad recipe
with minor changes.
Print Recipe
Ingredients
For the Goat Cheese Balls
3

ounces

2 cups plain Melba Toasts*

1

teaspoon

black pepper

freshly grounded

3

large eggs

1

tablespoon

Dijon mustard

1

tablespoon

fresh thyme leaves

chopped

1

tablespoon

fresh chives

chopped

12

ounces

Vermont Creamery plain goat cheese

1

tablespoon

olive oil
Instructions
Place the Melba toasts in the bowl of a food processor. Process until fine for a minute and half. You want really fine crumbs. Place in a plate, stir in the black pepper, and set it aside.

Whisk eggs and mustard in a plate and set aside.

Place the herbs in a small plate and set aside.

Using a unscented dental floss, slice the goat cheese diagonally into two pieces. Then slice the goat cheese into 12 equal pieces. For a visual as to how to slice the goat cheese using a dental floss, check out this

baked goat cheese salad

recipe.

Roll each piece of goat cheese into a ball. Each goat cheese ball should be similar to a golf ball.

Dip each ball first into the herb mixture, second into the egg mixture and then finally into the crumbs.

Place on a parchment lined baking sheet.

Continue with the rest of the goat cheese balls.

Place them in the freezer for 30 minutes.

Preheat the oven to 475 degrees.

Lightly brush the balls with the olive oil.

Baked the goat cheese balls for 8-10 minutes or until they turn golden brown.

Serve immediately.
Notes
If you don't have access to Melba toasts, feel free to use another toast/cracker you like.
Nowadays, Melba toasts are sold in different flavors. While you can certainly experiment with different flavors, I find that the best one is the plain flavor for this recipe.
These balls freeze very well. I make a big batch and keep them in a plastic bag in the freezer. When I am ready to bake, I take them out 10 minutes prior to placing them in the oven.
Nutrition
Calories:
122
kcal
|
Carbohydrates:
4
g
|
Protein:
7
g
|
Fat:
8
g
|
Saturated Fat:
5
g
|
Cholesterol:
54
mg
|
Sodium:
171
mg
|
Potassium:
39
mg
|
Fiber:
1
g
|
Sugar:
1
g
|
Vitamin A:
391
IU
|
Vitamin C:
1
mg
|
Calcium:
58
mg
|
Iron:
1
mg
Like this recipe? Consider sharing: