For some reason, I used to think that crab cakes are hard to make. The first time I ate a crab cake was in my first visit to The Palm Restaurant in Atlanta years ago.
I loved it.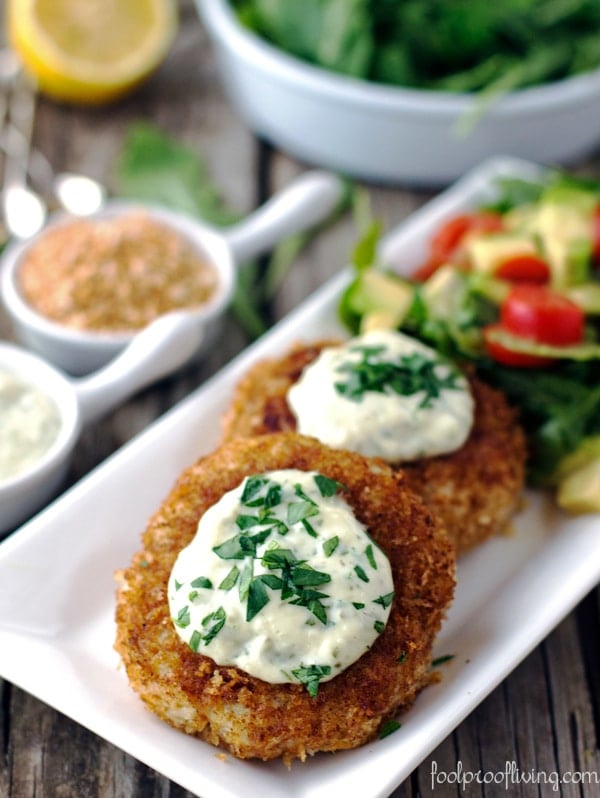 Since that day every time I see crab cakes on a restaurant's menu that is what I order. There were times that I was very disappointed and times that I felt like it is the best thing I have ever ate.
A year ago the Cook's Illustrated magazine published their own version of the best crab cake recipe. That is when I decided to give it a shot and make it in my own kitchen. The result was delicious and as good-looking as they serve in restaurants.
Since then it has been one of my favorite dishes to cook and serve when we have guests.
Here is what I like about it:
Mayo, eggs or dry breadcrumbs do not mute the rich flavor of the crabmeat. Instead, this recipe uses shrimp with a celery and onion mousse to bind the crabmeat, which enhances the taste immensely without overpowering the taste of it.
Each cake is coated with toasted panko. I love panko because since it is much coarser than regular breadcrumbs, it gives it a little bit of a crunchy texture.
You do not have to have fresh crabmeat. It is fine if you can find it but canned crabmeat that you can find in your supermarket's seafood counter works just as well for this recipe.
You can make it one day ahead. If I am serving it for a dinner party, I usually make it one day before the party. All I have to do is coat them with panko crumbs and cook right before serving, which takes less than 15 minutes.
Most everyone loves crab cakes and is impressed when they see that crab cakes are on the menu. Such a "wow" factor…
I personally like to serve it with Rémoulade sauce but sometimes, to change it up a little, I serve it with mango salsa or pico de gallo. Also, you can serve it on your favorite green salad or as a sandwich in between two slices of your favorite bread with tomatoes and lettuce. Sky is the limit…
Making crab cakes at home is much cheaper than eating at a restaurant. The best part of it is that you can eat as much as you want.
One crab cake, usually, is not enough for me. 🙂
A recipe "foolproof", simple and tasty…
Worth your time and money. Guaranteed.
Crab Cakes with Rémoulade Sauce
Learn how to make crab cakes with remoulade sauce. This restaurant favorite crab cake recipe is just so easy to make. Made with fresh lump crab meat and homemade remoulade sauce, it is cooked on the stove top for a delicious seafood dinner that your family will love.
Print Recipe
Ingredients
Crab cakes:
1

pound

canned

pasteurized crabmeat

1

cup

milk

1 1/2

cups

panko bread crumbs

1

teaspoon

table salt * divided

1/2

teaspoon

black pepper

freshly grounded *divided

2

celery ribs

chopped

1/2

onion

chopped into cubes

2

garlic cloves

peeled and minced

1

tablespoon

unsalted butter

4

oz.

shrimp

peeled, deveined and tails removed

1/4

cup

heavy cream

1

teaspoon

lemon juice

1/2

teaspoon

hot pepper sauce

2

teaspoon

Dijon mustard

1/2

teaspoon

Old Bay seasoning

4

tablespoons

vegetable or olive oil
Rémoulade Sauce
1/2

cup

mayonnaise

or vegenaise

1 1/2

teaspoon

pickle relish

1

teaspoon

hot pepper sauce

1

teaspoon

Italian Parsley

minced

1/2

teaspoon

capers

rinsed

1/2

teaspoon

Dijon Mustard

1

garlic clove

peeled and minced

1/4

teaspoon

table salt

Black pepper to taste
Instructions
To make the crab cakes
Place milk and crabmeat in a glass bowl and cover it stretch film. Refrigerate it for 20 minutes.

Place panko bread crumbs in a 12-inch non-stick skillet and cook for 6-8 minutes, stirring constantly, until they are golden brown. Place it in a shallow plate; season it with 1/2 teaspoon salt and 1/4 teaspoon black pepper. Set aside to cool.

Wipe out the skillet with paper towel. No need to wash.

Pulse celery ribs, onion, garlic in a food processor until they are finely chopped, 8-10 pulses.

Rinse the processor bowl and blade. Set aside.

Place the butter in the skillet. Add the vegetables and season them with 1/2 teaspoon salt and 1/4 teaspoon black pepper. Cook it until all the moisture is evaporated for 6 – 7 minutes. Put them in a large bowl (this is the bowl you will get everything mixed at the end) and set aside to cool.

Wipe out the skillet with paper towel, one more time.

Strain the crabmeat through a strainer, pressing firmly to remove the milk using the back of a spatula. Be gentle not to break the lumps of the crabmeat.

Place the shrimp in food processer and pulse until finely ground, 10-12 pulses. Add heavy cream and pulse to mix, 3-4 times.

Transfer the shrimp mixture to the cooled vegetable puree. Add mustard, hot pepper sauce, lemon juice and Old Bay seasoning and mix until combined.

Add the crabmeat in and fold in gently, being careful not to break the lumps.

Divide it into 8 equal balls and firmly press them into small patties in the palm of your hands. Place each cake on a baking sheet lined with parchment paper. Cover tightly with stretch film and refrigerate for at least 30 minutes up to 24 hours.

Coat each cake with panko breadcrumbs, firmly pressing to stick the crumbs into the exterior of the cake.

Heat 1 tablespoon of oil in now-empty non-stick skillet, in medium heat, until it is shimmering. Place 4 cakes and cook without moving until they are golden brown, 3-4 minutes. Using two spatulas flip them. Add one tablespoon of oil and cook the other side for 2-3 minutes. Place them on a platter.

Wipe out the skillet with paper towel and repeat the same process for the rest of the crab cakes.
To make the Rémaulade Sauce:
Place all ingredients in food processor and pulse until they are truly combined.Place it in a small ramekin and or bowl. It can be refrigerated up to 3 days.
To Serve:
Top off with the remaulade sauce and serve immediately
Nutrition
Calories:
314
kcal
|
Carbohydrates:
19
g
|
Protein:
7
g
|
Fat:
23
g
|
Saturated Fat:
10
g
|
Cholesterol:
53
mg
|
Sodium:
797
mg
|
Potassium:
155
mg
|
Fiber:
1
g
|
Sugar:
3
g
|
Vitamin A:
202
IU
|
Vitamin C:
3
mg
|
Calcium:
82
mg
|
Iron:
1
mg
Recipe adapted from Cook's Illustrated Magazine's Best Crab Cakes recipe.
Like this recipe? Consider sharing: